The Dallas Cowboys visit the Philadelphia Eagles in Week 17 of the 2017 NFL season. PFF previews the top player matchups of the game.

PFFELO Ranking: 12
Coverage by: Aaron Jones
RB Ezekiel Elliott vs. LB Mychal Kendricks – Ezekiel Elliott's 87.4 run grade is tied for the third-highest among running backs. Elliott has forced 25 missed tackles when rushing the ball, which, despite missing six games due to suspension, ranks 22nd among running backs. He's had six runs of 15 or more yards, which is tied with Alfred Morris for the most on the Cowboys. Mychal Kendricks has had a phenomenal year, and is currently grading as the seventh-best linebacker in the NFL with an overall grade of 87.7. Kendricks has made 20 total run stops (a stop constitutes a "win" for the defense), awarding him with a run-stop percentage of 9.0, which is tied for 30th among 92 qualifying linebackers.
C Travis Frederick vs. Dl Fletcher Cox – Travis Frederick is elite. His overall grade of 90.3 is tied for second among centers. He continues to excel against the run as well, ranking third among centers with a run-blocking grade of 89.6. Frederick has allowed 11 pressures on 522 pass-blocking snaps, giving him a pass-blocking efficiency of 98.4, tied for eighth among centers. He does however draw a tough matchup this week against the third-highest graded interior defender (overall grade of 91.0) in the league, Fletcher Cox. His pass-rush productivity of 10.0 ranks seventh among 109 qualifying interior defenders.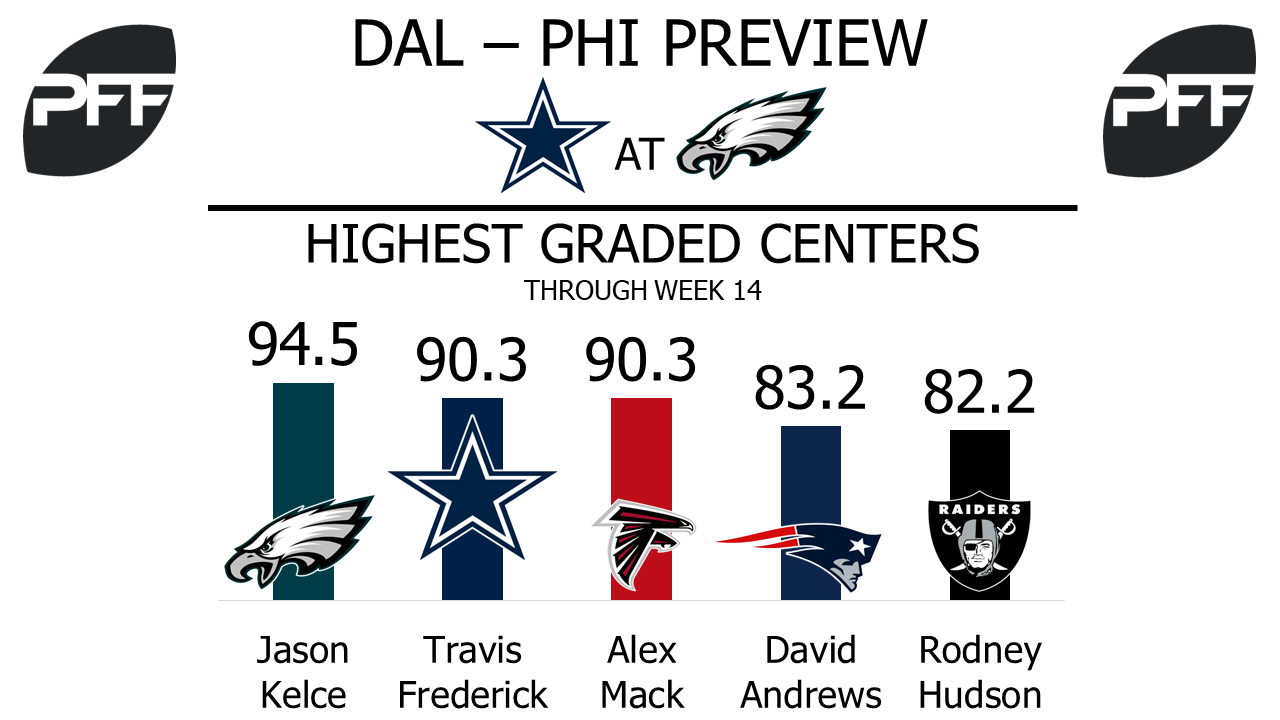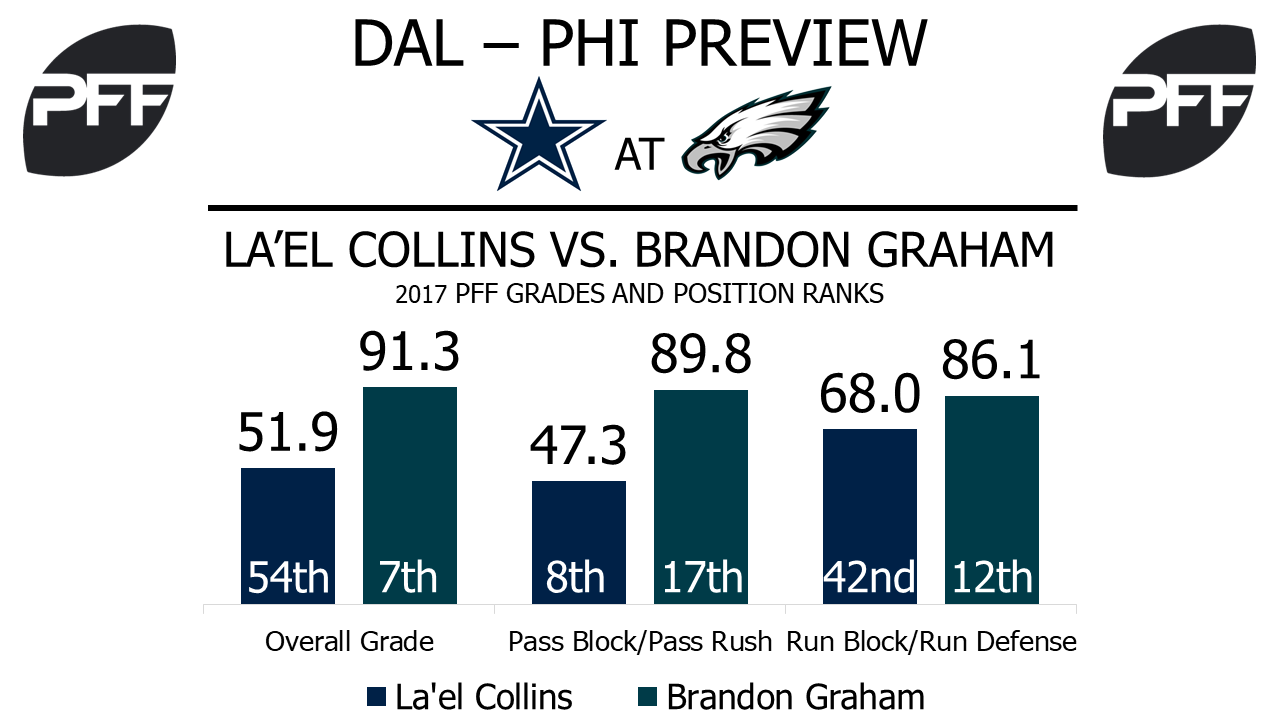 Coverage by: Mike Alessandrini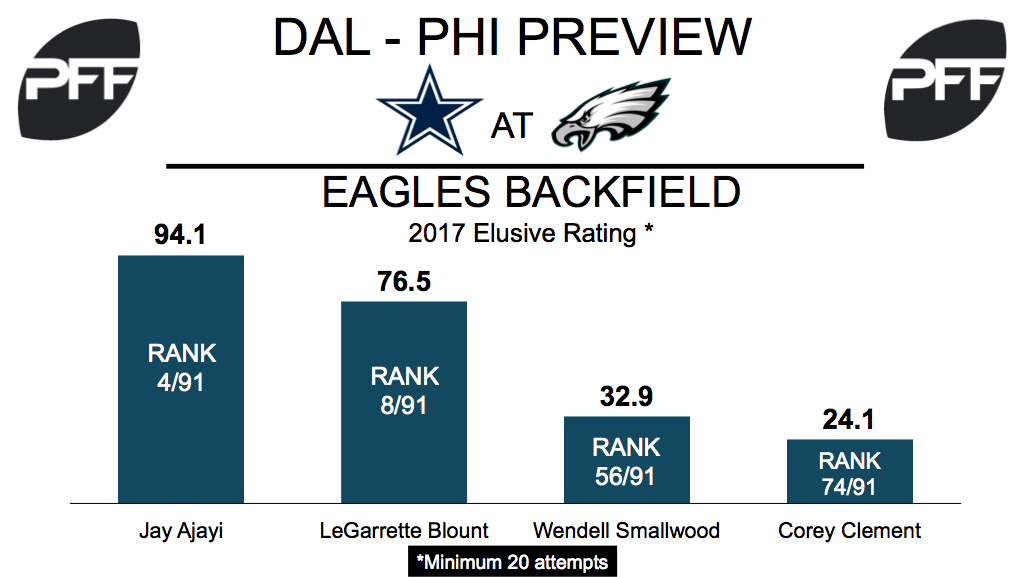 TE Trey Burton vs. S Byron Jones – With starting tight end Zach Ertz not expected to see his full share of snaps this week, Trey Burton could see significant playing time. In the two games Ertz has missed this year, Burton torched the Rams with 71 yards and two touchdowns and accumulated 41 yards and one touchdown against the Broncos. On the season, the tight end is averaging 1.63 yards per route run, a mark that ranks 11th at his position among players with at least 20 targets. For Dallas, Byron Jones has not been as consistent in 2017 as he was in 2016. Jones has earned a 73.7 overall grade this season, the lowest of his young career. He has allowed five touchdowns in primary coverage while picking off just one pass.
G Isaac Seumalo vs. DI David Irving – Seumalo could see snaps at all three interior offensive line positions this week with a number of starters expected to rest. The 2016 third-round selection has struggled when called upon this season, surrendering eight total pressures in his only two starts earlier in the year. Overall, he has allowed 12 pressures on 146 pass-blocking snaps and earned a 41.8 overall grade. On the other side of the line, David Irving struggles in run defense (48.0 grade), but is a productive pass-rusher. His 11.3 pass-rush productivity ranks third behind Aaron Donald and Geno Atkins among interior defenders. The former UDFA has seven sacks and 30 total pressures in 215 pass-rush snaps.