The Cleveland Browns visit the Pittsburgh Steelers in Week 17 of the 2017 NFL season. PFF previews the top player matchups of the game.

Coverage by: Mike Manning
WR JuJu Smith-Schuster vs. CB Jason McCourty – In the Steelers' first game without Antonio Brown this season, Smith-Schuster led the team in snaps in route and targets. His 81.0 game grade led all Steelers' offensive weapons in Week 17. The rookie has been Ben Roethlisberger's most productive target on third and fourth down this season with a passer rating of 129.0 when targeted on those downs. Smith-Schuster has converted 14 of the 25 targets thrown his way into a first down or touchdown, both are second-most on the team. Jason McCourty is having the highest-graded season of his career with an 84.6 overall grade, but there are signs of stress. McCourty had a strong start to the season, only allowing a passer rating of 51.1 through Week 11, but since Week 12 he has allowed a passer rating of 128.8, including giving up four touchdowns and getting zero interceptions.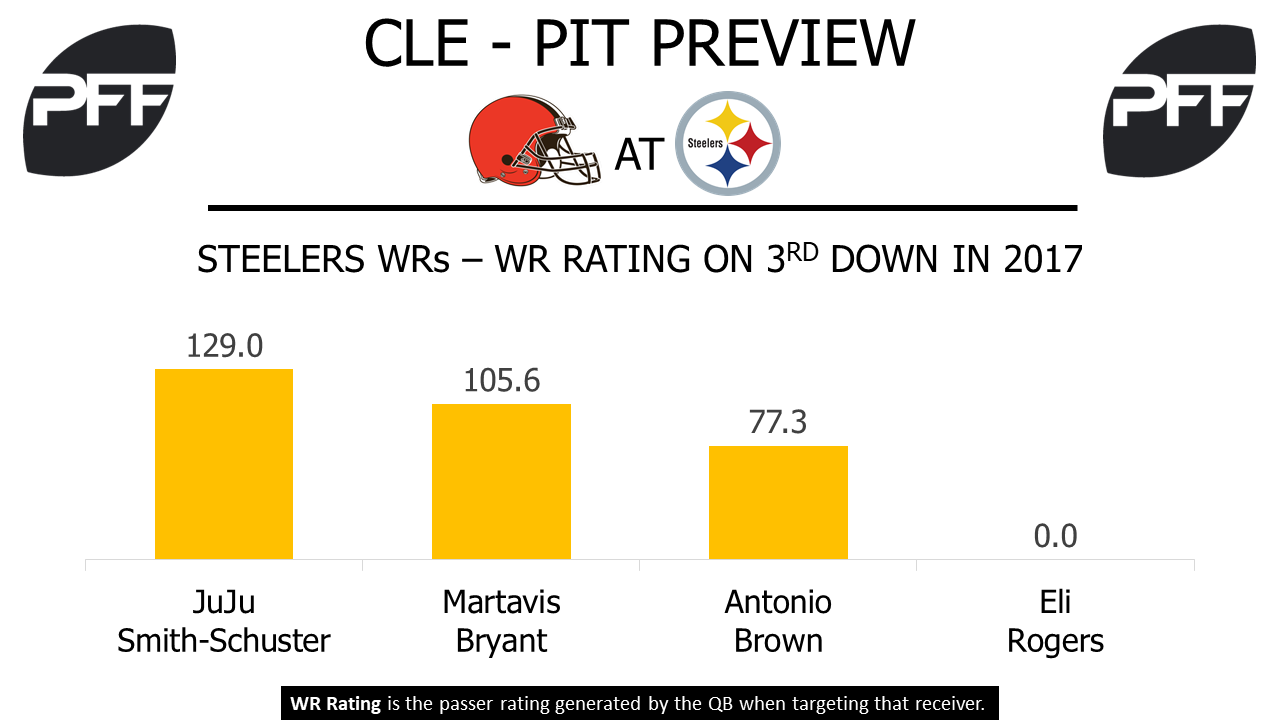 QB Ben Roethlisberger vs. Cleveland linebackers – Roethlisberger has quietly climbed the ranks of quarterbacks this season to become the second-highest graded quarterback in the league with an 89.3 overall. Since Week 11, Roethlisberger has excelled with play action, although he has used it on only 7.7 percent of dropbacks. He has earned a passer rating of 140.3 with play action, the highest in the league, and has yet to throw an interception all season off of the play fake. The Browns' linebackers have been targeted more than any other position when facing play action this season. They have combined to allow a completion percentage of 64.1 percent and three touchdowns with zero interceptions against plays that feature play action. Christian Kirksey is the most targeted of those linebackers, allowing a passer rating of 87.7 on 20 targets in play action.
C Maurkice Pouncey vs. DI Danny Shelton – Pouncey is having a down year, earning the lowest grade of his career with a 58.5 overall this season. But his pass-blocking grade of 79.2 is the seventh-highest by a center and he has only allowed one sack in 588 pass-blocking snaps. His struggles have come in the run game, where he sports an overall grade of 49.3. The run game just happens to be where Shelton excels, as his 87.0 run-defense grade is 14th among interior defenders and his 24 run stops this season are tied for ninth among defensive tackles.

PFFELO Ranking: 32
Coverage by: David Neumann
WR Josh Gordon vs. CB Joe Haden — Pittsburgh, who typically plays their cornerbacks to one side of the field, tried their hand at shadowing the opponent's top receiving target with Haden following around DeAndre Hopkins for 59 percent of his snaps last week. Haden allowed four receptions on six targets for 65 yards and a touchdown in that matchup, so it will be interesting to see if the Steelers continue that tactic this week against the Browns, where Gordon has been the clear focal point of the Browns passing attack. Since Week 13, Gordon's 34 targets are nearly double that of the next closest wideout (Corey Coleman, 18). Despite the high volume, target quality has been lacking for Gordon, which has kept his overall production down — Gordon's 1.69 yards per route run over the past four games ranks tied for 31st out of 82 qualifying wideouts.
QB DeShone Kizer vs. zone coverage — No defense uses zone coverage more often than the Steelers, who have done so on 82 percent of pass snaps this season. Like many aspects of his play, Kizer has seen his production when facing zone coverage take a turn in a positive direction of late after struggling immensely for much of the year. Through Week 11, Kizer's 53.9 passer rating versus zone was dead last. Over his past five games, Kizer is flirting with league average performance (86.2), improving his passer rating against zone to 81.8 (19th).