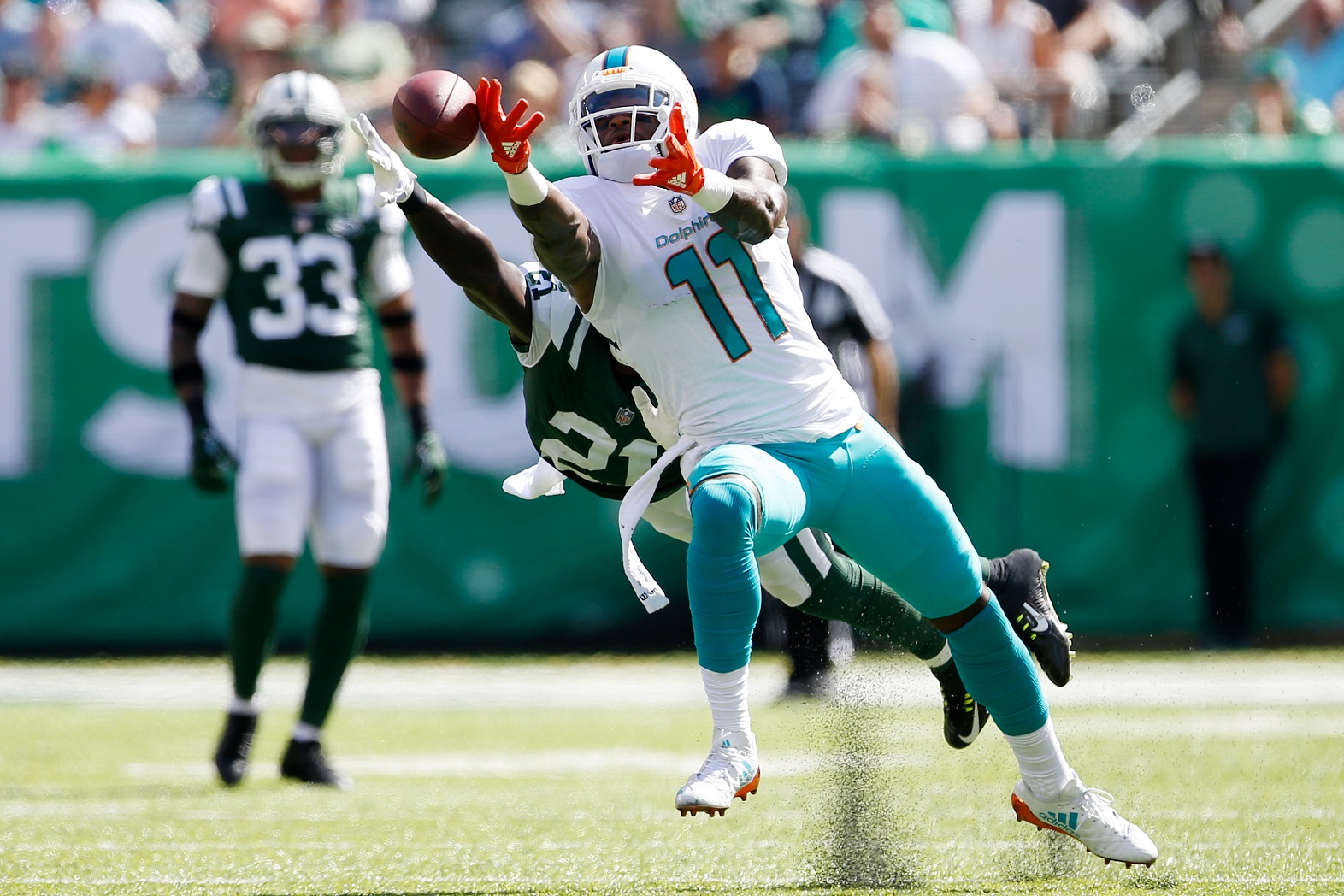 EAST RUTHERFORD, NJ - SEPTEMBER 24: DeVante Parker #11 of the Miami Dolphins attempts to catch the ball against the New York Jets during the first half of an NFL game at MetLife Stadium on September 24, 2017 in East Rutherford, New Jersey. (Photo by Rich Schultz/Getty Images)
The Miami Dolphins visit the Buffalo Bills in Week 15 of the 2017 NFL season. PFF previews the top player matchups of the game.

PFFELO Ranking: 24
Coverage by: Cyrus Geller
WR DeVante Parker vs. CB Tre'Davious White – White has been one of the best cornerbacks in the league this year, as his overall grade of 90.1 currently ranks sixth-best out of 118 qualified cornerbacks. He will likely see a lot of DeVante Parker, whose overall grade of 70.8 ranks 60th out of 116 qualified receivers this year. Parker's quarterbacks haven't had a ton of success throwing his way, as quarterbacks have a passer rating of 54.7 when targeting Parker, which ranks 80th out of 82 qualified receivers.
T Laremy Tunsil vs. Edge Jerry Hughes – Tunsil has struggled at times this season, as he has allowed seven quarterback hits, tied for the sixth-most among 78 qualified offensive tackles. His overall grade of 52.6 puts him 51st out of 82 tackles this season. Hughes has been arguably the best player on the Bills front seven in 2017, as his overall grade of 83.2 is the best among starters in that front seven and  ranks 26th out of 115 qualified edge defenders. Hughes is particularly good against the run, as his run-defense grade of 89.2 is fifth-best among edge defenders.
WR Kenny Stills vs. CB E.J. Gaines – Miami's quarterbacks this season have a passer rating of 104.0 when targeting Stills, which is best on the team and ranks tied for 25th-best out of 82 qualified receivers. Stills had a quiet week against New England in Week 14, so look for the Dolphins to get him involved, especially if he doesn't see a lot of Tre'Davious White matched up on him. Gaines this season has been good, as his overall grade of 82.4 ranks tied for 28th out of 118 qualified cornerbacks.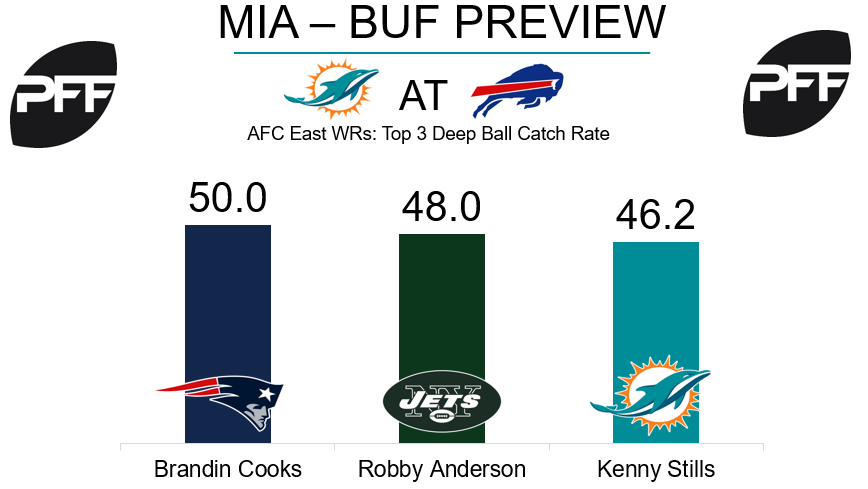 PFFELO Ranking: 17
Coverage by: Elliott Rooney
RB LeSean McCoy vs. LB Kiko Alonso – McCoy was the second-highest graded running back in Week 14 with an overall grade of 93.5. This was McCoy's best game grade all season. Last week versus the Colts, McCoy forced eight missed tackles on the ground, the second-most by any running back. Over the last two weeks no running back has forced more missed tackles while running than McCoy with 10. Alonso impressed last week with an overall grade of 84.9, which was the third-best by a linebacker. Despite this, Alonso still grades poorly with an overall grade of 41.8 that ranks 71st among 88 linebackers. His performances against the run this season haven't been inspiring. With a run-defense grade of 53.1, Alonso ranks 56th among linebackers and he also has a run-stop percentage of 5.6 which ranks 53rd.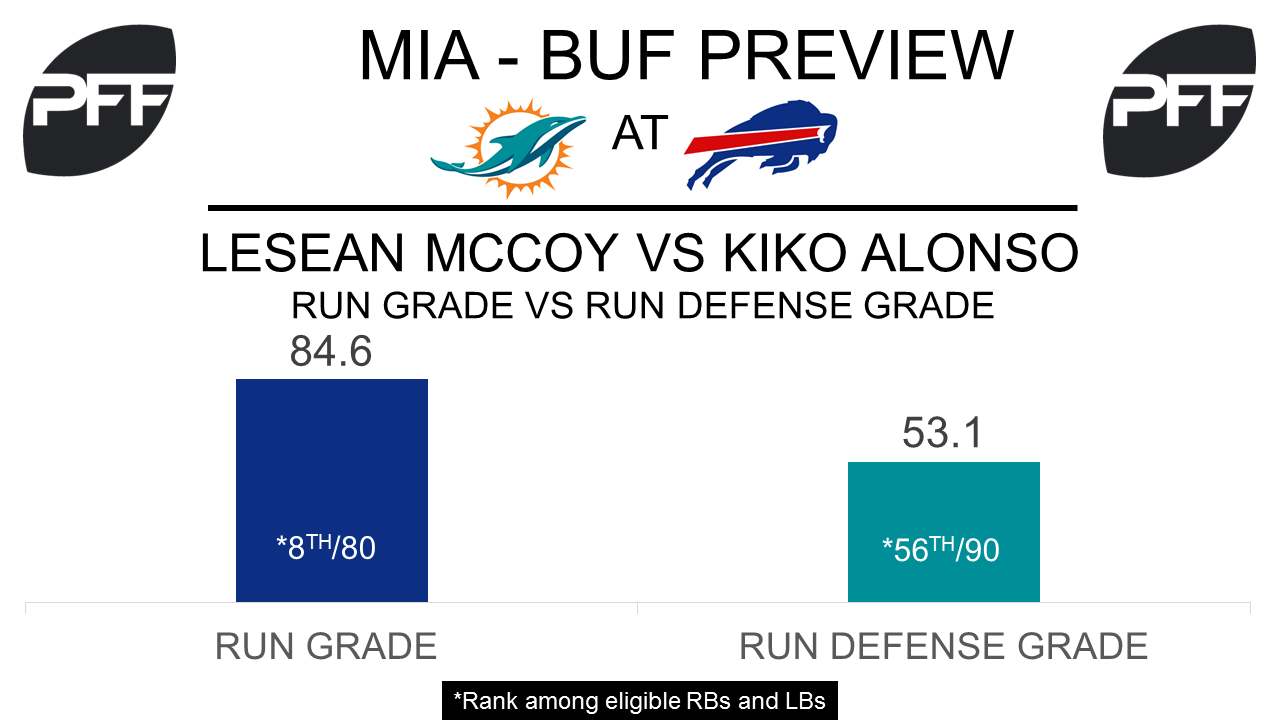 T Jordan Mills vs. Edge Cameron Wake – Mills has surprised many with his play this season, especially in his pass blocking. With a pass-block grade of 78.3, Mills currently has the 22nd best pass-block grade among tackles. Mills has a pass-blocking efficiency of 96.2, which is the 17th best by a tackle. He has only surrendered 22 total pressures on 454 pass-block snaps. Wake is a defender who can cause the best offensive tackles problems and no doubt he will do the same to Mills on Sunday. Wake is still one of the best rushing the passer and he has 52 total pressures on 291 pass-rush snaps. His pass-rushing productivity 14.1 is the third-best by an edge defender this season. All 52 of his pressures have come from the left side of the defense.
WR Zay Jones vs. CB Bobby McCain – With slot receiver Jordan Matthews hitting injured reserve last week, Jones will now be the primary slot receiver. Despite not seeing any targets last week versus the Colts, mainly due to the weather conditions, Jones still ran 83.3 percent of his routes out of the slot position on Sunday. Jones will have a difficult task ahead of him versus McCain, who has been one of the best slot defenders in the NFL this season. McCain is only allowing a passer rating of 74.0 when targeted in the slot, which is the sixth-best by a defender in 2017.