The Dallas Cowboys visit the Atlanta Falcons in Week 10 of the 2017 NFL season. PFF previews the top player matchups of the game.

Coverage by: Aaron Jones
Matchup: Dallas Cowboys offense vs. Atlanta Falcons defense
T La'el Collins vs. Edge Adrian Clayborn – La'el Collins has unfortunately been a glaring weak spot on the Cowboy's offensive line week in and week out, and that may not change with a matchup against Adrian Clayborn on the horizon. Collins' pass-blocking efficiency of 92.8 is tied for 58th among 76 qualifying offensive tackles. Clayborn ranks 17th among 110 qualifying edge defenders with an overall grade of 84.1. His pass-rush productivity of 10.0 currently ranks 28th among 63 qualifying edge defenders.
G Zack Martin vs. Dl Grady Jarrett – The highest graded offensive player for the Cowboy's draws a matchup against the highest graded defense player for the Falcon's. Zack Martin continues to dominate, currently grading as the second-highest guard in the league, only trailing the Pittsburgh Steelers' David DeCastro. He's allowed only five total pressures, the lowest among all guards with at least 175 pass-block snaps. His pass-blocking efficiency of 98.7 is tied for first among 79 qualifying offensive guards. Grady Jarrett is having the best year of his young career, currently grading as the 17th-highest interior defender, with an overall grade of 86.1. This is primarily due to his strong play against the run, where he's tied for seventh among all interior defenders with a run-defense grade of 87.9. He has 20 run stops (a stop constitutes a win for the defense), the fourth most among interior defenders. His run-stop percentage of 13.0 ranks sixth among 115 qualifying interior defenders.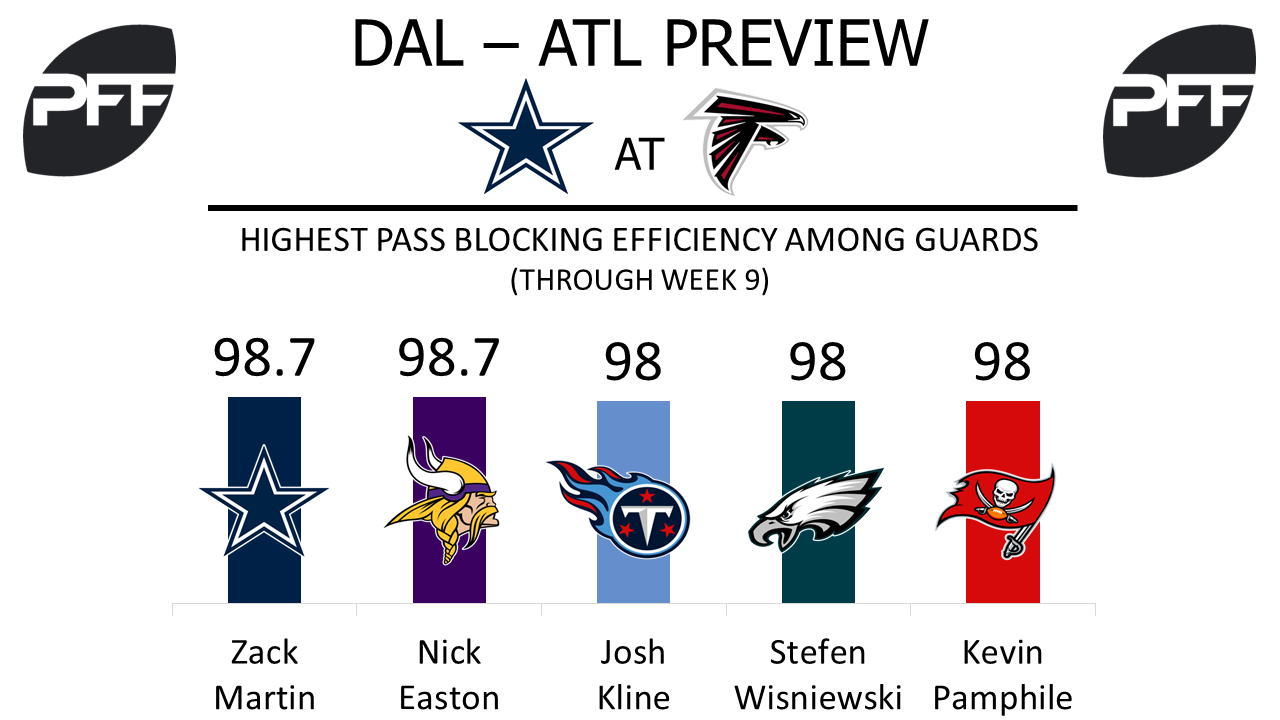 WR Dez Bryant vs. CBs Desmond Trufant – Dez Bryant continues to struggles with drops. He dropped another pass last week, bringing his total to six on the season, tied for the third most among all wide receivers. Luckily for the Cowboy's, Bryant has enough skill and playmaking ability to offset the drops, as he currently ranks 14th among 109 qualifying wide receivers with an overall grade of 81.3. His toughest matchup in the Falcon's secondary will be cornerback Desmond Trufant, who's currently grading as the 31st-highest cornerback in the league (among 115 qualifying cornerbacks), with an overall grade of 81.0.

Coverage by: Bill O'Brien
WR Mohamed Sanu vs. CB Orlando Scandrick – Falcons' star wide receiver Julio Jones is nursing a lower leg injury that is likely to hobble him somewhat in this week's matchup against the Cowboys. As a result, the Falcons will likely need to rely on wide receiver Mohamed Sanu to pick up the slack for Jones. Sanu often lines up in the slot where he is one of the better receivers in the NFL. The six-year veteran ranks 12th among wide receivers in yards per route run from the slot at a rate of 1.90. Cowboys' cornerback Orlando Scandrick is one of the better slot cornerbacks himself and will be tasked with slowing down Sanu this week. Scandrick has surrendered an average of 0.86 yards per coverage snap when lined up in the slot, which ranks 12th among 53 qualified cornerbacks.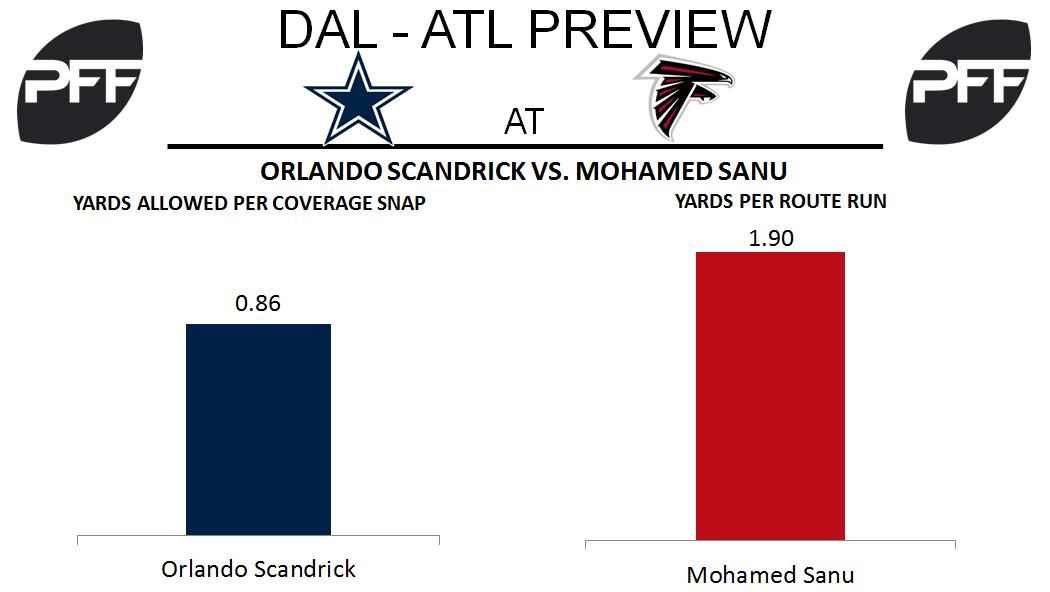 RB Tevin Coleman vs. LB Jaylon Smith – Like Julio Jones, Falcons halfback Devonta Freeman is nursing an injury as well, meaning Tevin Coleman could be in line for a bigger role to give Freeman some rest. Coleman will be up to the challenge, particularly in the passing game where he averages 2.39 yards per route run, which ranks second out of 38 qualified halfbacks. Cowboys' top linebacker Sean Lee will undoubtedly be involved with attempting to shut down Coleman, but it will take more than one player to slow down Coleman. Linebacker Jaylon Smith will need to step up and provide support next to Lee. Smith is a capable coverage linebacker, as he has allowed an average of 1.26 yards per coverage snap, which ranks 20th out of 75 qualified linebackers.
T Ryan Schraeder vs. Edge DeMarcus Lawrence – One way the Cowboys will look to slow down the Falcons offense is in the trenches, where edge defender DeMarcus Lawrence will square off against right tackle Ryan Schraeder. Lawrence ranks among the best edge defenders in the league as he has earned an overall grade of 89.9, which ranks seventh among edge defenders in overall grade. Right tackle Ryan Schraeder excels in pass blocking, as he ranks seventh out of 76 qualified tackles in pass-blocking efficiency with a rating of 97.0.