PFF Analysts Steve Palazzolo and Zac Robinson give you an overview of every team's quarterback, and where they rank in terms of overall PFF grade as well as detailed notes on a select few who stood out for good, or bad, reasons in Week 13. These rankings are based on their overall grades after Week 13, and can be found as a part of the PFF Edge subscription.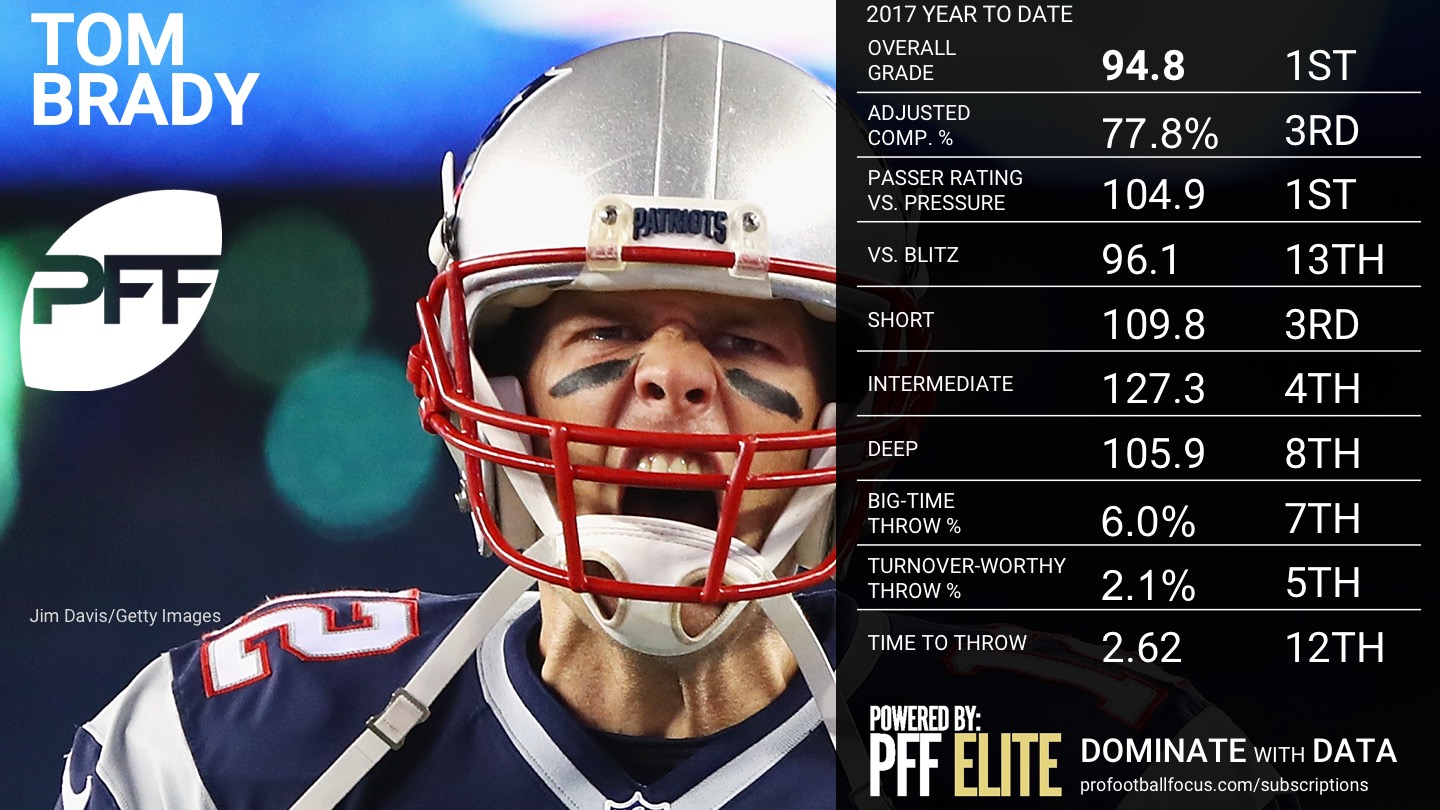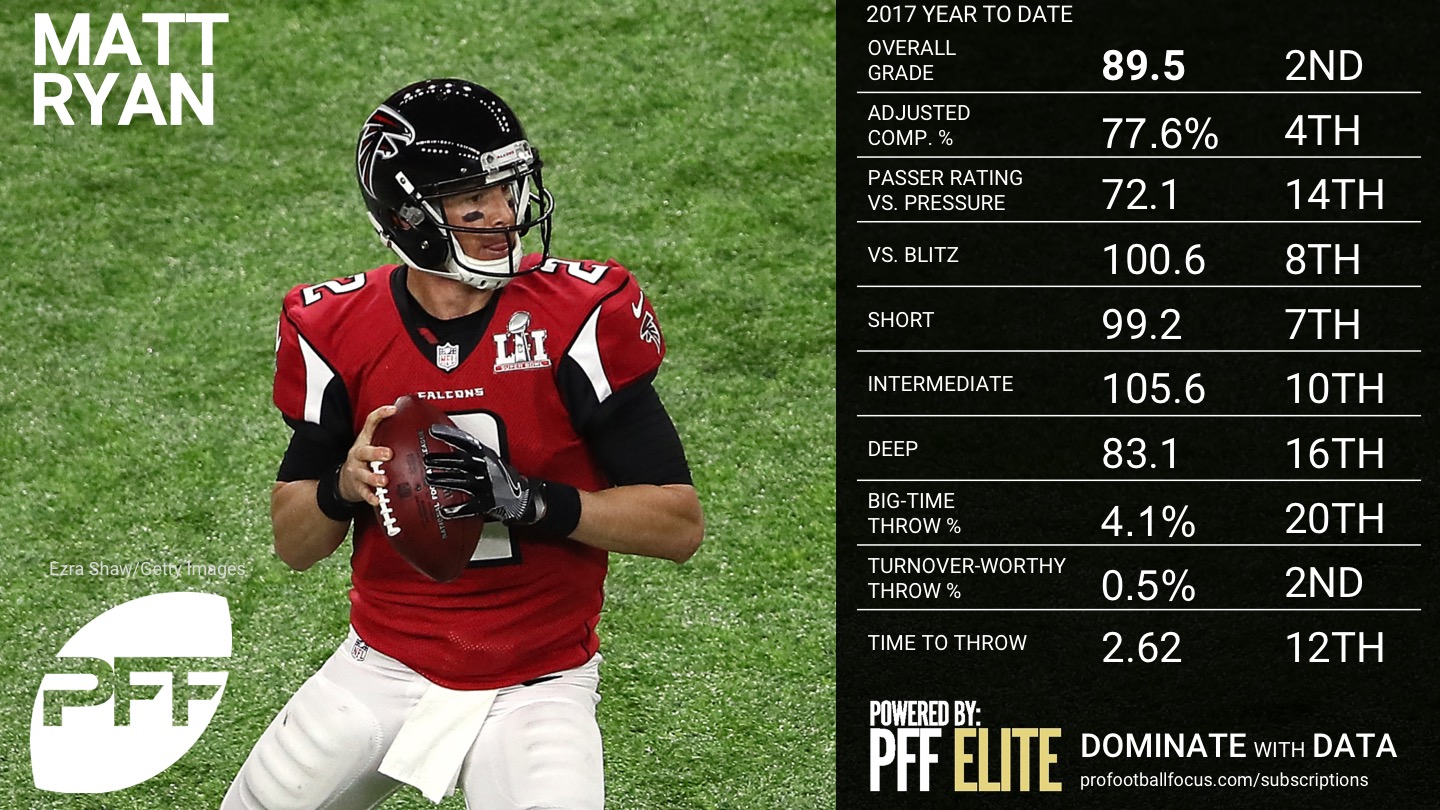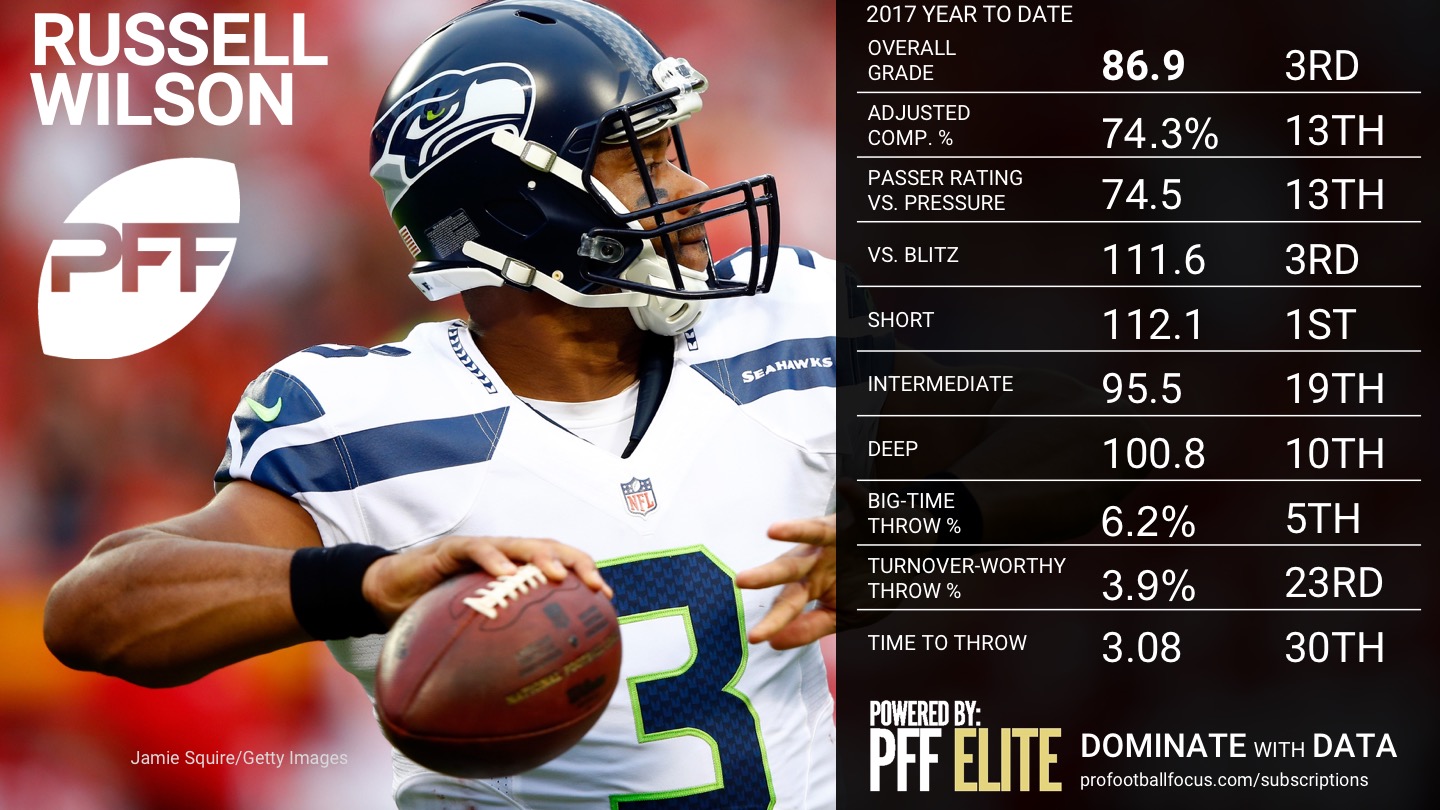 The 2017 roller coaster continued for Wilson who was on top of his game against the Eagles after a subpar effort last week against the 49ers. His best throw of the game was a corner route against a heavy blitz in which he hit WR Doug Baldwin in stride for the 47-yard gain. Despite ranking second in the NFL in turnover-worthy throws, Wilson took good care of the ball against Philadelphia while dominating outside the numbers where he finished 11-for-16 for 150 yards and three touchdowns on the night. High-end Wilson is perhaps the most difficult quarterback to stop and that was on display in this crucial NFC win for the Seahawks.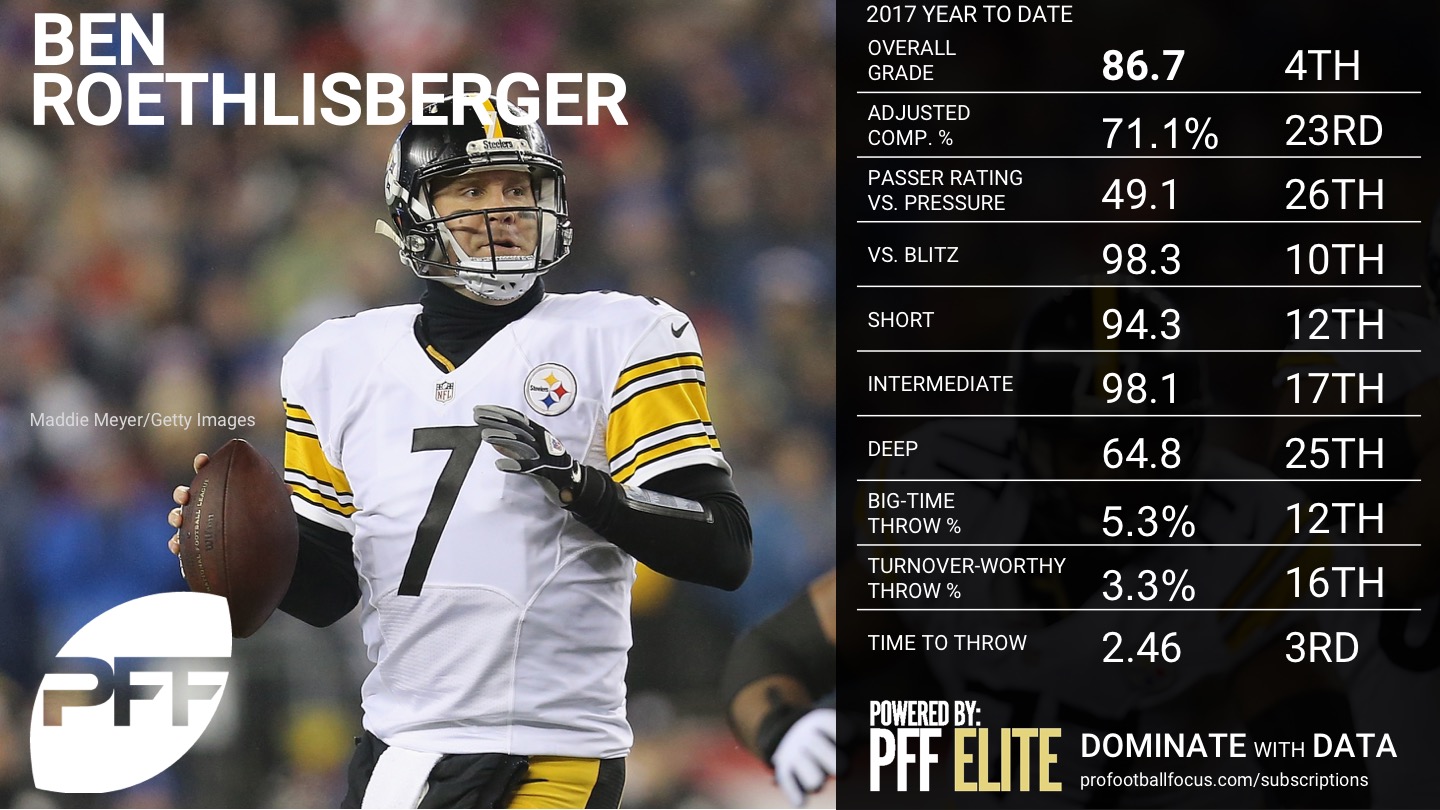 It was a rough start for Roethlisberger who threw a panicked interception under pressure in the first quarter, but he settled down and hit on a number of #bigtimethrows the rest of the evening. Whether dropping one in a bucket on pass interference call, putting one right on WR Antonio Brown's hands on a deep pass that was ultimately broken up, or firing a tight-window touchdown to Brown to tie it up in the fourth quarter, Roethlisberger showed that he's still capable of putting the ball in spots to create big plays. Roethlisberger had his fair share of misses in this one, but he was only pressure on 11 out of 41 dropbacks and he took advantage with a passer rating of 112.1 on those plays compared to only 20.0 on the 11 pressured snaps.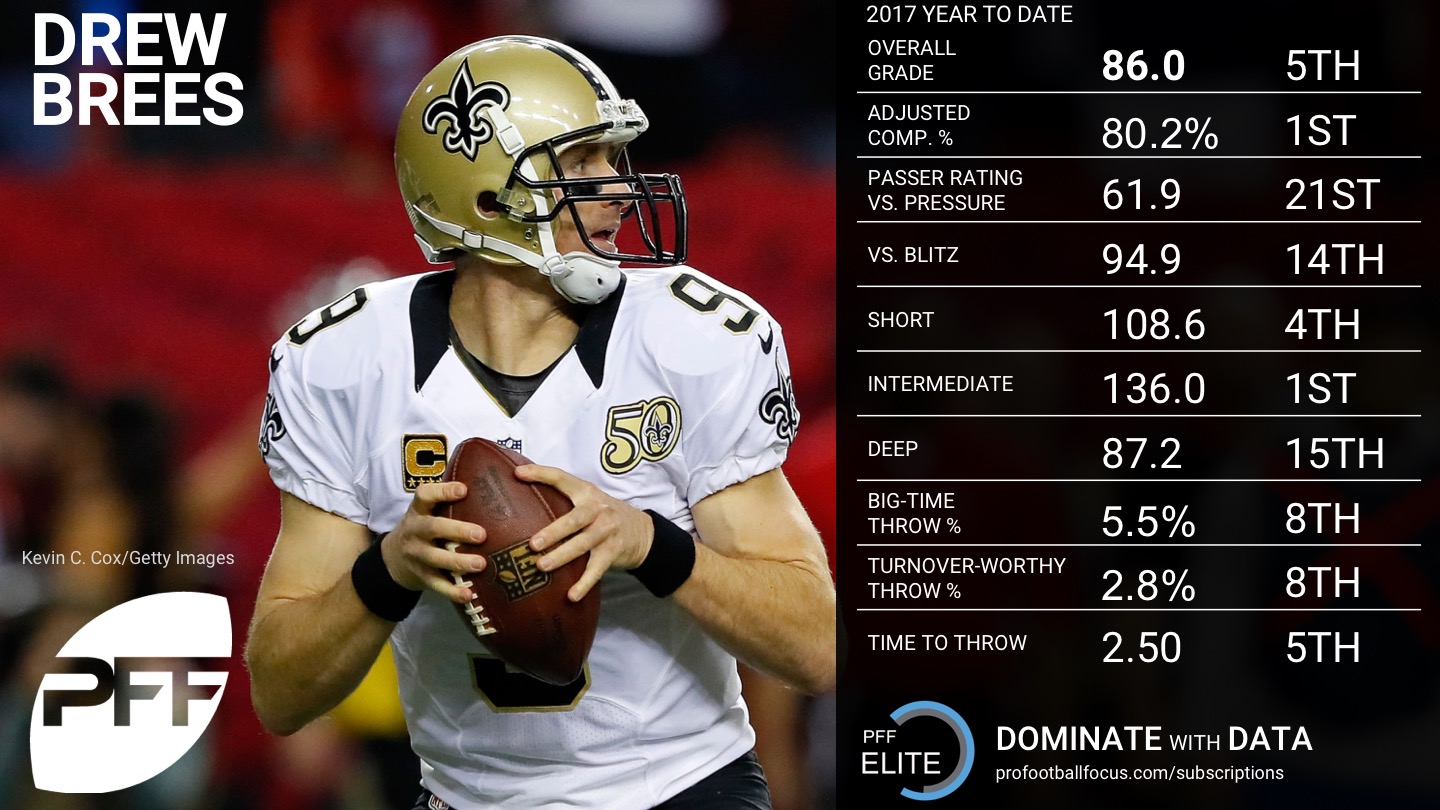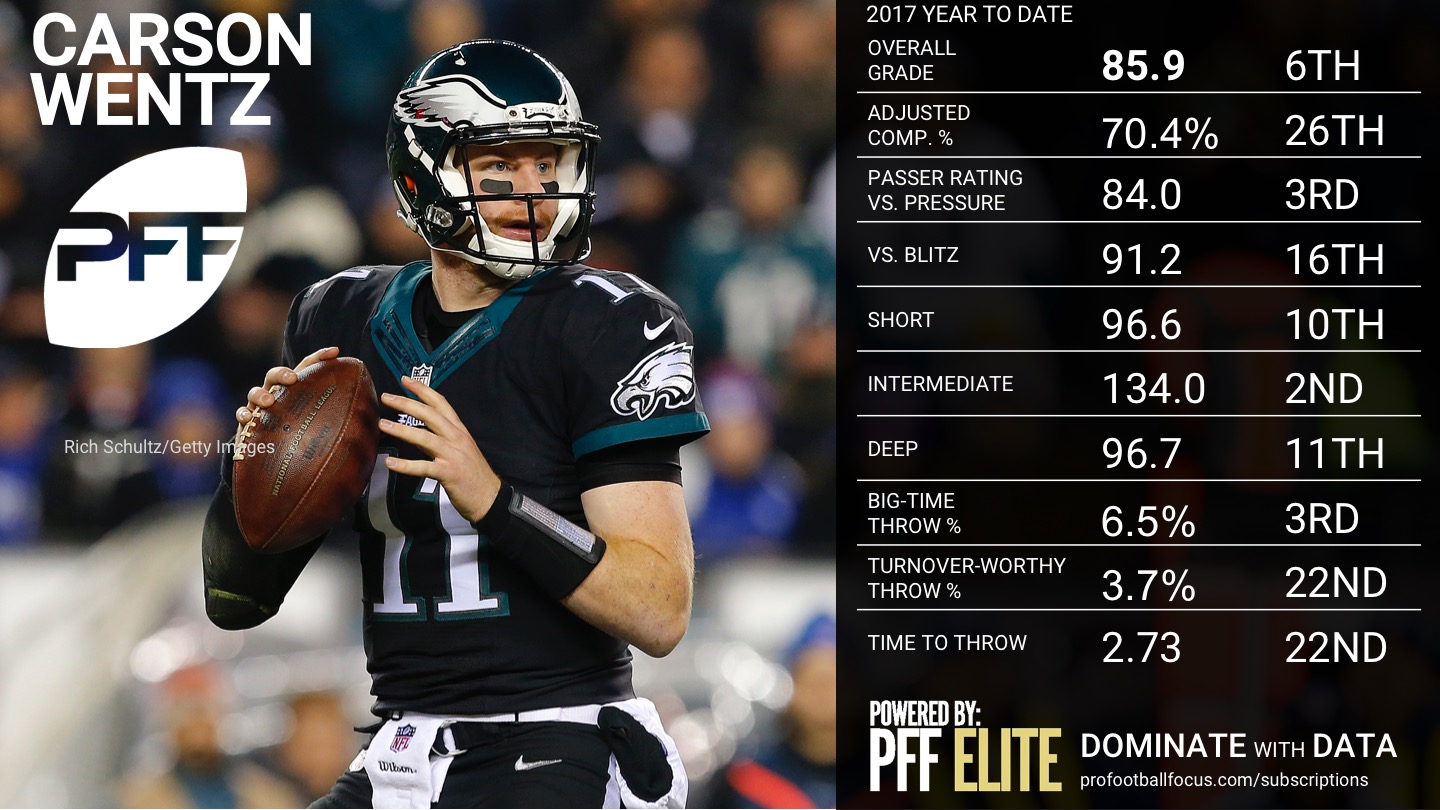 It was a story of two key plays for Wentz who missed a wide open crossing route on an early coverage bust before fumbling into the end zone to thwart the Eagles' first good scoring drive. He managed to bounce back with two spectacular plays, first hitting a 51-yard gain while rolling out to his right and making the throw on his way to the ground and he followed it up with a downfield strike for a 27-yard touchdown on a wheel route. Those big-time throws kept Philadelphia in the game, but the misses proved costly as the Eagles suffered their second loss of the season. Overall, Wentz had a fine game in a hostile Seattle environment, and his work under pressure continues to improve as he went 13-for-25 for 206 yards and a score when under heat in this one.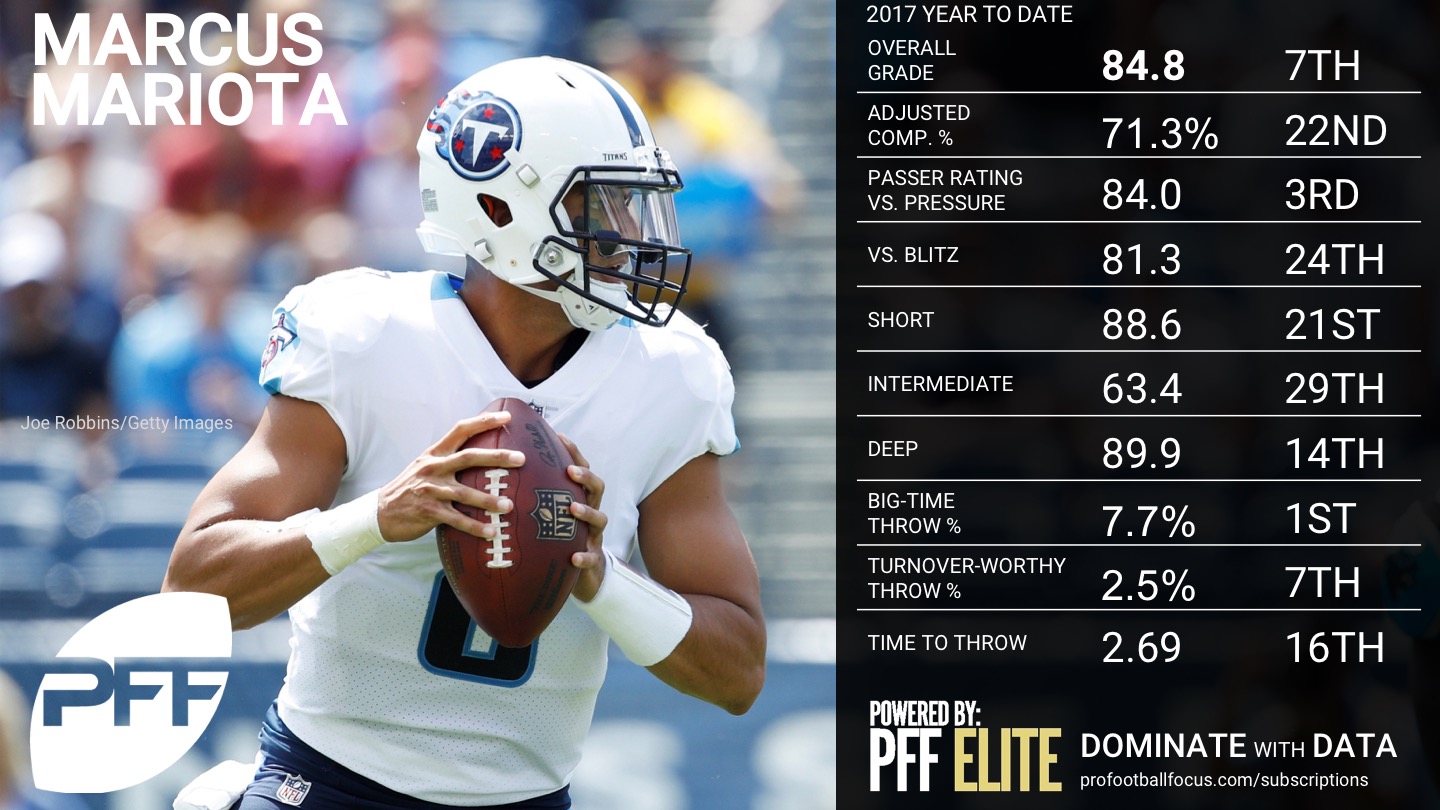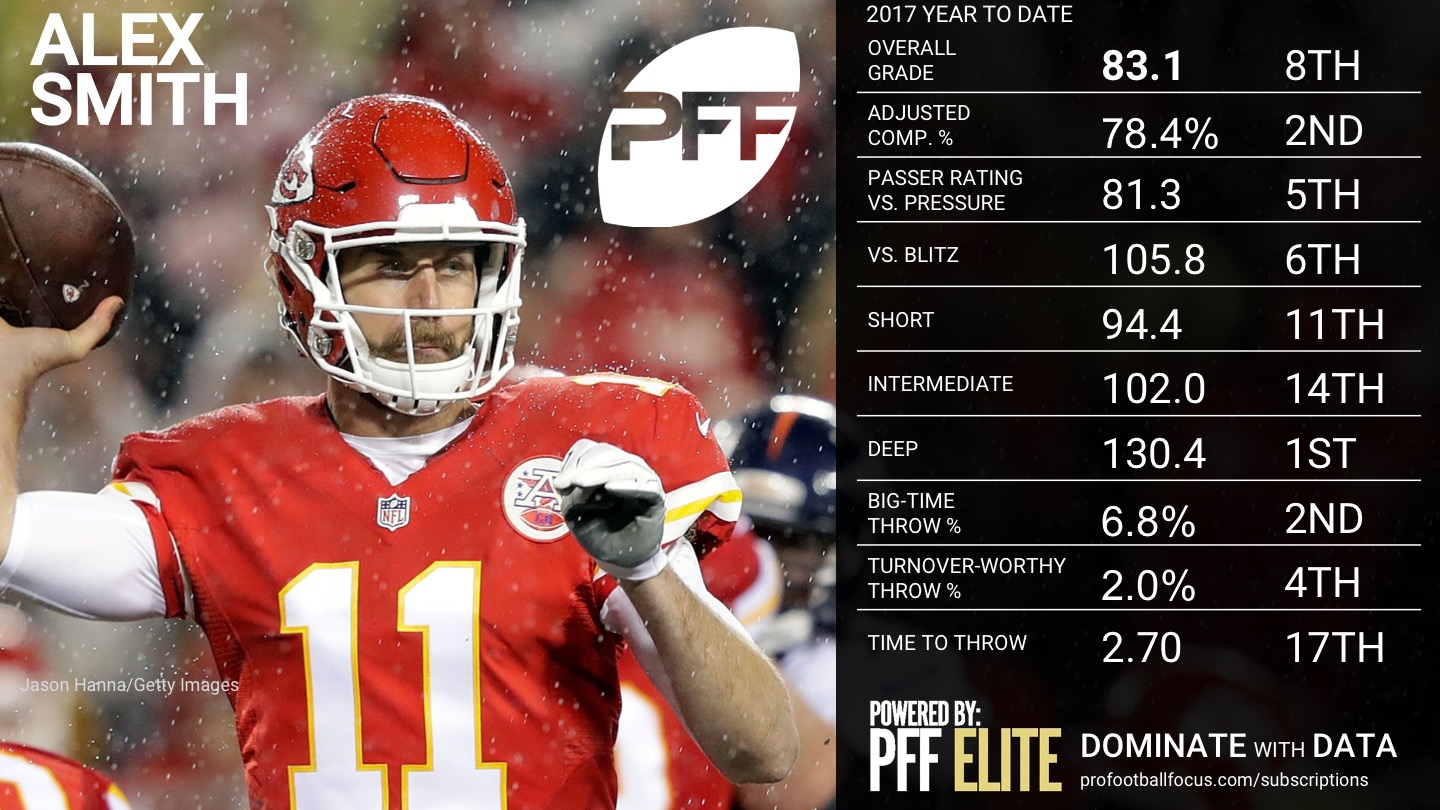 Smith's play has been in a tailspin since his hot start to the season, but this was a step back in the right direction. His final stat line was a bit misleading, as a big part of Smith's game was attributed to the coverage gaffes on the back end for the Jets. Nevertheless, Smith exploited the back end mistakes with big plays down the field and finding the open man within the design of the play, going 5-of-8 for 217 yards and four touchdowns on throws traveling 20-plus yards. Smith and the Chiefs took advantage against the Jets cover-4 quarters defense, averaging over 22.0 yards per attempt and all four of his TD passes coming against those looks. Smith was well protected throughout as his play in a clean pocket saw him finish with a near perfect passer rating of 158.1. The Chiefs had a chance to tie the game up on the final drive in the redzone, only for Smith's final three passes falling to the ground incomplete.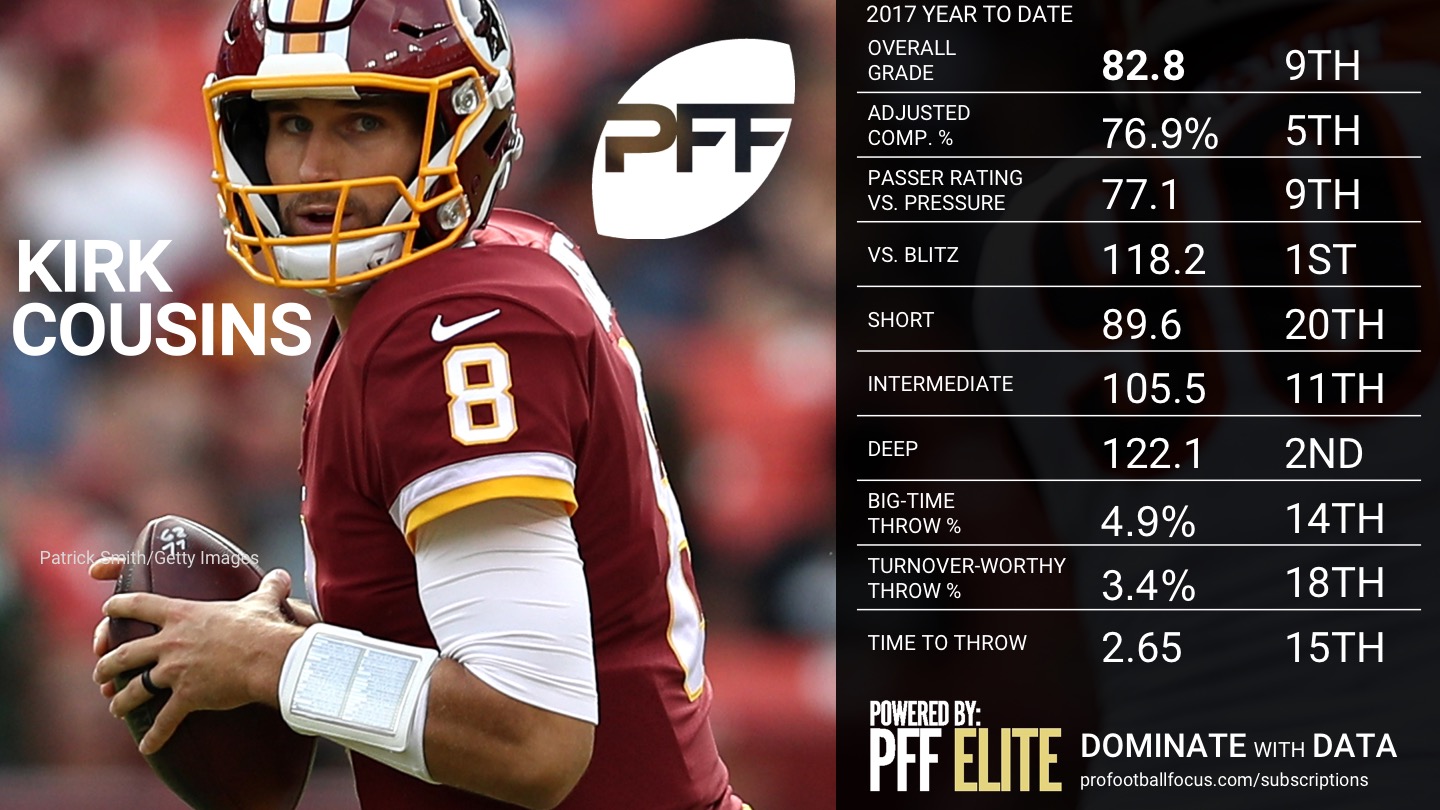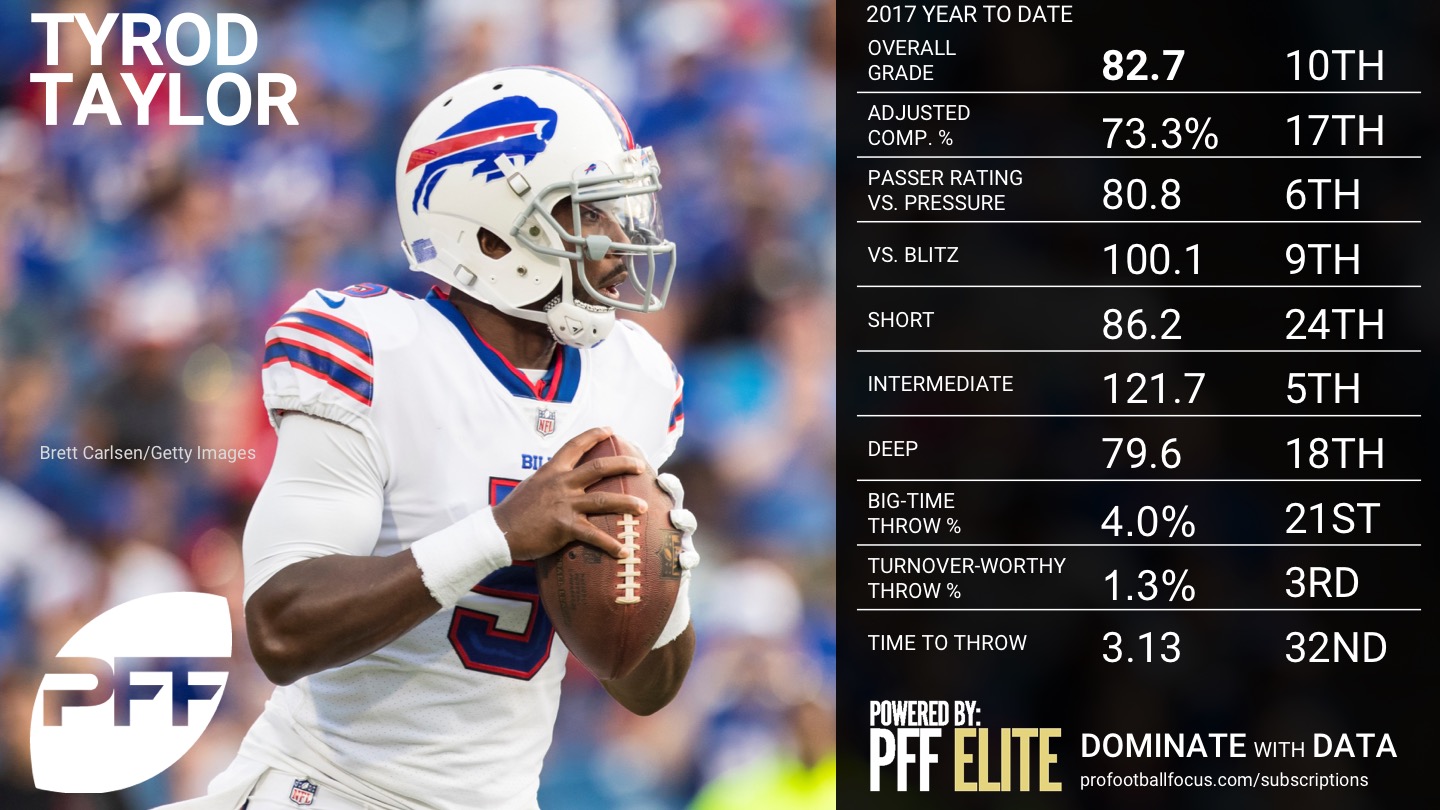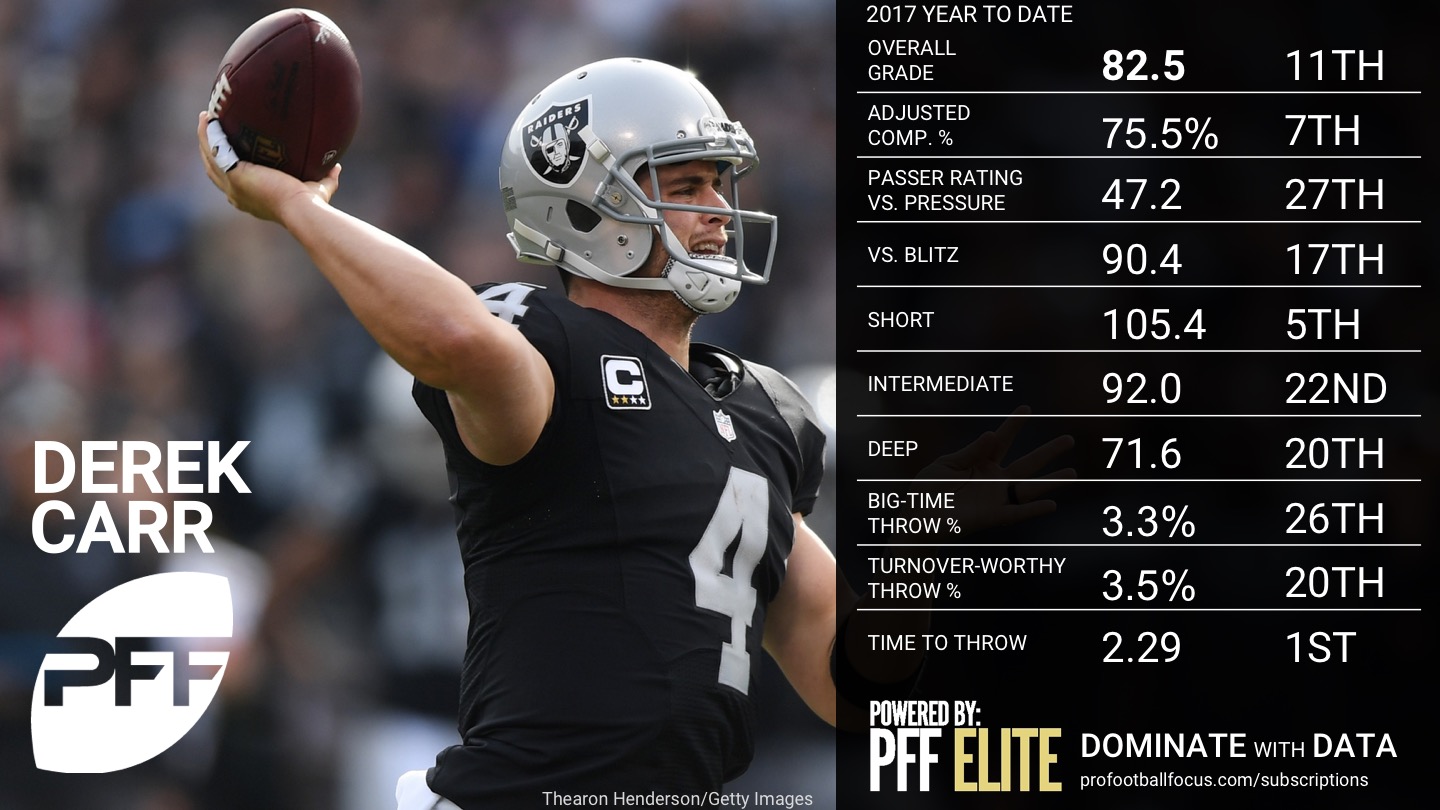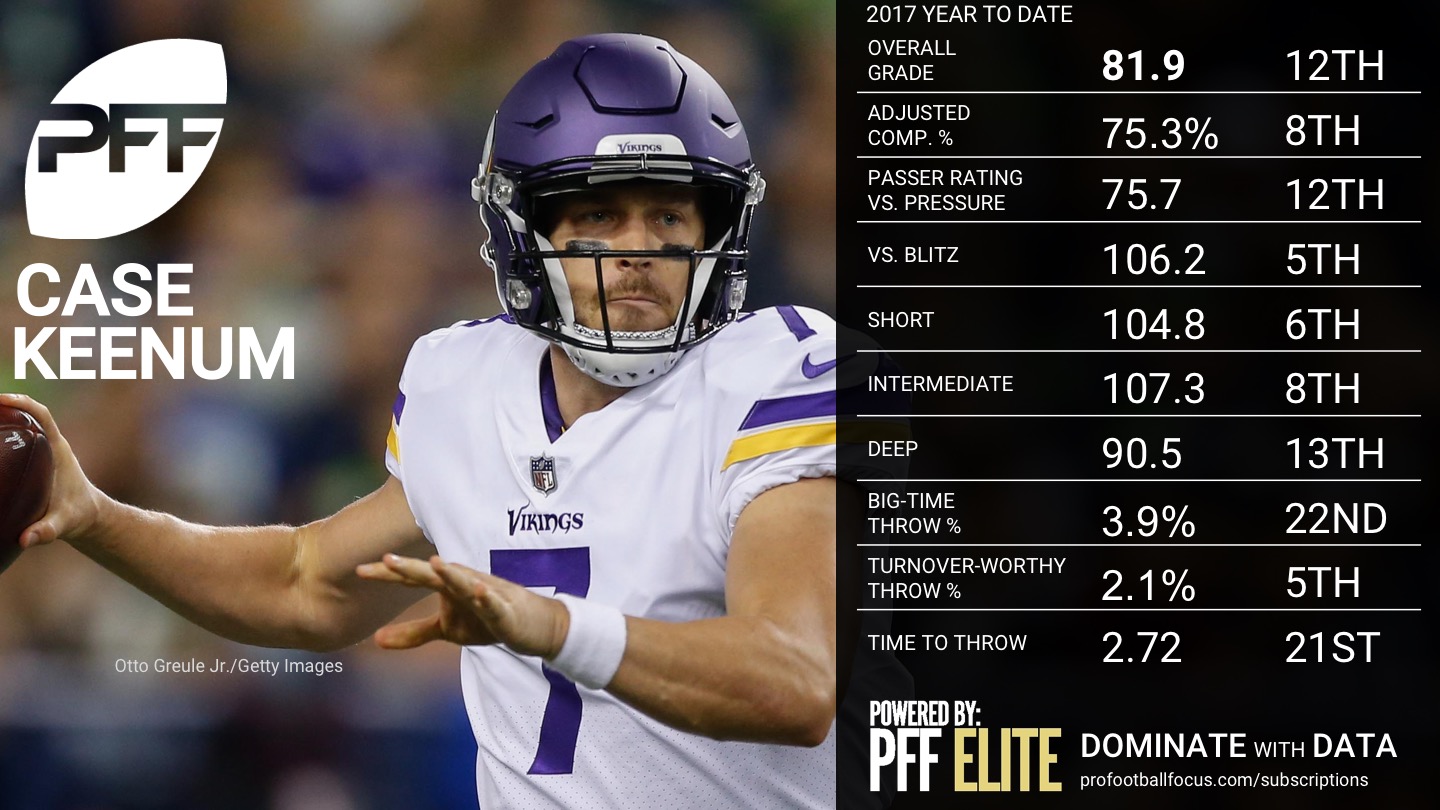 Keenum did what he needed to do for what the game called for against the Falcons, making sound decisions, taking care of the ball, throwing with accuracy underneath and making a few key plays for conversions by maneuvering the pocket to find throws.  He was able to consistently find the open man, especially in a clean pocket, where he finished 21-of-23 for 201 yards, two touchdowns and the second-best passer rating of Week 13 at 132.1. Keenum's play in the second half was superb, going 13-of-13 for 117 yards and a fourth quarter touchdown to Kyle Rudolph on a well-designed play inside the 10-yard line. His consistency and discipline continue to impress when it seems everyone is waiting for him to fall off this level of play.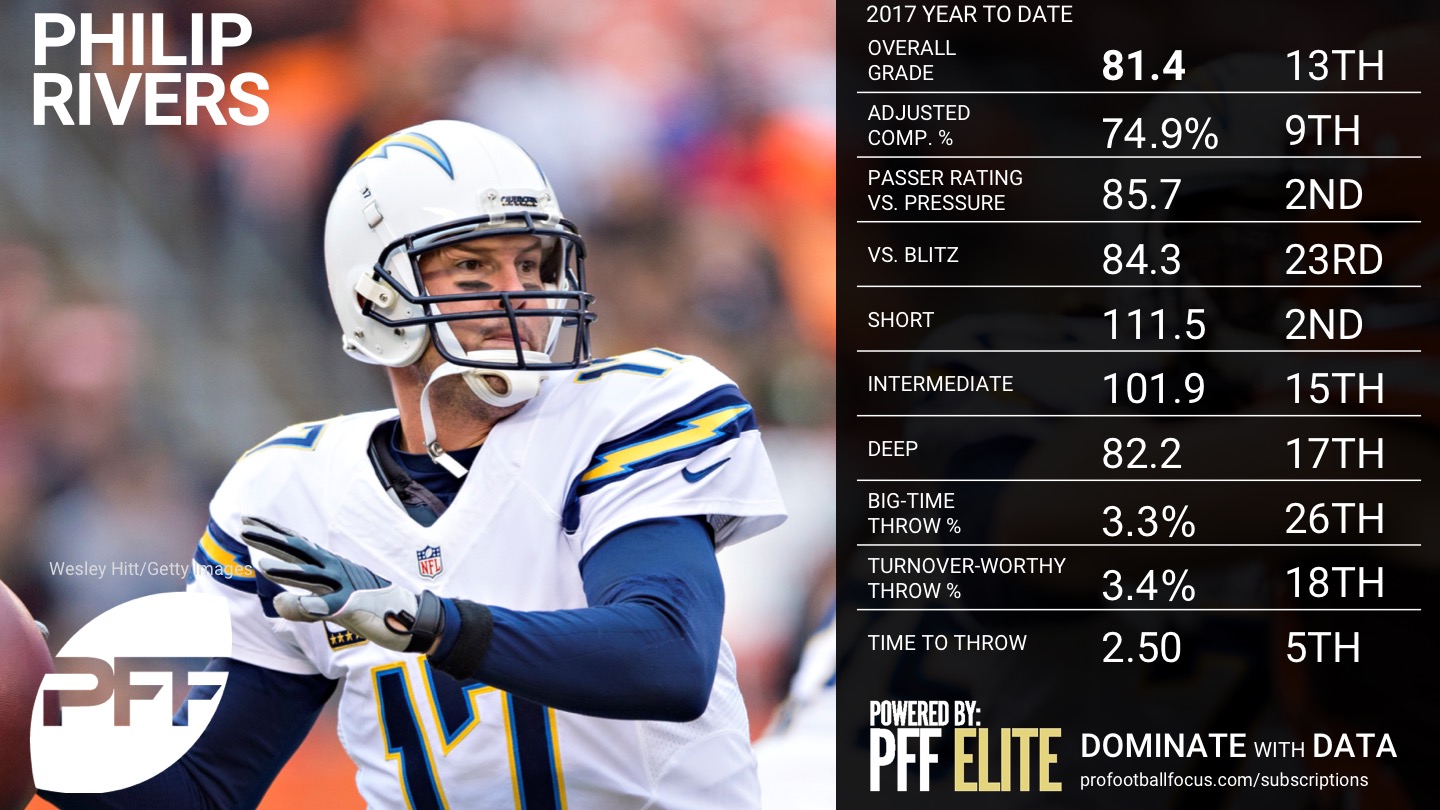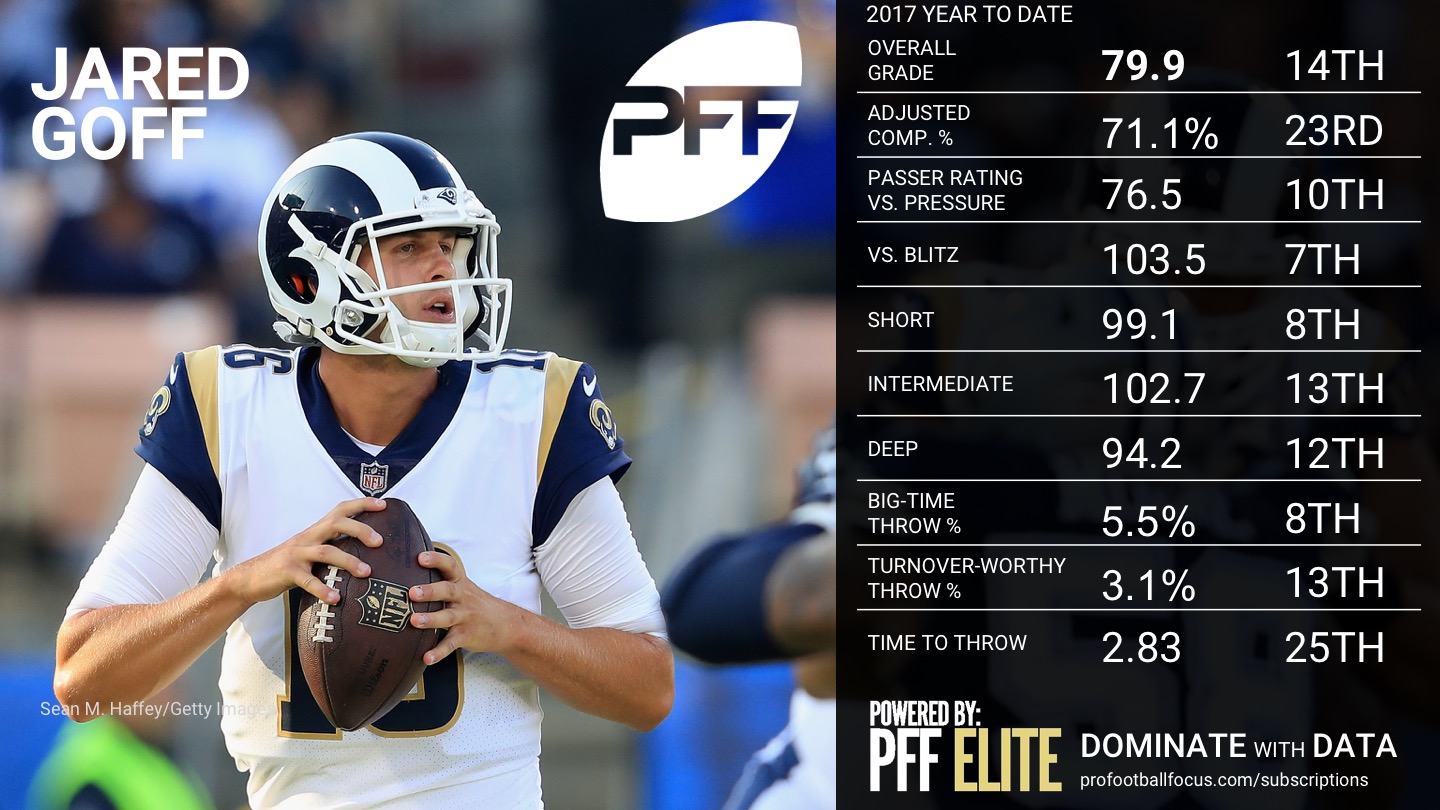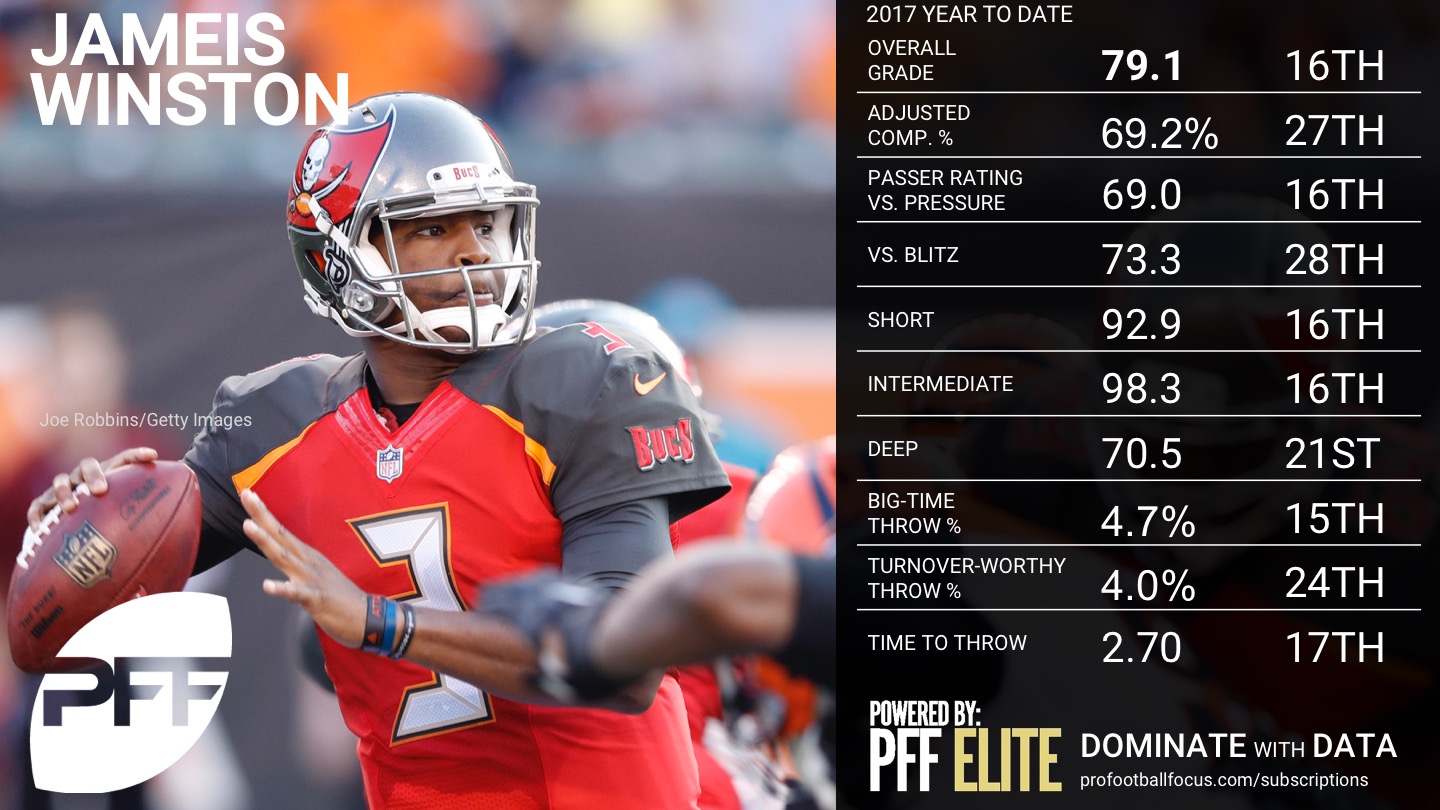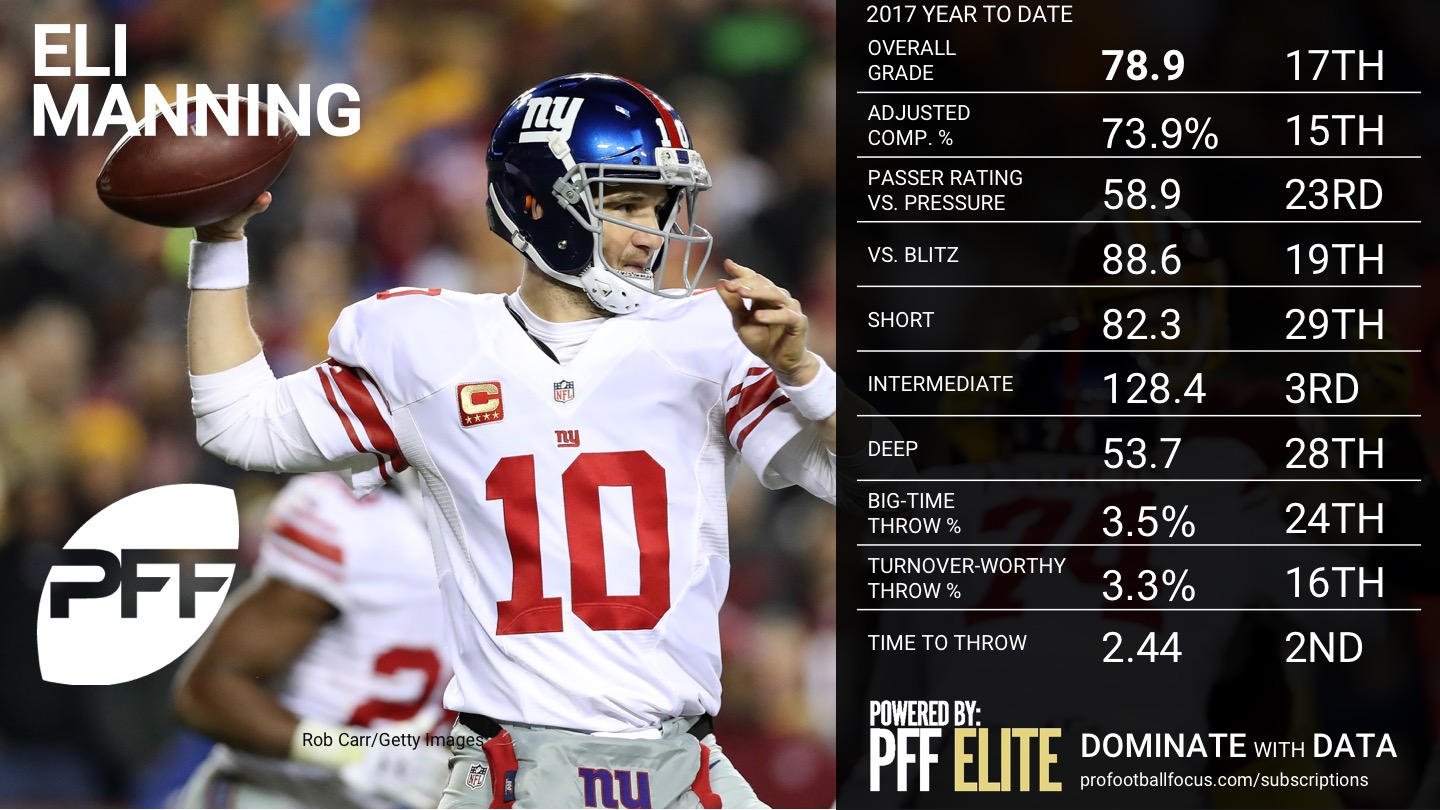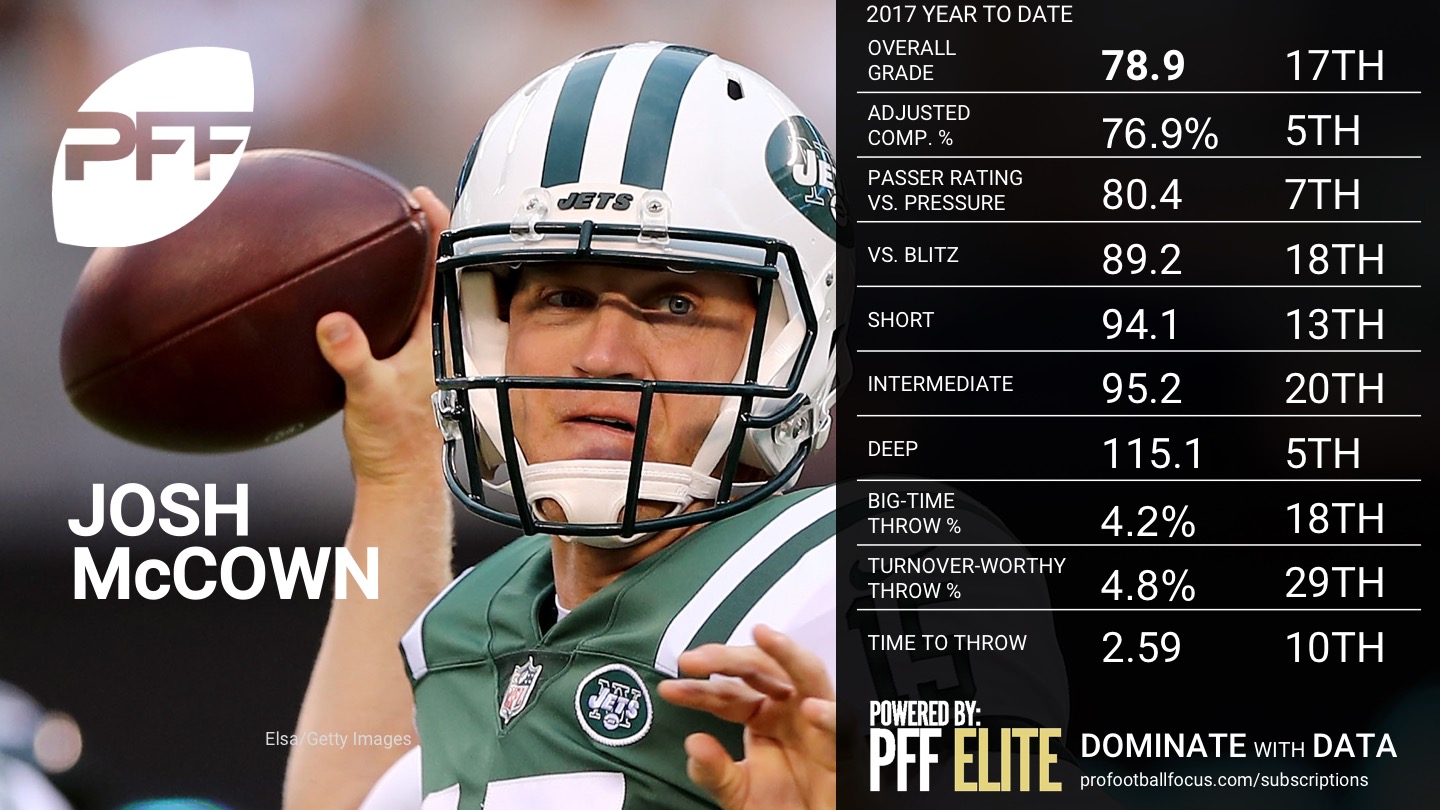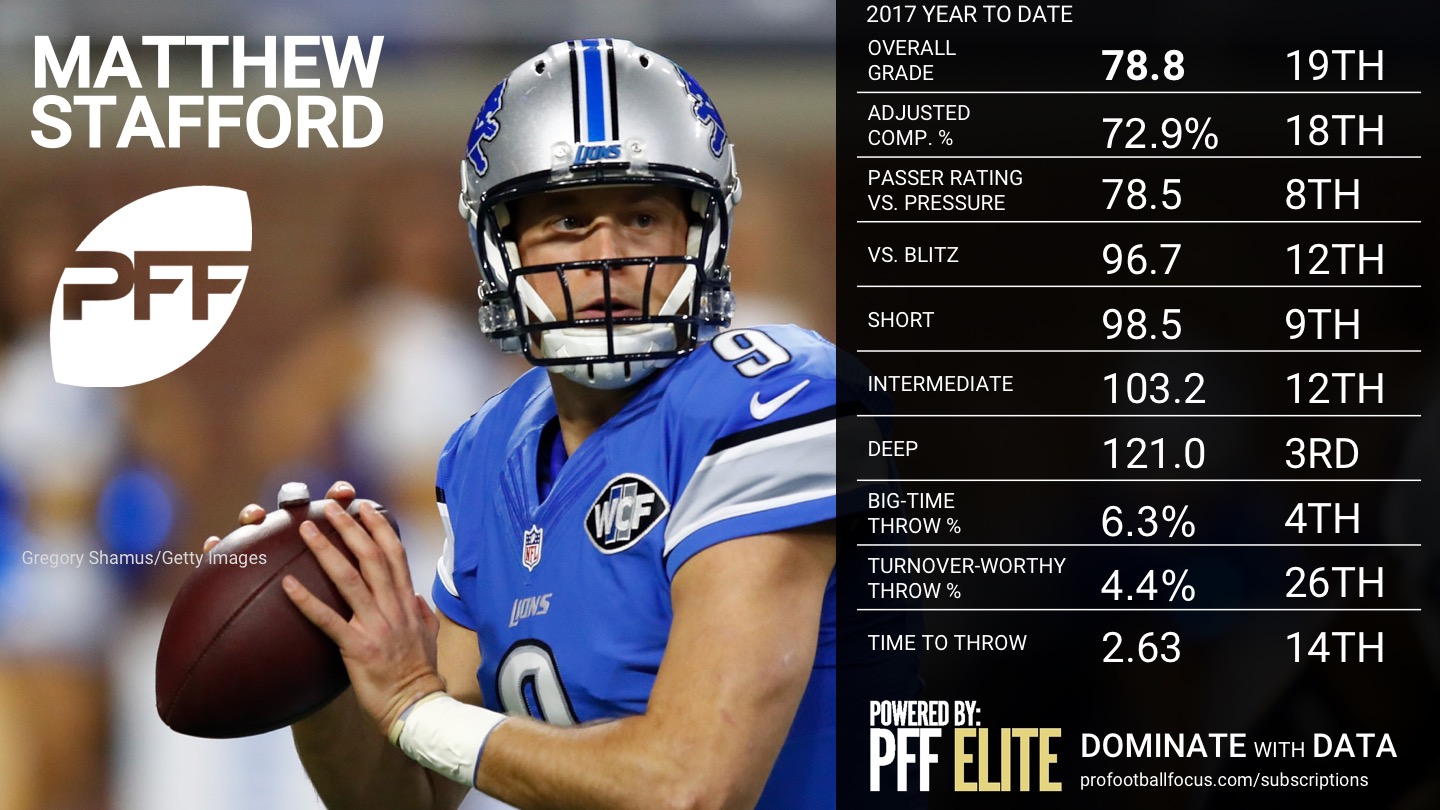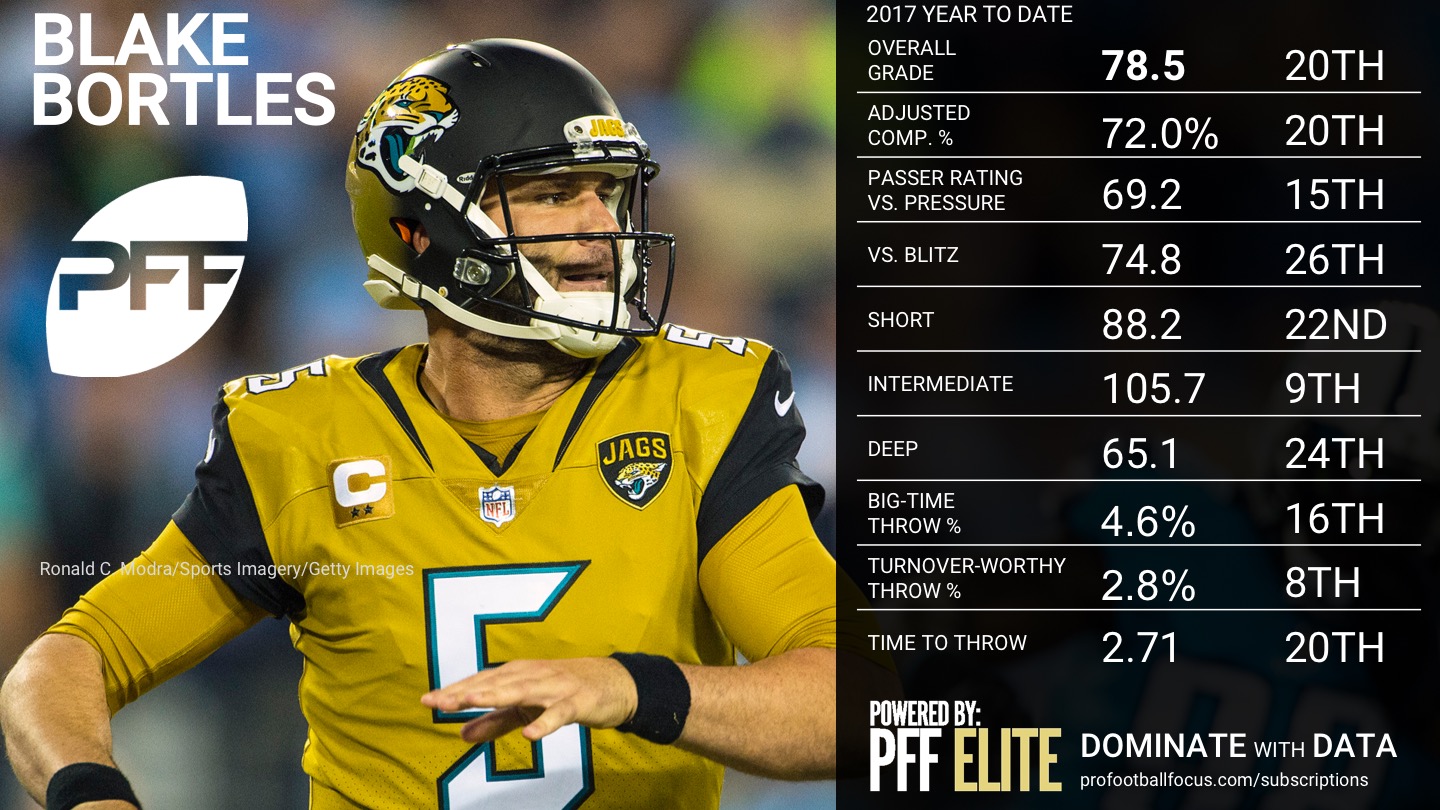 Bortles has fired off his two best games of the season against the Colts, as this week he was accurate, decisive, and made sound decisions all the way through. His play on third and goal to go situations was key, as he delivered two touchdown passes in the first half, including a big time throw on a well placed corner route against an all out cover-0 blitz. He found success on a number of crossers and digs over the middle of the field, as well as good placement outside the numbers on deep corner routes. Perhaps most impressively was his play in true dropback situations, where he was 21-of-27 for 236 yards and two touchdowns on non play action plays this week, and the fourth-best passer rating in Week 13 of 127.8.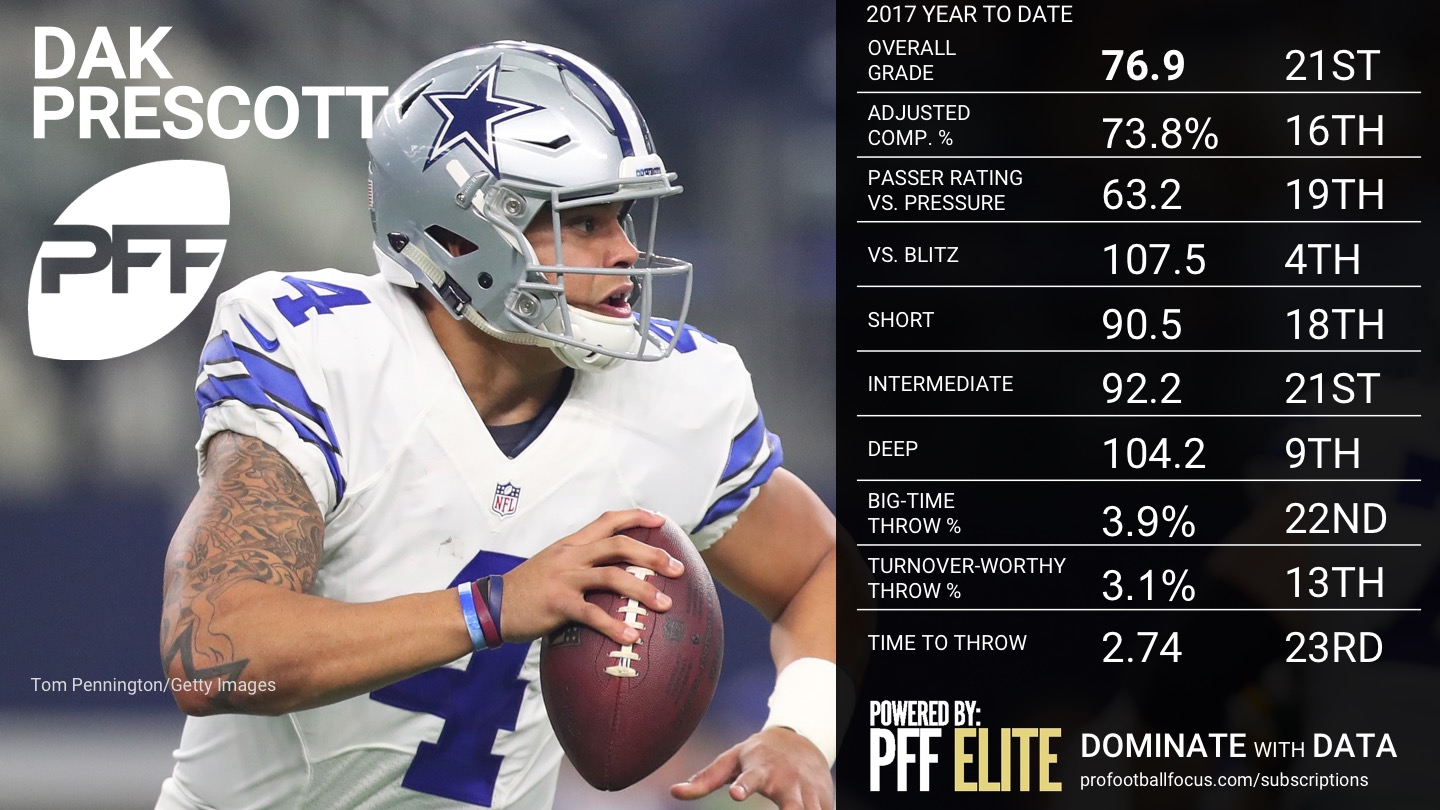 The struggles continue for Prescott, though the Cowboys kept their season alive with a Thursday night victory over the Redskins. Prescott had early interception luck on a forced pass to WR Dez Bryant and even his endzone fade to Bryant for a touchdown was more about the receiver making a spectacular catch on a throw that was too far inside. It's been a challenging few weeks for Prescott who is dealing with a lesser supporting cast than he's become accustomed to, but if there's one thing we learned about his rookie season, it's that he's able to bounce back from adversity and that's what we'd like to see in the last quarter of the season.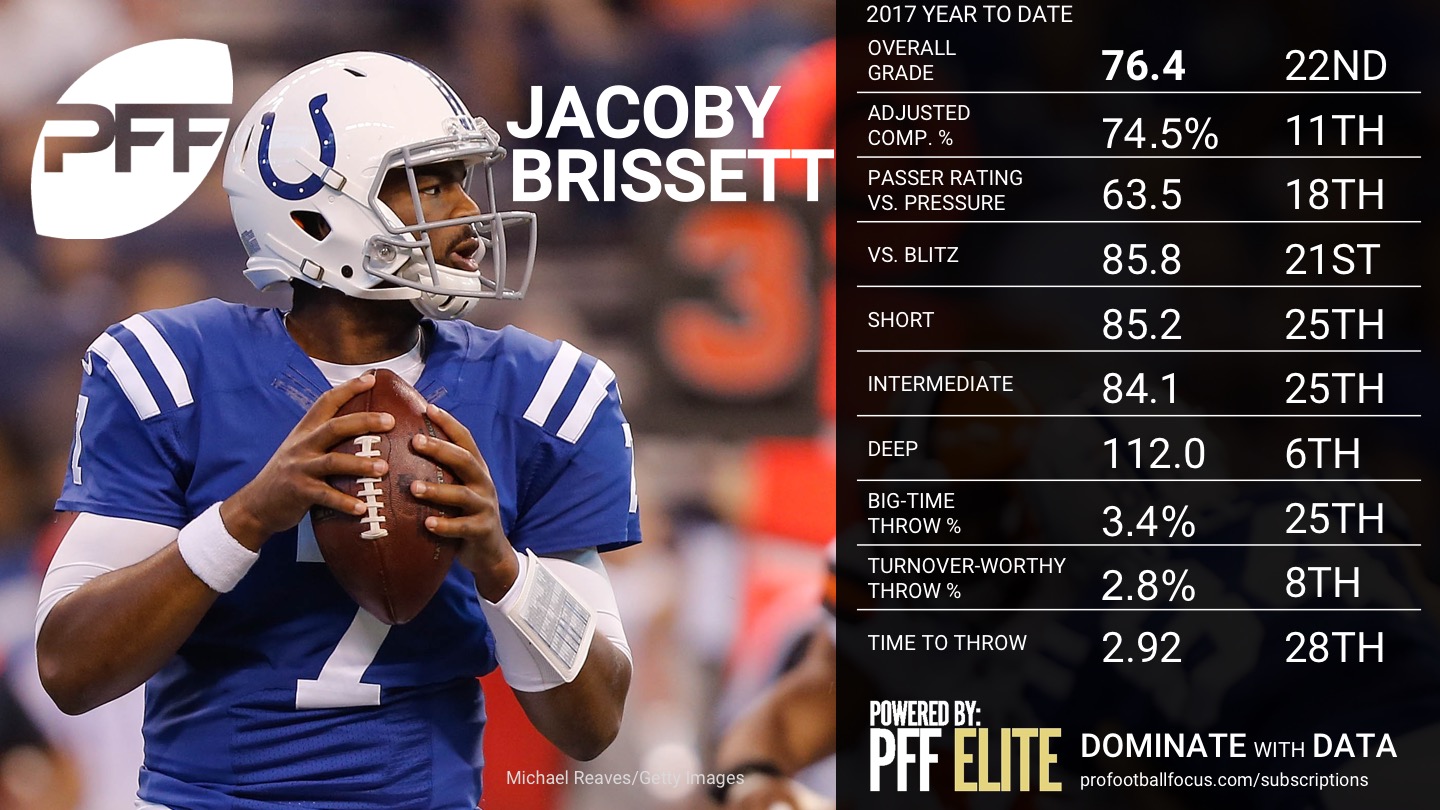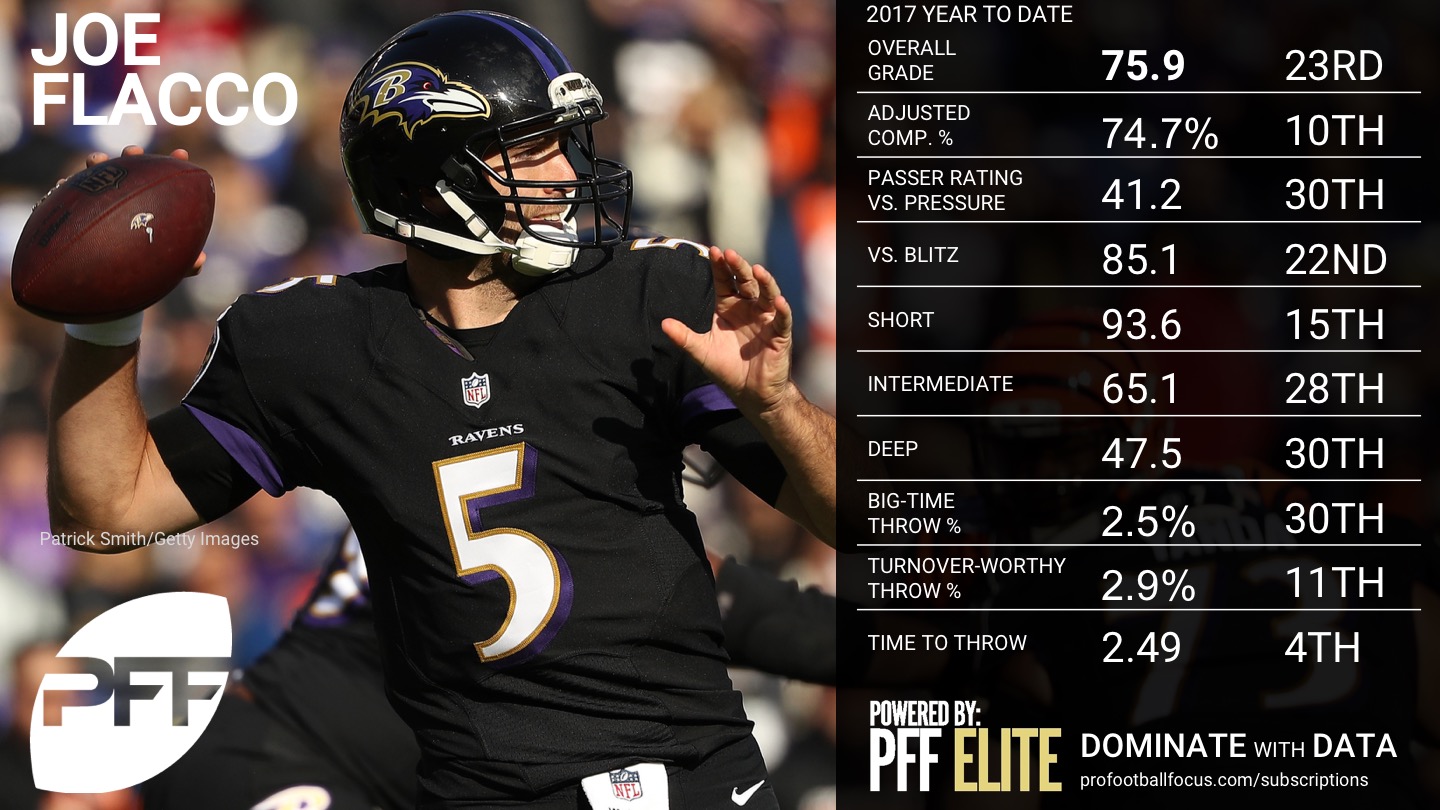 By far his best game of the season, Flacco played in rhythm and delivered a couple big plays down the field against the Lions. His biggest play of the day came off of play action, where he found Mike Wallace perfectly in stride across the field and behind the secondary for a 66-yard gain setting up a short touchdown pass in the corner on the ensuing play. Flacco was the least pressured quarterback in Week 13, throwing from a clean pocket 80.6 percent of the time and going 21-for-29 for 242 yards and two touchdowns in the process. Flacco's best two games of the season (Detroit, Oakland: Week 5) have come when he's been able to get the ball out in rhythm and on time with good protection (both weeks the least 80 percent of throws from clean pockets) and mixed in big time throws down the field (5-of-7 for 222 yards on throws 20-plus yards combined both weeks), something they'll hope to see more of the next four weeks.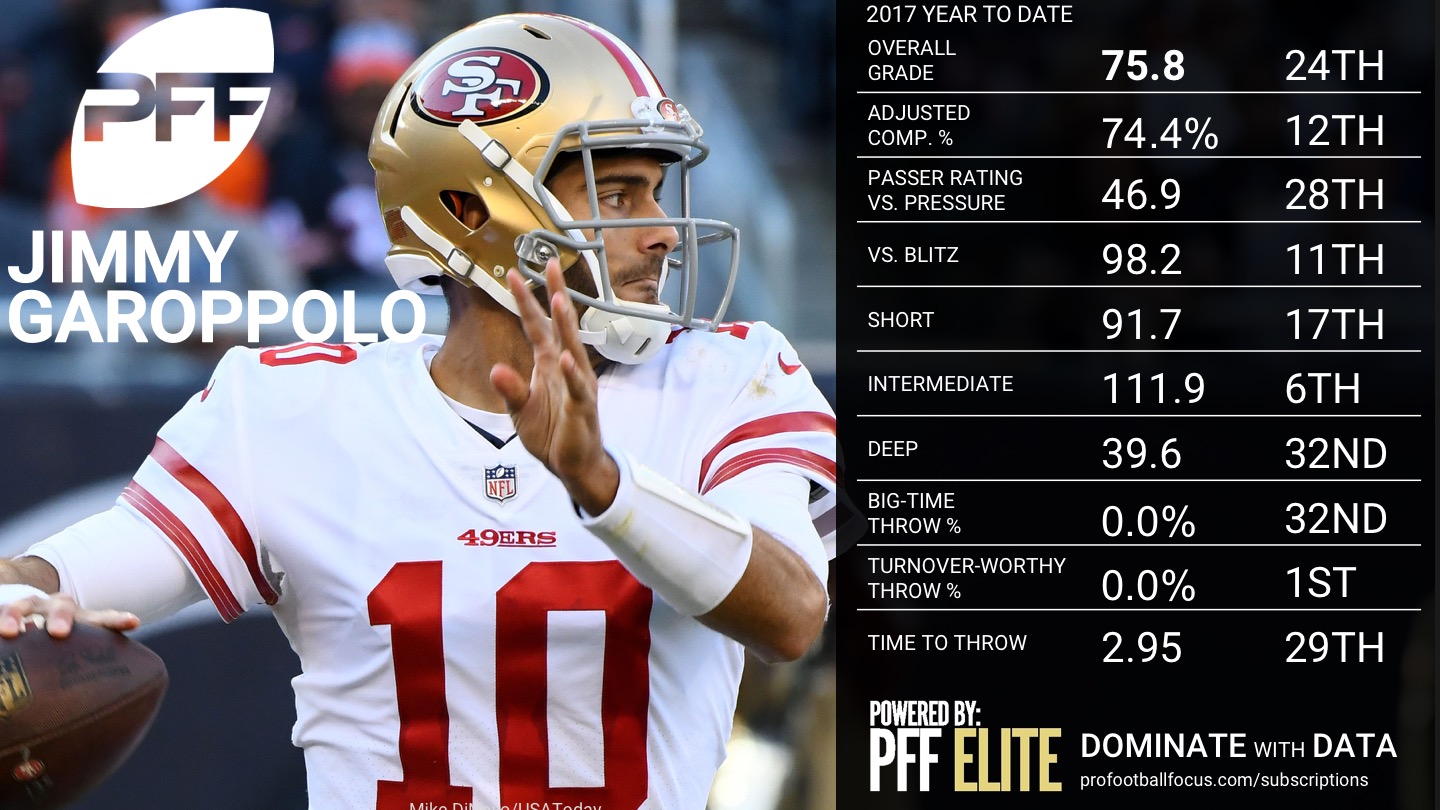 Garoppolo's first start as a 49er was a success as he looked comfortable while efficiently executing in the short and intermediate game. He did most of his damage in between the numbers where he went 14-for-18 for 196 yards as he showed good feel, touch, and accuracy when throwing to the middle of the field. As usual, play action was a big part of Kyle Shanahan's offense and Garoppolo went 8-for-8 for 105 yards on those plays. He also made a number of big plays with pressure in his face. Overall, it was a good start for Garoppolo and something to build upon the rest of the season.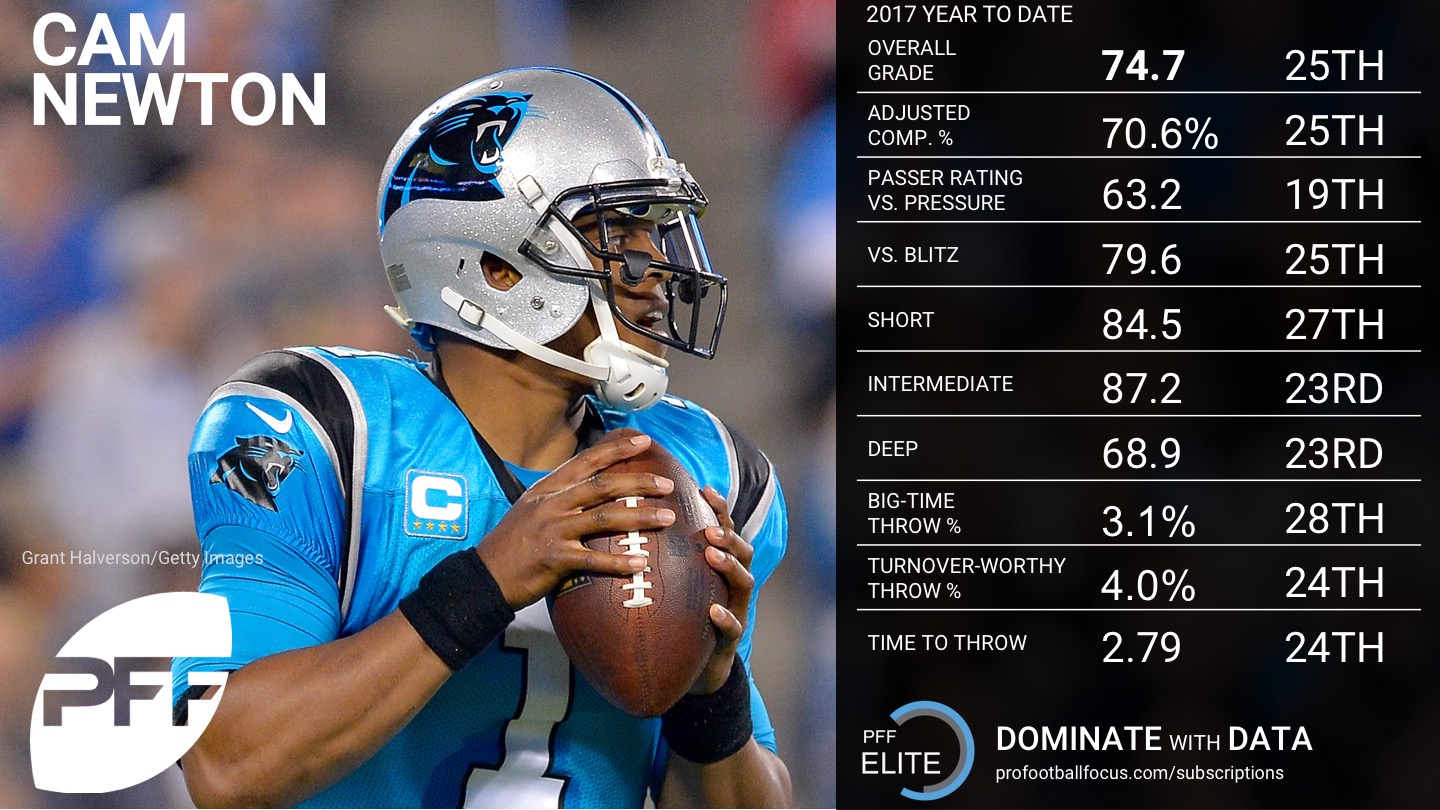 After a rough go last week against the Jets, Newton bounced back with a solid game that wasn't quite enough to keep pace with the Saints. He played a disciplined game throughout, working through his progressions cleanly and consistently finding the open man. His best throw of the game came on a deep stop route on the outside to Devin Funchess, where he placed it in a spot up and away from coverage where only he could make a play, as he took it in for a touchdown. Although it was a solid game, the lack of big plays down the field was part of the reason they failed to keep pace, as Newton completed just three passes that traveled more than 10 yards down the field. The lack of the vertical passing attack has been an inconsistent all season, with Newton in the bottom third in just about every deep passing statistical category.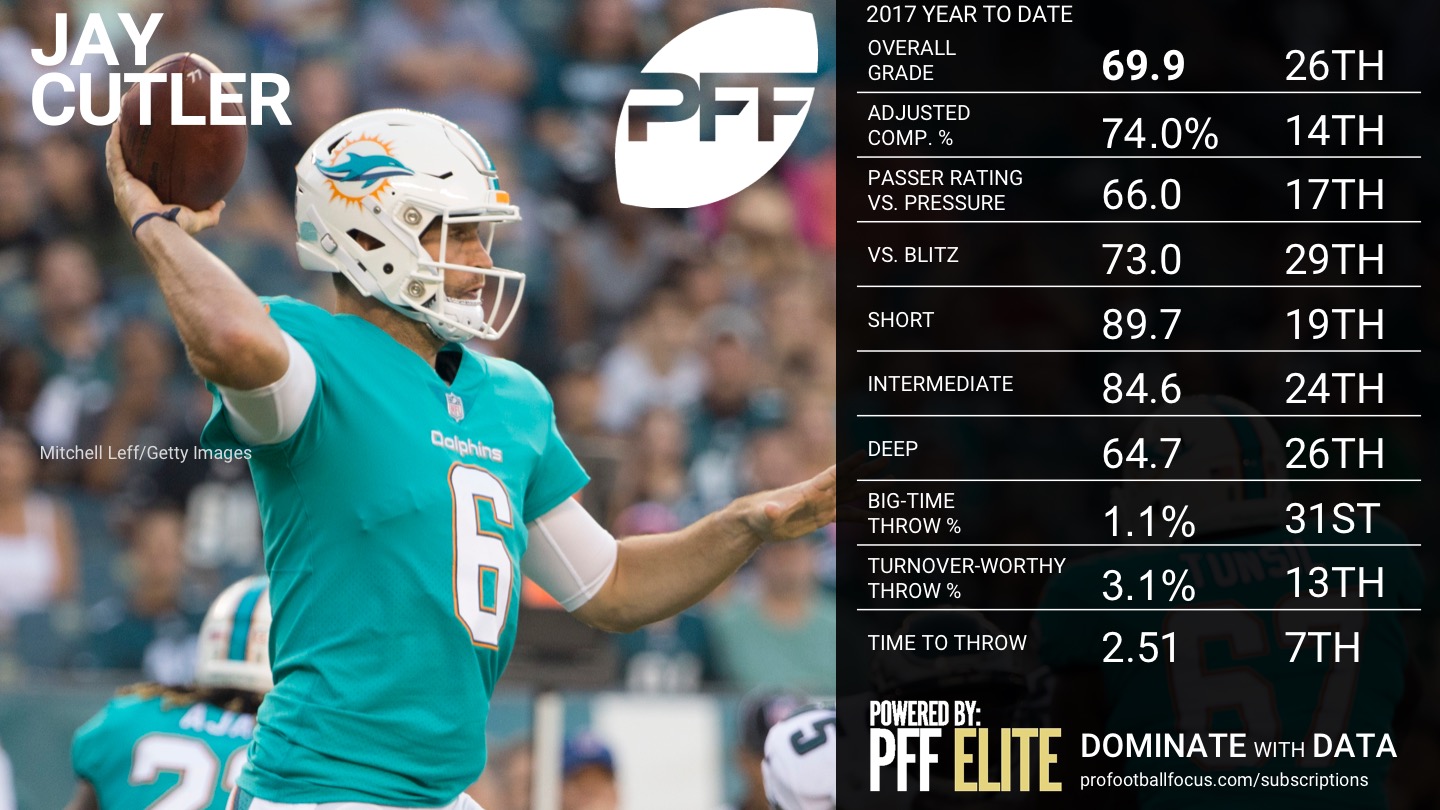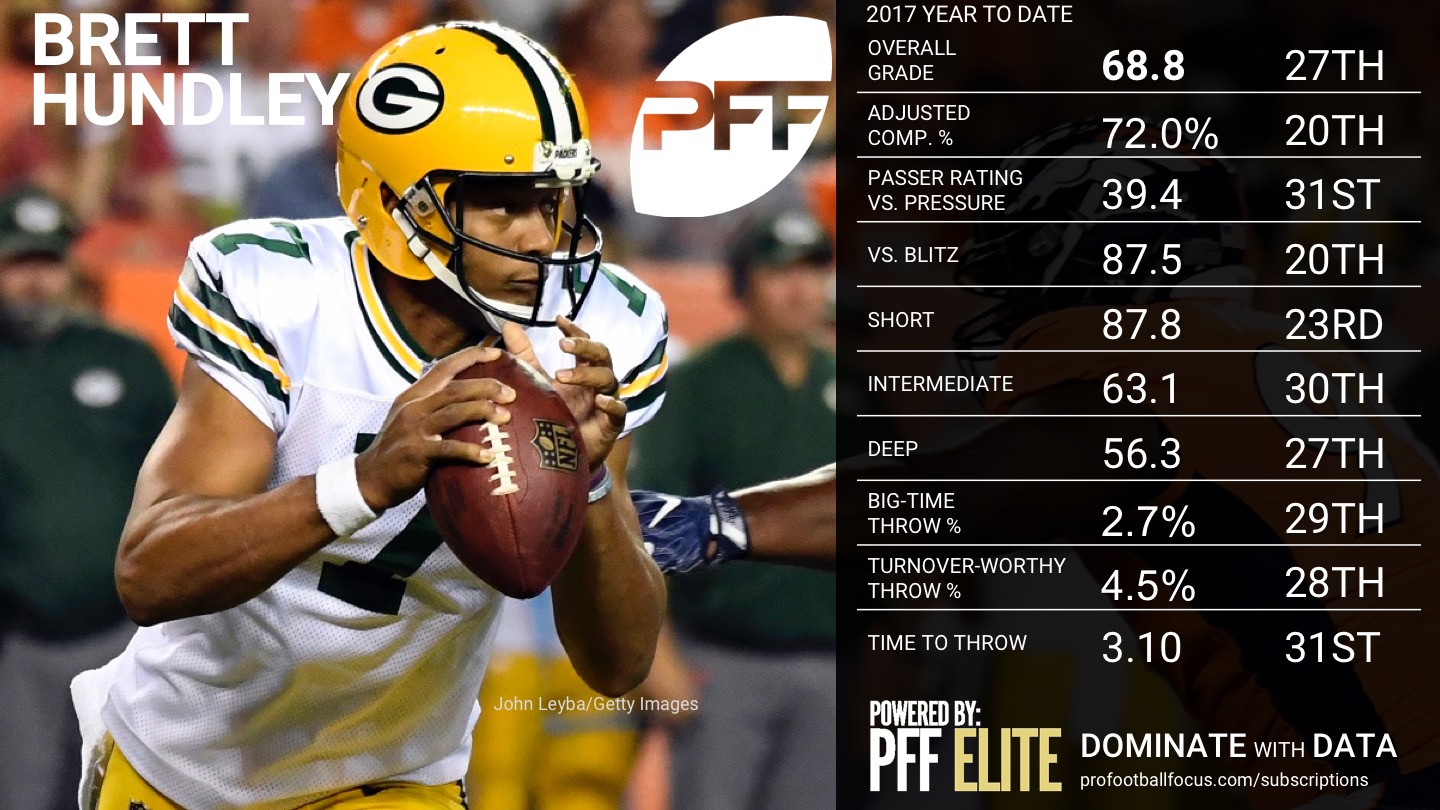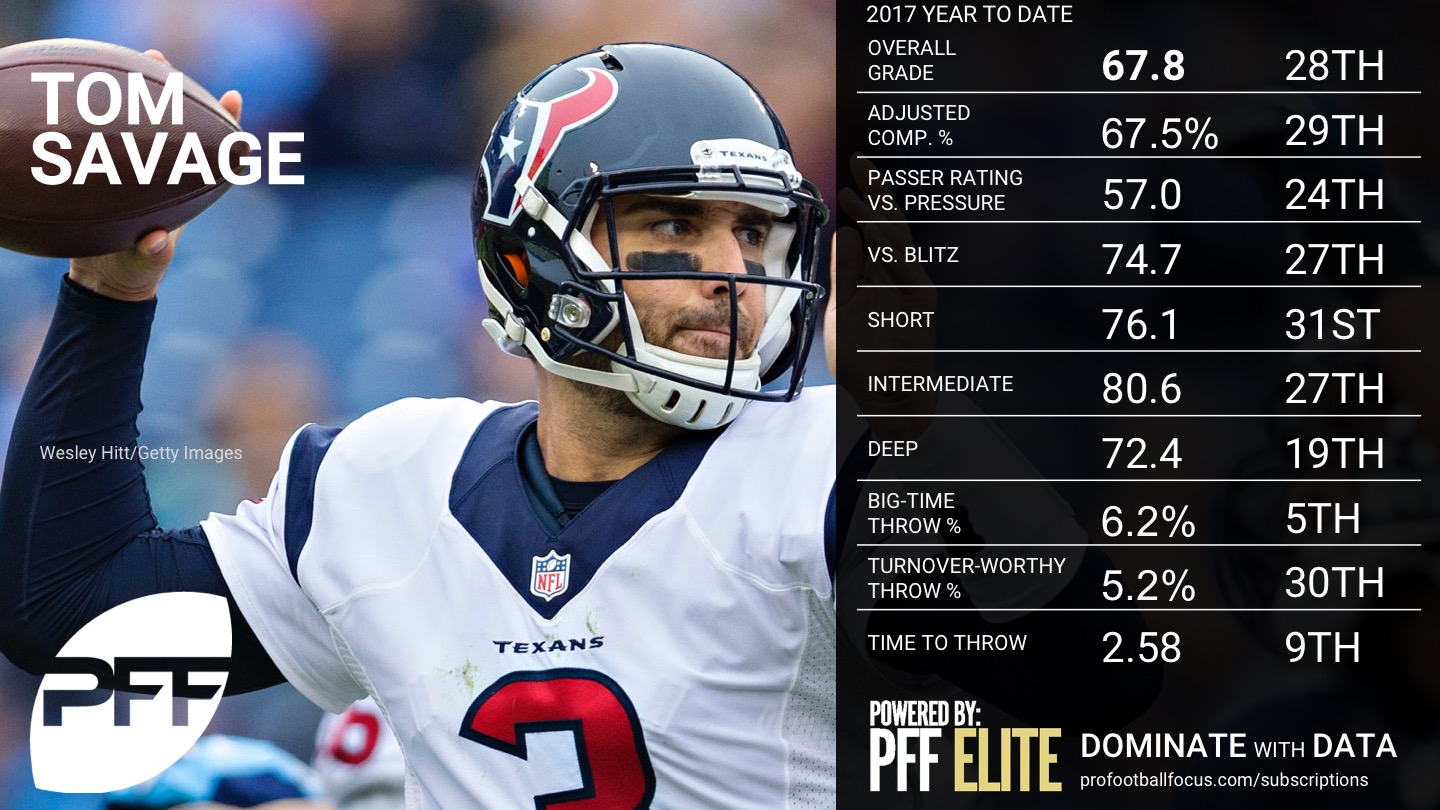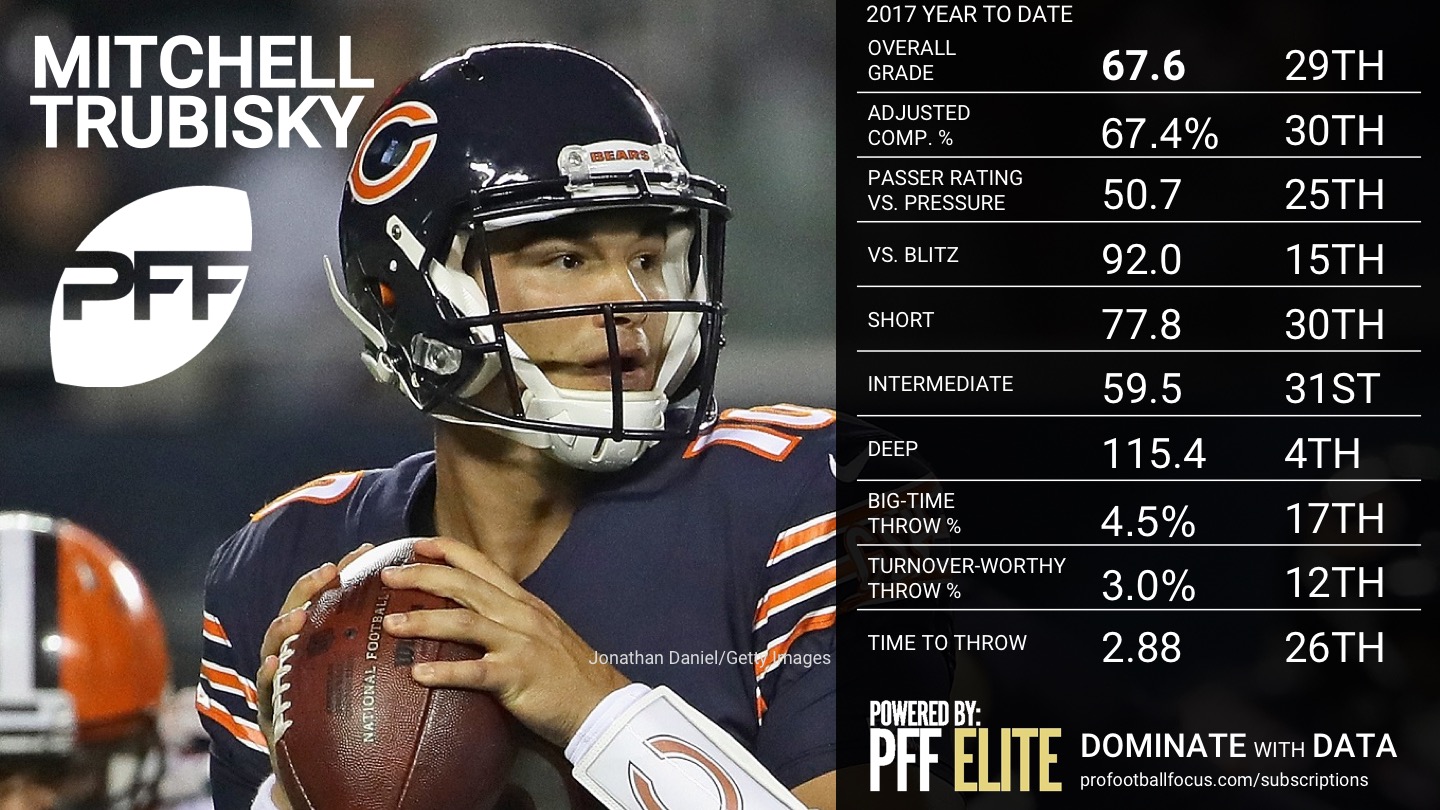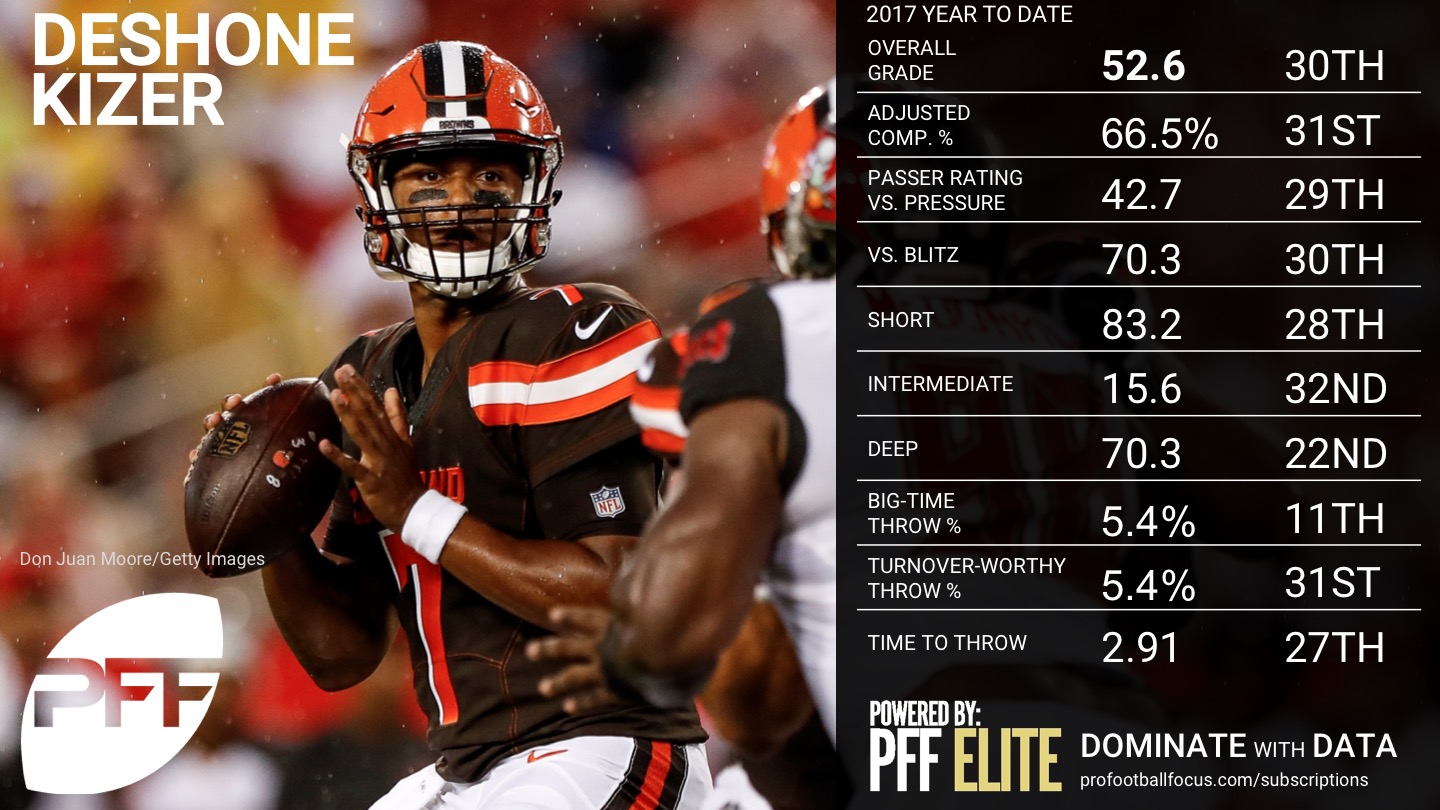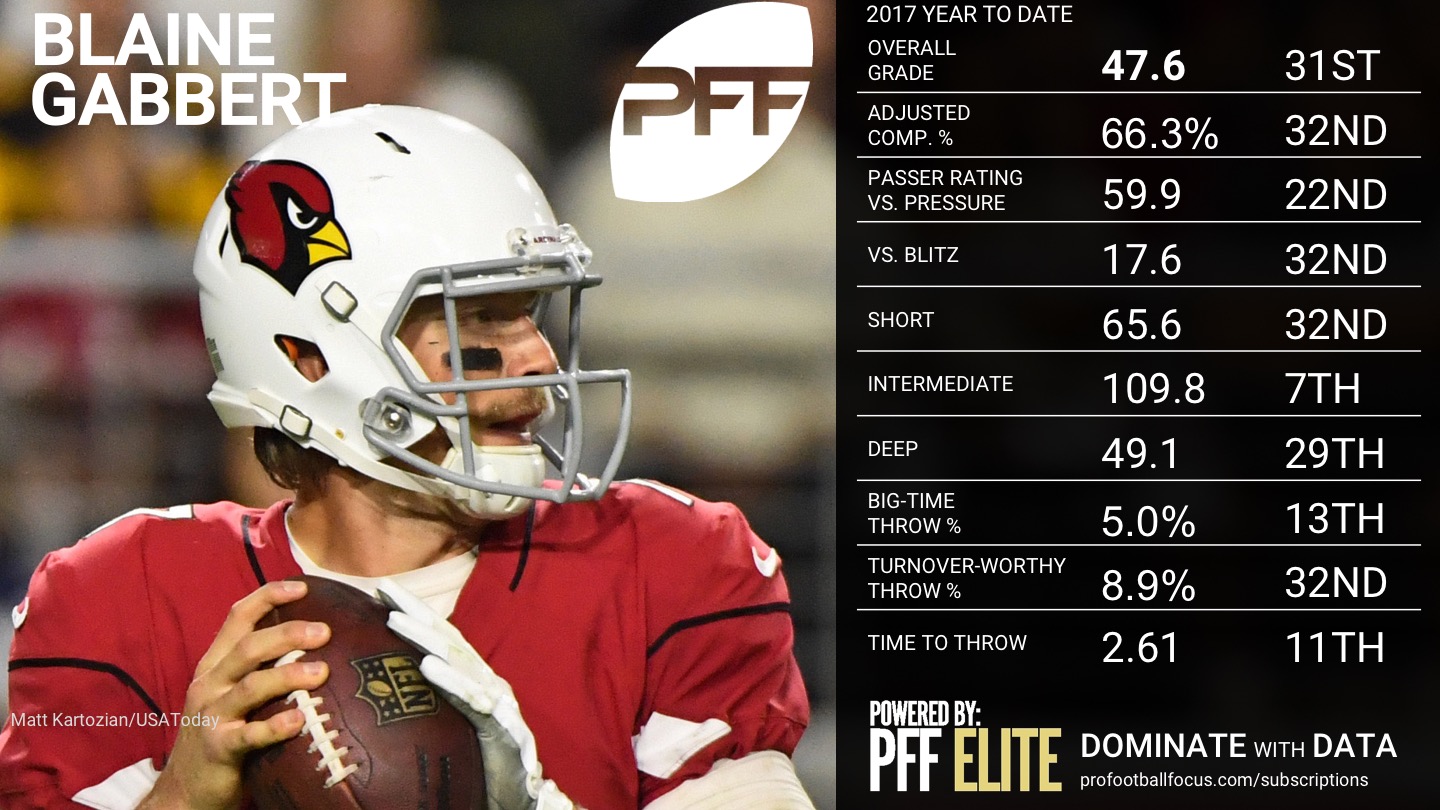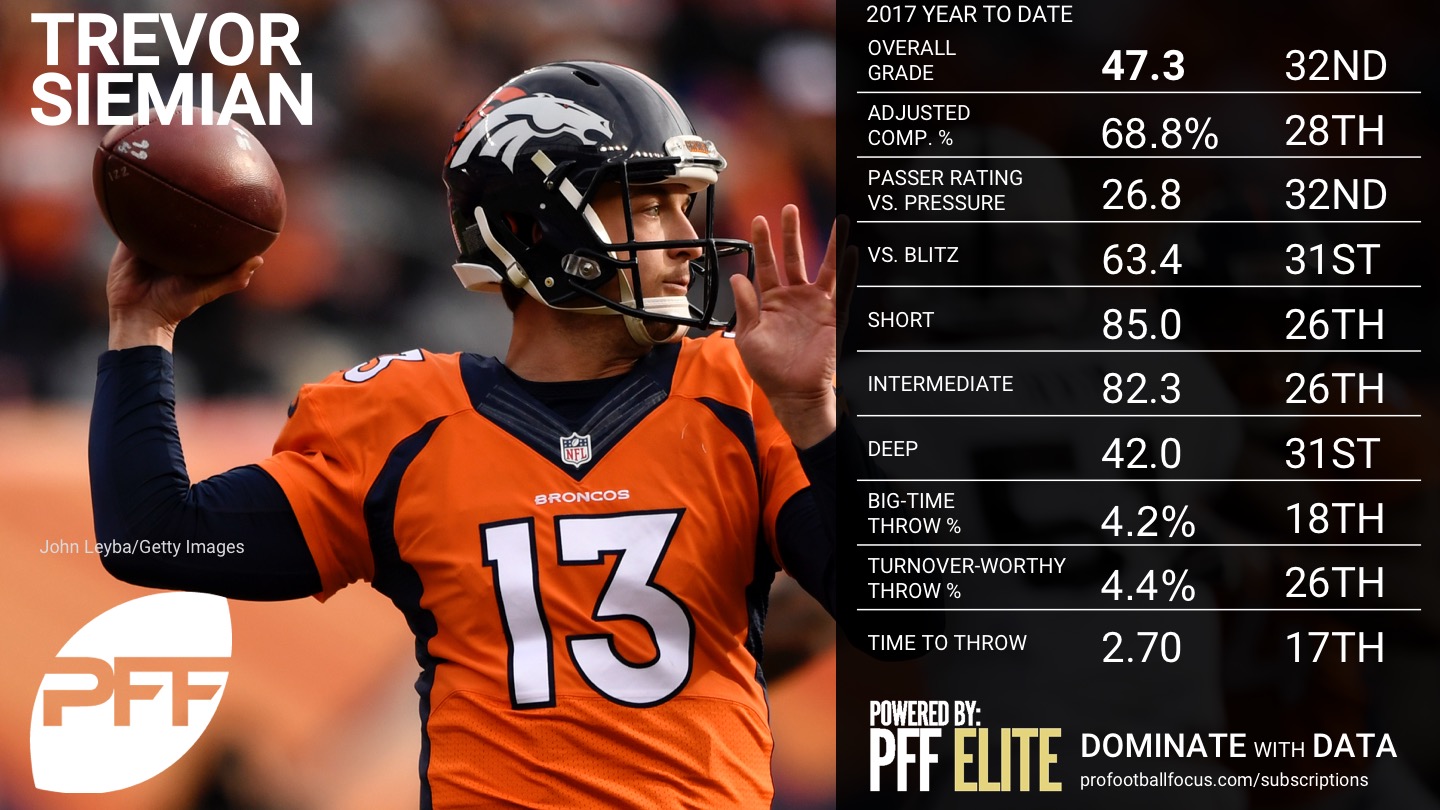 Editor's Note: The following quarterbacks, due to their injuries, lack of play over the past few weeks or recent starting quarterback changes have been pulled from their place, as their low snap count will eventually trickle off from their place in the rankings or they have not had enough snaps to qualify for a ranking yet:
7. Aaron Rodgers, Green Bay Packers – 84.9 overall grade
25. Carson Palmer, Arizona Cardinals – 75.7 overall grade
26. Deshaun Watson, Houston Texans – 75.1 overall grade
28. Ryan Fitzpatrick, Tampa Bay Buccaneers – 73.2 overall grade
29. Mike Glennon, Chicago Bears – 71.7 overall grade
33. C.J. Beathard, San Francisco 49ers – 68.5 overall grade
38. Brock Osweiler, Denver Broncos – 47.0 overall grade