We've rolled through our year-end offensive line, quarterback, and secondary rankings up to this point. Now it's time to unveil PFF's final ranking of every front seven in the NFL. Let's highlight the good and the bad of the front sevens around the league.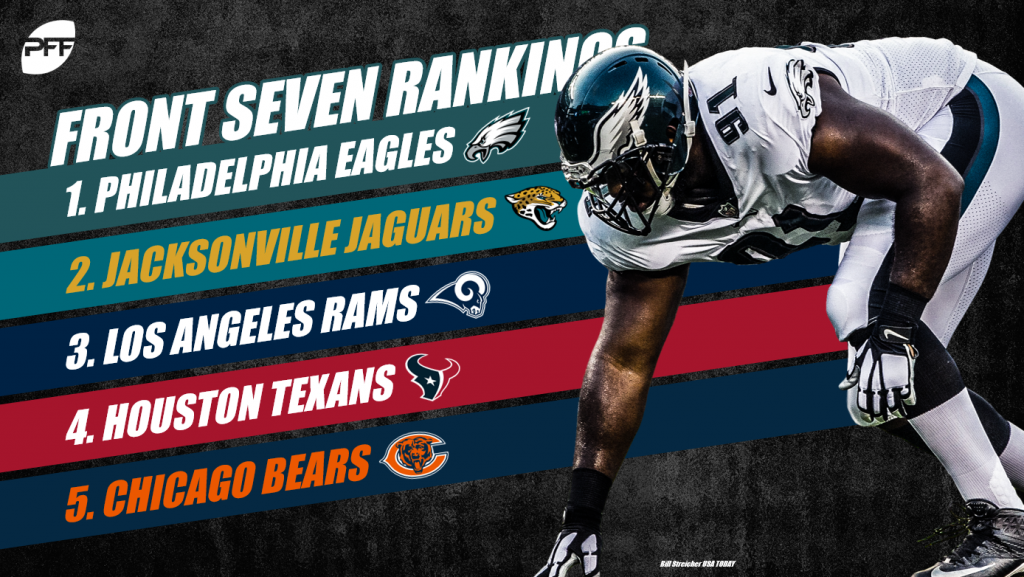 Philly was still the gold standard around the league in 2018 thanks in large part to one Fletcher Cox. The defensive tackle somehow took his game to even another level this season with a career-high 95 total pressures. That figure was 17 more than any other player in the NFL not named Aaron Donald.
The Jaguars pass rush was still one of the league's best this season, they simply didn't play with nearly as many leads. Yannick Ngakoue, Calais Campbell, and Malik Jackson all topped 50 pressures on the season, but the unit's main struggles came in run defense. Campbell and Marcell Dareus were the only two to grade over 75.0 in that regard.
This is what having Aaron Donald on your team does for you. 53 pressures make you an elite defensive tackle in the NFL. Only six interior defenders had more. Donald doubled that output this year. He is so far away in his own category that he lifted an otherwise unexciting front seven all the way to a top-three ranking.
J.J. Watt was back to his utterly dominant self. He was once again named a PFF All-Pro, and his 75 pressures were the second-most among edge defenders. Watt was also top-10 among edge defenders in run stop percentage along with teammate Jadeveon Clowney.
The Bears are the only team in the NFL to feature multiple All-Pro players in their front seven. Khalil Mack's impact was quite apparent from Week 1, as he racked up 69 pressures despite playing through injury. Akiem Hicks was a second-team All-Pro as he did it both versus run and pass. He was ninth among defensive tackles in pressures with 51 and second in run stops with 30.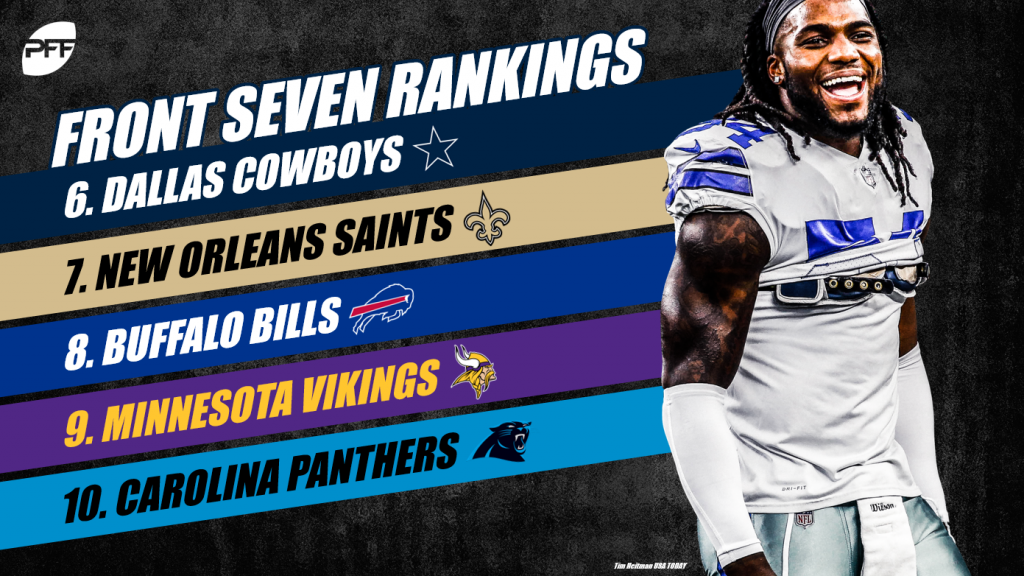 This was one of the few units on this list that was fueled by their linebacking corps. Leighton Vander Esch (84.9) and Jaylon Smith (84.4) finished the season as PFF's seventh and eighth-highest graded linebackers, respectively. Both were the definition of complete linebackers, and their 99 combined stops were the second-most of any group in the NFL.
Don't sleep on the Saints defense come playoff time. This is a team with more talent than maybe the results would suggest at times this season. Sheldon Rankins (82.5 overall), David Onyemata (83.4), and Cameron Jordan (89.7) all earned grades above 80.0 for their play this season, while Demario Davis was also named a PFF Pro-Bowler in the NFC.
Not enough has been made of the year Jerry Hughes just had in Buffalo. He didn't rack up the sack totals because he only rushed the passer 375 times, but on a per play basis, only Aaron Donald won more often as a pass rusher. His 10.9 pass-rushing productivity was tops among edge defenders.
The Vikings front seven was solid once again this season, but just like their secondary, they didn't quite live up to expectations. Every single starter up front beside Sheldon Richardson graded out lower than they did in 2017.  
At this point, we have run out of superlatives for Luke Kuechly, who led the NFL in stops this season with 61. Unfortunately for Carolina, he was about the only one who had a standout year. Kawann Short took a huge step back from last season, racking up 15 fewer pressures than in 2017.
The good news is that after investing heavily up front, the Redskins had one of the better units in the NFL this past season. The bad news is that the first rounders the past two seasons weren't a huge part of it. Daron Payne (71.9 overall) and Jonathan Allen (71.5 overall) had fairly pedestrian grades this season on the Redskins interior.
Von Miller came on strong after a slow start and was once again a second-team PFF All-Pro by the end of the year. The most head-scratching thing about the Broncos front-7 though was why defensive tackle Shelby Harris didn't receive more time. He earned a 90.8 overall grade in 391 snaps, finishing top-15 at the position in run stop percentage.
It is a deep impending free-agent edge class only made deeper by the emergence of Za'Darius Smith this season. His 80.2 pass-rushing grade was 11th among starting edge defenders as he racked up 60 pressures on the season.
Don't look now, but T.J. Watt started putting it all together as a pass rusher down the stretch this season. More of a weapon as a blitzer and on stunts his first season, Watt started winning his one-on-one's far more consistently the second half of this season. Only Von Miller had a higher pass-rushing grade than Watt from the start of Week 11.
This ranking obviously looks a lot different if Joey Bosa was healthy for the whole season. Even still, neither Bosa nor Melvin Ingram III were at the top of their game this season. Neither earned a grade above 80.0 after both being above 85.0 last year.
Bobby Wagner's 91.9 overall grade obviously carried this front seven and the Seahawks defense as a whole. Let's give some love to rookie Poona Ford though, who was a dominant run defender in limited time. He only played 231 snaps on the season, but his 12.6% run stop percentage was fourth-best at the position.
The Chiefs' front seven ranking depends almost solely on how you weigh each aspect. Judging by run defense and coverage they'd be at the bottom. Judging by the pass rush, they'd be right near the top. As such, they fall at 17. Chris Jones and Dee Ford put together monstrous seasons with 73 and 78 pressures, respectively. Free agent Anthony Hitchens, on the other hand, ended up as the lowest-graded starting linebacker in the NFL.
The Titans' front seven featured an up and coming linebacker that deserves more attention. 2017 fifth-round pick Jayon Brown ended up as the ninth-highest graded linebacker in the NFL this season. His 69.4 passer rating when targeted was the second-best of any linebacker in the NFL, as he didn't allow a single touchdown all season long.
The Packers mixed one of the league's best interiors with arguably the worst group of edge-rushers to mixed results. Kenny Clark proved he was the league's preeminent nose tackle with a 90.5 overall grade this season, while Clay Matthews proved his best days are long gone with a 63.9 overall grade.
We couldn't technically include Jamal Adams in this, as that would be double counting from the secondary rankings, but he obviously plays a big role within his team's front seven. This unit saw former first-rounder Darron Lee take a huge step forward after a disappointing start to his career. His 84.8 coverage grade was third-best at the position.
The continued mediocrity of Solomon Thomas as a pass rusher is starting to reach concerning levels in San Francisco. The former third overall pick ranked 90th out of 109 edge rushers this season in pass-rushing productivity. Nine different edge defenders from the 2017 draft class ranked higher.
The Colts' defense got far better results than the sum of their parts for most of the season, and their ranking here is a reflection of that. One player though who keyed it all was linebacker Darius Leonard. The Colts' linebacker duo of Leonard and Anthony Walker combined for the most defensive stops of any duo in the NFL – 10 more than the next closest duo.
Being without Deion Jones for most of the season was a death knell for the Falcons up front. The bigger concern going forward though has been the complete disappearance of Vic Beasley. He ranked dead last among edge defenders in overall grade and made only 17 tackles all season long.
The Giants linebackers were yet again a nightmare in 2018. Despite five interceptions, Alec Ogletree still ended up with the eighth-worst coverage grade of any starter in the league. It wasn't much better when Tae Davis was in though, as his 119.2 passer rating when targeted was among the worst in the NFL.
Geno Atkins and the Bengals pass rush was still formidable at times, but they paired it with easily the worst linebacking corps in the NFL. Their linebackers allowed 1,806 yards in their coverage this season – 284 more than any other group in the league.
There were certainly reasons to be encouraged on the Browns defense, but outside of Myles Garrett, their pass rush wasn't one of them. I can't even blame Larry Ogunjobi for being ineffective after playing a ludicrous 931 snaps at nose tackle this season, but  Trevon Coley and Emmanuel Ogbah don't have the same excuse. Coley had the second-worst pass-rushing productivity of any interior defender in the NFL while Ogbah was dead last among starting edges defenders. 
While the rest of the group was generally ineffective, Trey Flowers' dominance this season is worth highlighting. He racked up 65 pressures, 13th-most of any player in the NFL, while splitting time between inside and outside on the Patriots defense. He also ranked fourth in run stop percentage among edge defenders in what was a career year.
After losing Ndamukong Suh, the Dolphins' interior could not affect opposing passing games. Davon Godchaux and Akeem Spence respectively ranked 79th and 98th  out of 119 interior defenders in pass-rushing productivity this season. Somehow though, the 36-year old Cameron Wake was still kicking. He notched 54 pressures to lead the team by 15.
The Cardinals' front seven was about as uninspiring a unit as there was in the NFL. Even young players they were hoping to see take a step forward failed to perform. Former first-rounders Haason Reddick and Robert Nkemdiche earned grades of 61.3 and 59.5 overall, respectively. Nkemdiche notched all of 10 pressures in 10 games.
Things could not have gone more wrong with the Bucs offseason additions this season. Jason Pierre-Paul and Vinny Curry both limped to their lowest-graded seasons at 60.4 and 58.4 overall, respectively. Even first round pick Vita Vea looked out of his depth for a good portion of the season before turning it on to the tune of six straight multi-pressure games to end the season.
As a team, only the lowly Raiders had a lower pass-rushing grade than the Lions this season. It would have been even uglier if not for rookie standout Da'Shawn Hand (87.4 overall). He was the only player in the entire front seven to have a pass-rushing grade over 75.0.
When all was said and done, the Raiders sent out 23 different players in their front seven at one point or another. We could pile on this unit for days, but they aren't completely bereft of hope. Rookie Maurice Hurst ended up as their highest-graded defensive linemen this season. He earned a 72.7 overall grade after falling all the way to the fifth round of the draft.