After each week of the NFL season, and once our exhaustive All-22 review process is in the books, PFF will be bringing you the insights from our play-by-play grading of every NFL game with our team of the week.
This year we will match the new and improved All-Pro system when it comes to offensive and defensive formation, with a flex player for both sides of the ball that can be either a receiver, slot weapon, tight end or running back on offense, and anybody in the defensive secondary on defense. This gives us the flexibility to reward the player that best deserves it across multiple positions, rather than shoehorning in somebody just to fit a slot receiver or cornerback role. 

OFFENSE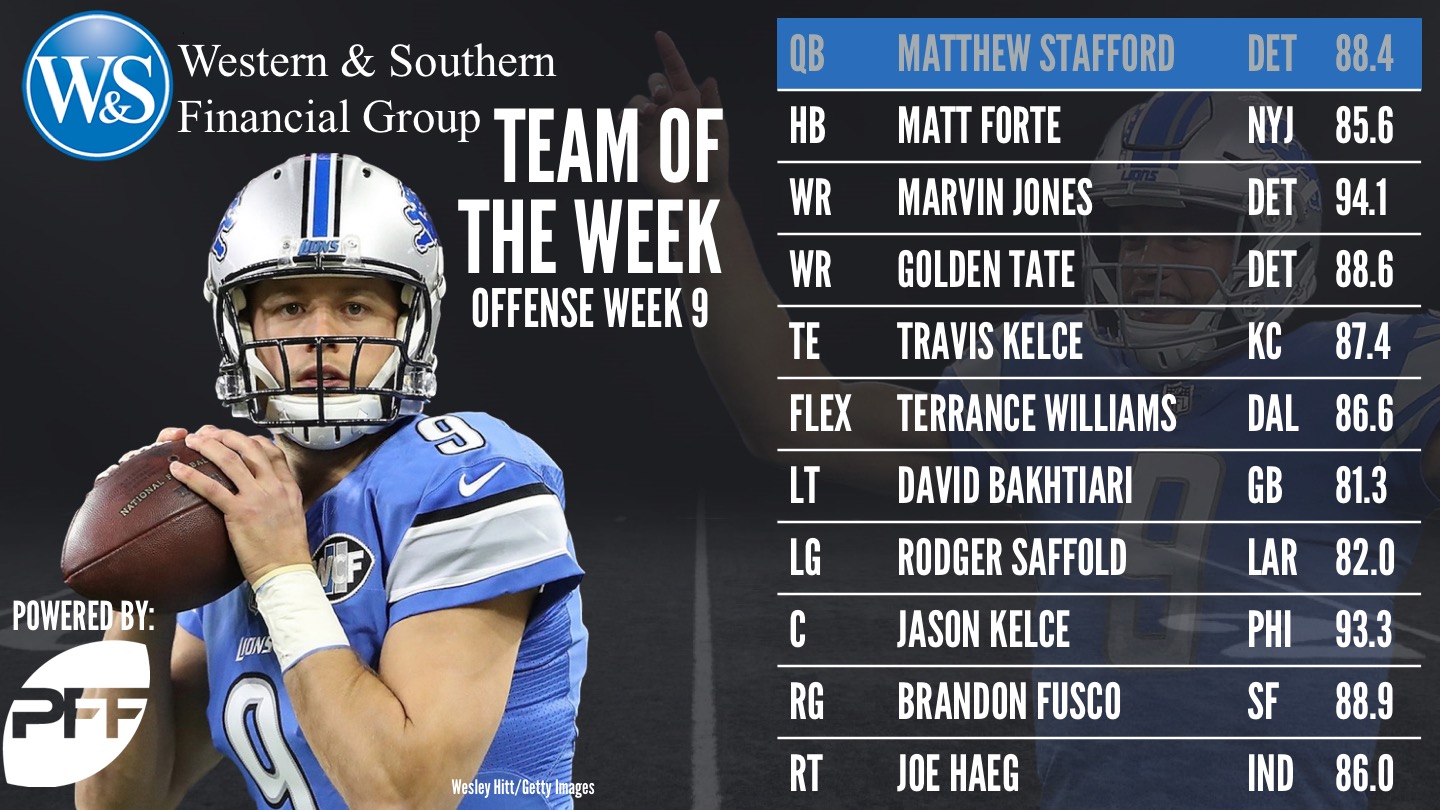 PFF Grade: 88.4
Elite Stat: Matthew Stafford had an adjusted completion percentage of 78.8 percent this week.
Matthew Stafford was able to carve up the Packers defense on Monday Night Football, completing 92.0 percent of his passes when kept clean for a passer rating of 145.4. He had a passer rating of 125.0 against the blitz, and the Packers just kept sending blitzes, bringing it on 21-of-34 dropbacks overall.
PFF Grade: 85.6
Elite Stat: Matt Forte had an elusive rating of 145.2, the best mark in the league this week among backs with more than 10 carries.
Matt Forte and the New York Jets tore up the tough Buffalo Bills defense back on Thursday night. The Jets racked up 194 rushing yards overall, with Forte amassing 77 of them on 14 carries, scoring twice and breaking five tackles on the way. Forte also added four receptions for 19 yards and didn't allow any pressures on the pair of snaps he was kept in to block.
PFF Grade: 89.7
Elite Stat: Marvin Jones Jr. gained 3.24 yards per route run this week in Green Bay.
Marvin Jones caught seven passes for 107 yards on 11 targets against the Packers on Monday night. Jones beat four different defenders for catches, with 57 of the yards coming against Davon House. He scored twice, but when matched up with Kevin King he struggled more, catching just one of the four targets against the Green Bay rookie.
PFF Grade: 88.6
Elite Stat: Golden Tate gained 4.91 yards per route run against the Packers, second in the league this week.
Both of the Lions starting receivers made team of the week this time, with Golden Tate notching seven receptions from nine targets, 73 of which came after the catch. Tate beat five different Packers defenders for catches and was too quick to bring down once he got the ball in his hands.
PFF Grade: 87.4
Elite Stat: Travis Kelce gained 2.09 yards per route run this week in the loss to the Cowboys.
The Chiefs offense has slowed down in recent weeks, but Travis Kelce was still too much for the opposition to contain, even going up against a Dallas defense with a matchup weapon of their own in Byron Jones. Kelce caught seven passes from nine targets and a touchdown, beating six different Cowboys defenders for catches.
PFF Grade: 86.6
Elite Stat: Terrance Williams had a passer rating of 118.8 when targeted this week.
While Dez Bryant was kept relatively quiet, Terrance Williams had a huge day, posting 141 receiving yards this week, which trailed only T.Y. Hilton. Williams caught all nine passes thrown his way, and including some key plays late in the game to ice the win.
PFF Grade: 81.3
Elite Stat: Against the Lions, Bakhtiari allowed one total pressure this week.
The Packers didn't have the best Monday night as a team, and even on the offensive line there were problems and injuries, but David Bakhtiari continues to look excellent after returning from injury. He allowed just one total pressure all game, from 43 pass-blocking snaps.
PFF Grade: 82.0
Elite Stat: Rodger Saffold allowed no pressure across 25 pass blocking snaps.
Slotting in right next to his teammate is Rodger Saffold who, like Whitworth, allowed no pressure at all from his snaps against the Giants. Saffold also made a couple of plays getting out in space for the screen game that the Rams used a lot, and has been having a quietly impressive season.
PFF Grade: 93.3
Elite Stat: Jason Kelce allowed no pressures on 33 pass-blocking snaps.
Jason Kelce didn't allow any pressures this week against the Broncos, his third game of the year with no pressures allowed, but the real key to his game was how dominant he was in the run game. Kelce was a key part of the first line to make Denver Domata Peko look like Cincinnati Domata Peko this season. The Eagles gashed Denver on the ground and used that to set up easy passes over the top.
PFF Grade: 88.9
Elite Stat: Brandon Fusco allowed one total pressure from 59 pass blocking snaps.
The 49ers offense didn't have a good outing, and their offensive line struggled overall, but Brandon Fusco was the lone bright spot on that unit. Fusco allowed just one hurry across a monstrous workload of 59 pass-blocking snaps, but also made a few key blocks on the 15 running plays he was out there for.
PFF Grade: 86.0
Elite Stat: Joe Haeg allowed no pressures this week against the Texans.
While Carson Wentz continues to make all the headlines, his former college tackle earned himself a spot on team of the week. Haeg didn't allow any pressures against the Texans, and was able to get to the second level a couple of times to throw a block on MLB Benardrick McKinney.
DEFENSE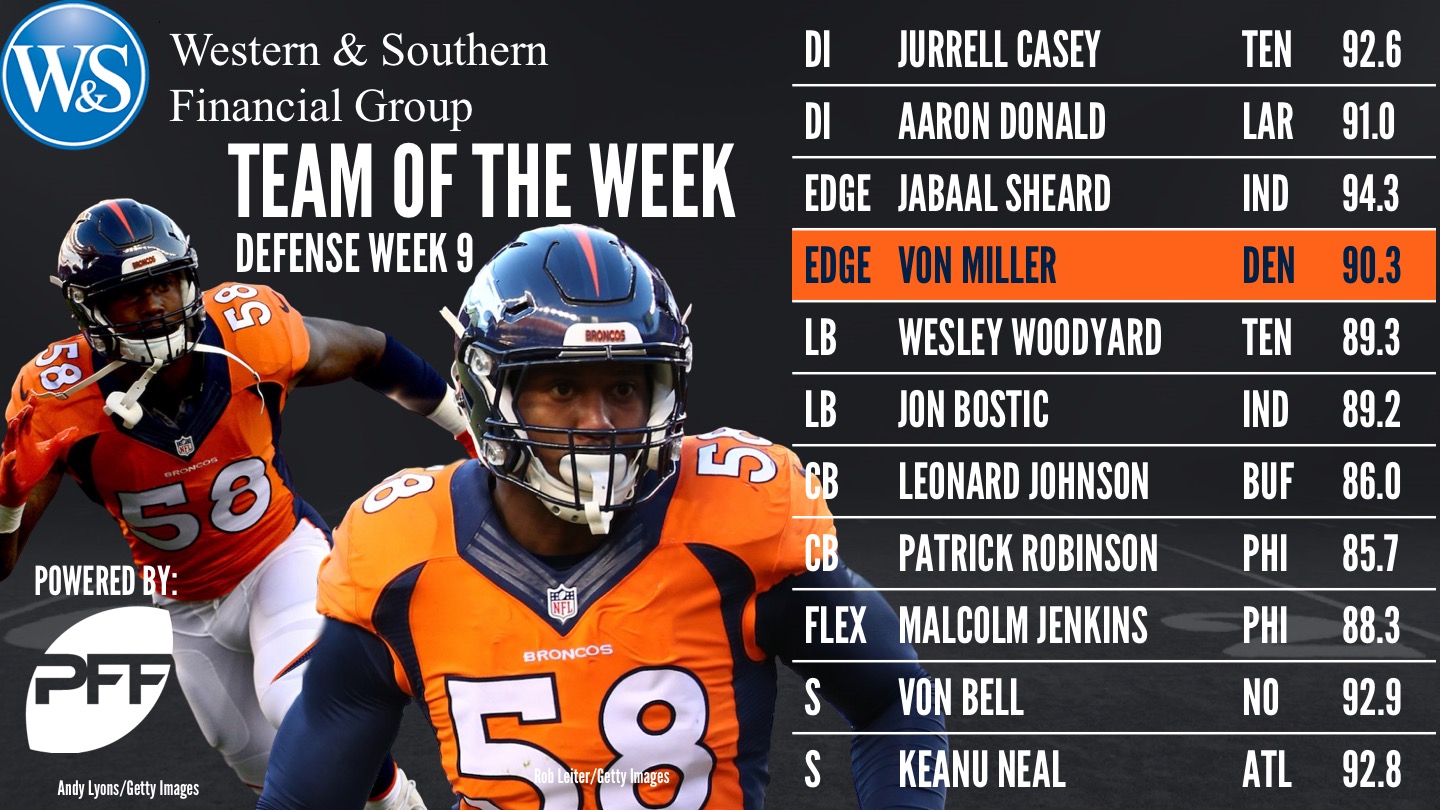 PFF Grade: 92.6
Elite Stat: Jurrell Casey had a three total pressures against the Ravens.
Jurrell Casey was a force this week against the Baltimore Ravens, notching a sack and two hurries. He also had four defensive stops and a monstrous seven defeated blocks as a pass-rusher where the ball was gone before it had a chance to become pressure. Casey beat his man on exactly 25 percent of his pass-rushing snaps.
PFF Grade: 91.0
Elite Stat: Aaron Donald had a run-stop percentage of 6.3 percent against the Giants.
Aaron Donald continues to make his spot on team of the week a home away from home. Against the Giants he was typically dominant, notching a sack and three hurries and consistently knifing into the backfield to destroy plays whether they were run or pass plays.
PFF Grade: 94.3
Elite Stat: Jabaal Sheard had ten total pressures from 43 pass-rushing snaps.
Jabaal Sheard has had a pretty good season, but going up against the Houston offensive line with Tom Savage at quarterback was all the invitation he needed to have an epic performance. Sheard had two sacks, two hits and six hurries across 43 pass-rushing snaps and was the best player on the field in that game.
PFF Grade: 90.3
Elite Stat: Von Miller had five total pressures against Philadelphia.
Von Miller was on a defense that saw 51 points go on the board, but he notched five total pressures and a strip sack (albeit on a play in which he jumped offside but wasn't flagged). He also posted seven defensive stops, six of which came in the run game, which ties the league lead for an edge defender in any game this season. Miller wasn't quite the pass-rushing force he usually is, but he was excellent in the run game.
PFF Grade: 89.3
Elite Stat: Wesley Woodyard had a run stop percentage of 19.0 against the Ravens.
Wesley Woodyard had 12 solo tackles this week and four assists, racking up eight defensive stops, which doubled any other Titans defender and tied for the league lead among linebackers. Woodyard was a force against the run and despite ten targets in coverage didn't allow a reception longer than 17 yards.
PFF Grade: 89.2
Elite Stat: Jon Bostic allowed just one catch from four targets against Houston.
Another beneficiary of the Tom Savage-led Texans offense this week was Jon Bostic, who made a real impact this week. He had two hits and a hurry from five pass-rushing snaps on the blitz, but in coverage he was thrown at four times and allowed just one catch. Bostic also broke up two of the incomplete passes and allowed three yards after the catch.
PFF Grade: 86.0
Elite Stat: Leonard Johnson allowed no receptions in coverage this past week.
There wasn't much to like about Buffalo's defense against the Jets back on Thursday night, but Leonard Johnson had an excellent game across his 31 snaps. In coverage he was targeted twice, breaking up one of the passes and not allowing a catch on either of them.
PFF Grade: 85.7
Elite Stat: Patrick Robinson allowed just 27 yards from five targets against the Broncos.
The Patrick Robinson train continues to roll, and he was once again excellent this week against the Broncos. He was thrown at five times, allowing just two catches for 27 yards, while picking off a pass. When Robinson was targeted, he allowed a passer rating of just 18.3, more than 20 points lower than if the ball had just gone into the stands on every pass instead.
PFF Grade: 92.9
Elite Stat: Vonn Bell allowed 15 yards from three targets.
Vonn Bell had a breakout game this week against the Buccaneers. Aided by QB Jameis Winston again going down with an injured shoulder, Bell had a sack and a hit on the blitz as well as a pass breakup in coverage and two defensive stops overall.
PFF Grade: 92.8
Elite Stat: Keanu Neal didn't miss a tackle on seven total attempts.
There is no sophomore slump so far in 2017 from Falcons safety Keanu Neal, who had his best game of the season this week against the Panthers. Neal had six solo tackles and three defensive stops, but was a hammer coming down hill against the Panthers run game, forcing the ball loose from RB Jonathan Stewart twice in the game, recovering one of them himself.
PFF Grade: 88.3
Elite Stat: Malcolm Jenkins didn't allow a catch from four targets.
Malcolm Jenkins was thrown at four times against the Broncos, and none of those passes ended up in the hands of their intended receiver. He broke up one of those incompletions, but Broncos receivers were 0 for 4 when going up against Jenkins. He also had a pair of quarterback hits on the blitz, getting pressure twice from four rushes.
McManus went a perfect three-for-three in the Broncos one sided loss to the Eagles on Sunday, including two-for-two from 50 yards and beyond.
Pinion was awesome on Sunday, with three of his eight punts landing inside the opposing 20 yard line. Impressing both as a punter and as a kickoff specialist, Pinion is having the best season of his young career.
Only one player found the end zone on kick and punt returns this week, and that was Mickens. Seeing his first action as a returner for the Jaguars, Mickens should keep that role going forward.
Baker continued a strong first half of the season on special teams with a three tackle performance on Sunday. It's surely only a matter of time before he sees more snaps on defense, but for now he continues to deliver in the third phase