The New York Jets reportedly tried and failed to find a trade partner for the third overall pick of the 2019 NFL Draft, but if former Alabama interior defender Quinnen Williams lives up to even a fraction of his sky-high potential, they'll be thanking their lucky stars that this was the case.
After resigning to the fact that the pick was theirs to make, the Jets went ahead and made one of the easiest choices of the night; they dialed the number of arguably the most talented defensive player in the entire draft, a player who had just earned the highest overall grade that we've ever given to a player at his position.
[Editor's Note: To view all of Pro Football Focus' advanced stats and grades for draft-eligible players, check out our 2019 NFL Draft Guide. All EDGE and ELITE subscribers already have access to the guide, and for those who don't, you can get your copy for as low as $9.99!]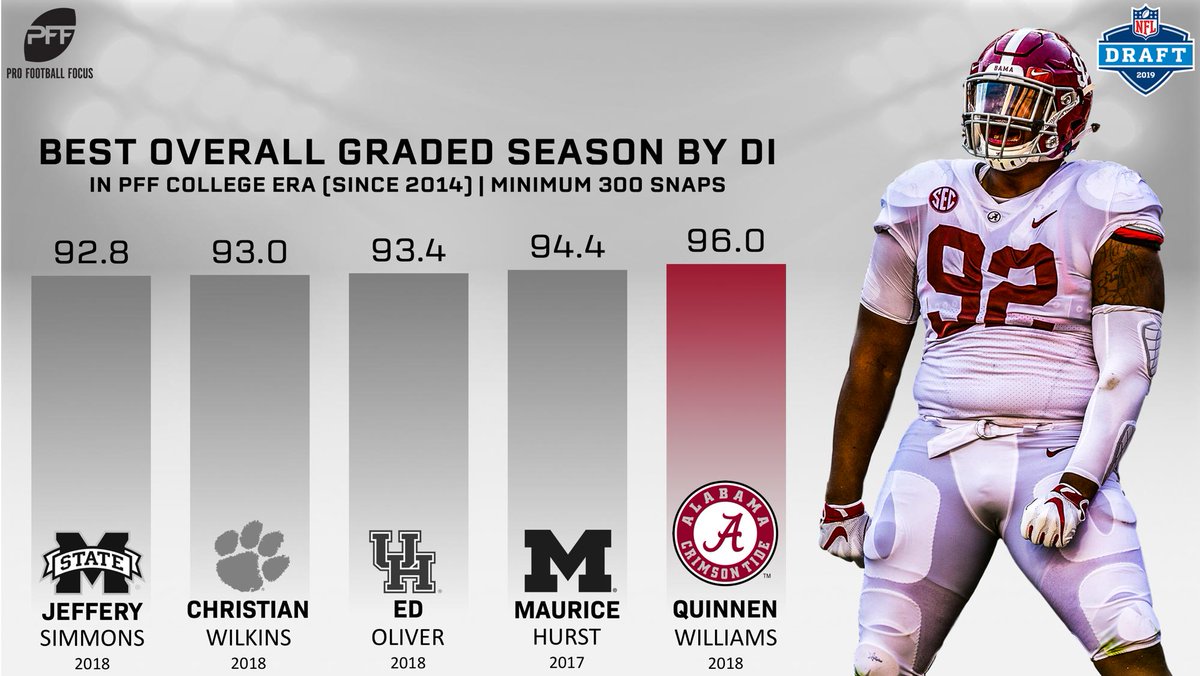 The selection of Williams immediately strengthens a defensive line that has been underwhelming (at best) over recent years. Over the last three seasons, the Jets' defensive line has combined to record an overall grade of 79.8 and a pass-rushing grade of just 63.6, which rank 18th and 29th, respectively, among the 32 NFL teams in that span.
Focusing solely on the pass-rush, the unit's combined pressure total (663 – 23rd), pass-rush win rate (39.3% – 24th), pressure rate (36.0% – T-16th), pass-rushing productivity (20.1 – T-20th) all rank in the bottom half among teams over the last three seasons, and of the 45 different interior defensive linemen who have played at least 100 snaps for the Jets over the last 13 seasons, only one — Trevor Price in 2010 — managed to record a single-season pass-rushing grade of at least 80.0.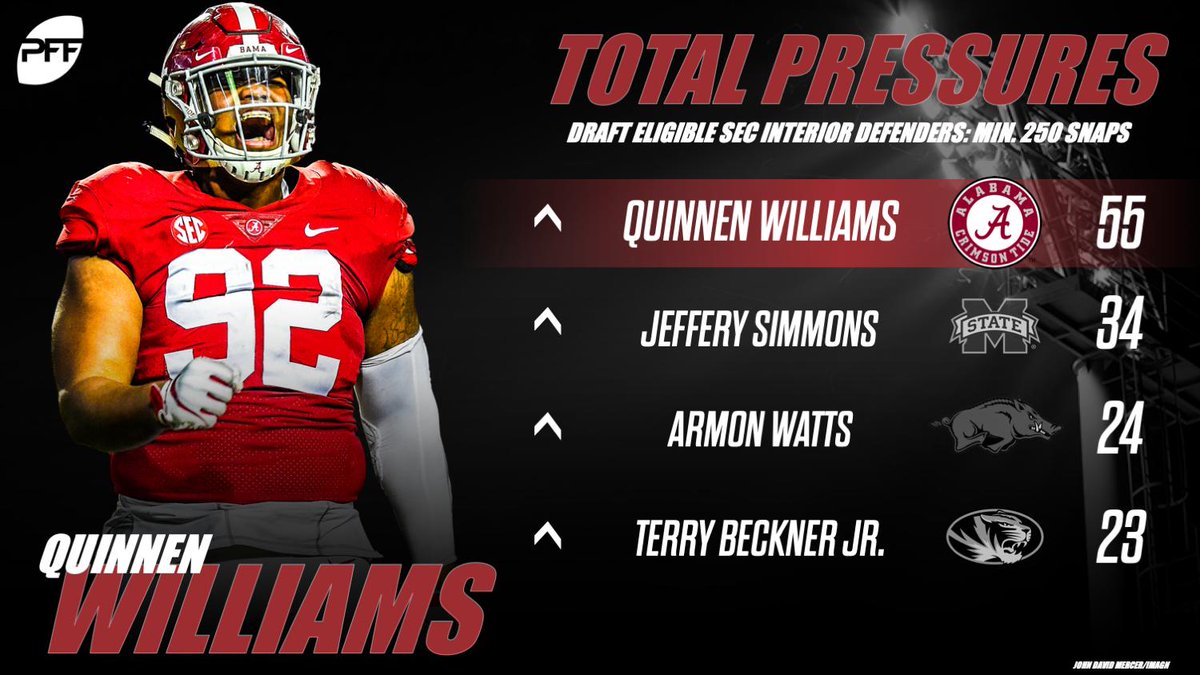 That changes with the addition of Williams.
Pro Football Focus' No. 3 overall player in the class, Williams earned the highest pass-rushing grade we've ever given to a college defensive interior player (92.5) in his lone season as a starter at Alabama. The big man from Birmingham racked up 10 sacks, 16 hits and 29 hurries in his 15 games for the Crimson Tide, and those 55 total pressures ranked first among all draft-eligible interior defenders.
Displaying his game-wrecking ability on almost a weekly basis, Williams produced at least three quarterback pressures in nine of his 15 games last season, including a seven-pressure outing against the stout offensive line of Arkansas, an eight-pressure game against LSU and a colossal nine-pressure outing against Oklahoma in one of the biggest games of the college football season. All told, his pressure rate of 16.7 percent, his pass-rush win rate of 19.4 percent and his pass-rushing productivity of 9.8 ranked first, second and first, respectively, among all draft-eligible players at his position.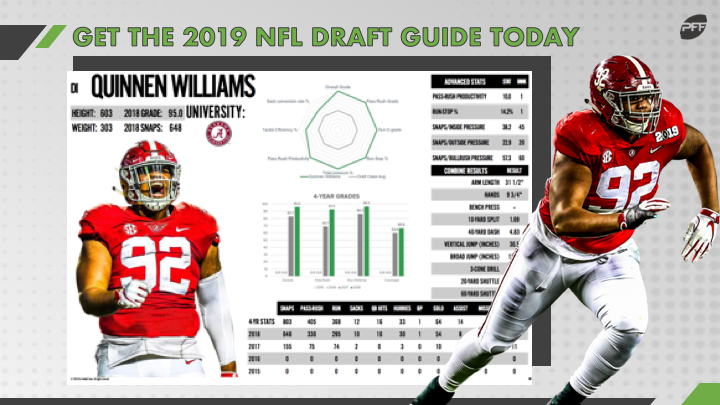 Williams primarily played nose tackle for Alabama last season and saw 195 of his 671 defensive snaps either lined up over, or shading, the center, and his performance from this position will no doubt ease the growing pains for new defensive coordinator Gregg Williams, who will be moving away from his preferred 4-3 scheme in favor of the Jets' longtime 3-4 scheme.
When lined up as a nose tackle last season, Williams produced two sacks, six hits and 10 hurries from 96 pass-rushing snaps for a pressure percentage of 18.8% that ranked second among qualifying draft-eligible interior defenders from the nose tackle position. His pass-rush win rate of 20.8%, his pass-rushing productivity of 10.1 and his pass-rushing grade of 91.5 ranked second, first and first among his classmates, respectively.
However, along with his dominance over the middle, Williams also possesses the flexibility, athleticism and speed that means he can be deployed up and down the Jets' defensive line, and his limited work from the defensive end position last season proved that. When he lined up as a defensive end in 2018, Williams once again dominated his opposition to the tune of a 36.8% win rate, a 26.3% pressure rate and a pass-rushing productivity of 15.8 – all of which ranked first among draft-eligible interior defensive linemen last year.
The addition of Williams instantly improves the Jets' defensive line and gives them a building block that the defense can build around for years to come. If he manages to live up to his potential, he has the chance to be a major force from the heart of the team's defense, with the ability to terrify AFC East opposition for the next decade plus.