The Pittsburgh Steelers have a long history of tough, hard-nosed defenses throughout their history. From guys like James Harrison and Joey Porter to Troy Polamalu and Ryan Clark, the Steelers have seemingly always had talent on the defensive side of the ball. However, at least in the PFF era (since 2006), the Steelers' outside cornerbacks haven't performed as well as you would think, which is surprising given the team's recent Super Bowl victories and deep playoff runs.
The last time the Steelers had an outside cornerback finish a season with an overall grade higher than 80.0 was in 2014 when William Gay earned a mark of 81.6. Before that, was Cortez Allen's mark of 85.5 in 2012. Other than that, the Steelers have had only two other cornerbacks earn grades higher than 80.0 from snaps at outside cornerback in a single season, and both of those were all the way back in 2008 (William Gay, 87.2 and Bryant McFadden, 83.0).
The Steelers are long overdue for a true playmaker on the outside.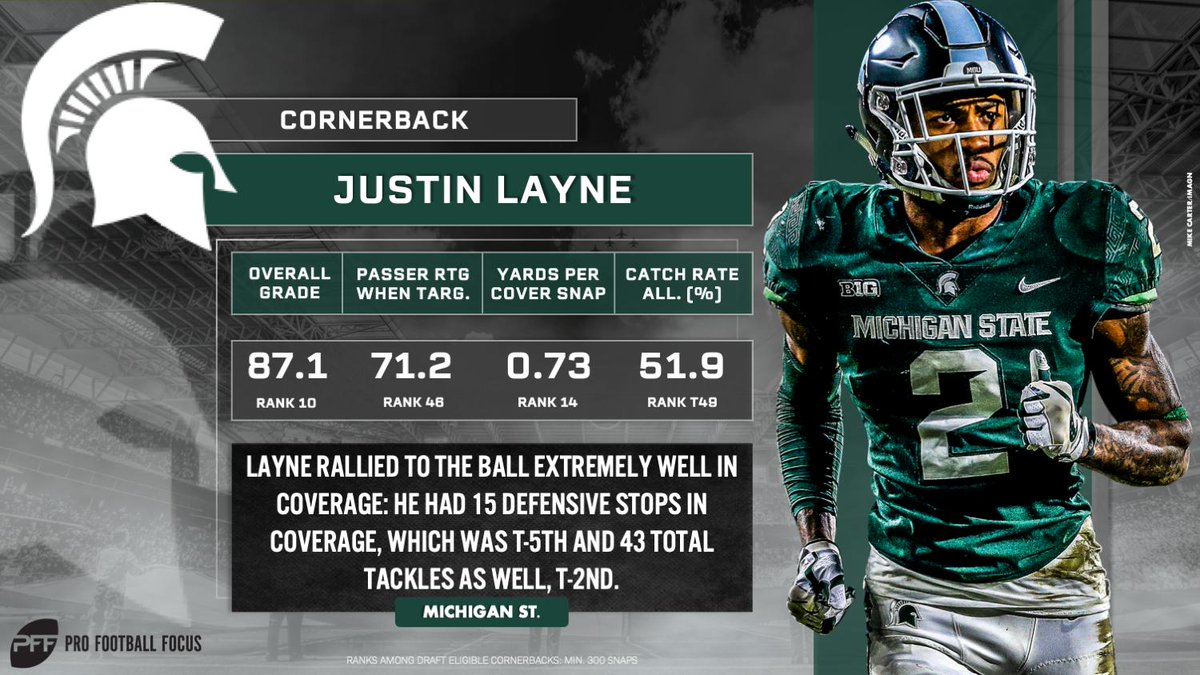 Enter Justin Layne, whom the Steelers selected with the 83rd overall pick in the draft. The former Michigan State cornerback had a solid three-year college career, capped off by his 87.1 overall grade last season which ranked 18th out of 569 qualifying cornerbacks in the country.
The Steelers had only one cornerback earn a grade higher than 70.0 last season (Joe Haden, 70.9). As a team, Pittsburgh had a coverage grade of 75.8, ranking 18th in the NFL. In a league where stopping the pass is becoming more important with each passing year, the Steelers need to do better if they want to return to the postseason in 2019 after missing the dance last year. Injecting new talent in the secondary could help do just that, as Layne was outstanding in college.
Layne lined up at outside corner on 713 of his 833 total snaps last season. Considering that help at outside cornerback is precisely what the Steelers need, Layne could be the answer to Pittsburgh's outside cornerback problem. Standing at 6'2", Layne has the length needed to hang with the NFL's big wide receivers, yet he also has the speed to hang with the fast guys as well.
Over the last three college seasons, Layne has earned an elite coverage grade of 91.0 when lined up as an outside corner, which is tied for fifth among the 147 outside cornerbacks with at least 100 targets over that period. Among that same group, Layne also ranks 11th in forced incompletion percentage (20%), 12th in passer rating allowed (66.8) and 19th in catch rate allowed (50.4%).
One trait of a great corner is the ability to limit big plays downfield, and Layne has done just that over the past two seasons. On throws 10-plus yards downfield since 2017, Layne has allowed only 11 receptions out of 49 targets for 259 yards. He has also forced an incompletion on 30.6% of such targets, ranking sixth among this year's 89 draft-eligible cornerbacks.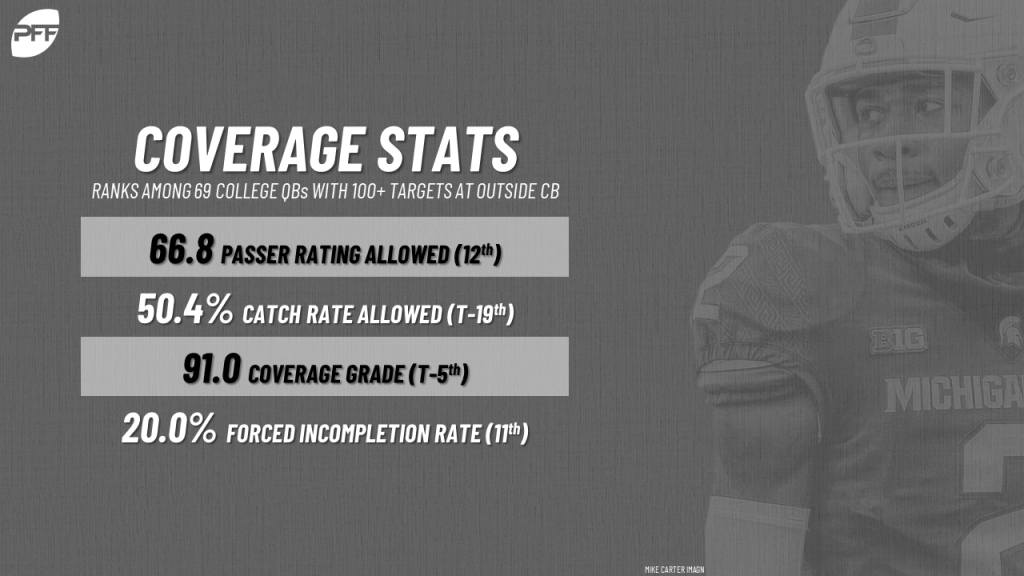 As great as he is in coverage, he's also a good (and willing) run-defender, as his run-defense grade over the past two years (84.2) ranks in the top 20 among cornerbacks. Layne has shown amazing progression throughout his three years in college, as he increased his overall grade by nearly 10.0 points every season. He was our sixth-ranked cornerback in the draft, yet he was the 10th cornerback drafted, making him a steal in our eyes.
Layne is great on the field, but the thing that Steelers fans should probably be most excited about is his confidence. As he said in an interview with Pro Football Focus back in March, "They're going to get a lockdown corner. They're going to get a playmaker, a willing tackler."