Eight podiums are set up for draft prospects to speak to the media at the NFL Scouting Combine. NFL Media makes an effort to give highly regarded prospects podium priority; the leftovers sit at tables off to the side.
Michigan State's Justin Layne, currently Pro Football Focus' No. 39 overall player in the 2019 NFL Draft, was assigned to one of the tables off to the side. He wasn't happy about it, and rightfully so.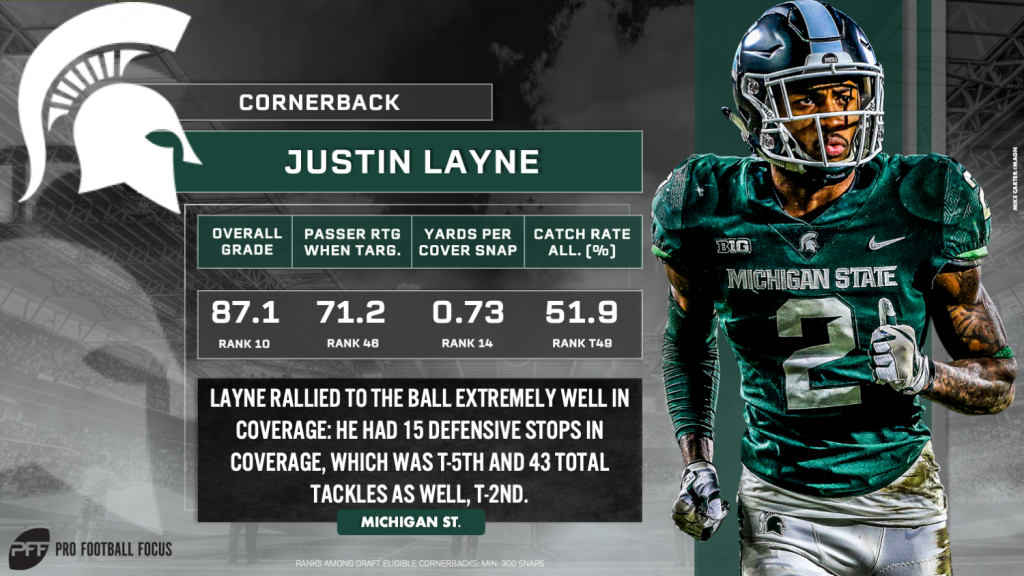 Layne earned an impressive 90.8 overall grade across 1,534 defensive snaps over the last two years (2017-18) of his Spartans career, ranking eighth among qualifying cornerbacks in the 2019 class. He also ranked fourth in yards allowed per coverage snap (0.68) and tied for third in first downs allowed percentage (21.74%). And his two-year coverage grade (91.2) tied for sixth.
Removing targets in his coverage thrown nine or fewer yards beyond the line of scrimmage, Layne allowed receptions on just 11-of-49 targets for 259 yards, eight first downs and two touchdowns since 2017. His 22.4% completion percentage allowed leads all draft-eligible cornerbacks with 40 or more targets of 10-plus air yards in the last two years, and his forced incompletion percentage (30.6%) ranks sixth among the group of 89 qualifiers.
Layne, however, still doesn't feel respected in this class.
"They're going to see it next year," Layne said in a March interview with Pro Football Focus. "They're going to see it on the field… I want to prove I'm one of the best corners in this draft class. I mean, I feel like I don't get respected, but I'll get it soon enough."
NFL teams have already started to show Layne proper respect, praising him for how he takes advantage of his length (33" arms) and ball skills. Teams also spoke highly of Layne's consistency and his willingness to come up and tackle in the run game.
Layne missed just three tackles in run defense and added 35 combined tackles and 10 defensive stops in run defense in his last two years in East Lansing. His two-year run-defense grade (84.2) ranks inside the top 20 among qualifiers.
The team that selects Layne is truly getting a complete player, and he doesn't need a podium to prove that.
"They're going to get a lockdown corner," Layne said. "They're going to get a playmaker, a willing tackler. They're going to get someone that's going to come in and compete every day. I'm always looking to get better, so I feel like I'm the complete package."