Coming into the 2018 season, Andrew Whitworth ranked highly on the list that no player wants any part of; best players to never play in a Super Bowl. However, thanks to another dominant season-long performance at left tackle, the 13-year All-Pro will take the field against the New England Patriots in Super Bowl LIII.
Simply put, there hasn't been a more consistent performer at the left tackle position than Whitworth throughout his NFL career. Since making his NFL debut in Week 1 of the 2006 season in Kansas City, he's logged a remarkable 13,214 snaps in 199 games with the Cincinnati Bengals and Los Angeles Rams. A true ironman, Whitworth's career overall grade of 93.4 ranks third among offensive tackles in the PFF era, behind the all-time greats of Jonathan Ogden and Joe Thomas.
In 6,789 career pass-blocking snaps at left tackle, Whitworth has only allowed an astonishing 245 quarterback pressures for a rate of 3.8%, best among tackles in the PFF era. In his 13 years, he's recorded ten seasons with an overall grade above 80.0 with his 2014 campaign being his best at 92.3. In that season with the Bengals, he logged 613 pass block snaps and allowed a grand total of 10 pressures with zero sacks allowed.
On a game-by-game basis, his 98.4 overall grade in Week 15 of the 2010 season continues to set the mark as the highest overall PFF grade among offensive tackles. In that game at home against the Chargers, he didn't allow a single pressure and generated his highest career run block grade of 96.4.
Further proving his all-time greatness, Whitworth has produced 94 games with a pass block grade above 80.0 during his 182 career games at left tackle (51.7%) with five being 90.0 or higher. He's also recorded 61 perfect games in which he did not allow a single pressure for a rate of 33.5%, by far the highest among tackles that have played in 75 or more games.
At age 37, Whitworth continued his premier play this season. His overall grade of 82.7 was good for fifth among all offensive tackles in the NFL through the regular season, and as always, the All-Pro was as solid as they come in pass protection, where he allowed 33 total pressures from 601 pass-blocking snaps. In total, he recorded six games with a pass-blocking grade north of 80.0, and he didn't end a single game with a below-average grade all season. As a result, his play landed him on PFF's top 25 offensive linemen of the 2018 NFL season, an incredible achievement in his 13th season.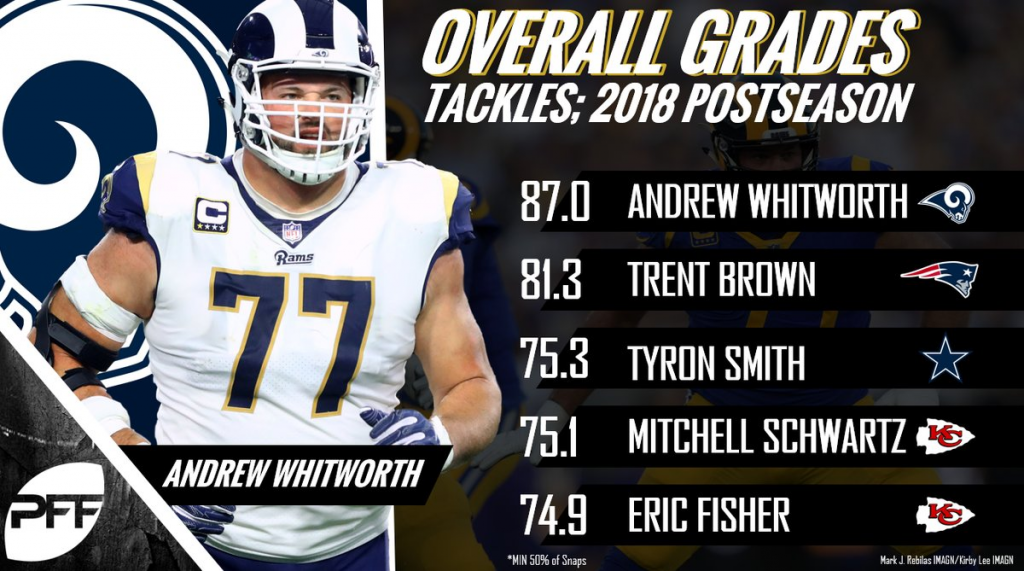 Super Bowl LIII is yet another challenge for the veteran left tackle as he's sure to see a rotation of Patriots' pass rushers. Adrian Clayborn has the most experience against Whitworth with 28 matchups against him during his career, generating only one pressure in those meetings. On the season, Clayborn charted 99.2% of his pass rush snaps from the right side of the defensive line generating 39 pressures on 255 pass-rush snaps. Whitworth will also protect against the likes of Trey Flowers, Kyle Van Noy, and Dont'a Hightower, among others.
Whitworth doesn't appear to be slowing down anytime soon, but rumors of retirement will be a topic of discussion as he creeps toward the age of 40. A Rams victory on Sunday could give him plenty to think about this offseason with a Super Bowl ring symbolizing the icing on the cake of an all-time great and dominate career.