It's hard to say that Derek Carr has lived up to the five-year, $125 million contract that he signed in the summer prior to the 2017 season. Since that time, he ranks 23rd among 32 qualifying quarterbacks in overall grade. He has ranked just 20th among all quarterbacks in wins above replacement. Simply put, you can't say that Carr has performed at an above-average level since the Oakland Raiders extended him, trending closer to below average. That's not what you want to see out of your franchise quarterback.
To be fair to Carr, the Raiders haven't surrounded him with the best situation to succeed. Their offensive line finished the 2018 season ranked 28th among the teams across the league. They trotted out a rather depressing RB1 and WR1 combination of Doug Martin and Jordy Nelson that would have been more intriguing about five years ago. Their secondary receivers — such as Seth Roberts and Marcell Ateman — didn't strike fear in many. Luckily for Carr, the Raiders internalized that and took steps toward improvement this offseason. Trent Brown was likely an overpay, but he is a definite upgrade at the tackle position. Signing Antonio Brown brings arguably the best wide receiver of the past decade to Oakland, and the addition of Tyrell Williams just adds proven depth behind him.
Additionally, the Raiders used one of their first-round selections in this past year's draft on Alabama running back Josh Jacobs. Here at PFF, we don't suggest spending a first-round draft pick on a running back. With that disclaimer out of the way, if you were going to do it this season, Jacobs was the back to do it on.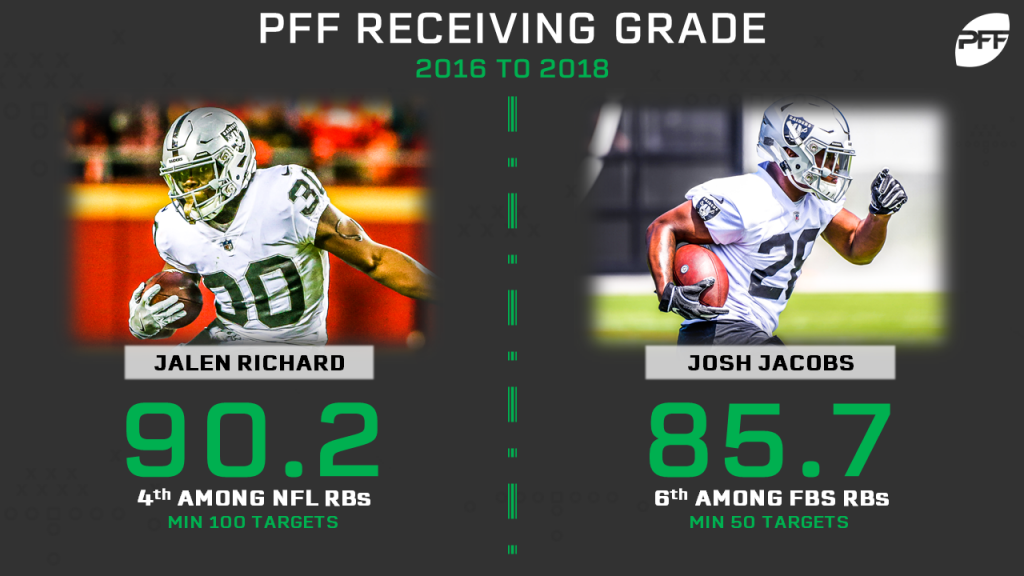 PFF analyst Gordon McGuiness broke down why Jacobs was the top back on our board back in March, but the cliff notes version is that he showcased the skill set and talent to become an effective three-down running back at the NFL level despite his split role at Alabama. Jacobs wasn't used frequently as a receiver, but he flashed the ability to make defenders miss in the open field after the catch, adjusted to the ball downfield on several occasions, and displayed natural hands. This is important to note because a large portion of the value that Jacobs will bring to the Raiders offense will come through the contributions he is able to make as a receiver.
Since 2016, Jacobs has a receiving grade of 85.7, which ranks 6th out of 93 FBS running backs with 50 or more targets over that span. His passer rating when targeted of 141.1 ranks first among the same group. Good things happened when Alabama got the ball into his hands in the passing game. When you look at some of the plays he made as a receiver in his limited collegiate opportunities, it's easy to see why there's reason to be excited for his skills as a receiver at the NFL level.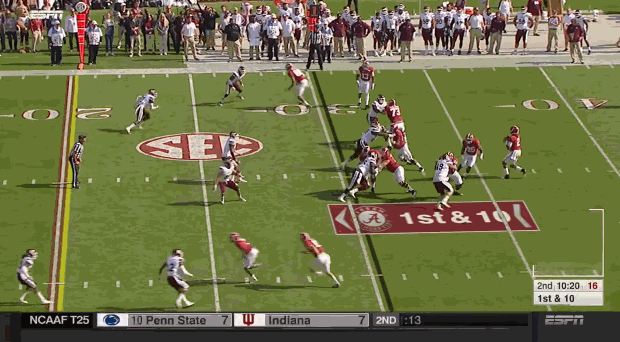 On just 47 career receptions, Jacobs forced 20 missed tackles after the catch. That ability to make defenders miss in the open field creates more opportunities for first down conversions and big plays broken on routine passes to the flat. A prime example of his elusiveness in the open field comes from his 2016 game against Mississippi State in his freshman season. He hit multiple defenders with the quick right jab on the right stick to leave them facedown, grasping at air.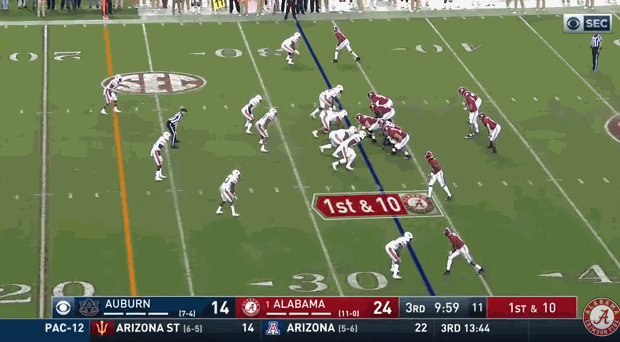 He has shown the ability to be more than simply a running back that is restricted to catching the ball in the flat as well. On this 2018 play against Auburn, Jacobs took off down the seam and showcased the instincts to track the ball over the opposite shoulder of what he was originally expecting, bring in the pass, and immediately break a tackle before forcing another man to miss point-blank at the goal line.
Last but not least, on this play against LSU, Jacobs lined up wide, ran a simple hitch, boxed out and caught the contested ball away from his body with strong hands. That's significantly more difficult than just flaring out of the backfield to the flat and bringing in a catch without a defender within five yards, and the fact that Jacobs has shown some of that ability on tape is promising.
Though Jacobs projects to get a large, workhorse role in the Raiders backfield, they already have an established receiving threat at the position in Jalen Richard. Richard is one of just four running backs since 2016 with 100-plus targets and a receiving grade of 90.0 or higher, joining the likes of Alvin Kamara, Christian McCaffrey and James White.
His effectiveness as a receiver has been bolstered by his ability to make plays downfield in addition to around the line of scrimmage. Richard has been targeted 43 times five or more yards past the line of scrimmage since 2016 (sixth-most among all running backs in the league). On those plays, only Tarik Cohen has a higher receiving grade at the position. A running back provides most of their value to the offense as a receiver and even more value if they can win downfield. Richard does just that.
Another thing that Richard brings to the table is the ability to split out either wide or in the slot. Out of 534 routes run in his career, he has lined up as a wide receiver on over one-fifth of them (115). Simply having the ability to split out wide creates mismatch problems for the defense, as often times the running back will get put on a linebacker in coverage or the outside cornerback splits out to cover the running back wide while a true wide receiver gets a favorable matchup inside.
Richard has already shown the ability to be a plus-receiving running back in the NFL, while Jacobs has showcased the skills needed to do so at the collegiate level. With Carr opting to check down often in 2018 — his average depth of target of 7.1 yards was tied for the lowest in the NFL — both running backs could see significant work in the receiving game. They should be up for the task, and given the versatility that both guys have as receivers, the Raiders could employ some interesting two-back formations at times in 2019.