In his three-year career, New England Patriots guard Joe Thuney has often shown up when it matters most. His rookie campaign was full of the expected pitfalls most young offensive linemen endure, and up until the Super Bowl that season, he had surrendered the third-most quarterback pressures (47) among guards.
But then New England's matchup with the Atlanta Falcons was suddenly on the doorstep, and Thuney either had to grow up fast or get eaten alive by the Falcons' defensive line in primetime. He chose the former.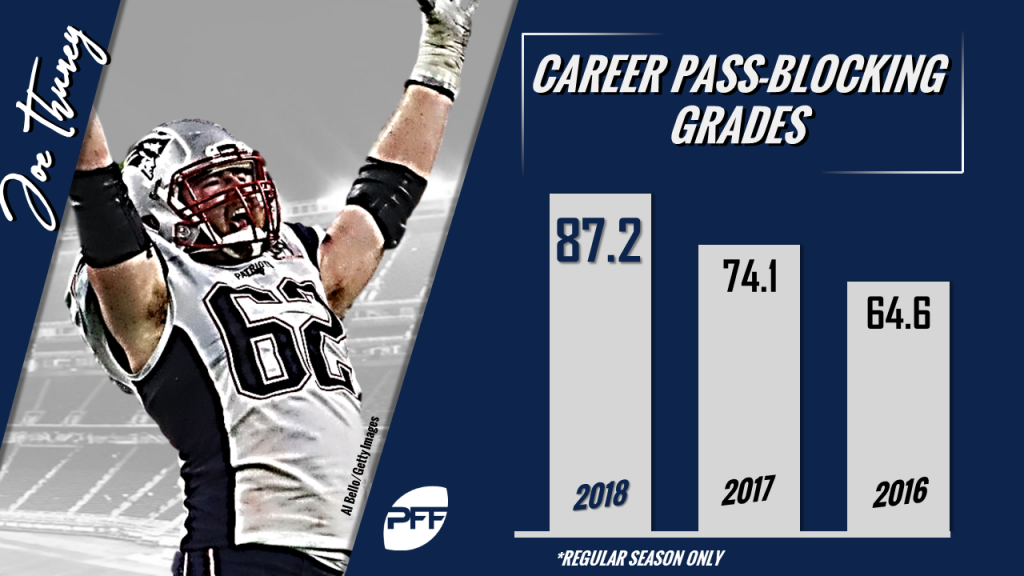 He outshined all expectations, playing all 99 snaps while allowing just two pressures and no sacks in a furious comeback attempt that eventually proved successful. He subsequently earned a season-high grade (75.9) for his efforts.
So it's only right, then, that Thuney has played every snap in the Patriots' two Super Bowl appearances since that historic rally, and after coming up short last year, Thuney had an opportunity Sunday to put his skill set on display against the most-intimidating defender in today's NFL: Los Angeles Rams' interior defender Aaron Donald.
Donald has won more accolades this season than can be reasonably listed — PFF's top pass-rusher award, PFF's Dwight Stephenson Award (given to the best player in the NFL), the top-graded interior defender by a wide margin, and so on.
On Sunday, on the biggest stage, Thuney — with the help of some important double teams — was charged with shutting down Donald in addition to his impressive teammates. And again, in another career-defining moment, the North Carolina State product showed up.
Donald had one of his worst performances of the season, due in large part to Thuney and the rest of the Patriots' offensive line, as he racked up just two pressures, no sacks and two run stops. He earned a single-game grade of just 73.8, a mark that's well short of the standards he set during a stellar 2018 season. 
It would've been a decent performance for almost any other lineman — but for the dominance Donald usually displays on a weekly basis, it was a surprisingly tame showing.
For Thuney, though, it was anything but a shocker. He has vastly improved his technique each year he's been in the league, earning pass-blocking grades of 70.1, 74.9 and now, 85.3.
He's had similarly stellar performances all season. Against the Green Bay Packers in Week 9, Thuney helped hold interior defender Kenny Clark, who finished the year with a 90.5 overall grade (10th), to his only no-pressure game this season. And up against the Tennessee Titans' Jurrell Casey in Week 10, Thuney again shined.
Casey earned a season-worst 51.5 pass-rushing grade in that game as he was held to just two pressures and no sacks. That's obviously not all to Thuney's credit, as interior defenders frequently shift where they line up on each snap, but nevertheless, the third-year guard has been a revelation in 2018.
Not many defensive units in the NFL provided as much of a threat as the Rams' defensive line this year. But Thuney stepped up to the challenge on Sunday against the pressure machine that is Aaron Donald — and it earned him a second Lombardi Trophy in a career that has only just begun.