Coming in at No. 44 on Sam Monson's list of the best 101 players in the NFL right now is Chargers cornerback Jason Verrett. He falls a little below Patrick Peterson at No. 32, Josh Norman at No. 36, as well as other cornerbacks yet to be named in the top 25. He was tied with Tyrann Mathieu for the highest coverage grade among CBs at 91.5 last year, but has only managed to play in 20 of a possible 32 games in his NFL career so far. Despite the injury concerns, I believe he will be the best outside cornerback in the NFL in 2016.
Verrett's 2014 and 2015 play
On a per-play basis, no outside cornerback has been better than Verrett over the course of the last two years. He just hasn't received the attention or the awards because he's been unable to stay healthy.
When it comes to making a positive impact on defense, no outside cornerback has received a positive grade more from our analysis on a per-coverage-snap basis than Verrett. Below are the top 10 cornerbacks in that category including a few other noteworthy names. A cornerback needed at least 400 coverage snaps on the outside rather than in the slot over the last two years to qualify for this particular table.
| | | | |
| --- | --- | --- | --- |
| Rank | Name | Coverage Snaps | Percentage of Coverage Snaps with a Positive Grade |
| 1. | Jason Verrett | 510 | 7.3% |
| 2. | Malcolm Butler | 623 | 7.2% |
| 3. | Delvin Breaux | 505 | 6.7% |
| 4. | Ronald Darby | 526 | 6.7% |
| 5. | Vontae Davis | 1,059 | 6.5% |
| 6. | Johnathan Joseph | 999 | 6.3% |
| 7. | Marcus Peters | 627 | 6.2% |
| 8. | Dominique Rodgers-Cromartie | 933 | 6.0% |
| 9. | Ross Cockrell | 467 | 5.8% |
| 10. | Bradley Roby | 658 | 5.8% |
| 16. | Josh Norman | 1,070 | 5.3% |
| 36. | Darrelle Revis | 952 | 4.6% |
| 39. | Patrick Peterson | 1,136 | 4.6% |
| 45. | Richard Sherman | 1,113 | 4.5% |
| | League Average | 77,289 | 4.5% |
One reason he's so high is because he's been great at intercepting passes, often in key situations. He has five when lined up on the outside, and an additional pick from the slot. That's an interception on 1 percent of his coverage snaps, which is only bested by Trumaine Johnson, Marcus Peters, and A.J. Bouye. Those interceptions include one returned for a touchdown, one occurring in the end zone, and another that clinched a victory for the Chargers. He's also been great at preventing completions, thanks to his close coverage. This is where Desmond Trufant and Richard Sherman excel, and Verrett has had close coverage just as consistently as they have. He has allowed a completion on just 56 percent of passes thrown his way.
Even after he's allowed a reception, Verrett has been among the best at making a play after the catch. Of the completions Verrett has allowed, 58.8 percent of them have gone for fewer than 10 yards. Only Domonique Rodgers-Cromartie, Adam Jones, and Chris Harris Jr. have allowed more passes while lined up outside and have a better rate.
Verrett has also been very good at not allowing negative plays. Below is how often each cornerback has received a negative grade in coverage relative to how many outside coverage snaps they played over the last two seasons. Only Verrett and the Saints' Delvin Breaux appear on both lists. Verrett was able to stay high on both of these lists while consistently tracking the opposition's top outside wide receivers. Broncos' Chris Harris is known for his slot cornerback play, but when he's lined up outside, he's played very well.
| | | | |
| --- | --- | --- | --- |
| Rank | Name | Coverage Snaps | Percentage of Coverage Snaps with a Negative Grade |
| 1. | Chris Harris Jr. | 658 | 5.6% |
| 2. | Sean Smith | 1,080 | 5.6% |
| 3. | Richard Sherman | 1,113 | 5.8% |
| 4. | Jimmy Smith | 843 | 6.8% |
| 5. | Adam Jones | 1,071 | 6.8% |
| 6. | Patrick Peterson | 1,136 | 6.9% |
| 7. | Delvin Breaux | 505 | 6.9% |
| 8. | Darius Slay | 1,208 | 7.0% |
| 9. | Antonio Cromartie | 1,099 | 7.0% |
| 10. | Jason Verrett | 510 | 7.1% |
| 11. | Josh Norman | 1,070 | 7.1% |
| 20. | Darrelle Revis | 952 | 7.6% |
| | League Average | 77,289 | 9.1% |
Positive plays for cornerbacks are more consistent one year to another compared to negative plays, so the players on the positive list are more likely to stay the same than the ones on the negative list. This means that it's more likely Verrett is able to move above some of the elite cornerbacks on the avoiding negatives list than other cornerbacks have of catching Verrett on the positives list.
Verrett's health
Obviously missing playing time in each of the last two years is concerning and has kept Verrett's name from being part of the elite cornerback discussion in the past. To find out how concerning it should be going forward, I looked for similar players and how much playing time they missed.
In order to qualify for the below graph, a player had to have played in at least four games each of the previous two years, but not in all 16 games, and then have played in at least one game the following year. To ensure only high-quality players were included, these were players that started every game they played over the three-year time span. There is also a bar on the right for players who played in all 32 games the previous year and at least one the following year for comparison purposes.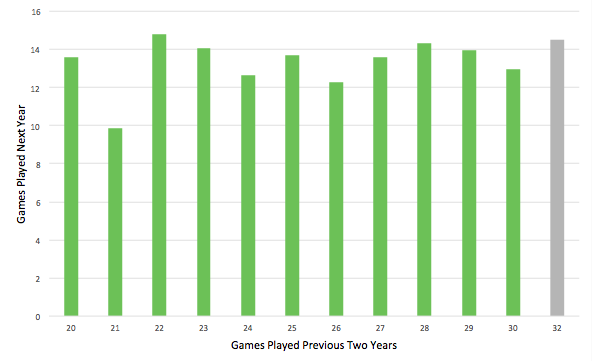 Typically, players who have played in all 32 games the last two years play more the following year than players who haven't, which is to be expected, but the gap isn't that large. For someone like Verrett who has played in 20 games the previous two years, he is expected to play in 13.5 games, which is just one less than someone who didn't have an injury history the past two years. While we often expect players who have been injured often to keep getting hurt, there are plenty of cases where they are able to stay healthy at least for a full season. One promising note to differentiate Verrett from others in this study is that the Charger has been healthy over the offseason, and was even healthy enough to play in the Pro Bowl. While the likelihood of Verrett missing time this season is larger than other elite cornerbacks, the odds aren't that much worse for Verrett.
Cornerback progression
At every position of football, in general we expect players who are young to improve over time with added knowledge and experience, while players who are older are expected to decline. To quantify this, I looked at all cornerbacks who played in two consecutive seasons and if they improved or declined from one year to the next based on PFF grade. Below is a graph that shows the percentage of cornerbacks who improved compared to the previous year at a given age. Cornerbacks who were 25 or younger were more likely to improve than decline compared to the previous season. Once a cornerback reaches 28, they are more likely to decline than improve.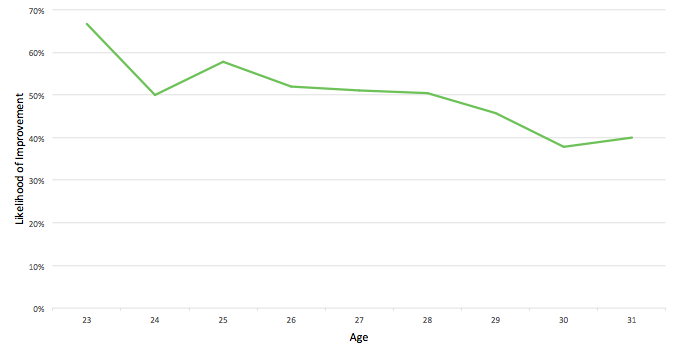 Verrett will be celebrating his 25th birthday in a few days, and has a decent chance to at least keep playing at the same level he's been performing at. Elite cornerbacks like Josh Norman, Richard Sherman, and Darrelle Revis have all reached the age of 28. While there is a chance they could improve, the more likely option is that they will take a step back, which would widen the gap between Verrett and others.
In most years, the top outside cornerback finds his way into the top-10 players of the previous year. Come February, when we revisit the 2016 season, as long as Verrett can stay healthy, odds are that he will be the best of the outside cornerback group.