Undrafted free agents are the undisputed glue of an NFL team — a budding star at a near-negligible value. Minimal expectations combined with weeks of training in practice and the preseason can sometimes bring the best out of those with a chip on their shoulder, feeling wronged by their draft fortunes. After all, there's nothing to lose — no undrafted free agent has ever been labeled a bust.
So with the New England Patriots set to step foot on Ford Field in less than 24 hours for their first preseason game of the year, it isn't first-round pick N'Keal Harry drawing the throngs of attention. Instead, Jakobi Meyers has stolen the show throughout training camp, reportedly building a strong rapport with Tom Brady while working with the first team.
Not enough people are talking about NC State's Jakobi Meyers (@jkbmyrs5).

He isn't a big separator, but he catches everything. He's a top-5 WR in this class in drop rate and contested catch %.

He's a Jason Avant clone, IMO. Chain mover, sneaky red-zone threat and SO consistent. pic.twitter.com/XuAPGnCz3V

— Austin Gayle (@PFF_AustinGayle) March 30, 2019
For all the twists and turns that Meyers has endured up until this point, his NFL aspirations are all but realized. Before committing to North Carolina State, Meyers was a quarterback, eventually switching to wideout before his redshirt freshman season in 2016. By the year's end, he had just 13 receptions on 18 targets with a mere 158 yards to his name, unable to find the endzone in minimal action.
Just a year later in 2017, the Wolfpack depth chart had a new pair headlining the wide receiver list: Kelvin Harmon, a sixth-round pick of the Washington Redskins, and Meyers.
That season, Meyers earned a 77.1 overall grade, ranking first among NC State wideouts and seventh among 45 qualifying ACC wide receivers. As Meyers began to make a name for himself, his identity became clear: reliable hands and a knack for reeling in contested catches.
He dropped three of his 93 targets, hauling in 63 others for a breakout season from the slot. Nearly 96% of his snaps in 2017 came from inside, and his 2.18 yards per route run from the inside ranked 38th among 175 qualifying wideouts.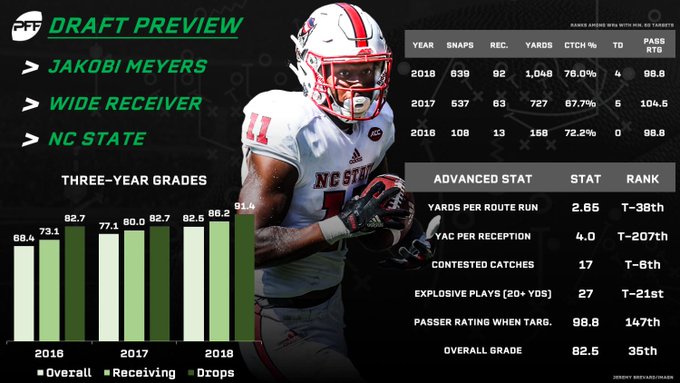 And in 2018, Meyers took the next step, bolstering his resume ahead of his eventual decision to declare for the 2019 NFL Draft. He saw the lion's share of targets — 121 of them — while securing a 76% catch rate (eighth among wideouts in the draft class) and leading the draft class in slot receptions (85).
Contributing to that high catch rate was an apparent lack of drops, impressive for a lifelong receiver, let alone one who has played the position for just three years. With a meager three drops on those 121 targets, Meyers finished eighth in the wideout draft class in drop rate.
But that's simply expected of a wide receiver. Catch the ball. What isn't habitual for most, though, is the ability to make a catch in traffic — a skill Meyers honed in no time. In 2017, Meyers dealt with 15 contested targets, hauling in six of them. A year later, his progress was apparent to the tune of a 73.9% catch rate on 23 contested targets, third-best in the nation.
Meyers' 82.5 overall grade last year slotted him at No. 37 among wide receivers while his 86.2 receiving graded pitted him at No. 21, seven spots behind his now-teammate N'Keal Harry. While he will forever carry the undrafted label, Meyers' development over the course of a few years resembled a player of far better caliber.
In eight of his 11 regular-season games last year, he saw double-digit targets, earning 80.0-plus grades in four them. Before 2018, he hadn't earned a game grade above 80.0 in a game where he played more than 10 snaps.
Meyers has always been up for the challenge, and working with the Patriots first team in training camp appears to be just another stepping stone on his inevitable path to success at the next level.
For undrafted hopefuls like Meyers who wait in the wings on edge to see how their NFL journey unfolds, one eye-popping play in practice can make all the difference. And for now, it appears Meyers' efforts won't have him waiting much longer.