Almost five months ago, The Los Angeles Chargers returned to their facility to start training camp without one of their longest-tenured offensive weapons. At the close of the 2017 campaign, After 15 full seasons with the team, tight end Antonio Gates, a sure-fire Hall Of Famer and a legend among the Chargers' faithful, was released by the team that signed him as an undrafted free agent basketball-convert, seemingly closing the chapter on an extraordinary career.
Granted, Antonio Gates' 2017 season wasn't the best of his career. At 37 years old, he showed the inevitable signs of decline and was outshone by promising young pass-catcher Hunter Henry for most of the year. His 499 snaps were the least he'd ever logged with the team over the PFF era (2006-present), as were his 44 targets, 30 receptions, 316 receiving yards and three receiving scores. His 0.99 yards per run were, again, the lowest mark of his fabled career and ranked 39th out of 43 qualifying at the position, while the 92.6 passer rating he generated ranked 28th.
However, Gates' departure wasn't meant to be. Following Hunter Henry's season-ending knee injury, Gates was called up for a 16th season with the team, and while he has not blown teams away with blistering straight-line speed or freakish athleticism this year, instead, he's found a different way to win. A combination of brains, experience and some of the sickest route-running moves that we've ever seen from him.
Through 15 weeks of the NFL season, Gates has rebounded from a down year to produce an overall grade of 74.5. That is not only good for 10th among 69 qualifying players at the position, but it's on pace to be the seventh-best mark of his career — not bad for a 38-year-old that was brought in from the scrap heap just a week before the start of his 16th NFL season.
So far, he's caught all 25 of the targets thrown his way –making him one of only four tight ends who has seen at least 25 catchable targets and not dropped a pass — for 312 receiving yards and two touchdowns. With two games left to go, he's just four receiving yards shy of his 2017 total, his average of 1.47 yards per route run is his best mark since 2015 and his 111.5 passer rating generated is the 14th-best mark among tight ends this year.
So how does a 38-year-old tight end who is now bigger, slower and much less agile than he once was rebound to record some of the better numbers of his career? Well, he's traded speed and explosive plays, for savvy route running and yards after the catch. Through 15 weeks, Gates has been targeted just once on a deep pass (a pass targeted 20 or more yards downfield), which equates to only 2.7% of his total targets on the year and is by far the lowest rate of his career. His average depth of target, which currently sits at 9.0 yards downfield, is the fourth-lowest mark of his career and is almost three yards shy of his career-best. In place of those air yards, have come yards after the catch. In his 14 games, 115 of Gates' 312 receiving yards have come after the catch, and he's averaged 4.6 yards after the catch per reception, which is the fourth-best mark of his career and his best mark since 2013.
The play below is a perfect example of how Gates is winning in his 16th year. Here, he created separation from safety Ron Parker with a little stutter step, before breaking into a corner route. Rivers delivers the ball on time, and Gates is able to add an additional eight yards after the catch.
While Gates has only been on the field for just 35.3% of his team's offensive snaps so far this year, he's sure made them count. The key has been when he's been utilized. Gates' number has often been called in the most high-leverage situations that occur throughout a football game. Of his 37 targets on the year, 20 have come on third downs, and 10 of those 20 targets have come after his quarterback faced pressure.
That speaks to the level of trust that Rivers has in his veteran tight end, and Gates has more than repaid that trust. Through 15 weeks, no pass-catcher in the league has seen a higher percentage of his targets come on third downs than Gates (54.1%), and he's repaid his team with 13 catches for 168 yards, one touchdown, and 10 first downs. His 5.7 yards after the catch on third down ranks fourth among tight ends with at least 20 targets, his 1.73 yards per route run on third down ranks sixth, and his third-down receiving grade of 75.9 ranks fifth.
Below is another perfect example of Gates' third-down dominance this year. Here, the Chargers, down 14 points, faced 3rd and 2 with just seven minutes left in the fourth quarter. With some impressive footwork, Gates makes Chiefs linebacker Dorian O'Daniel bite on his fake to the inside before spinning out and breaking on an out route. As O'Daniel attempts to recover, Gates puts on the brakes, forces the missed tackle, and adds 11 extra yards after the catch — keeping the drive alive.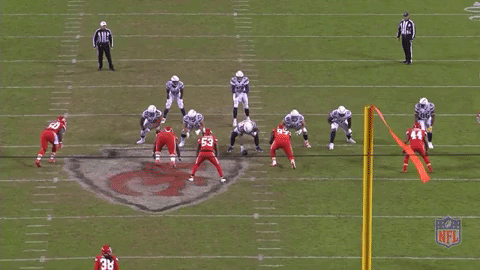 Again, below, the Chargers are looking to the close the game in the fourth quarter. Up two with just over three minutes left in the fourth quarter, Gates sells the same move to versatile safety Justin Simmons, which gives him enough separation for his quarterback to find him for a 25-yard gain.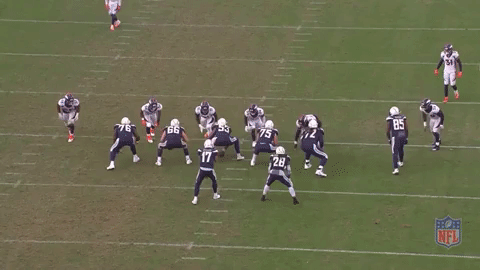 Over recent years, we have been incredibly fortunate to witness a number of fairytale endings to the most important game of the year. Undrafted free agent Malcolm Butler's game-winning interception against the Seattle Seahawks in Super Bowl XLIX, Peyton Manning overcoming a mid-season benching and a dwindling arm to end his career with a Super Bowl 50 win, Tom Brady and the New England Patriots' emphatic 25-point comeback in Super Bowl LI, and most recently, back up quarterback Nick Foles' outstanding postseason performance that led to the Eagles' victory in Super Bowl LII. As we head into the playoffs and set our sights to Super Bowl LIII, the Chargers have Philip Rivers playing at an MVP level, and they have Antonio Gates finding ways to win despite his advanced age. After a long run of such endings, The Los Angeles Chargers could very well be the next team in line to secure a fairytale finish to a wildly entertaining season.