In congruence with PFF's Teaching Month, we'll be taking a look at some of the top performances from all positions in the NFL from the 2017 season in our PFF Signature Statistics. Today's feature focuses on the success among inside linebackers from last season in our major four signature stats categories for the position: run-stop percentage, pass-rush productivity, the coverage metric of passer rating when targeted and tackling efficiency.

Run-Stop Percentage
1. Martrell Spaight, Washington Redskins – 14.6
Spaight logged 178 snaps against the run in 2017, registering 33 solo tackles and eight assists. His 26 run stops ranked as 21st-most in the league, however doing so on just 178 snaps against the run puts him atop this list. The former Arkansas standout missed just five tackles to go along with his 26 stops.
2. Anthony Hitchens, Kansas City Chiefs – 14.5
Hitchens didn't miss a single tackle in run defense in 2018. He signed a five-year, $45-million contract with the Kansas City Chiefs on the backs of finishing with the league's second-best run-stop percentage. He'll likely see a larger share snaps now that he doesn't have to vie for time opposite Sean Lee and Jaylon Smith.
3. Nick Kwiatkoski, Chicago Bears – 11.5
Kwiatkoski also wasn't tagged for a missed tackle against the run all season. He still has to share time on the field with Danny Trevathan and newly-drafted Roquan Smith, but should be able to capitalize on a great sophomore year after being drafted in the fourth round from West Virginia in 2016. Overall, Kwiatkoski was graded as the NFL's 12th-best inside linebacker, higher than both Spaight and Hitchens.
4. Luke Kuechly, Carolina Panthers – 11.3
Kuechly only missed one tackle against the run in 2018 and ranked sixth in total run stops with 32. He racked up an incredible 46 solo tackles against the run to go with another 17 assists.
T5. Jake Ryan, Green Bay Packers – 11.2
T5. Reuben Foster, San Francisco 49ers – 11.2
T5. Kevin Minter, New York Jets (formerly with Cincinnati) – 11.2
A three-way tie for fifth in terms of run-stop percentage would arguably have to be given to Ryan, who logged the most snaps in run defense a season ago. Ryan spent 269 snaps against the run and recorded a total of 30 stops on 61 total tackles. Foster recorded 25 stops on 223 run-defense snaps while Minter recorded 13 on 116 snaps in Cincinnati last season.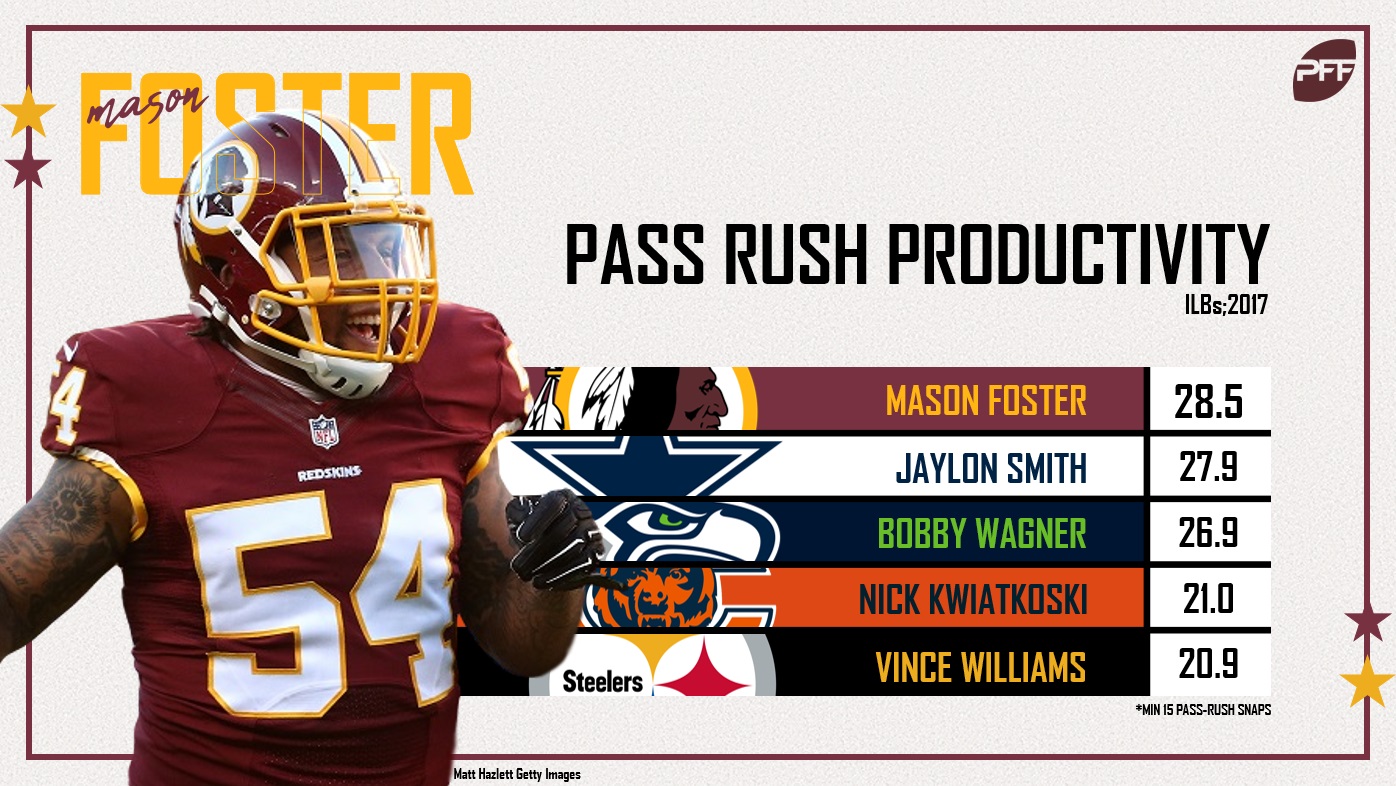 Pass-Rush Productivity
1. Mason Foster, Washington Redskins – 28.5
Foster finished sixth in sacks at the position and fifth in hurries. His PRP of 28.5 topped all inside linebackers who rushed the passer at least 15 times a season ago.
2. Jaylon Smith, Dallas Cowboys – 27.9
Smith rushed the passer efficiently when tasked to do so, recording one sack, one hit and four additional hurries on just 17 pass-rushes and has plenty of room to continue to improve, especially with the aforementioned Hitchens now in Kansas City.
3. Bobby Wagner, Seattle Seahawks – 26.9
Wagner ranked fourth in total pressures with 18, yet 18th in total pass rush snaps, a testament to his spot on this list. Wagner brought in two sacks, six hits and 10 hurries on just 52 pass-rushing snaps a season ago.
4. Nick Kwiatkoski, Chicago Bears – 21.0
As mentioned before, Kwiatkoski was PFF's 12th-highest graded inside linebacker overall and he showed well when rushing the passer as well. His 21.0 pass-rush productivity ranked fourth and came on the heels of his rookie season in which he ranked 10th in the same category in 2016.
5. Vince Williams, Pittsburgh Steelers – 20.9
Williams led the league's inside linebackers with seven sacks and finished fourth in total pressures at 18. The former Florida State product racked up his 18 pressures on just 73 pass-rushing snaps showing, a testament to why he was sent to rush the passer on 20.2 percent of his snaps, or fifth-most among inside linebackers.
Passer Rating When Targeted
1. Luke Kuechly, Carolina Panthers – 73.5
Kuechly ranked first in interceptions with three and third in coverage snaps per reception allowed at 12.3. A season after ranking 45th in passer rating when targeted, Kuechly's 2017 coverage prowess is a welcome relief for the Panthers.
2. Derrick Johnson, Oakland Raiders (formerly with Kansas City) – 74.1
Johnson's coverage has been documented before, as he was seventh in yards allowed with 183 and third in passes defended with four. His effect on offense's passing attacks cannot be understated as he joins a Raiders squad that ranked 26th in pass coverage as a team last season
3. Zach Vigil, Washington Redskins – 77.5
Vigil allowed just 149 yards as the primary coverage defender, finishing second among all inside linebackers in 2017. He did this despite being one of the more heavily targeted players at the position, seeing a targeted pass come his way every 6.1 snaps he spent in coverage (ninth in the league).
4. Vince Williams, Pittsburgh Steelers – 78.9
Williams did not give up a touchdown all season and was seventh in catch rate allowed into his coverage. Pittsburgh did not draft a linebacker in the 2018 NFL Draft despite the loss of Ryan Shazier, arguably pointing at their trust in Williams all-around game.
5. Deion Jones, Atlanta Falcons – 79.3
Jones ranked first in passes defended with six and was thrown at the second-most in the league, seeing 81 targets. He wrapped up a league-leading three interceptions among inside linebackers, tying with Kuechly, Tampa Bay's Kwon Alexander, LA's Mark Barron and Shazier in doing so.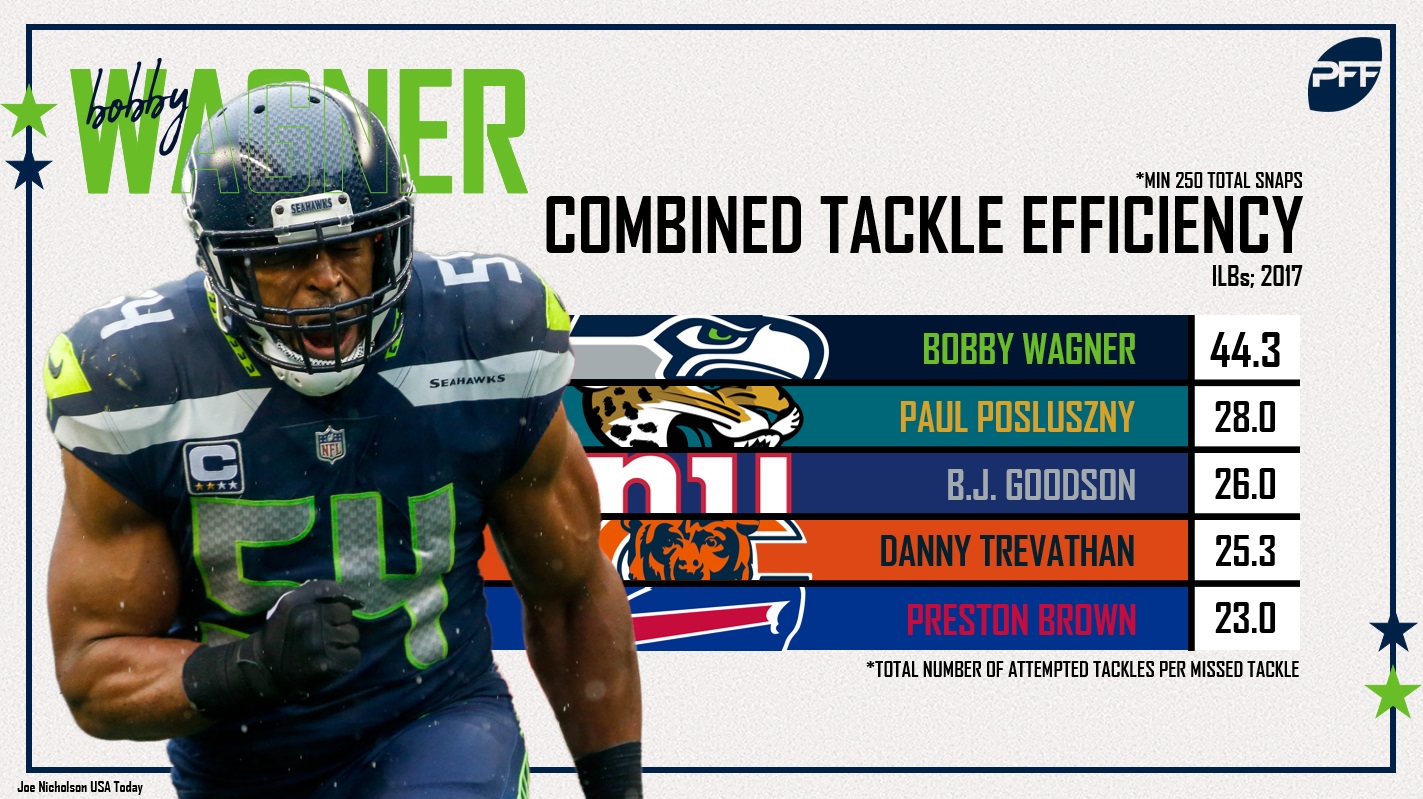 Combined Tackle Efficiency
1. Bobby Wagner, Seattle Seahawks – 3 missed tackles on 971 snaps
Wagner placed third in run game tackle efficiency (two missed tackles) and first in passing game tackle efficiency (one missed tackle). He missed just three tackles all season long on his 971 total snaps against both the pass and the run. The only other linebacker with more than 260 snaps against the run and two or fewer missed tackles was Kuechly.
2. Paul Posluszny, Jacksonville Jaguars – 2 missed tackles on 456 snaps
Posluszny, who announced his retirement after 11 years, was first in passing game efficiency. On 218 snaps in coverage, Posluszny did not record a single missed tackle while attempting 25 total tackles.
3. B.J. Goodson, New York Giants – 2 missed tackles on 355 snaps
Goodson, a fourth-round pick from Clemson in 2016, ranked fifth in running game efficiency and fourth against the pass. He missed just two combined tackles while playing just seven games due to leg, shin and ankle injuries.
4. Danny Trevathan, Chicago Bears – 4 missed tackles on 676 snaps
Trevathan missed only one tackle in the passing game and three in the running game. He recorded 34 total tackles against the pass despite just the one missed tackle after the catch.
5. Preston Brown, Cincinnati Bengals – 6 missed tackles on 1,055 snaps
A workhorse, Brown played the third-most snaps in run defense and the second-most against the pass. Despite his high snap volume, Brown missed just four tackles on 72 total attempts against the run and just two tackles on 60 total tackles against the pass.