So far as part of Teaching Month here at Pro Football Focus, we have brought you a breakdown of how we grade offensive and defensive linemen, a look at stunts, a glossary of the signature stats we collect, blitz rates on passing downs, and more.
Today we're moving on to two aspects of pass-rushing that are massively important in today's NFL: quick pressure and average time to pressure. With the passing game increasingly prevalent, and the quick passing game key to the success of plenty of offenses around the NFL, the ability to get pressure quickly is becoming ever more important. So which defenses register pressure the quickest, and which registered the most pressure in under 2.5 seconds in 2017? Let's take a look.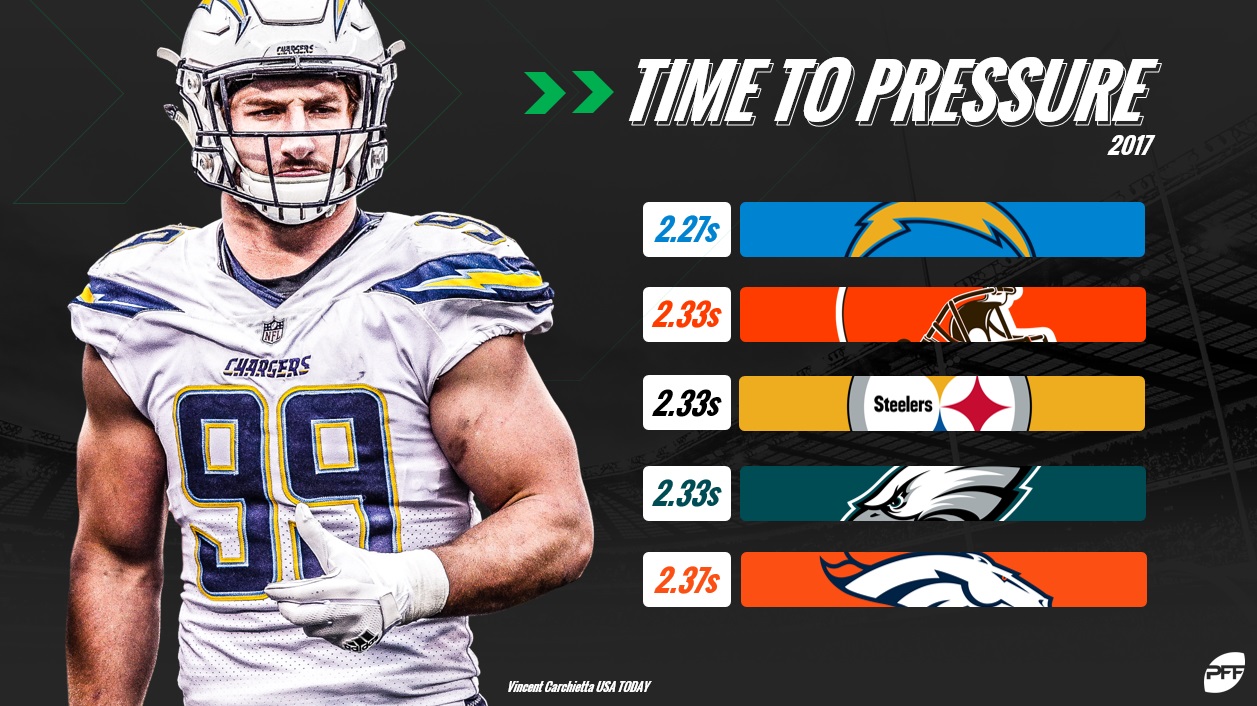 The Los Angeles Chargers produced the fastest average time to pressure, thanks in no small part to having Joey Bosa and Melvin Ingram rushing off the edge. Arguably the best edge defender duo in the NFL, they combined for 24 sacks, 23 hits, and 104 hurries, and with an average time to pressure 0.06 seconds ahead of any other team in the NFL, they delivered that pressure quickly.
The Philadelphia Eagles were tied for second, with an average time to pressure of 2.33 seconds. That's not surprising when you consider that they had dominance off the edge in Brandon Graham, and on the defensive interior in Fletcher Cox. They also boasted a good group of complementary players, with seven different players registering at least 20 sacks, hits or hurries over the course of the 2017 regular season.
The most surprising name in the top 10 is the Cleveland Browns. They didn't register a lot of pressure, but when they did they were able to get there fairly quickly. As we covered earlier this week in the blitz tendencies article, they were one of the most aggressive defenses in the league. With former first-round draft pick Myles Garrett entering his second season, the Browns will be hoping to bring a lot more pressure in 2018.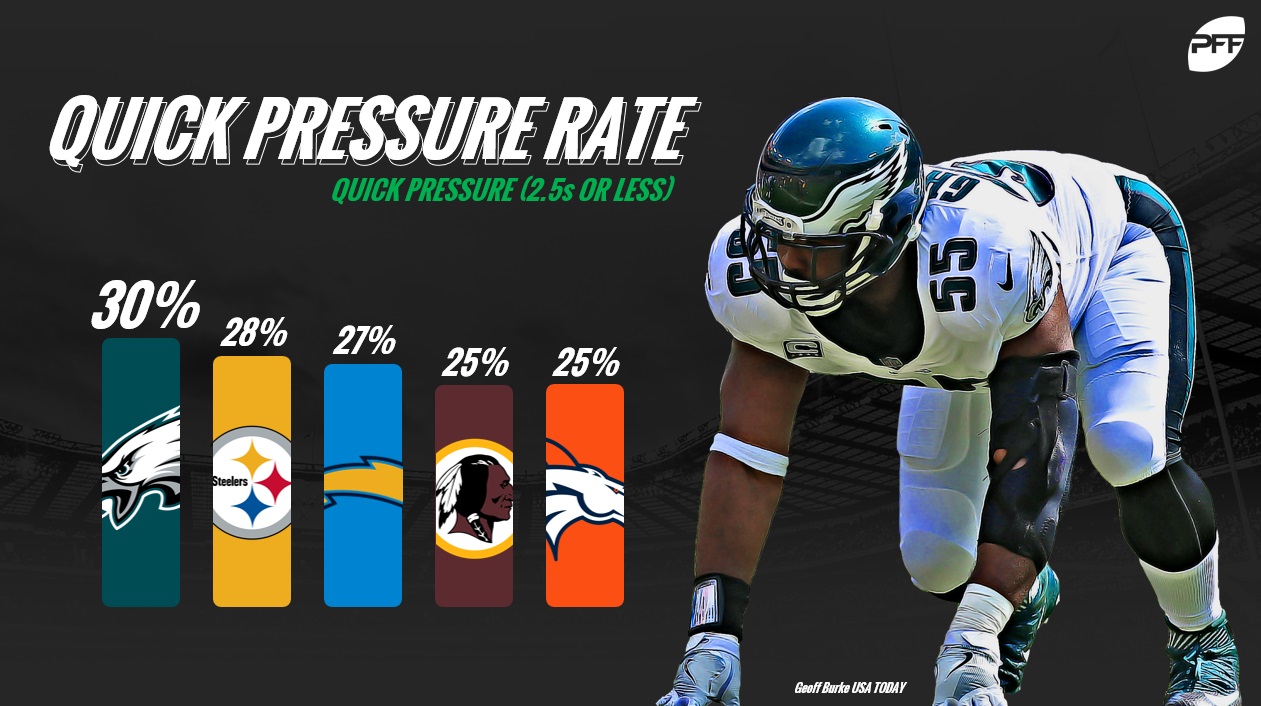 Quick pressure percentage, as the name suggests, is the percentage of passing plays where a defense registers quick pressure. Quick pressure is defined by pressure that comes in 2.5 seconds or less on any passing play. After finishing tied for second in average time to pressure, the Eagles lead the way here, and were the only team in the NFL to hit the 30 percent mark for quick pressures.
The Pittsburgh Steelers ranked second in both categories, and while they lacked a dominance edge rusher, Cameron Heyward racked up 14 sacks, nine hits. and 39 hurries on the defensive interior. T.J. Watt was solid as a pass-rusher as a rookie, producing 40 total pressures in his first season in the NFL, so hopes will be high that they can maintain their lofty position when it comes to quick pressure in 2018.
The Los Angeles Rams landed in the back half of the top 10 here, and that should come as no surprise given that they have the most dominant defender in the NFL right now in Aaron Donald. As Mike Renner highlighted in his article on how we grade offensive and defensive linemen earlier this week, Donald had 63 pass-rusher where he graded at +1.0 or higher, 24 more than the next-highest interior defensive lineman. That level of dominance resulted in a lot of quick wins for the player who recently ranked No. 1 in the PFF50.
One interesting note to end on. Of the top 10 teams in quick pressure percentage, the Washington Redskins were the only team that didn't have a player who graded among either the top-10 edge defenders or interior defensive linemen in 2017. Even then Ryan Kerrigan wasn't too far away, with his 85.6 grade ranking 18th among edge defenders. As simplistic as it seems, having dominant players in your defensive front makes getting pressure quickly a lot easier.