The act of looping defensive linemen around one another in order to shred a protection scheme can be called by a number of names.
Stunt.
Twist.
Game.
You've probably heard it called all three.
If an offensive line coach had to give it a literal name though, they'd be known as a massive headache.
Stunting defenders across the formation requires the entire offensive line to work in unison to avoid pressure on their quarterback. They've been employed effectively by defensive coordinators for decades, but nobody has ever tried to quantify exactly how well they work – until now. We tracked stunts for every passing play in the league last year and whether they led to pressures or not.
First we'll breakdown why they work so well [Note: how to stunt has already been covered here], then we'll examine the top stunting teams throughout the league.
Before we get into why let's get into why not. Despite their effectiveness, there are a handful of reasons not to run a stunt depending up the situation:
Screws up run fits
Rush lanes get out of wack and you're susceptible to losing contain
If offensive line has the correct protection call, it removes defenders from the pass-rush
The run fits reason is quite obvious and is the reason why stunt usage increases league-wide with each successive down. The last two are a little more difficult to quantify, but the league-wide average yards per attempt jumped from 7.1 last year when unpressured versus no stunt to 7.5 when unpressured versus a stunt.
In any sort of obvious passing situations, there is no denying that stunts are more generally more effective. On third downs last season with just four-man rushes, stunts generated pressure 41.8 percent of the time compared to just 35.8 percent without (while blitzing 51.8 percent vs. 47.3 percent). Maybe more importantly, they led to sacks 9.1 percent of the time compared to 6.9 without (while blitzing 10.9 percent vs. 9.5 percent).
Stunts put offensive linemen in positions where they have to execute technique correctly as well as process what's happening in front of them. They could theoretically be forced to block someone lined up on the complete opposite side of the formation and forced to get themselves into proper position to do so. Sometimes even that isn't enough if it's a poor protection call.
The key to a good stunt is the first defensive lineman to fire off, a.k.a. the penetrator. His goal is implied in the name: penetrate. The farther he can get upfield, the more he can draw the attention of multiple linemen. Whether it's a tackle-end stunt (tackle is penetrator and end is looper) or end-tackle stunt, the penetrator wants to attack his gap so ferociously that either the initial offensive lineman is late to pass off or the receiving offensive lineman is in a bad position to pick him up.
It's often a thankless job – Justin Smith famously helped Aldon Smith become the most productive pass-rusher ever in regards to sacks through his first two seasons – but still a nuanced art form. It takes timing, explosiveness and technique to execute correctly.
When it comes to performing stunts last season, no one did it better than the Pittsburgh Steelers. Logically, this isn't terribly surprising. As previously stated, the penetrator is the key to any stunt and the Steelers employ three physically-imposing penetrators on their interior with Javon Hargrave, Stephon Tuitt, and Cameron Heyward. They were the only team in the NFL last year to crack the 50 percent pressure mark on stunts, clocking in at 50.9 percent.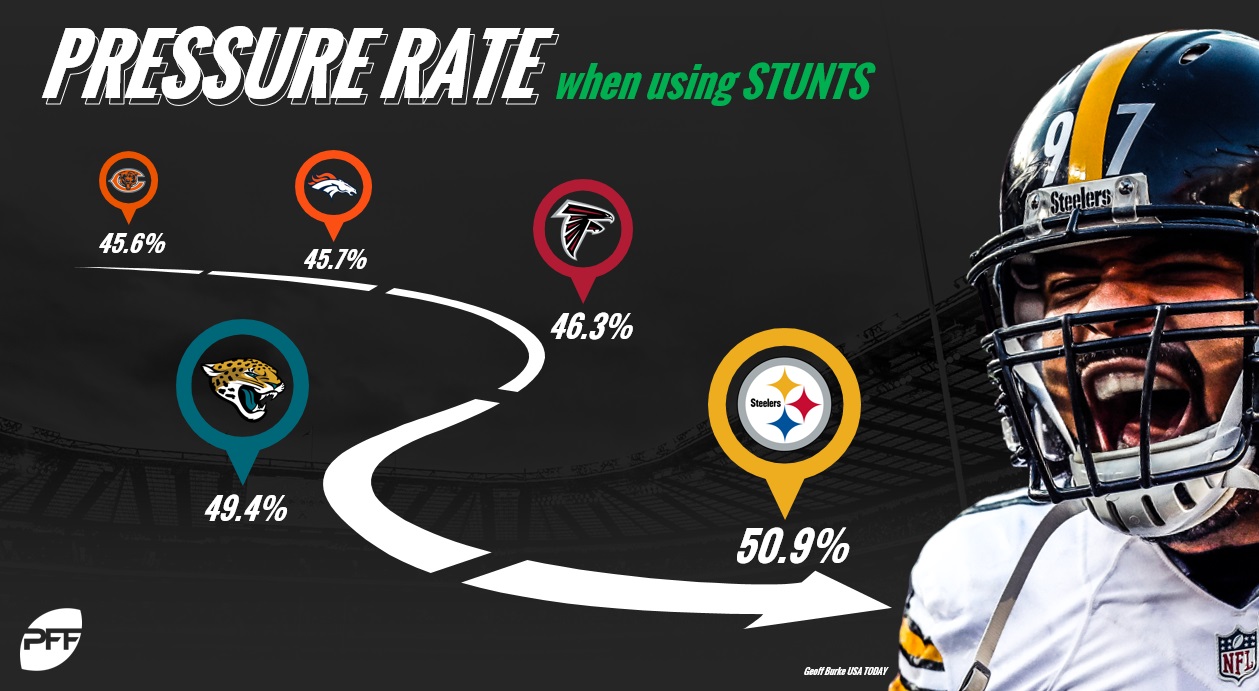 The rest of the top five went as follows:
1. Pittsburgh Steelers: 50.9 percent
2. Jacksonville Jaguars: 49.4 percent
3. Atlanta Falcons: 46.3 percent
4. Denver Broncos: 45.7 percent
5. Chicago Bears: 45.6 percent
While those five were the most effective on a per-play basis, they were also aided by the fact that they ran them sparingly compared to the rest of the NFL. None of those five cracked the top 10 in terms of total snaps with a stunt employed. The top five in that regard were: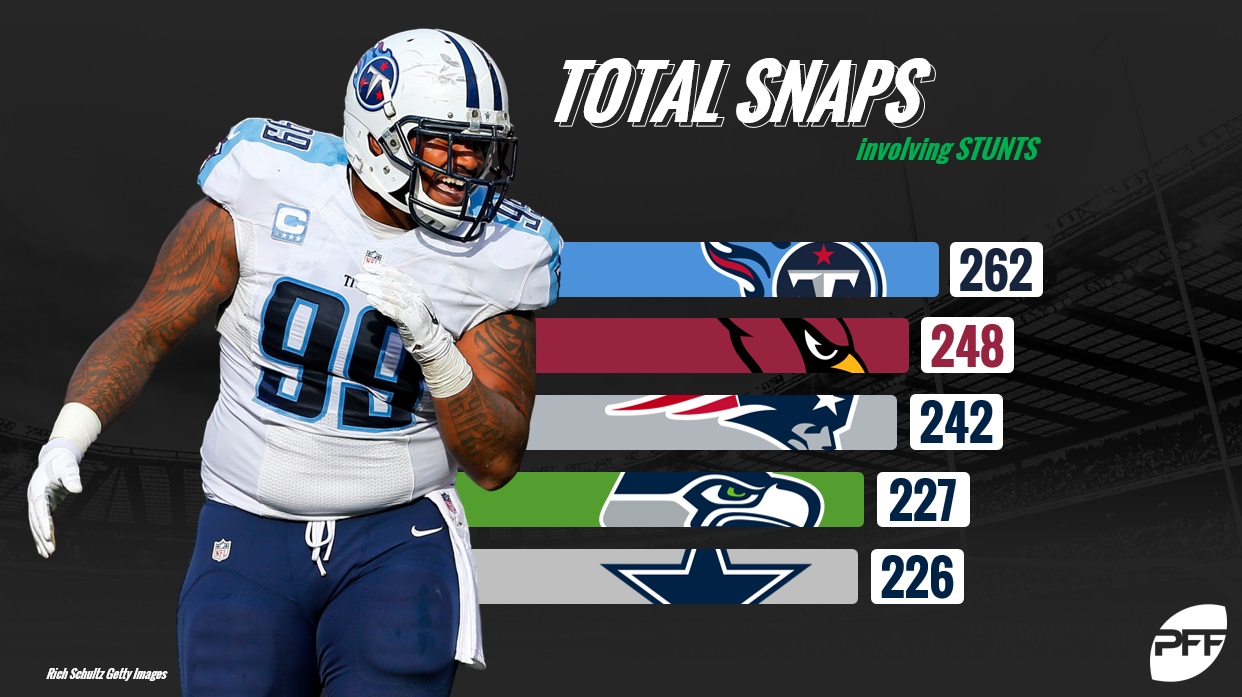 1. Tennessee Titans: 262 stunts
2. Arizona Cardinals: 248 stunts
3. New England Patriots: 242 stunts
4. Seattle Seahawks: 227 stunts
5. Dallas Cowboys: 226 stunts
Dick LeBeau coached long enough that he realized the havoc a stunt can create. While there are some diminishing returns to running stunts often, it's clear that they're a more generally effective form of pass-rushing than straight gap rushing.