The Cleveland Browns took advantage of the unorthodox personnel approach of the New England Patriots on Monday, pulling off a trade-coup to bring in LB Jamie Collins in exchange for what Adam Schefter is reporting to be a third-round compensatory pick.
The Browns have draft picks to burn, and Jamie Collins has been one of the league's best young linebackers over the past couple of seasons. He is in the last year of his deal, so Cleveland will also need to front up with a big contract extension, or use the franchise tag on Collins this offseason. Either way, they now have a legitimate Pro-Bowl talent on their roster that wasn't there before they pulled the trigger.
Even if the Browns can't work a deal for Collins and he walks as a free agent this offseason, they likely recoup what it cost to trade for him in compensatory picks when he signs a big contract elsewhere.
Collins earned the 11th-best overall grade among NFL linebackers in 2014, with an 87.9 mark, and the seventh-best grade a year ago, at 88.6. While LB Dont'a Hightower might be the player the Patriots want to hitch their wagon to defensively, Collins is the more physically gifted of the duo.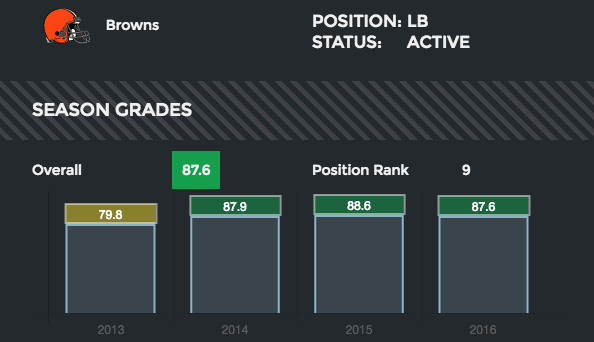 That athleticism allows him to make impressive plays in all areas of the game. Like Hightower, the Patriots used Collins on the blitz a lot, and he notched six sacks and 16 total pressures in 2015 when rushing the passer—without lining up as a traditional edge rusher. He has shown the ability to run down the field with tight ends, running backs, and even receivers and make plays in coverage, and can defend the run well. In 2015, Collins earned solid grades in every facet of play that PFF measures.
Only five linebackers allowed a lower passer rating into their coverage than Collins in 2015 (79.9), around 25 points lower than the average for LBs. In 2014, it was even better (74.1, fourth-best). So far in 2016, Collins has lowered that mark to 57.1, second-best among all linebackers this season.
Collins is an impact player, and one that has the talent to excel at the most important area of the modern game: coverage.
This season, some are questioning his level of play, but while he had a poor outing against Buffalo, it was his first bad game of the season. His grade of 88.3 right now ranks ninth among linebackers, and is actually ahead of where he was a year ago at this time.
New England actually started Elandon Roberts against the Bills, though he played only 28 snaps to Collins' 47 over the course of the game. Roberts has shown well in limited snaps so far this season—in particular against Cleveland in Week 5—but he certainly gives the Patriots a player they expect can take over for Collins without much, if any, drop in production.
New England Patriots' nickel defense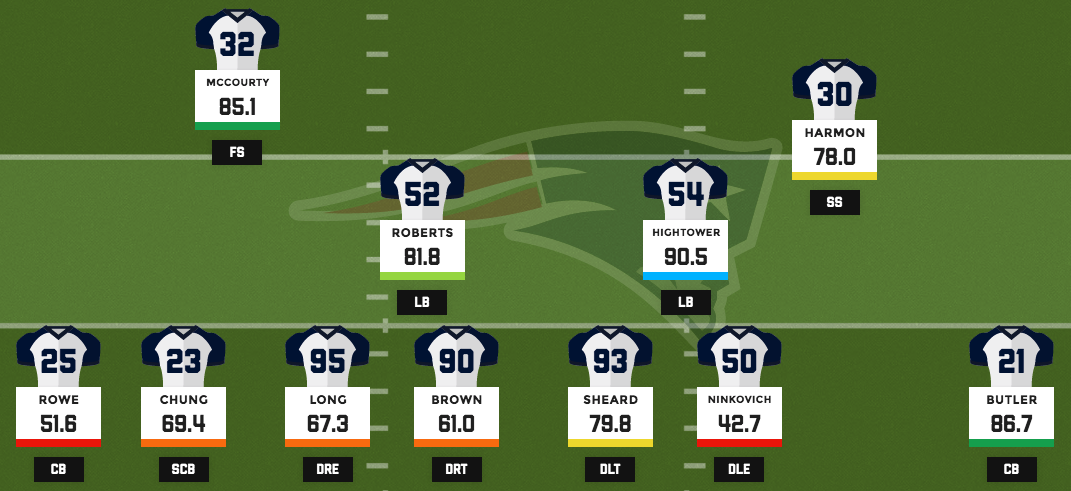 That of course is important for a team that is the Super Bowl favorite right now. Roberts has played well so far, but the chances of him being able to live up to the standards Collins has set over the past few seasons are slim. We would be talking about a sixth-round rookie playing like a top-10 linebacker right off the bat, after all.
For the Patriots, this move will almost certainly have a negative impact on their defense—they are just banking on it not being a significant one. For the Browns, Collins immediately becomes the best player on their defense, and one of the most athletically-gifted, too.
Cleveland Browns' base defense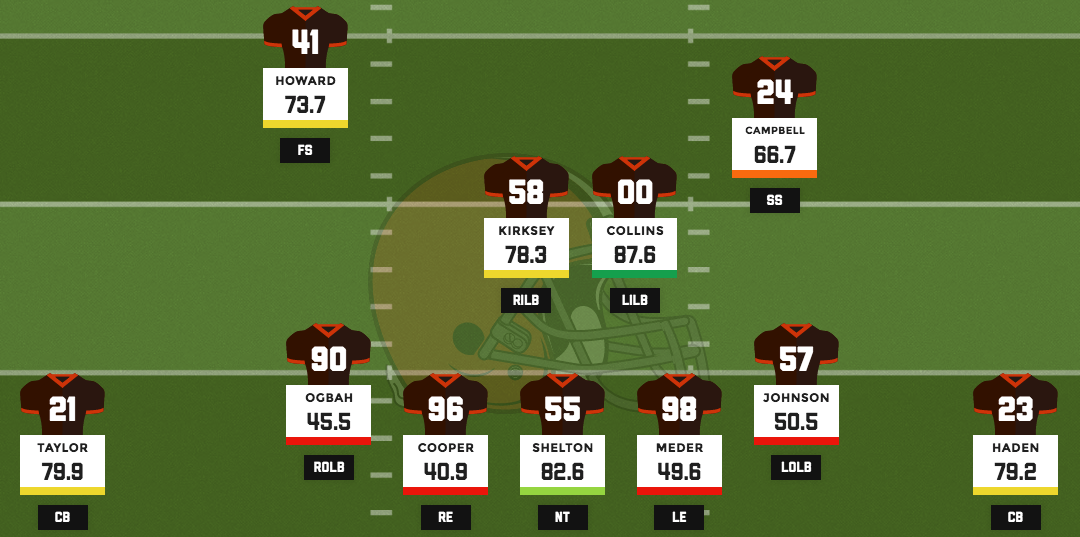 Cleveland has added a top-10 talent at the linebacker position, and has half a season to work out how best to integrate him going forward before they sign him to a long-term deal or franchise tag him to keep him around.
This is a confusing trade for a lot of reasons, but there are logical factors and business decisions behind it from both sides. The Patriots clearly believed there was no future with Collins in New England, and chose to cash in now rather than lose him in the offseason and wait for the compensatory draft pick a year down the line.