As we near the midpoint of the season, it's time to reflect back on the first round of the 2016 NFL draft, with a focus on the production thus far from the top selections. Here we break down the play of every first-rounder (in order of their pick, not by performance). As is the case every season, a handful of players have yet to see the field due to injury or depth-chart spot, while some have made immediate impacts for their teams through the first seven weeks.
1. Jared Goff, QB, Rams (California)
Snaps: 0
Overall grade: N/A
Jared Goff looked pretty lost in the preseason, and doesn't seem to have ever been close to assuming the No. 1 QB spot for the Rams, no matter how uninspiring Case Keenum has looked in his place. Whether or not this is a long-term issue for Goff remains up for debate, but at the very least, it's clear the Rams underestimated just how far the rookie was from being ready to play at the NFL level.
2. Carson Wentz, QB, Eagles (North Dakota State)
Snaps: 385
Overall grade: 86.7
If Goff needed anything to put his struggles into sharper focus, the QB that was supposed to have further to go to be NFL ready has hit the ground running. Even after struggling against the Vikings, Wentz has a top-five ranking among PFF's QB grades, and has looked entirely capable of leading an NFL offense. He has completed 63.8 percent of his passes, despite suffering 10 drops from his receivers.
3. Joey Bosa, DE/OLB, Chargers (Ohio State)
Snaps: 130
Overall grade: 87.4
Finally getting on the field in Week 5, Bosa has been a dominant force for the Chargers. He has 20 total pressures and nine defensive stops in just two-and-a-half games' worth of snaps, and is generating pressure at a faster rate than Von Miller (doing so against some good NFL pass protectors, too). Bosa is making the whole contract dispute look ridiculous, and is a front-runner for Defensive Rookie of the Year already.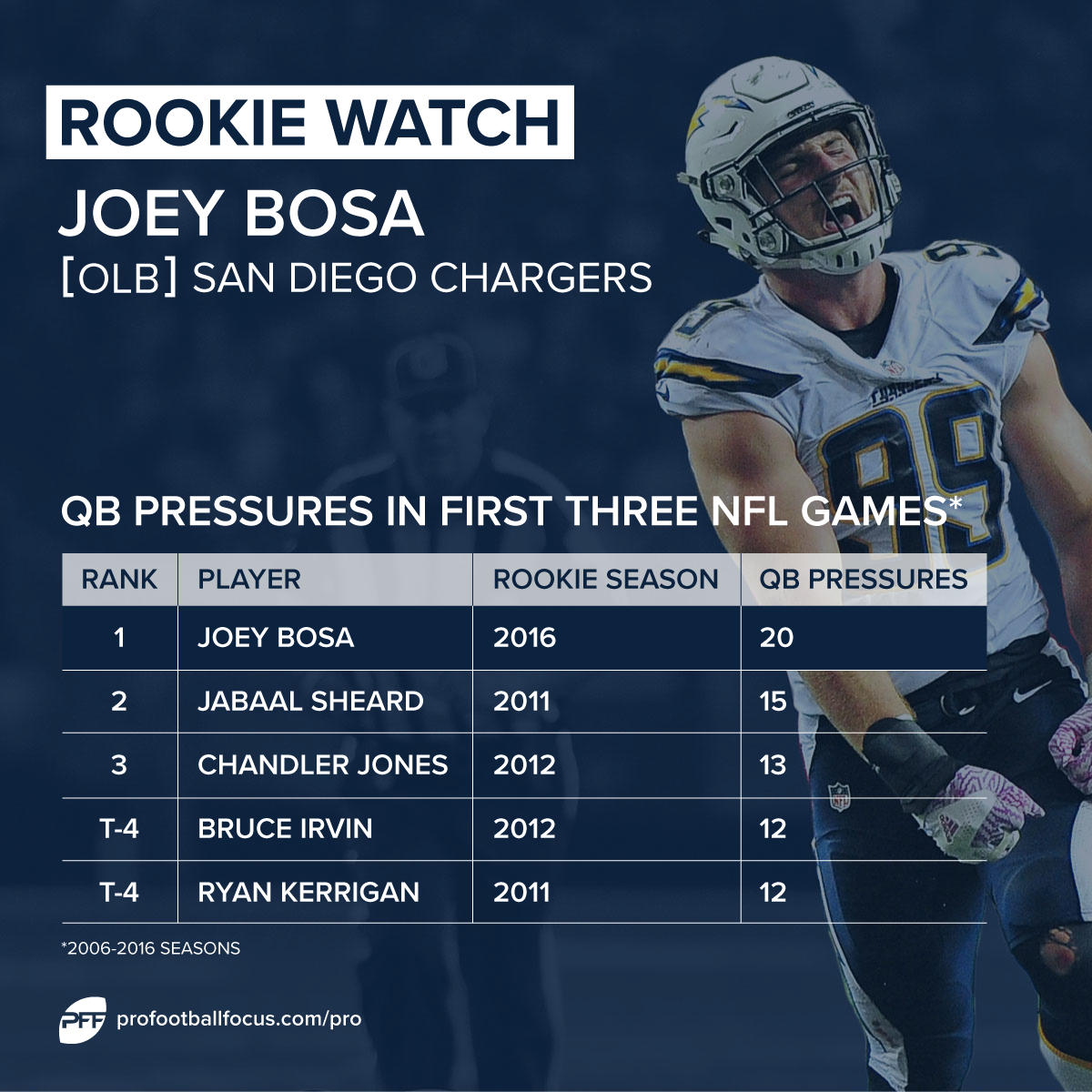 4. Ezekiel Elliott, RB, Cowboys (Ohio State)
Snaps: 291
Overall grade: 75.9
Through seven weeks of the season, Ezekiel Elliott leads the league in rushing (703 yards), but much of the heavy lifting has been done by the Dallas offensive line. Only five backs have a smaller percentage of their rushing yards come after contact, and Elliott has broken only 11 tackles. He has played well, but not nearly as well as the box-score stats suggest.
5. Jalen Ramsey, CB, Jaguars (Florida State)
Snaps: 421
Overall grade: 72.3
Ramsey has had good and bad games so far this season for the Jaguars, but definitely flashed the high-level potential that made him such a high draft pick. He has allowed 61.8 percent of the passes thrown his way to be caught and a passer rating of 102.9.
6. Ronnie Stanley, OT, Ravens (Notre Dame)
Snaps: 210
Overall grade: 71.2
Ronnie Stanley didn't quite live up to the levels he showed in the preseason before injury took him out of the lineup following Week 3. He has only allowed one sack, but has surrendered nine total pressures and three penalties in fewer than half the snaps of some of the other tackles with comparable numbers.
7. DeForest Buckner, DE, 49ers (Oregon)
Snaps: 391
Overall grade: 74.9
DeForest Buckner has been extremely active for the 49ers, but has yet to be as destructive in the NFL as he was at Oregon. He has two sacks, three hits, 12 hurries, a batted pass, and 12 defensive stops, but has struggled to anchor against double teams, in particular, and has been part of a lightweight 49ers' defensive front that has struggled to stop the run.
8. Jack Conklin, OT, Titans (Michigan State)
Snaps: 476
Overall grade: 86.4
Conklin has been one of the most impressive rookies right off the bat. He has yet to surrender a sack, and has given up just 11 total pressures and a penalty on nearly 500 snaps of NFL action. The Titans do give him a little more help than average in terms of sliding the line that way and providing extra blocking help, but he still performs better than average when they don't make those adjustments.
9. Leonard Floyd, OLB, Bears (Georgia)
Snaps: 206
Overall grade: 43.9
A versatile player at Georgie, Leonard Floyd has been deployed by the Bears almost exclusively as an outside linebacker in their defense, but has just eight total pressures to his name—even if three of them are sacks. He hasn't been bad, but the Bears had likely hoped for a little more impact.
10. Eli Apple, CB, Giants (Ohio State)
Snaps: 171
Overall grade: 66.1
Apple has only been thrown at 18 times this season, allowing 11 of those passes (61.1 percent) to be caught. He has yet to notch an interception, but has three pass breakups and is allowing a passer rating of 100.9 when targeted.
11. Vernon Hargreaves III, CB, Buccaneers (Florida)
Snaps: 380
Overall grade: 68.4
Hargreaves was dominant in the preseason, and while he hasn't been quite that good in the regular season, he has been a solid starter for the Bucs. Thrown at 37 times—surrendering 25 receptions (67.6 percent)—he has yet to allow a touchdown, and like Apple, has yet to record his first NFL interception.
12. Sheldon Rankins, DT, Saints (Louisville)
Snaps: 0
Overall grade: N/A
A broken fibula suffered in the preseason has kept Sheldon Rankins off the field entirely this season.
13. Laremy Tunsil, G, Dolphins (Ole Miss)
Snaps: 365
Overall grade: 77.2
Laremy Tunsil has played left guard for Miami, but has seen time at left tackle when injuries forced reshuffles along the line. Tunsil has allowed just one sack all season (coming when he was at left tackle), and the past couple of weeks have seen him run-blocking well.
14. Karl Joseph, S, Raiders (West Virginia)
Snaps: 328
Overall grade: 80.0
It took Oakland a couple of weeks to get Joseph on the field, but since then, the former Mountaineer has been a starting member of the secondary and played well, particularly in coverage. He has 10 defensive stops, which leads all rookie safeties, and is the only one of the group with an interception.
15. Corey Coleman, WR, Browns (Baylor)
Snaps: 102
Overall grade: 67.4
Injuries have limited Coleman's playing time, and right now, he doesn't even have the most snaps among Browns rookie WRs. He has been thrown at just 12 times, catching seven passes for 173 yards and two touchdowns. Coleman is a big play waiting to happen, but he needs to be on the field to perform.
16. Taylor Decker, OT, Lions (Ohio State)
Snaps: 451
Overall grade: 79.4
Taylor Decker wasn't somebody that PFF analysts were too high on in the draft process, but so far as a rookie, he has performed reasonably well. Decker has surrendered three sacks, 17 total QB pressures, and has been flagged five times, but many of those have been late in developing, and he actually has a solid pass-protection grade.
17. Keanu Neal, S, Falcons (Florida)
Snaps: 332
Overall grade: 83.7
Neal has brought a presence to the Falcons' defense that just makes the unit look better when he's on the field. Capable of delivering big hits, he has eight defensive stops to his name and has been used to cover people one-on-one often. Neal has been thrown at 37 times when in primary coverage—20 more times than any other rookie safety—but has allowed just 51.4 percent of those passes to be caught.
18. Ryan Kelly, C, Colts (Alabama)
Snaps: 502
Overall grade: 78.8
First-round interior linemen are supposed to be safe, solid picks, and so far Ryan Kelly has been that. The former Alabama standout has yet to allow a sack on Andrew Luck, though he has surrendered 12 QB pressures; Kelly's run blocking has also been impressive. The rookie center hasn't exactly dominated, but he has been more than solid, which for the Colts' offensive line is an upgrade over previous seasons.
19. Shaq Lawson, DE, Bills (Clemson)
Snaps: 13
Overall grade: N/A
Shoulder surgery shut Shaq Lawson down before he had a chance to get near the field, but he has just made it back, and Week 7 marked his first NFL snaps. He recorded a hurry and one defensive stop, but 13 snaps is too small of a sample size to give him a fair grade.
20. Darron Lee, LB, Jets (Ohio State)
Snaps: 273
Overall grade: 38.8
Darron Lee has all the athleticism and measurables in the world, but they have yet to translate to quality play on the field. In coverage, in particular, he has been underwhelming; Lee has been responsible for three touchdowns in seven weeks, as well as the most receiving yards of any rookie linebacker.
21. Will Fuller, WR, Texans (Notre Dame)
Snaps: 376
Overall grade: 69.2
An explosive start to his season hasn't continued as the Texans may have hoped, but much of that has been down to the play of QB Brock Osweiler. Fuller has two touchdowns and 349 receiving yards, but also four drops to his name, catching only 53.3 percent of the passes thrown his way.
22. Josh Doctson, WR, Redskins (TCU)
Snaps: 31
Overall grade: N/A
Josh Doctson's rookie season has been blighted by injury, and he had only seen the field in two games—the first two of the year—before being placed on IR, ending his season.
23. Laquon Treadwell, WR, Vikings (Ole Miss)
Snaps: 11
Overall grade: N/A
We're seven weeks into the season and the Minnesota Vikings' offense—still in need of an impact receiver—has put Treadwell on the field just 11 times. Mike Zimmer has a reputation for bringing young players along slowly, but nothing about this is good for the Vikings in the short term.
24. William Jackson III, CB, Bengals (Houston)
Snaps: 0
Overall grade: N/A
A torn pectoral muscle suffered in the first padded practice quelled Jackson's rookie impact, and the team is still not sure if he will make it back for any of his first season.
25. Artie Burns, CB, Steelers (University of Miami)
Snaps: 239
Overall grade: 50.1
Much of the downgrades Burns has received have been in the run game, and his six missed tackles lead all rookie cornerbacks, but his coverage has been less than stellar, too. He has allowed 70.8 percent of the passes thrown his way to be caught, and is giving up a passer rating of 108.0 when targeted.
26. Paxton Lynch, QB, Broncos (Memphis)
Snaps: 119
Overall grade: 48.9
Trevor Siemian is the Denver starter, but injury has given Paxton Lynch some snaps in his stead. Nothing Lynch did in those snaps will have anybody writing about a QB controversy any time soon, however. Lynch made a few nice passes, but there was plenty of bad in there, and he looked like a rookie QB in need of development time.
27. Kenny Clark, DT, Packers (UCLA)
Snaps: 147
Overall grade: 70.0
UCLA's late graduation put Kenny Clark behind the eight-ball from the outset, but he has been improving over the past few weeks, and has begun to make a legitimate impact as a run defender. Clark has just one total pressure on the season as a pass-rusher, but has recorded seven defensive stops, all of which have come in the run game.
28. Joshua Garnett, G, 49ers (Stanford)
Snaps: 149
Overall grade: 47.5
Joshua Garnett didn't get on the field until Week 5, playing 18 snaps against the Arizona Cardinals, but he has started the two games since. He was completely victimized by Buccaneers DT Gerald McCoy in the passing game, but did well as a run blocker. Garnett already surrendered 13 total pressures in just 100 pass-blocking snaps.
29. Robert Nkemdiche, DT, Cardinals (Ole Miss)
Snaps: 25
Overall grade: N/A
A high-ankle sprain has kept Nkemdiche off the field almost entirely. He suffered the injury in camp, and then re-aggravated it almost as soon as he made it back on the field. 25 snaps are too small of a sample size for a fair grade for the rookie.
30. Vernon Butler, DT, Panthers (Louisiana Tech)
Snaps: 64
Overall grade: 71.4
Carolina's defensive front hasn't been anything near the unit it was last season, and the Panthers could have done with an impact from Butler off the bench, but that just hasn't happened. Butler has only played 64 snaps, and has just two total pressures from 46 pass-rushing snaps, along with only one stop in the run game.
31. Germain Ifedi, G, Seahawks (Texas A&M)
Snaps: 189
Overall grade: 35.7
Injury kept Germain Ifedi sidelined until Week 4, but his three games since have been poor, albeit against some tough competition in two of the three contests. Against the Cardinals he was abused by Calais Campbell, in particular, surrendering three QB pressures and a penalty; he also got destroyed quickly on more than one occasion, only for the ball to come out before it became pressure. At this point, Ifedi is more athlete than football player.