Some of the great intangibles throughout the NFL landscape are scheme and team fit. How a player performs can be tied directly to what he is being asked to do within a particular scheme, or even simply how he fits into a team environment. Without even changing schemes, players can be reborn simply by finding a new life in a new city within a new organization.
While free agency is an opportunity for teams to spend big and bring in proven quality, it's also a chance to hit the jackpot with a player that has just found himself in a bad situation and could greatly exceed their prior baseline of play in your organization.
Here are several candidates for a breakout year with a change of scenery in free agency:
Trumaine Johnson – CB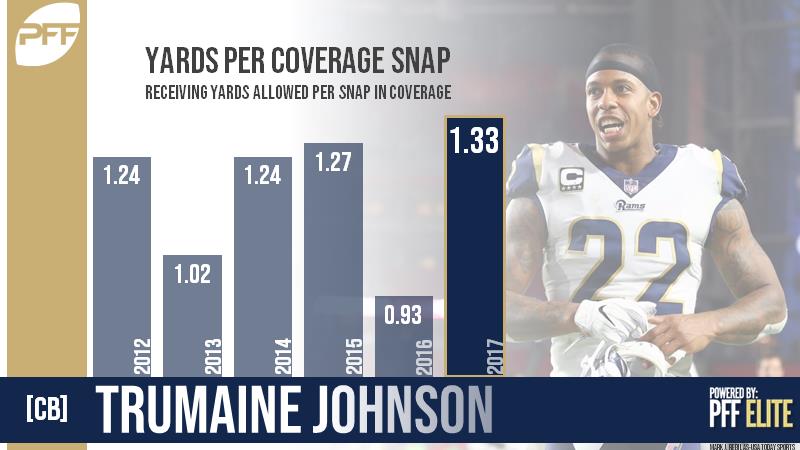 Trumaine Johnson is the athletic prototype that the NFL is chasing for cornerbacks today. He is 6-foot-2 and over 210 pounds and has multiple seasons of quality coverage play. His best statistical season came in 2015, where he notched seven interceptions – a career high – to lead the league, which also resulted in the best passer rating allowed of his career. That year, targeting Johnson yielded a passer rating of just 55.0 for opposing quarterbacks, 20.0 points lower than his career baseline.
Johnson is coming off a season in which he surrendered 759 receiving yards, a career high, and an average of 14.9 yards per catch, again the most of his career. There are teams throughout the league that are better suited to taking advantage of his size and length without exposing him to quickness in space, a vulnerability of his. Johnson will likely still be a coveted free agent, but the team that lands him will likely be a huge factor in whether he rediscovers his best play.
Ross Cockrell – CB
Ross Cockrell has now had three straight seasons of quality but not phenomenal PFF grading, but he has done it for two different teams and doesn't seem any closer to securing a solid starting spot. With all of the turmoil in the Giants secondary, he ended up playing 679 snaps this past season, allowed a passer rating of just 70.3, and notched as many interceptions (three) as touchdowns surrendered. He has proven now that he can succeed in both man and zone coverage schemes and has done so pretty consistently.
It has never been more important to have multiple capable cornerbacks in a defense, so Cockrell could find himself helping out a new team and potentially earning  a starting role, something his play says he deserves.
[Editor's note: Read more about the free agency class of 2018 with the first ever PFF Free Agency Guide, which dropped for all PFF Edge & Elite subscribers. Not a subscriber? Sign up today and receive your copy with detailed profiles, exclusive PFF stats and much more.]
Cedric Thornton – DI
Few players were tasked with a role that they couldn't hope to succeed in more than Cedric Thornton was last season in Buffalo. When the Bills traded away Marcell Dareus to the Jaguars, Thornton became the team's nose tackle and he just couldn't hold up in that role. He ended up with 404 snaps over the season, including 17 in their Wild Card defeat to the Jaguars, but they were almost all poor performances and his overall PFF grade was 43.3, by far the worst mark of his career.
Thornton is an unusual player – one who had excelled as a run-stuffer in Philadelphia's 3-4 defense but struggled to translate to defensive tackle in Dallas and then was victimized in Buffalo's defense. Fewer teams than ever run the kind of two-gapping looks the Eagles used to run, so the number of ideal potential landing spots is small, but if Thornton does find the right scheme again he could be a valuable run stuffing presence up front.
Albert Wilson – WR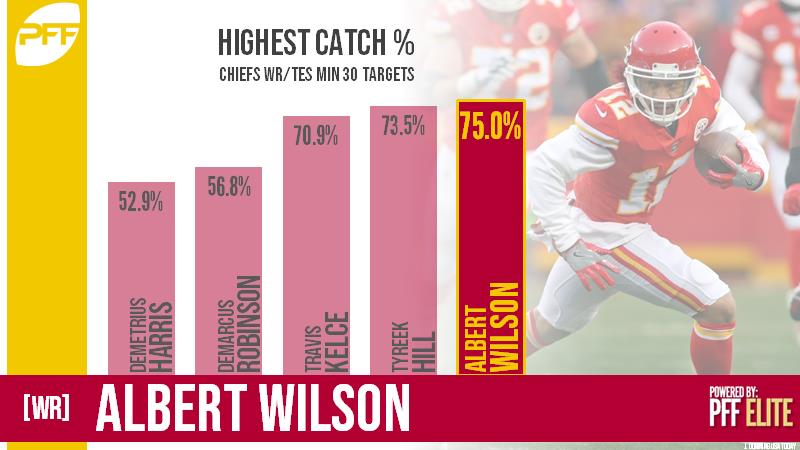 Albert Wilson was a dangerous, speedy receiver for the Chiefs in 2017 and has flashed that ability in previous years. As much as Alex Smith was improved this past season for the Chiefs, the bulk of the targets were going to his two biggest weapons, Tyreek Hill and Travis Kelce. Wilson saw the ball come his way just 56 times over the year, even though he caught a greater percentage of them than Hill did, and he broke almost double the number of tackles after the catch (15 compared to eight from Hill).
The place that Hill's presence really showed up was in limiting the opportunities Wilson had to make an impact deep down the field. Hill was targeted on deep passes (20-plus air yards) 24 times over the season, while Wilson had the next-highest figure (five) among Chiefs wide outs. If he lands with a team that gives him a chance to be a bigger factor in the offense – and his former offensive coordinator is now head coach of the Chicago Bears, who desperately need receiver help – he could break out into a much more significant threat.
Stevan Ridley – RB
Stevan Ridley was once the most dynamic ball carrier in the New England Patriots backfield and was a vital part of multiple quality teams there before tearing his ACL and MCL in 2014. He never really recovered from that, at least in terms of finding significant playing time. He has been on the field for just 129 snaps over the past three seasons and has signed with seven different teams during that time.
At the tail end of the 2017 season we saw him get on the field for Pittsburgh, and while we are dealing with incredibly small sample size, he looked like the dynamic back we saw early in his career once more. He carried the ball 17 times in the team's final regular-season game and averaged 4.7 yards per carry, 3.4 of which came after contact. Ridley may have flashed enough for a team to give him a bigger role in 2018, and if they do, he could return to something like the weapon he was before injury.
Gerald Hodges – LB
Almost every time Gerald Hodges gets on the field, he plays well, particularly against the run. He had three straight seasons with over 500 snaps on defense and two of those years saw him post overall PFF grades of over 82.0. 2017 saw him play just 13 snaps for the New Orleans Saints, but there is more than enough tape in his history that suggests he could help a linebacker-needy team in free agency. In his last significant season, he notched 35 stops on 65 tackles and also added three sacks and six additional hurries on the blitz.
Orleans Darkwa – RB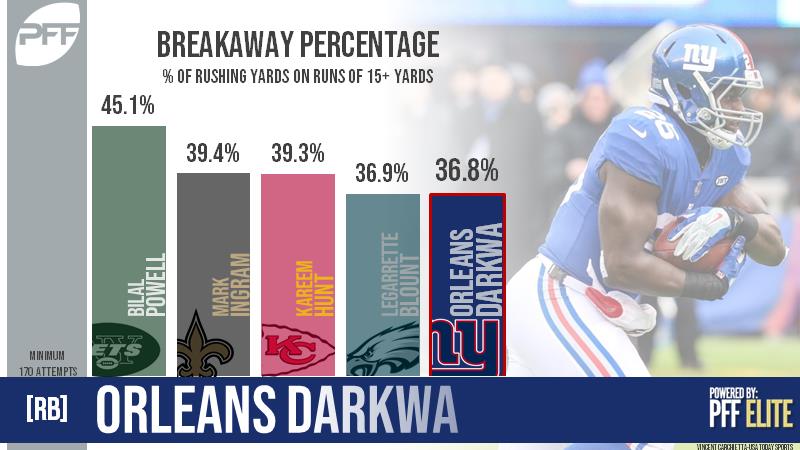 The Giants offense has been a mess for some time, but one player to flash consistently within it was Orleans Dawkwa. He was the team's leading rusher in 2017 and did a lot of the heavy lifting himself. 503 of his 751 rushing yards (67.0 percent) came after first contact and he broke 17 tackles from 171 carries. As a receiver, he is far from dynamic, which definitely hurts his value in a league that has never been more pass oriented, but if he can find a home in an offense that needs a consistently powerful runner and also has better blocking, he will look significantly better than he did with the Giants.
Darkwa won't have a strong market in free agency, but he could prove to be a shrewd pickup for the right team.
Tramaine Brock – CB
In the three seasons that Tramaine Brock has played starting snaps, he has averaged an overall PFF grade of 81.5. In 2016, his last season with the 49ers, he surrendered six touchdowns, but he also had nine pass breakups and allowed just 50 percent of targets thrown his way to be caught. Brock has shown in the past that he can be a reliable, quality starter and impact a defense positively, but he was simply surplus in Minnesota and was unable to eat into any playing time.
This is a league where starting cornerbacks are not easy to find, and Brock would upgrade several rosters throughout the league.
Michael Floyd – WR
Michael Floyd's career went off the rails due to off-the-field issues with sobriety, but he was also not a great fit within the vertical offense Arizona employed for much of his time there. The Minnesota Vikings offered him a lifeline this past season, but their receiving corps was pretty set and remained healthy for much of the season, so he ended up seeing just 167 snaps of action, 70 of which came in two games early in the year.
Floyd has athletic talent and a big body, and early in his career flashed the ability to break tackles after the catch with 10 broken tackles in 2013 on 65 catches. In the right system that lets him act as more of a possession receiver – if he stays on the rails – he could provide an impact.
2018 Free Agency
---
Free Agent Tracker / Top Offensive UFAs / Top Defensive UFAs
2017 free agent hits / February 22 update / Immediate Impact FAs
Free agents who could use a change of scenery / Dream Splash Signings
2018 Free Agency Rankings
---