Every team has its own unique strategy to how it approaches free agency. Some use it to plug holes, while others improve by spending big for immediate impact. Usually, perennial contenders fall more into the former category than the latter, but we're hoping that changes this offseason. These are our favorite splash signings that could push a franchise over the edge in 2018.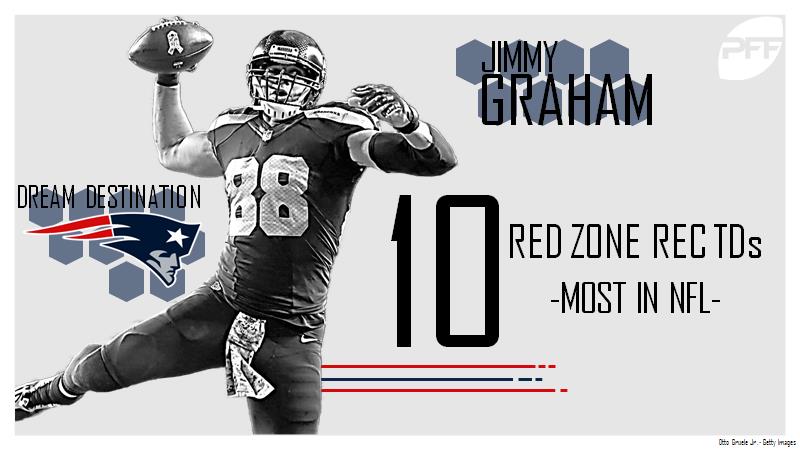 This is the type of splash that comes when you cannonball off the high dive. The Patriots offense plays matchups more than any team in the NFL and even in his early 30s, Graham is still the definition of a mismatch. Few defenses in the NFL have a defender capable of manning up on Rob Gronkowski. Exactly zero of those teams then have another capable of bodying Graham. His yards per route run may have dipped from 1.91 in 2016 to 1.12 this past season, but his touchdown production increased from seven to 10. Russell Wilson had the highest completion percentage in the red zone when throwing into contested situations of any quarterback this past season, and Graham was a big reason why.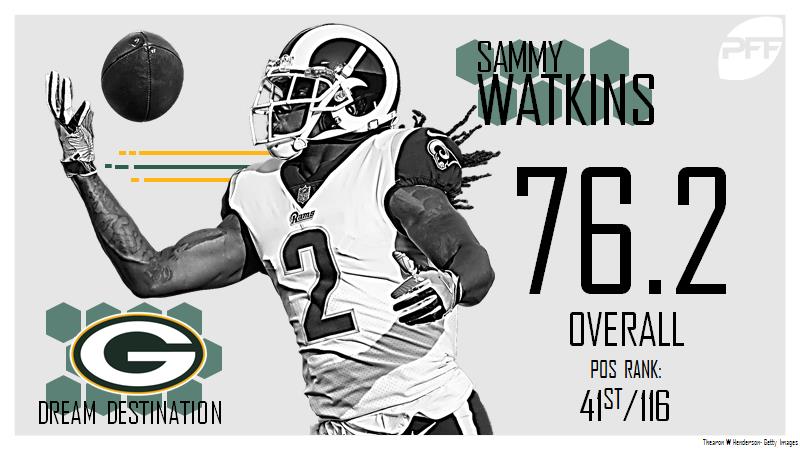 The Packers could clear out almost $20 million in cap space next season with the stroke of a pen and not miss much from their receiver room. Jordy Nelson and Randall Cobb have incredibly bloated contracts compared to their on-field production of late and are prime candidates to be either cut or restructured. That space would be more than enough to get an upgraded running mate for Davante Adams, who signed a long-term deal at the end of the 2017 season. A Watkins-Adams one-two punch would be the best the Packers receiving corps has looked since the famous 2011 group. The biggest knock on the Packers receivers of late has been their inability to separate versus man coverage and despite a down 2017, Watkins can still get open with the best of 'em.
The long-rumored trade from last offseason could end up coming to fruition for New Orleans in the form of a signing. Butler would fit in perfectly across from Marshon Lattimore to round out the Saints secondary. Butler has a long history of tracking receivers in New England, but was usually limited to the smaller, shiftier receivers. That's no problem with Lattimore in the lineup who has shown he's capable of tracking any receiver in the league. Last season Lattimore tracked number ones six times during the regular season – and every game from Week 14 on. Butler had a down year grade-wise at only 79.2 overall, but still tracked receivers on 10 separate occasions last season.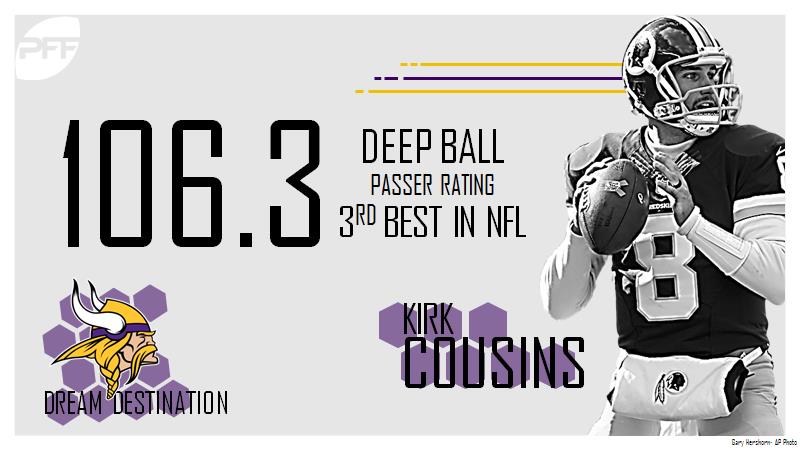 The crown jewel of the free agent quarterback market heading to one of the most complete rosters in football is a scary thought to the rest of the NFL. Cousins finished with his lowest grade as a starter this past season, but was still at 78.8 overall. While it's concerning that Cousins play dipped as the talent around him crumbled in Washington, he'd be going to a Vikings team that featured two top-10-graded receivers in Adam Thielen (84.6 overall) and Stefon Diggs (85.4). Cousins is a far more proven option than Case Keenum and a far less fragile option than Sam Bradford. It won't be cheap, but the Vikings would lock themselves into Super Bowl contention for the foreseeable future by nabbing Cousins.
Arguably the most impressive fact about Jimmy Garoppolo's scintillating end to the 2017 season was that he was doing it with one of the least talented offenses in football. Their most dynamic playmaker, Marquise Goodwin, was an afterthought in a non-existent Buffalo Bills passing attack the year prior. Lewis combines superb between the tackles vision with game-breaking receiving ability that would take a ton of pressure off Jimmy G. The Patriots running back led all fulltime backs this year in elusive rating and has always been among the best in that statistic.
2018 Free Agency
---
Free Agent Tracker / Top Offensive UFAs / Top Defensive UFAs
2017 free agent hits / February 22 update / Immediate Impact FAs
Free agents who could use a change of scenery / Free Agents who could garner one-year deals / Dream Splash Signings
2018 Free Agency Rankings
---