At some point in the next few weeks, you'll no doubt hear the same three words that we've all become accustomed to hearing at this time of year: "Preseason doesn't matter!"
This statement is harsh to hear at times because it's simply just not true. It's true that the results do not matter, there are no regular season byes to be awarded from preseason wins, nor is there a trophy to hand to the team with the best record. The results may be meaningless, but in reality, the games themselves are incredibly important. For some players, dreams can be achieved, and starting jobs can be won off the back of strong preseason outings.
However, unfortunately for some, the opposite is also true, and jobs that were once seemingly secure can be also be lost off the back of disappointing preseason performances.

Last week, former first-round quarterback Paxton Lynch fell victim to one such performance, as the former Memphis star was demoted to third-string quarterback following his disappointing display in his team's preseason opener.
When asked about Lynch's demotion to the third team, Denver Broncos head coach Vance Joseph said "he's obviously disappointed, but he understands that it's a performance business. He has great potential, physical potential, but it's got to equal performance eventually. He understands that. It's a performance league. Everything we do, it's graded, and it's counted," per Nicki Jhabvala on the Athletic Denver.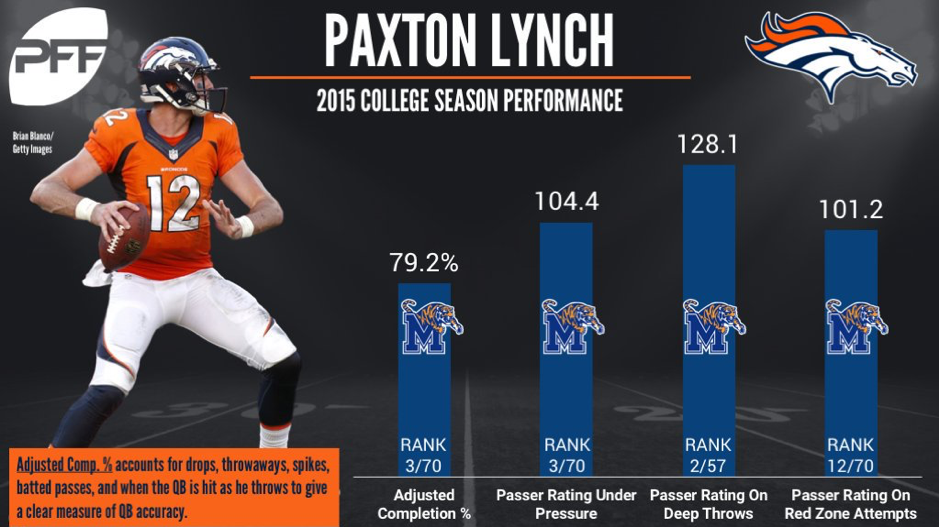 The Broncos traded up to grab Lynch with the 26th overall pick of the 2016 NFL Draft, after a mightily impressive final year at the University of Memphis, where he ended his last campaign with an overall grade of 89.7, the 12th-best mark in the nation.
Throughout his final campaign, Lynch displayed the kind of potential that led many scouts to consider him a first-round talent, and he finished among the nation's top quarterbacks in three critical facets of a quarterback's game. In 13 games for the Tigers, his adjusted completion percentage (the PFF metric that gives a precise measure of accuracy) of 79.2 percent was good for third among signal-callers with 265-plus attempts, while his 114.1 passer rating when kept clean and his passer rating of 104.4 on throws under pressure ranked 11th and third among quarterbacks in the nation, respectively.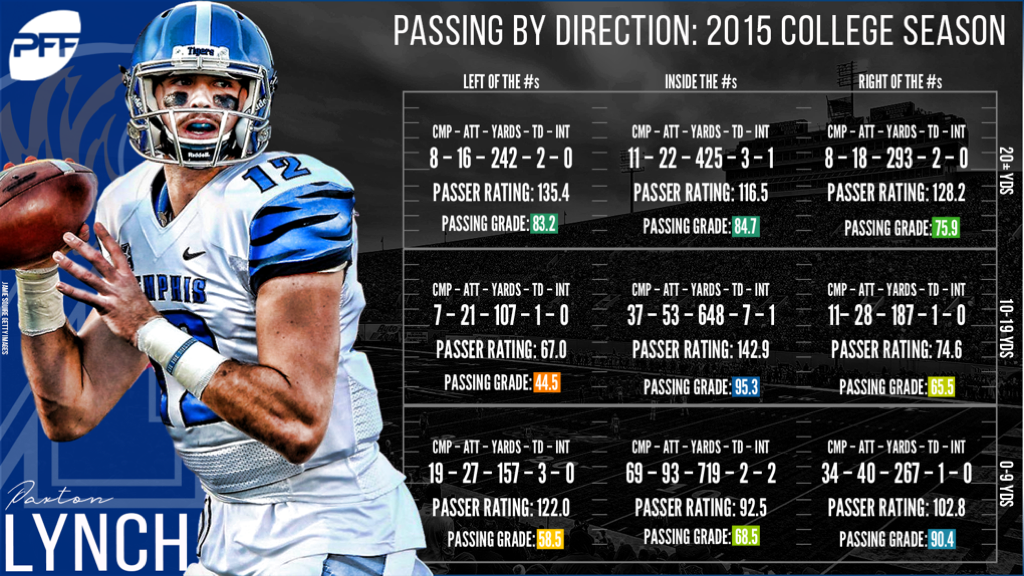 However, the most enticing aspect of Lynch's college game was his ability to throw the deep ball with impressive touch and accuracy, and he displayed this with several remarkable deep to intermediate throws throughout the year. At the close of his junior season, Lynch had completed 27 of his 56 deep passing attempts for 960 yards, seven touchdowns and just one interception, which lead to the nation's fifth-highest passer rating on passes that traveled at least 20 yards in the air.
Unfortunately for Lynch, he's not yet managed to translate his college game to the NFL level, and for the most part, he's struggled in his time as a Denver Bronco. Since arriving in Denver before the 2016 season, he's come in second in every training camp battle, and that has limited him to just 275 offensive snaps and only 128 passes across five regular season performances.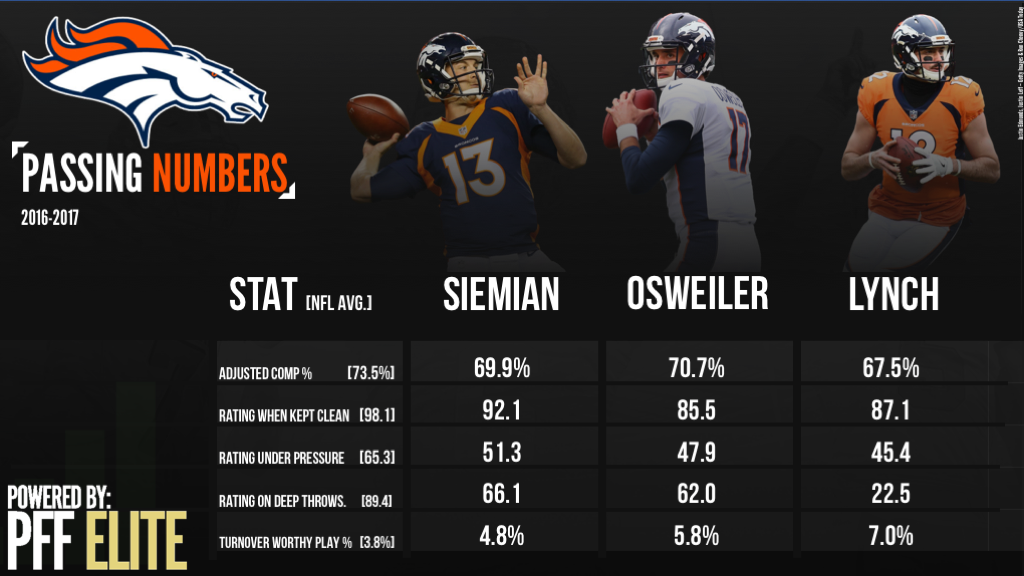 There is no bigger indicator of his struggles in a Broncos uniform than his passer rating from a clean pocket, which is a metric that our analytics department has determined to be the most dependable predictor of success. In his two regular seasons with Denver, Lynch has completed 67-of-97 pass attempts from a clean pocket and has thrown as many interceptions as he has touchdowns (three). All told, he's produced a passer rating of just 87.1, which is only just above former Bronco Brock Osweiler and good for just 45th among the 58 signal-callers with at least 50 attempts from a stable pocket over the last two seasons.
Lynch has also seen a dramatic drop off in other aspects of his game. Along with his poise and production from a clean pocket, his accuracy has also taken a considerable step backward. In his five regular-season appearances for Denver, he managed to throw an accurate pass on just 67.5 percent of his pass attempts, which is not only below the league average, it puts him 46th among the 48 quarterbacks with at least 100 pass attempts over the past two years.
To put the icing on the cake for Denver, Lynch has also struggled with poor decision-making since his arrival in the NFL, which is something that can be evidenced by our grading system.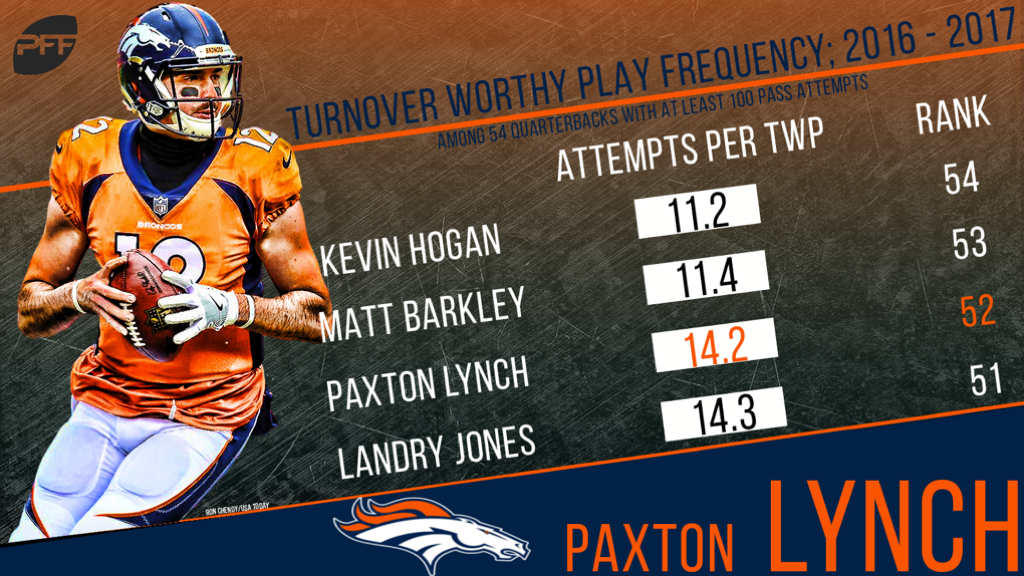 Over the last 12 seasons, Pro Football Focus has developed a comprehensive grading system for quarterbacks, a system that isolates the play of individuals from the rest of the team, which in turn, gives an accurate reflection of what that quarterback did on a play, regardless of whether that play was rewarded by a teammate doing the majority of the work.
As you'd imagine, a throw with excellent ball location and timing, generally thrown further down the field and/or into a tighter window will earn the quarterback a positive grade, and we've deemed our highest-graded throws as such, aptly named "big-time" throws. Conversely, the plays that receive our lowest grades are deemed "turnover-worthy." For quarterbacks, there are two ways to achieve a turnover-worthy play: throw a pass that has a high percentage chance to be intercepted or do a poor job of taking care of the ball and fumbling. Last season, turnover-worthy plays resulted in a completion percentage of 1.9 percent, a passer rating of just 1.2, and furthermore, 48.2 percent of all turnover-worthy throws resulted in interceptions.
In his regular-season games in Broncos uniform, Lynch has thrown a turnover-worthy pass on a staggering 7.0 percent of his passes, which comes at an average of one turnover worthy play every 14.2 pass attempts. This is the fourth-worst rate among all quarterbacks with at least 100 attempts over the last two seasons and is worlds away from the NFL Average (one in every of 27.4), and the marks set out by even Trevor Siemian (one in every 20.9) and Brock Osweiler (one in every 18.9).
In two preseason games this year, all of Lynch's professional troubles have been displayed on just 22 pass attempts, which have included only 11 completions, five uncatchable passes, no touchdowns, five negatively-graded throws and one ugly interception thrown against pressure. Two games in, Lynch's 56.3 passer rating from a clean pocket ranks 66th among the 70 quarterbacks with at least 10 attempts from a clean pocket and his offensive grade of just 51.1 puts him 54th among 63 signal-callers with at least 20 dropbacks this preseason.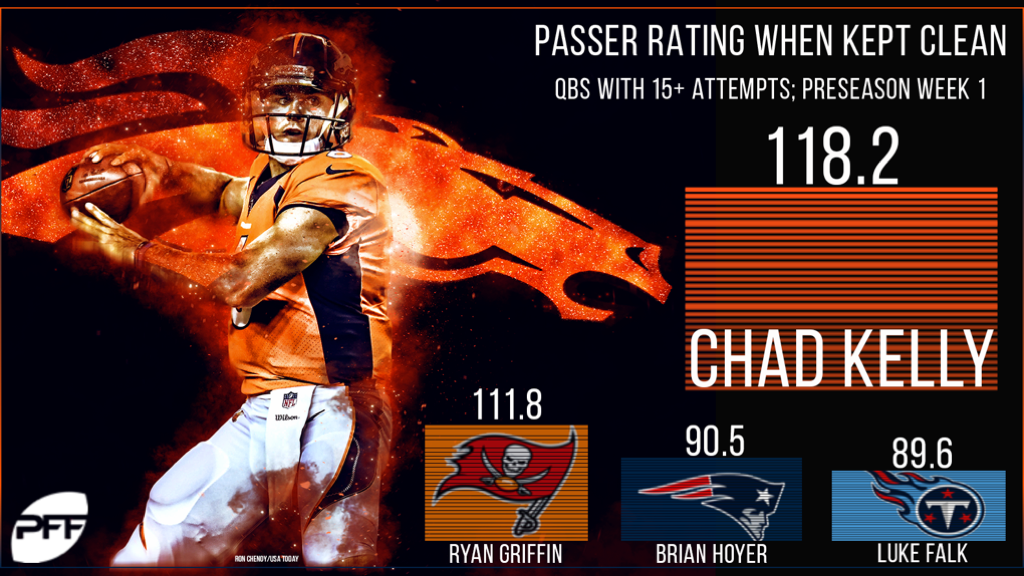 Following Lynch's disappointing Week 1 performance, he was replaced by former Ole Miss signal-caller Chad Kelly, who may have entered the NFL as "Mr. Irrelevant" last year, but has slowly been inching his way up in the organization and has now surpassed Lynch on the Broncos depth chart.
Kelly was a bright spot for the Broncos' offense during the team's preseason opener, and he moved the ball well against the Minnesota Vikings third-team defense. All told, Kelly completed 14-of-21 pass attempts for 177 yards, two scores and one interception as he was accurate on 75.0 percent of his pass attempts, which more than bettered the marks of his counterparts Lynch (66.7 percent) and Case Keenum (50.0 percent). On the night, Kelly was also clinical when he was kept free from pressure, completing 11-of-16 pass attempts for one of his touchdowns and 146 of his passing yards, all good for a passer rating of 118.2, the best mark among quarterbacks with at least 15 attempts from a clean pocket.
Kelly followed up his strong Week 1 performance with another promising outing against the Chicago Bears this past week, where he completed 7-of-9 passes for 90 yards, one touchdown and he ended the contest with an offensive grade of 73.9 – the 12th-best mark of the week. Once again, he shined from a clean pocket as his near-perfect 153.1 passer rating dwarfed that of Paxton Lynch (51.5), who managed to complete just three of his seven attempts from a clean pocket, for only 23 yards.
Before the 2017 NFL Draft, Kelly was thought of as a 'developmental project' at the next level. Now, Kelly has that year of development under his belt, and he should be bursting with confidence following his recent promotion to the role of backup quarterback. Given Lynch's recent struggles, Kelly now has the chance to maintain his leap of the former first-round pick, which could very well lead to the end of Paxton Lynch in Denver.