This may be one of the least exciting free agency classes in recent memory, but there is still talent to be had if one knows where to look. The issue is that some of the most talented players in this class have incredibly glaring red flags that teams will have to vet thoroughly before throwing a pile of cash their way. The five players below are all super-star talents, but all offer considerable risk to any team vying for their services.
[Editor's note: Read more about the free agency class of 2018 with the first ever PFF Free Agency Guide, which dropped for all PFF Edge & Elite subscribers. Not a subscriber? Sign up today and receive your copy with detailed profiles, exclusive PFF stats and much more.]
Sam Bradford
There may not be a more talented quarterback on the verge of free agency than Sam Bradford, but there also isn't one with a lengthier injury history. Over the course of his career, Bradford has had a concussion, an AC joint separation, a high ankle sprain, a knee scope and two ACL tears. That's enough to terrify any GM, if team doctors even give their clearance.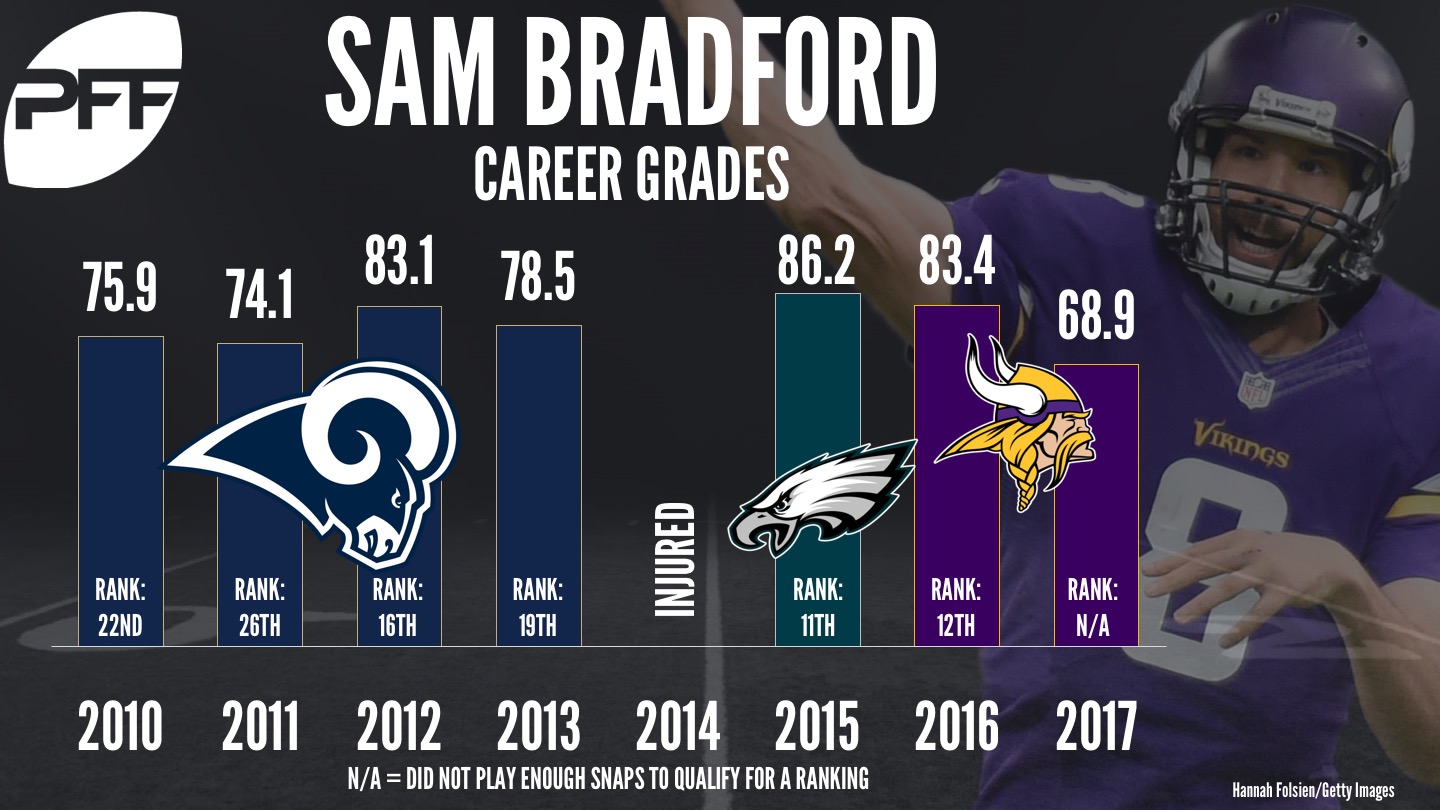 Bradford had one of the highest-graded games of any quarterback this past season against the Saints in Week 1 before mysteriously being sidelined with an injury that saw him feebly play only one half of football against the Bears the rest of the year. He was coming off back-to-back seasons in 2015 and 2016 where he graded out as a top-12 quarterback. Quarterback-needy teams would obviously kill for that sort of performance, but it's impossible to know how long that will last.
Sheldon Richardson
Sheldon Richardson doesn't have the most sterling off-field record over the course of his NFL career and has been suspended for five total games stemming from two separate incidents. Anyone looking to sink guaranteed money into the talented defensive tackle will have to weigh that against his on-field performance to come up with a number. There is no doubt the talent is there though, when it wants to be. Richardson was PFF's third-highest graded interior defender in 2014 (89.8), but he hasn't been able to recapture that form since. The good news is that he came closest this past season in Seattle with an 83.8 overall grade and even that level of play is an upgrade for almost every team in the NFL.
Malcolm Butler
Malcolm Butler was on the fast track towards 'shutdown' corner status until the wheels came off this past season, culminating in a head-scratching benching in the Super Bowl. While his play certainly wasn't bad enough to warrant benching, he'll have to repeatedly explain what went into that decision to potential suitors this offseason.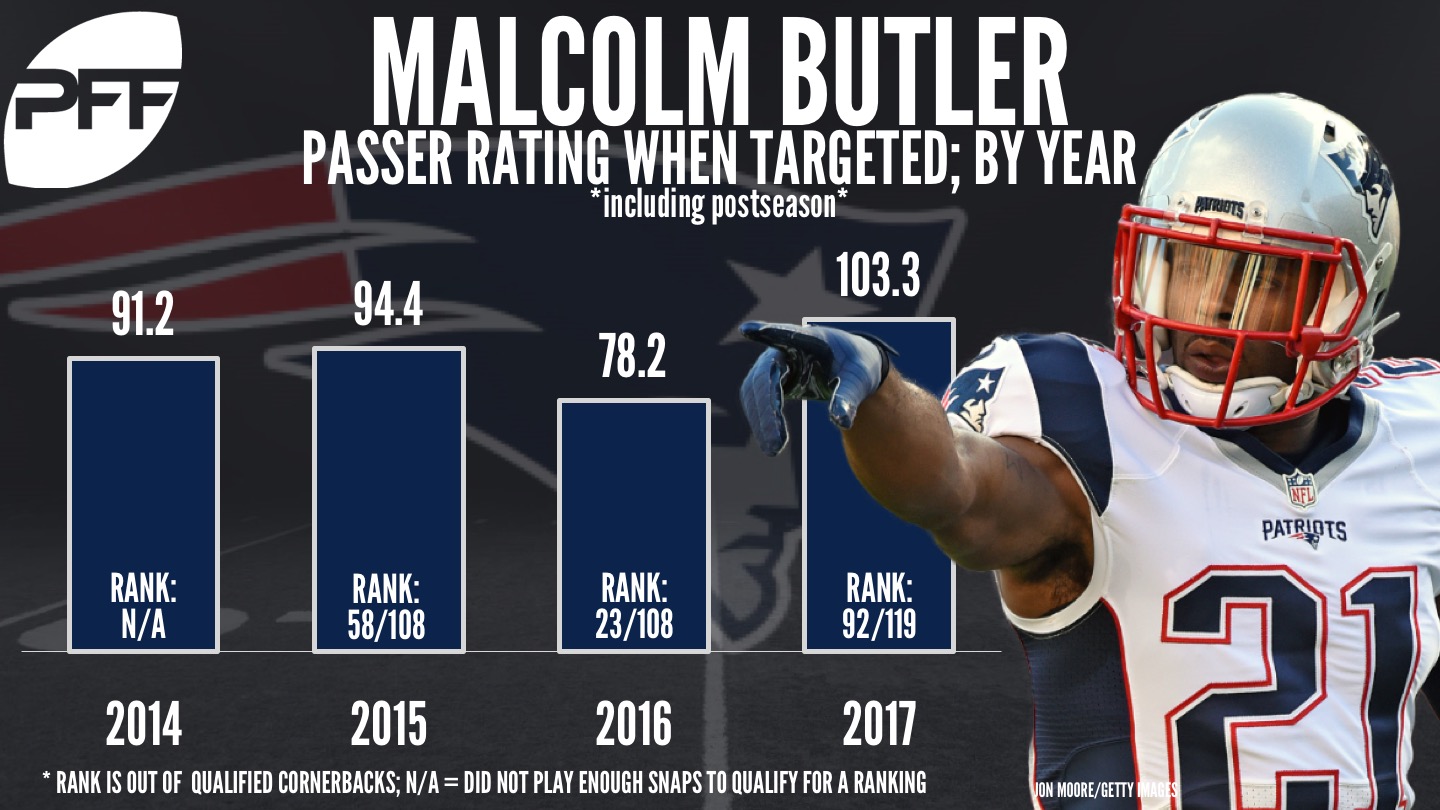 At the end of the 2016 season, Butler was on top of the world. He had just won his second Super Bowl ring, was coming off a career year in which his 88.1 overall grade ranked seventh among cornerbacks, and had seen his performance improve every single year of his career. Then he went through a tumultuous offseason of trade rumors and contract negotiations. Butler came back and was far from the same player. After averaging 18 combined pass breakups and interceptions the previous two seasons, Butler notched only 12 this past year. His 103.3 passer rating allowed was also the highest of his career. The cornerback from 2015-2016 is one that's worthy of a big money deal, but how much will teams be willing to risk that that's the player they're getting?
Junior Galette
Grade wise, there was hardly any difference between Galette's play this past season and that which earned him a 4-year, $41.5 million extension back in 2014. Even after back-to-back seasons lost with Achilles tears, Galette still had the juice he became known for in New Orleans. The issue is that it came only 407 snaps as a designated pass-rusher and not the 800-plus snaps a full-time edge setter would get, which is what he was in his prime. He still earned an 83.4 pass-rushing grade on those limited snaps and a majority of that work against left tackles. With a thin pass-rushing crop in free agency, Galette might be the best value available.
Allen Robinson
Allen Robinson tore his ACL at possibly the most inopportune time possible. After a disastrous 2016 season that saw his yards per route fall from 2.17 in 2015 to 1.33 the next year, Robinson managed all of three snaps in 2017 before blowing out his knee. Now it is unclear if teams will be getting the same receiver who put up 1,400 yards in his sophomore campaign or an injury-riddled version of him. If teams are getting the former, that's one of the top receivers in the NFL. His 14 touchdown receptions that season led the entire NFL, as did his 672 deep receiving yards. And he did it all with Blake Bortles at the helm.
2018 free agency
---
2018 Free Agent Previews
---
Arizona Cardinals / Atlanta Falcons / Baltimore Ravens / Buffalo Bills /
Carolina Panthers / Chicago Bears / Cincinnati Bengals / Cleveland Browns /
Dallas Cowboys / Denver Broncos / Detroit Lions / Green Bay Packers /