Special teams are an important, but often-overlooked aspect of football.  At PFF, we're uniquely positioned to study this aspect of the game, grading every player at each facet of every game.  In 2016, we developed an algorithm to rate special teams, taking into account how grades in each facet contribute to winning.  Below are these ratings at the quarter point of the 2018 season.

[Editor's Note: These rankings vary from our 0-100 Special Teams grades, which are agnostic to the overall value with respect to winning football games during a season.]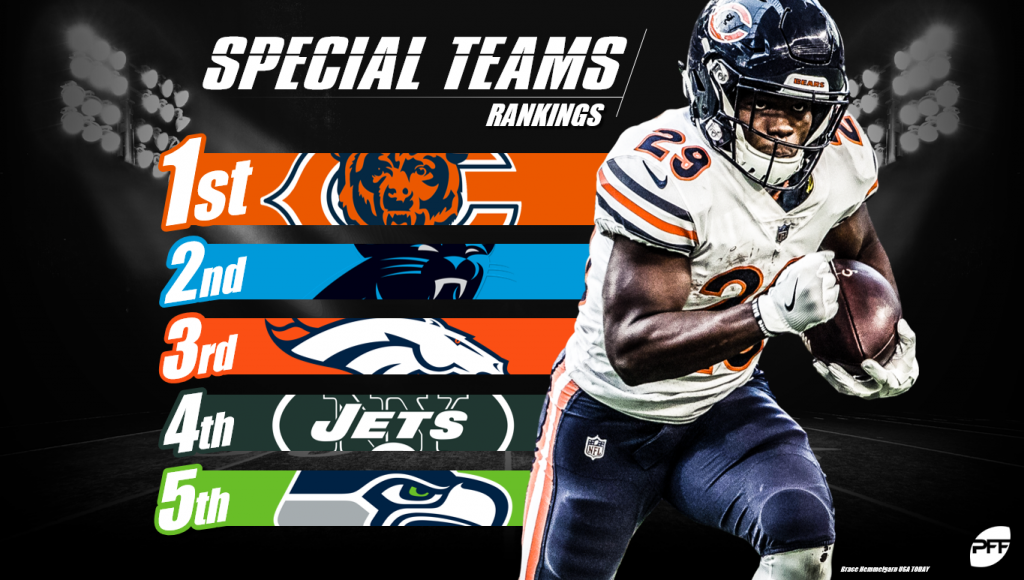 Special teams rank: 1
Tarik Cohen has been brilliant so far for the 3-1 Bears, taking 11 punt returns and turning them into 141 yards through four weeks.

SPECIAL TEAMS RANK: 2
Michael Palardy is the league's highest-graded punter so far, putting eight of his 14 punts inside the 20 and generating over 42 net yards per punt.

SPECIAL TEAMS RANK: 3
Brandon McManus has been the highest-graded placekicker this season, connecting on all 16 of his kicks so far.

SPECIAL TEAMS RANK: 4
Newcomer Andre Roberts has already generated 267 total yards on returns, including a touchdown against the Lions on the opening Monday night.

SPECIAL TEAMS RANK: 5
It's Michael Dickson's world, and we're all just living in it.  The rookie has dropped 11 kicks inside the 20 and averaged over 44 net yards per punt so far.

SPECIAL TEAMS RANK: 6
Punter Trevor Daniel has dropped 11 of his 18 punts inside of the 20-yard line so far this season.  

SPECIAL TEAMS RANK: 7
Return man Alex Erickson has averaged over 30 yards per kickoff return through four games, including a big return last week against the Falcons.

SPECIAL TEAMS RANK: 8
They've rebounded nicely after a rough week 1.  Nick Bellore and Teez Tabor both have multiple special teams stops so far this year.

SPECIAL TEAMS RANK: 9
They won a game against Houston (with Blaine Gabbert at quarterback) in large part due to a passing touchdown by Kevin Byard on a fake punt.

SPECIAL TEAMS RANK: 10
In addition to their blocked punt against the Falcons, Wil Lutz has been very good, converting 10 of 11 field goals through four weeks.

SPECIAL TEAMS RANK: 11
This is higher than normal for the Chargers, and they have struggled at kicker with Caleb Sturgis.  However, Drew Kaser has dropped eight of 13 punts inside the 20 so far, while Jatavis Brown, Adrian Phillips, and Uchenna Nwosu all have over three tackles without a missed tackle so far in coverage.

SPECIAL TEAMS RANK: 12
Dwayne Harris earned AFC Special Teams Player of the Week honors against the Browns last week, on the back of a 49-yard punt return, 98 total punt-return yards and a special teams tackle.  

SPECIAL TEAMS RANK: 13
Record-breaking Adam Vinatieri has only missed one kick all year and is still yet to miss from inside 50 yards.

SPECIAL TEAMS RANK: 14
Not as strong as most seasons under Dave Toub, they always have Tyreek Hill, who exploded for a punt return touchdown on his first touch of the season against the Chargers.

SPECIAL TEAMS RANK: 15
The Rams have continued their strong play on special teams, including a blocked punt by special teams superstar Cory Littleton that was turned into a touchdown by Blake Countess.

SPECIAL TEAMS RANK: 16
Jakeem Grant has continued to be an elite return man, with 289 yards and a touchdown return kickoffs.  He might be an exception to the "don't take it out of the end zone" rule.

SPECIAL TEAMS RANK: 17
They could really only go up after last year, and their punter, J.K. Scott, being second overall in punting grades is a step in the right direction as they play field position with Aaron Rodgers returning to health. 

SPECIAL TEAMS RANK: 18
Special teams was a big reason they played above their metrics last year, and their regression there hasn't helped much this season.  New punter Corey Bojorquez has the lowest grade at his position group so far, accompanied by the lowest average hang time.

SPECIAL TEAMS RANK: 19
The Falcons were snake-bitten by a blocked punt at home against the Saints in Week 3 but returned the favor against the Bengals in week 4.
SPECIAL TEAMS RANK: 20
Brett Maher has been good since replacing veteran Dan Bailey, making all but one of his kicks so far and allowing opposing teams an average starting field position worse than the 25-yard line.
SPECIAL TEAMS RANK: 21
Phil Dawson didn't kick a field goal until last week and was only 1-3 doing so.  However, Andy Lee has been the league fifth highest-graded punter through four weeks, and it's likely they'll need him and his 4.32 average hang time more than Dawson moving forward.

SPECIAL TEAMS RANK: 22
Justin Tucker has continued his brilliant career this year, going 3-3 on field goals of over 50 yards so far.

SPECIAL TEAMS RANK: 23
Ryan Allen has been the second-worst punter so far in terms of PFF grades, with an average hang time of just 4.19 seconds.

SPECIAL TEAMS RANK: 24
Usually, the Eagles excel here, but their punt team, with new punter Cameron Johnston, has already allowed 114 return yards so far this season.

SPECIAL TEAMS RANK: 25
A failed fake punt against Tennessee doesn't help this rating, but that's not the only thing contributing to this rating.  New punter Logan Cooke has graded in the bottom five at his position through four weeks.

SPECIAL TEAMS RANK: 26
Bryan Anger continues to remind us why he was drafted before Russell Wilson by averaging just 39.9 net yards per punt through four games.

SPECIAL TEAMS RANK: 27
As much as the Browns kickers got the attention Week 1, the Steelers failed to win that game in large part due to Chris Boswell, who has continued to struggle since – making just three of six field goals and nine of 11 extra points.

SPECIAL TEAMS RANK: 28
Both Kaelin Clay and Stacy Coley have mishandled returns in the first four weeks, which has suppressed the fact that Aldrick Rosas has yet to miss a kick so far.

SPECIAL TEAMS RANK: 29
Tress Way's 37.9 net average so far on punts is among the league's worst, hampered by a punt team that has allowed 14.6 yards on five returns so far.

SPECIAL TEAMS RANK: 30
A blocked punt for a touchdown, plus three missed field goals by fifth-round pick Daniel Carlson, basically cost them a win in Green Bay.  A long way from where they ranked last year.

SPECIAL TEAMS RANK: 31
Robbie Gould has been a bright spot, making all 10 field goals so far.  However, they have already missed seven tackles in coverage through four weeks.  

SPECIAL TEAMS RANK: 32
They are 32 in this rating, and it's not really close.  It's hard to pick out any one spot, but former draft pick Zane Gonzalez cost them a chance at 2-0 with misses against Pittsburgh and New Orleans to start the season.