For the first time in almost a decade, the Tampa Bay Buccaneers will take the field in Week 1 without the monstrous presence of interior defensive lineman Gerald McCoy on the defensive line.
In a move that many — including we at PFF — predicted, the Buccaneers and McCoy "mutually agreed to part ways" on Monday. The decision officially ends the 10-year defensive tackle's tenure in Tampa and relieves the franchise of the $13 million that would have otherwise gone against the salary cap.
The former third overall pick of the 2010 NFL Draft has been a consistent force along the defensive line from Day 1. He has earned overall grades north of 70.0 in six-of-nine professional seasons, and he is one of only 11 interior defensive linemen who has notched at least 35 quarterback pressures in each of the last three years. He ranks ninth at the position in total wins above replacement (WAR) since entering the league in 2010 and 14th in the same metric since 2016.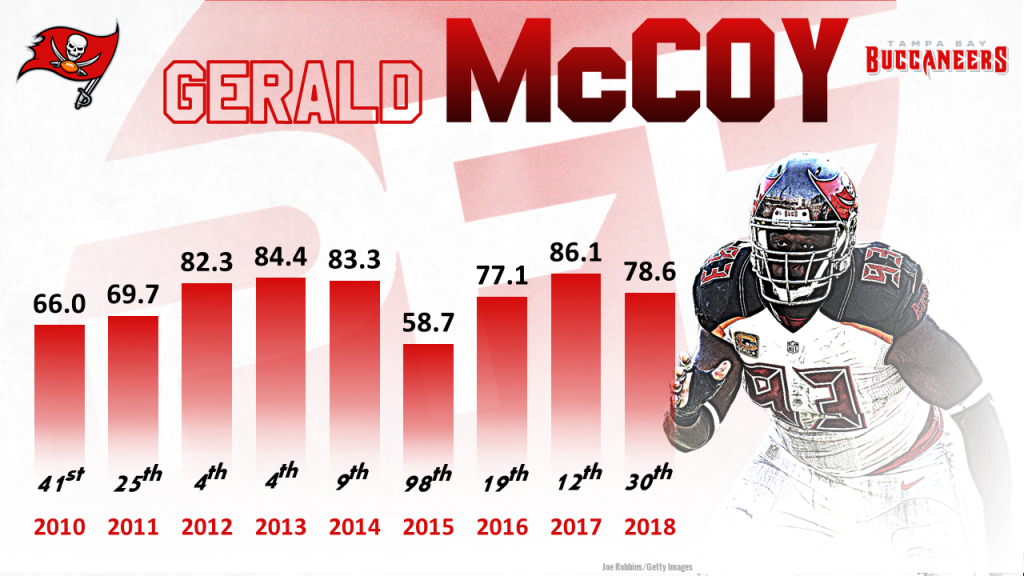 As a pass-rusher, there have been few as productive as McCoy has been over the course of his career. Since 2010, McCoy's 393 total pressures are the sixth-most among interior defensive linemen in that span, while his 143 knockdowns (sacks + hits) ring in at fifth.
And that's not by luck. Throughout his time on an NFL field, McCoy has shown an undeniable proclivity for beating the man in front of him and finding his way into the backfield. When we remove screens, play-action dropbacks, trick plays, defensive stunts, blitzes and passes that were thrown in under 2.5 seconds, we can see that McCoy has won a staggering 21.3% of his career matchups as a pass-rusher — a mark that's tied with Fletcher Cox, of all people, for the fifth-best rate among the 67 interior defensive linemen with at least 300 pass-rush snaps since 2010. His 93.0 pass-rush grade on those plays ranks third to only Geno Atkins (94.5) and Aaron Donald (94.4) among that same group of players.
Those numbers are down to remarkable year-to-year consistency, which is something that will no doubt be tempting to a list of suitors that will continue to grow as long as he remains unsigned. Long story short: If McCoy is on the field against a pure pass set (plays that meet the aforementioned criteria), the chances are that he'll get there. Working against these pure pass sets over the last nine seasons, Atkins has earned single-season pass-rush grades of 75.0 in seven of his last eight professional seasons, and that includes the grades above 85.0 that he earned in each year from 2011 to 2015.
In 2017 and 2018, the former Oklahoma Sooner has earned pass-rush grades of 79.8 and 77.8 from his work against pure pass sets, which rank 13th and 15th, respectively, among interior defensive linemen. His pass-rush win rate (21.8%) over the entirety of that span ranks 10th among his peers — proof that he's still more than capable of pushing the pocket for a tenth NFL season.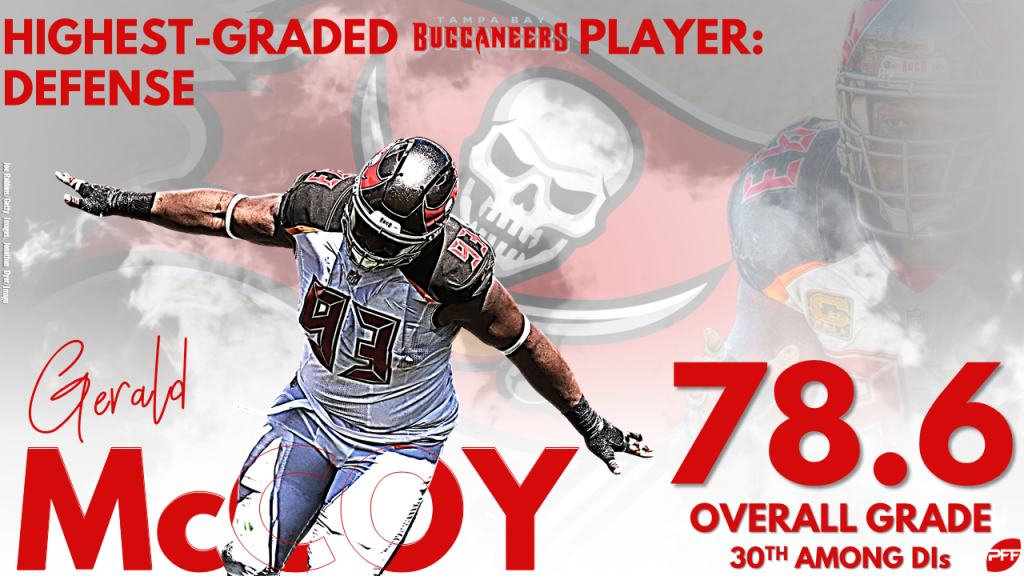 And of course, he's far from a 1-tech pony. In fact, he's proved that he's more than capable of above-average play from anywhere along the interior of the defensive line, and that will open up his options as he enters free agency for the first time of his career.
From his work as a nose tackle (290 snaps), either head up against or hading the center, McCoy has earned a pass-rush grade of 73.5 and a pass-rush win rate of 8.3%. From his work as a defensive tackle (2,767 snaps), he's earned a 91.0 pass-rush grade to go along with a pass-rush win rate of 10.2%. From his snaps as a defensive end (1010 snaps), he's earned a 79.3 pass-rush grade to accompany a 14.8% win rate.
For so long, the mountain in the middle of Tampa Bay's defensive line orchestrated his team's pass-rush with little to no help next to him — but now that he's been released, we may finally get to see just what he can do when he is surrounded by talent. To that end, here are some landing spots we think could make sense for him, as he takes on free agency in search of a Super Bowl ring.
The combination of McCoy and Cowboys defensive coordinator Rod Marinelli has the potential to be catastrophic for opposing offenses. Marinelli allows his defensive linemen free rein to penetrate, attack upfield and make plays, and McCoy would bring a skillset that allows him to do just that. The Cowboys are already set to enter the season with one of the league's best defenses on paper; they have stars at linebacker and in the secondary, but outside of Demarcus Lawrence, the pass-rush looks relatively weak. Pairing McCoy with Lawrence would change that.
A chance at a ring and the chance to work with one of the greatest defensive minds the game has ever seen? The Patriots should be well on McCoy's radar, and frankly, that feeling should be mutual. There is arguably no better side at manufacturing pressure via stunts and blitzes than New England, so while McCoy's not taking on offensive linemen in pure pass sets, he could be tormenting them with twists along the defensive front. Over the last three years, McCoy has produced pressure on 10.3% of his pass-rushing snaps that involved a stunt, so the addition of McCoy would be a good one to the scheme and an instant upgrade over the recently re-signed Danny Shelton (63.3 pass-rush grade in 2018).
The Colts are building something special in Indianapolis, and there few safer teams to bet on than the Colts when it comes to guessing who makes the playoffs in 2019. In his quest for a ring, McCoy would get to play within one of the freest defensive schemes in the NFL; one that prioritizes instinct and athleticism, and he would go a long way in helping the team that finished with the 29th-ranked team pash-rush grade last season.
A healthy J.J. Watt, a refreshed Gerald McCoy and a motivated Jadeveon Clowney in a contract year. McCoy may not be the player he was once was, but even the best offensive line would have trouble blocking all three of those guys. The Texans are primed for another playoff run in 2019, and McCoy would certainly help bolster an already strong defense.
With Russell Wilson at the helm, the Seahawks are always in with a shot at the postseason, but there are roster holes that could still stand to be filled before the season starts. One of those holes is the pass-rush. Having lost Frank Clark in the trade to Kansas City, the Seahawks' defensive front looks a little fragile, and while the signing of Ezekiel Ansah adds experience, we're not quite sure what he's going to be capable of in 2019. Adding McCoy into the mix would no doubt help the cause; he'd pair up nicely with fourth-year interior defender Jarran Reed (11 sacks, 14 hits and 30 hurries in 2018) and add a much-needed presence to the defensive line.
Final thoughts
Although McCoy hasn't finished with a top-10 overall grade at his position since 2014, he still finished the 2018 season as the Bucs' highest-graded defensive player. As he nears his 31st birthday, McCoy is still very much a versatile interior defensive lineman who is capable of plugging up the middle of a defense, and teams in need of pass-rush help should be quick to call his number. For the first time in his career, McCoy will have the choice of where to go, and after spending so much of his career single-handedly holding up the Buccaneers' pass-rush, we'd be excited to see what he can do as a part of a strong defensive lineup.