The Seattle Seahawks recently signed defensive end Ezekiel Ansah to a one-year prove-it deal as they attempt to bolster their pass-rush after shipping Frank Clark off to the Kansas City Chiefs prior to the draft. Ansah has struggled with injuries throughout his career, but he is one of the league's best at getting after the quarterback when he's healthy and on the field, so he should be able to add some firepower to the Seahawks' defensive unit.
While Ansah hasn't played a full season since 2015 due to a myriad of lingering injuries, he hasn't slowed down, and his impact on the field shouldn't be overlooked. In his 2018 season, which was cut short due to a shoulder injury, Ansah mustered just 146 snaps (110 of which were pass-rushing snaps), but in that limited time, Ansah produced an impressive 20 pressures which translated to a pass-rushing productivity of 11.9 — first among qualifying edge defenders.
The BYU alumnus has maintained a high level of pass-rushing production throughout his career despite his nagging injuries, ranking in the top-10 among edge defenders in pass-rushing productivity in three of his six seasons. In his last two healthy seasons (2014 and 2015), Ansah generated pass-rushing productivity scores of 8.9 and 10.2, which ranked tied for 10th and sixth, respectively.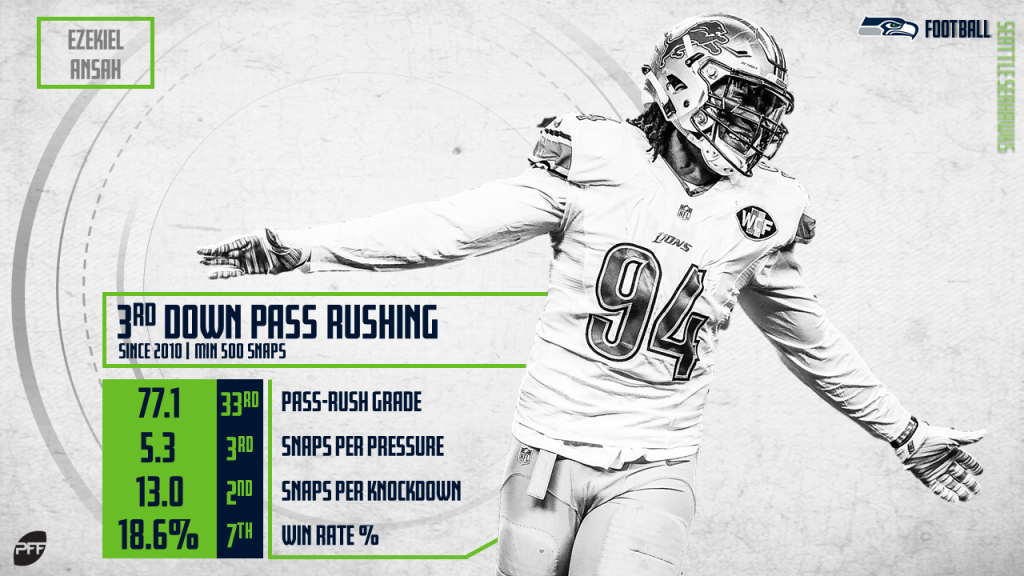 Looking at how Ansah compares to edge defenders in this decade, it becomes apparent how impactful he can be when he's at the top of his game. Among edge defenders with 500 or more third-down snaps since 2010, Ziggy Ansah has managed a 77.1 pass-rushing grade, 5.3 snaps per pressure, 13.0 snaps per knockdown and a robust 18.6% pass-rush win rate. The latter three marks all rank inside the top-10 among qualifying edge defenders, demonstrating that Ansah has been one of the most effective third-down rushers in the league.
Injuries can often slow a player down, limit their production and impact when they are on the field – all of which can be reflected by their overall grade. This is not the case for Ansah, however, who has been very consistent in his career in spite of his plethora of ailments. He has produced a grade of 65.0 or higher in every season of his career and a grade of 70.0 or higher in four of those six seasons.
Ansah isn't known for being a world beater against the run, but he's no slouch in that department, either. The Seahawks' new defensive end has produced a run-defense grade of 65.0 or higher and 10 or more run stops in all but one season. His best season against the run came in his career year in 2014, where he was able to generate a run-stop percentage of 12.0% that ranked second among edge defenders. However, one area where Ansah could stand to improve on is his tackling consistency, as he has two seasons with a tackling grade of less than 40.0 and just two with tackling grade of greater than 60.0.
The Seahawks produced a team pass-rushing grade of 66.3 last season, which ranked 26th in the league, and they have just lost their premier rusher in Clark, who chipped in for 69 pressures and 14 sacks last season. They will now look to Ansah to help fill the void while being a strong veteran presence for players like rookie L.J. Collier.
When Ziggy Ansah is on the field, he will be able to provide the Seahawks with a very potent and effective pass-rush off the edge, while helping to bolster their run defense. If he can manage to stay healthy the entire season, something he hasn't done since 2015, the numbers suggest the Seahawks may have gotten one of the league's better edge talents for a bargain.