On December 23rd, 2018, Antonio Brown caught 14 of 18 targets for 185 yards and two touchdowns in the Superdome in a narrow defeat at the hands of the New Orleans Saints. His overall grade of 90.7 for the game was his highest of the season, but his performance wasn't shocking – dominating games for the Pittsburgh Steelers is simply what Brown has done for the past eight seasons. At least, that is what he had done prior to December 23rd, 2018.
Then, Brown was benched for the regular season finale after reportedly getting into an argument mid-week and missing the walkthrough on Saturday. Then, the Baltimore Ravens held on against the Cleveland Browns in Week 17, ensuring the Steelers missed the playoffs. Then, he made it clear that he wanted to be traded. Then, he grew a blond mustache. Then, he publicly aired his grievances with his quarterback and former pal Ben Roethlisberger on social media. Then, he became Mr. Big Chest (rest in peace Ronald Ocean).
Now, it appears increasingly likely that AB has played his last down for the Steelers. He has made it abundantly clear that he wants out, and he is burning all those Pittsburgh bridges on his way out.
That being said, teams will have a decision in the coming weeks and months. Do we risk adding what appears to be – recently, at least – a loose cannon to our locker room, and if so, how much are we willing to give up for a receiver that graded at 88.0 or higher every season from 2013-2017? Brown has been one of the NFL's most productive wide receivers, not just recently, but of all-time. Nearly every team in the NFL could use a playmaker like that. There aren't too many situations better than the one that Brown had in Pittsburgh, though. Since he is under contract, Brown has no say in a potential trade suitor, but these five teams provide situations where AB can step in immediately with the potential to win and continue to put up ridiculous numbers.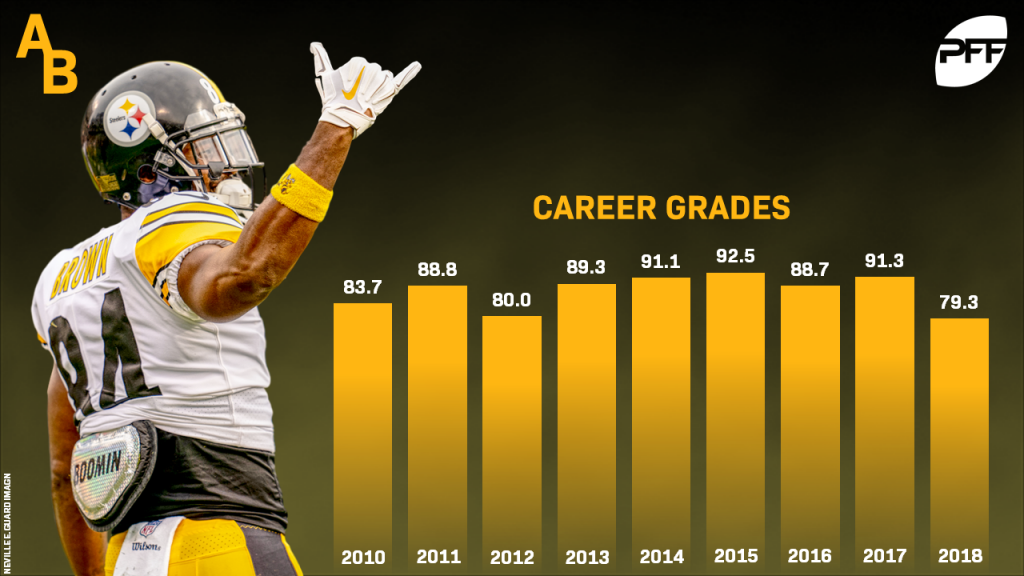 From the interactions with breakout tight end George Kittle on twitter to the comments made by former 49er great Jerry Rice claiming that Brown wants to go to San Francisco "really bad," the 49ers have been one of the more frequently discussed teams in regards to a trade for the 30-year old wide receiver. From a team personnel perspective, they do make sense for AB. Foremost, they have a young, promising quarterback – Jimmy Garoppolo – that will be returning from injury. After taking over the starting quarterback duties down the stretch in San Francisco in 2017, Garoppolo posted an overall grade of 86.6. His 2018 was cut short after an early-season torn ACL, but his return next year brings hope for the offense.
Brown would step in immediately as the top receiving option out wide. Last season, Dante Pettis led all 49ers wide receivers in overall grade at 68.5, ranking 53rd out of 117 qualifying wide receivers league-wide. Kendrick Bourne led the group with 42 receptions for 487 yards. Kittle carried a large portion of the receiving load, but the 49ers need an outside option for the offense to elevate to the next level with Garoppolo at the helm. Brown would certainly provide that.
As I mentioned earlier, there aren't too many better situations than Pittsburgh for Brown offensively, and a lot of that has to do with Roethlisberger, who has graded above 75.0 every season since 2009 while frequently grading at 85.0 or higher. Aaron Rodgers is one of the few quarterbacks that would be an upgrade for Brown. In a season where he was hampered by lower-body injuries throughout, Rodgers still recorded an overall grade of 89.7 and had just seven turnover-worthy plays in 681 dropbacks. 
Not only that, but Brown would join Davante Adams to form one of the top wide receiver duos in the league. Adams finished the seasons with an 87.8 overall grade – the highest of his career – and a passer rating when targeted of 121.6. With Rodgers' championship window closing and a bevy of draft capital (two first-rounders and two fourth-rounders in this year's draft), the Packers make sense as a team that could aggressively pursue Brown to add another elite player to their offense.
This trade scenario seems very unlikely given the inter-conference jockeying that the Patriots and Steelers have gone through over the past 15 years – a battle that the Patriots have often come out on top on. It seems somewhat insane for the Steelers to hand over one of the top offensive weapons in the NFL to Bill Belichick and Tom Brady, but that aside, the Patriots as a destination makes a whole lot of sense for Brown. The Pats have a history of aggressively pursuing veterans via trade; if they blow the Steelers away with far and away the best offer, do they refuse? They also have a more recent history of taking disgruntled Steelers – LeGarrette Blount and James Harrison come to mind – but the difference here is that the Steelers have a say in where AB goes.
With Josh Gordon's career in limbo and Rob Gronkowski slowed by a wave of injuries in recent seasons, Brady needs receiving weapons not named Julian Edelman or James White. The last wide receiver that Brady had grade above 85.0 was Wes Welker at 89.2 in 2011. Brown has graded above 85.0 in six of the last eight seasons. He would be able to join a winner and step in as the clear-cut top option outside with one of the best to ever do it at quarterback. Though the Patriots seem like an unrealistic destination, it would be one of the best spots for Brown.
Another destination, another top-tier quarterback. Andrew Luck posted an overall grade of 90.4 in 2016, and then returned after the shoulder saga to record an even better overall grade of 91.2 last season as the PFF Comeback Player of the Year. The Colts have an elite quarterback in place, they bolstered the offensive line this past season, they already have a top-tier weapon on the outside in T.Y. Hilton whose 87.7 overall grade ranked ninth at the position, and Brown joining him would immediately give them a very dangerous offensive arsenal. Harkening back to Miami when Brown and Hilton shared the same youth field, opposing defenses would have their hands full with the pair of them.  
Another consideration with the Colts? Cap space. The Colts have a whole lot of it – over 100 million to be exact. They would easily be able to absorb Brown's contract in any sort of trade. They also have additional draft capital from their trade with the New York Jets last year that landed the Jets Sam Darnold. Cap space plus trade assets plus a need at wide receiver opposite Hilton make the Colts one of the more realistic destinations that would still be a good fit for Brown.
The Panthers are a team that hasn't been discussed often in regards to acquiring Brown, but there are a couple of factors that make them an interesting hypothetical destination. Firstly, the Panthers need a wide receiver. D.J. Moore had a promising start to his career with a 72.6 overall grade (top among all rookie wide receivers) and Curtis Samuel (71.5 overall grade in 2018) may or may not become a viable option, but they could very much use another established outside threat to pair with Christian McCaffrey out of the backfield.
Brown has a strong relationship with their quarterback, Cam Newton, as well. Though not in the same league as some of the other quarterbacks on this list, Newton has graded at 67.0 or better every year of his career. He was off to one of the better years of his career in 2018 before a shoulder injury derailed his season, as he graded at 80.9 overall through the first nine weeks of the campaign. Brown could join McCaffrey and Newton along with young receivers Moore and Samuel to create an exciting and dynamic group of playmakers in the NFC.