The New York Giants have plenty of questions to answer this upcoming season. Evan Engram shouldn't be one of them.
The 2017 first-round pick showed tremendous improvement in his second season and is quickly developing into one of the league's best young tight ends. After a subpar rookie campaign, Engram posted the fifth-best overall grade (76.4) among tight ends with at least 25 targets in 2018.
The biggest concern surrounding Big Blue's 6-foot-3, 240-pound playmaker has been injuries. He's missed six games through his first two seasons and is currently dealing with a hamstring injury. But on the field, Engram has shown nothing but improvement since entering the league.
The former Ole Miss Rebel raised his overall grade by more than 14 points this past season, improving as a receiver and run-blocker. In fact, in the second half of the 2018 season (Weeks 10-17), Engram recorded the highest overall grade (91.6) of any tight end.
He will likely be asked to take on an even bigger role in the offense following the departure of Odell Beckham Jr. this offseason, but that shouldn't be seen as a negative. Three of Engram's five best games in 2018 came when OBJ was on the sidelines, Week 17 (90.2), Week 16 (87.7) and Week 14 (87.3).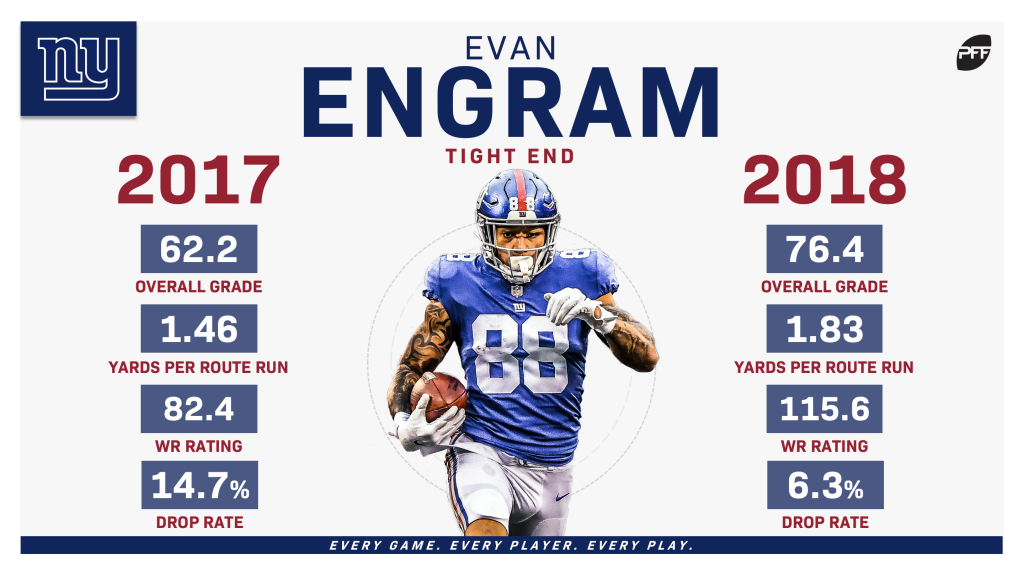 The Giants' coaching staff took advantage of Engram's versatility down the stretch of last season. He's looking forward to doing more of the same in 2019, via New York's team website.
"Yeah, I mean I just try to be as versatile as I can be. I like making plays when the ball is in my hands. The coaches did a really good job last year of working around not having 'O' (Odell Beckham Jr.) and definitely trying to get guys in different positions. Definitely going to look forward to doing more of that this year, and like I always say, just doing whatever I am asked to do to the best of my ability."
The Giants used Engram all over the field last season and would be wise to keep doing so. He logged 243 snaps inline, 169 snaps from the slot, and 57 snaps out wide. He was most productive lined up alongside the offensive line, earning the fourth-best overall grade (84.9) among the 91 tight ends with at least 100-plus inline snaps.
His 65.0 overall grade from the slot ranked 18th among 34 qualifying tight ends, and his 71.1 overall grade on the outside was the fifth-best mark among the 25 tight ends that qualified. That's likely the versatility the Giants were looking for when they drafted him with the 23rd overall pick in the 2017 NFL Draft.
It's no secret that Engram enters the 2019 season as Big Blue's best red-zone threat. The Giants have playmakers in Sterling Shepard and Golden Tate, but both are listed at 5-foot-10 and are not the biggest targets on a shortened field. In 2018, Tate posted a 57.1 receiving grade in the red zone, which ranked 56 out of 72 qualifying receivers. Shepard was slightly better (62.0) but still ranked 40th among wide receivers with at least 50 red-zone snaps.
Engram, on the other hand, has been stellar in the red zone. He's earned an 80.5 receiving grade through his first two seasons in the red zone, which ranks fourth among 43 qualifying tight ends. Only Zach Ertz, Trey Burton and Jack Doyle have posted better red-zone receiving grades at the position since 2017.
Engram has made the most of his opportunities when it matters the most. He has picked up a first down or scored a touchdown on 69.2% of his targets in the red zone through his first two seasons. There's still plenty of room for growth for the 24-year-old, but the Giants should be excited with the direction he's headed.
Engram's biggest issue in his rookie season was dropped passes. His 11 drops in 2017 were the second-most of any player regardless of position, trailing only Dez Bryant (12). But in Year 2, Engram dropped just three passes, which were tied for the 25th fewest among tight ends with at least 25 targets.
The Giants will need to continue to rely on Engram to develop. He's already proven himself a dynamic red-zone weapon and showcased his ability to be a reliable third-down option this past season.
Of the 39 tight ends with at least 50 third-down snaps in 2018, Engram ranked fourth in receiving grade (78.0). Travis Kelce, Jared Cook and George Kittle were the only tight ends to post higher receiving grades. It's also not the only place Engram finds himself among the league's elite tight ends on third-down situations.
His 2.48 yards per route run on third down trailed only Kelce (2.63), and his passer rating when targeted (139.3) ranked first among the 13 qualifying tight ends with at least 20 third-down targets.
It's clear to see how Engram is developing into one of the league's best tight ends. As long as he can stay on the field, the sky seems to be the limit for Big Blue's versatile young playmaker.