Everyone is looking ahead to Monday Night Football with the Kansas City Chiefs and the Los Angeles Rams, but to kick off the week's slate of games, Thursday Night Football ended up being a pretty entertaining spectacle.
As we've come to expect from the clash between the Green Bay Packers and the Seattle Seahawks, there was a good bit of intrigue at the end of the game – and this one was certainly no different. The Packers were down by three points late in the fourth quarter and faced a 4th down and 2 in their own half. Green Bay had the opportunity to either punt the ball away or go for it.
For Green Bay, the options were relatively simple. They could put faith in Aaron Rodgers, who is arguably one of the best quarterbacks ever to play the game, or they could punt the ball away and put faith in their defense, which to that point, had given up a 14 to 3 lead in the first half to an offense that wasn't particularly acting efficiently. Head Coach Mike McCarthy chose to punt.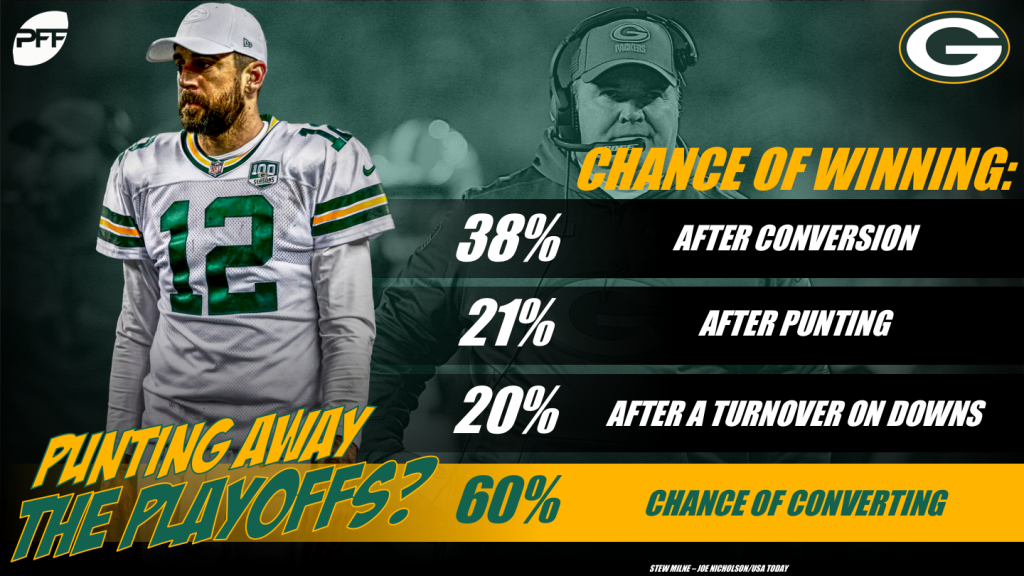 So, let's evaluate those situations here. If the Packers converted that fourth down, their chance of winning the game would have gone up to 38%, which is still an underdog, but significantly better the 21% chance that punting the ball away gave them.
So, the question is, what were Green Bay's chances of converting? Well, with Aaron Rodgers, who was our fifth-highest graded quarterback heading into the game, and running back Aaron Jones, who had averaged 2.1 yards after contact per attempt in the first three-quarters of the game, we pegged their chance of converting at 60%, which means that decision should have been a no-brainer. By going for it, you are immensely increasing your chance of winning the game, but here's what's really telling; if the Packers had failed to convert, their chance of winning would only drop down to 20% – which is a 1% difference from punting the ball away.
It is a tough decision to make in the moment with the game and the season on the line, but when you look at the numbers it's fair to ask; did the Packers punt away their playoff chances?
Follow us on Twitter at @PFF_Eric and @PFF_George, and for some podcast commentary on some of our game picks, and the process that goes into them, give the PFF Forecast a listen.