It's hard to believe it has been five years since Houston Texans edge defender Jadeveon Clowney heard his name called first overall in the NFL Draft. Now, he's looking to see his name scribbled at the bottom of a long-term contract — but first, he'll be playing the 2019 season under the franchise tag. Clowney and the Texans were unable to reach a long-term agreement for the upcoming campaign by Monday's 4 p.m. deadline, meaning Clowney will earn just under $16 million for his efforts in 2019.
Clowney not only constitutes the other half of a top edge tandem with teammate J.J. Watt, but he's been the backbone of the Texans' run defense, posting the second-best run-defense grade among edge defenders in 2018 (91.8). And in 2019, he'll be one of the highest-paid edge defenders in the league — one of four 26-year-olds among the top-12 and the only one in that group slated to hit free agency next offseason.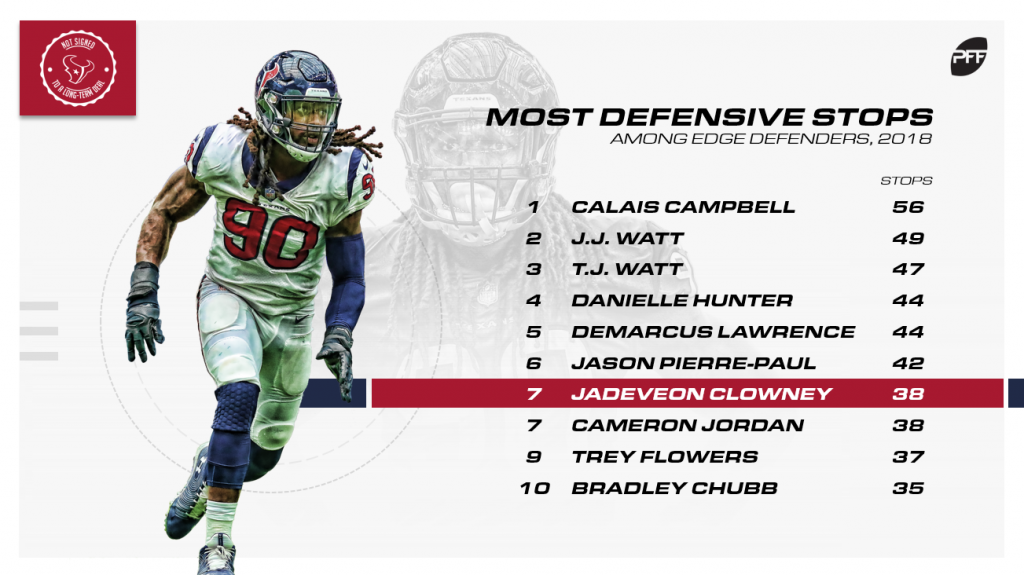 Perhaps Clowney didn't develop as quickly as the Texans would have liked for a former No. 1 overall selection, failing to top an 80.0 overall grade before last season. But his production shouldn't be ignored. Generating 60 or more pressures and 40 or more stops in 2017 and 2018 was accomplished by only two other edge defenders: The New Orleans Saints' Cameron Jordan and the Detroit Lions' Trey Flowers. The former will make an average of $17.5 million over the next five seasons with the Saints while the latter will cash in on an average of $18 million per year over five seasons with the Lions.
Few defenders were as potent as Clowney in the run game in 2018. He shut down opposing backs, making first contact 33 times from an edge position on running plays — good for the 16th-best mark in the NFL. But that was hardly his most impressive feat. On those 33 plays where Clowney made first contact, running backs gained a total of 44 yards — an average of 1.33 yards per carry. Among the top 25 players who made first contact the most from an edge position, only the Jacksonville Jaguars' Calais Campbell allowed less yardage on average than Clowney.
That, of course, led to Clowney notching a run-stop percentage of 9.9% which was tied for ninth-best at the position in 2018. He and Watt were the only two edge-rushing teammates to both rank in the top 10. And with Watt performing at such a high level year in and year out, it's hard to understand why the Texans wouldn't want to keep their formidable duo intact.
There's always room for improvement, and maybe Clowney didn't reach his full potential as fast as some expect a No. 1 overall pick to do so with grades hovering around 75.0 from 2015 to 2017 — but one thing is for certain: if Clowney continues to play at an elite level against the run and if he finally puts it all together as a pass-rusher in 2019, the Texans will be kicking themselves for not locking him up this offseason.