Even the most die-hard of Colts fan must have had a small pang of anxiety waiting for the return of Andrew Luck this season, given the way he ended the previous one.
Luck, a player that has never quite reached his potential as the best QB prospect to come along since Peyton Manning, was a disaster in 2015. Injuries certainly played a big part in that before eventually shutting him down, but he was also sinking in the deep water for the first time in his career independent of any injury woes.
For the first time, Luck wasn't able to deal with the torrent of defensive pressure that was coming down on him consistently, and the team's gameplan of avoiding significant investment in the O-line because "Luck will deal with it" fell apart. He couldn't deal with it, threw a dozen interceptions in just seven starts, and then went on the IR.
Luck blew all of those concerns out of the water with his return in Week 1, posting the best performance of his career, albeit in a losing effort to the Detroit Lions.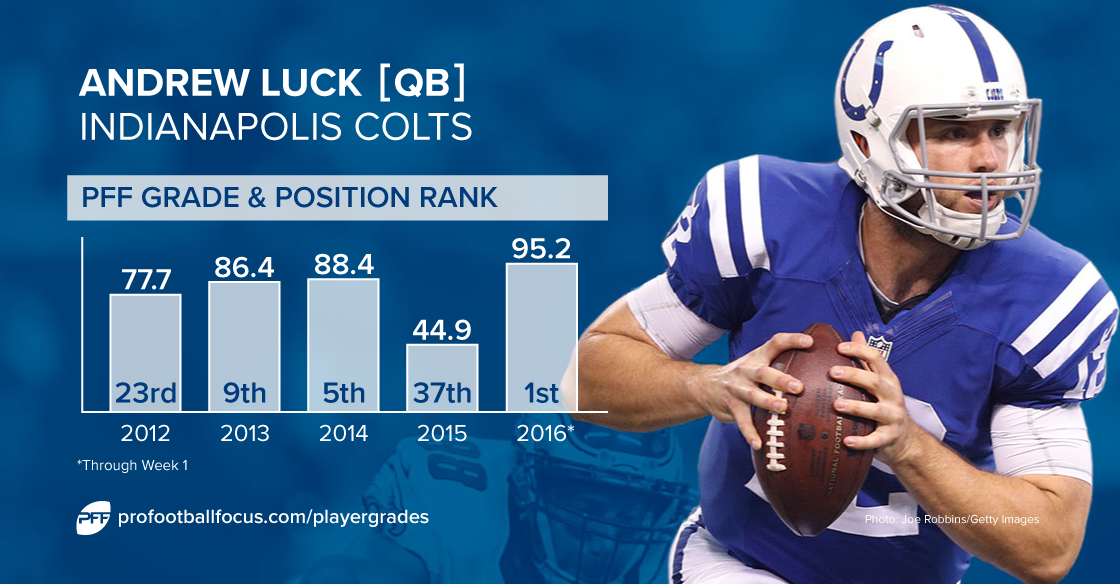 The fifth-year Indianapolis QB completed 31 of 43 pass attempts (66.0 percent) for 385 yards, four touchdowns, and no interceptions. He also led what could—perhaps should—have been a game-winning drive late in the fourth quarter, only to see the Colts' defense capitulate in the final 37 seconds, allowing the Lions to snatch the win back with a 43-yard Matt Prater field goal.
Trailing 34-28 with 4:04 left on the clock, Luck led a 75-yard drive, completing five of five pass attempts for 53 passing yards and the go-ahead touchdown. This was vintage—clutch—Andrew Luck at his best, with the game on the line in the fourth quarter, and it deserved a better result to come out of it. It's also a pretty good reason why judging a QB on wins alone is an asinine method of evaluating them; Luck leads a potential game-winning drive and scores with 37 seconds left on the clock, but his defense can't hold up and he comes out a loser.
All last season, while Luck was struggling under pressure and still trying to force the ball downfield, it seemed like the Colts needed to adjust the gameplan and get the ball out quicker. When Matt Hasselbeck replaced the injured Luck in 20105, he was able to have success with a markedly quicker release time. While Luck averaged 2.66 seconds per pass attempt (sixth-slowest in the league), Hasselbeck was at 2.35 (seventh-fastest). Luck was firing downfield with an average depth of target of 10.1 yards (sixth highest), while Hasselbeck's was just 7.9 (29th-highest).
Against Detroit, though, the gameplan hadn't changed. Luck's average depth of target against the Lions was 11.3 yards, and his average time per pass attempt was 2.66, identical to a year ago. The only changes were that Luck was once again back to his best, and that the offensive line was significantly better at protecting him.
The Colts have made investments in that line, with first-round rookie center Ryan Kelly the most notable, and it resulted in Luck being pressured on just 29.4 percent of his dropbacks against the Lions. If that rate holds up over the season, it would mark the first time in his career that the number has been less than 30 percent of his dropbacks. In fact, it would be the best figure by a clear six percent, as every other year of his career has been somewhere between 36.2 and 40 percent. The line still isn't exactly good, but it's at least taken a major step forward from bad.
Colts' offensive line grades versus the Lions

While Luck may never have quite lived up to his potential in the past—and there has always been a greater volume of "bad Luck" in his play than people like to recognize—it's impossible to accurately describe how much of that is influenced by poor protection on his offensive line. Not necessarily on any single play, but what effect the overall feeling of insecurity in the pocket has on him. Even if Luck doesn't improve from the level we have seen in the past on a tangible, individual level, we may well see a significant improvement in his play if the O-line protecting him can sustain the development they showed in the first game of 2016.