Many felt as if the Los Angeles Chargers got a steal in Derwin James with the 17th overall selection in this year's draft, including us at PFF. James ranked fifth on the PFF Big Board heading into the draft. He was PFF's top-graded safety in all of college football last season after finishing 7th in overall grade as a true freshman in his only other full season back in 2015. Needless to say, he was one of the top talents in the 2018 NFL Draft.
His versatility and standout play in all areas of the game are what make him such a unique talent. As the 2018 PFF NFL Draft Guide wrote, "James is exactly what the NFL needs on the defensive side of the ball. His size and athleticism allow him to fill multiple positions along the defense."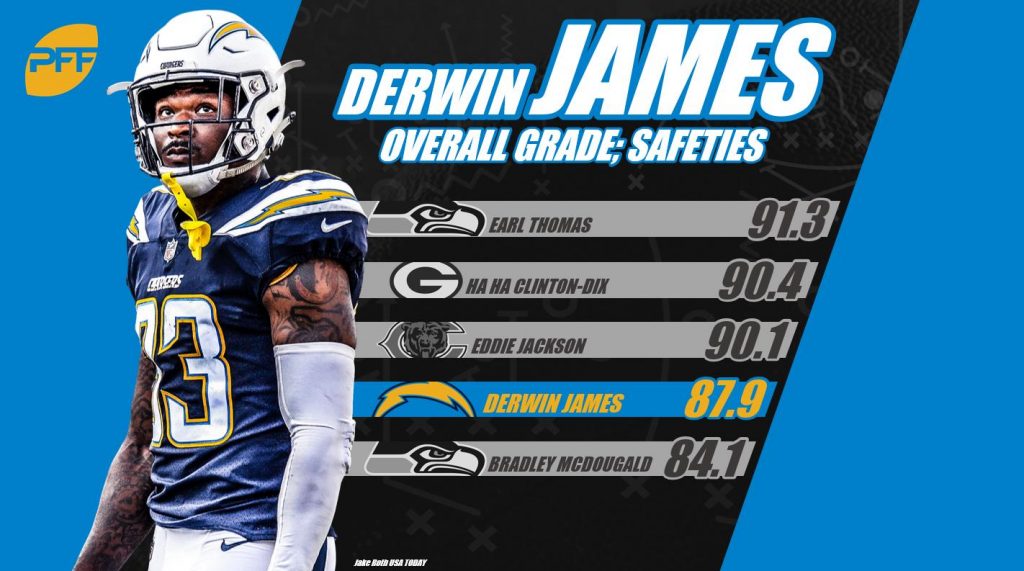 Playing multiple positions along the defense is exactly what he did at Florida State. Last year, for example, he played 292 snaps at free safety, 260 snaps in the box, 188 snaps at slot corner and 69 snaps on the line of scrimmage as an edge defender. That kind of versatility is especially valuable in today's game as offenses look to exploit linebackers and safeties in coverage more and more. James is certainly not a weakness in coverage, and he plays well as both a run defender and a pass-rusher, which allows a team to move him all over the field.
In fact, his run defense, pass rush and coverage grades were all above 80.0 a season ago. The only other safety in college football who could claim that feat was DeAndre Pierce of Boise State. As Chargers fans can attest, all of those skills have carried over to their defense so far in 2018.
James has an overall grade of 87.9 through four games this season, which is not only the top grade for all defensive rookies, but it is also the fourth-highest grade among all NFL safeties in 2018. The Chargers are utilizing James' ability to play multiple positions, as well, as he has played 103 snaps at free safety, 80 snaps in the box, 28 snaps as an edge defender and 36 snaps in the slot.
Throughout all those positions, the rookie safety has been impressive in coverage thus far, having been targeted 13 times and allowing just six receptions for 34 yards. To add to that, he has been making plays on the ball when it is thrown his way. Three of those 13 targets against James have either been intercepted or broken up by him.
Another, more unconventional area where James has excelled is rushing the passer. In just 22 pass-rush snaps, he has totaled nine pressures – four hurries, two hits and three sacks. As a safety, he ranks second on the Chargers in total pressures through four games. That sort of pass-rush production isn't a fluke, either. James showcased his ability to get after the passer with the Seminoles in 2017, and last season his 10 pressures in just 38 pass-rush snaps were good for a pass-rush productivity of 14.5 which ranked fifth among qualifying FBS safeties.
With that ability to get after the passer combined with the playmaking ability he has shown in coverage, James is a spark on defense that can ignite and create a big play on any given snap. Add in his proficiency in run support, and the Chargers have one of the best young defensive weapons in the NFL on their hands. James' play over the first quarter of the season makes it clear – the Chargers got one of the best football players in this draft with the 17th overall selection.