The 2018 NFL Draft came and went in a hurry over a weekend full of surprises, trades, roster moves and heart-warming moments. That being said, some of those surprises may actually turn in to draft picks that prove impressive value at where a said player may have been drafted.
With that being said, here are some possible draft steals from the 2018 NFL Draft.
For even more information on all draft prospects and possibly other draft steals in your own eyes, grab a copy of our 2018 NFL Draft Guide with expanded profiles, scouting reports, PFF signature stats and extensive details on over 300 players you cannot find anywhere else.

PFF Draft Board ranking: 5
Christmas came seven months early to Los Angeles Chargers general manager Tom Telesco when former Florida State S Derwin James, our second-best defensive player in the 2018 draft class, fell into his lap at pick No. 17 of the first round.
James' defensive versatility, a much-needed attribute in today's NFL, is unparalleled in this class. In coverage, the 6-foot-2, 215-pounder can match up in man coverage against both the NFL's big tight ends and the smaller, quicker slot receivers. Most recently, he earned a 90.3 coverage grade for his efforts in 2017, edging all FBS safeties. Also, his dominance in coverage, unlike other safety prospects in the class, is mirrored in his play against the run and rushing the passer. He has earned 84.7-plus run-defense grades in all three seasons of his collegiate career, and his pass-rush productivity rating (20.4) ranked No. 2 among qualifying draft-eligible safeties in 2017.
Paring up with Chargers' Jahleel Addae, James has all of the talents necessary to be an impact starter in the Bolts' secondary starting Week 1.
PFF Draft Board ranking: 12
With question marks surrounding his ankle injury and dip in production this past season, former Boston College edge defender Harold Landry fell to the Tennessee Titans 10 picks into the second round. Fortunately for Tennessee, Landry's second-round status doesn't take away from the fact that he's a first-round talent.
Landry was our-top ranked prospect at his position as his elite bend and athleticism led to staggering production in 2016, recording 69 total pressures (included 18 sacks) and ranked third in the nation in pass-rush productivity (17.5). He earned an 89.0 pass-rush grade that same season.
Landry's injury-riddled season in 2017, unfortunately, cost him quite a bit this past weekend, but Tennessee shouldn't have any complaints. Landry will take part a three-man rotation along the edge with the aging Brian Orakpo and Derrick Morgan, adding a spark to a duo that combined for a whopping 110 pressures a year ago.
PFF Draft Board ranking: 8
A round removed from selecting our fourth-ranked cornerback in Jaire Alexander, the Green Bay Packers double-dipped at the position and put an end to Josh Jackson's undeserved slide at pick No. 45.
The former Iowa cornerback was our top-ranked cornerback in the 2018 draft class largely due to his incredibly productive redshirt-junior season in 2017. He earned a 96.2 overall grade with the Hawkeyes a year ago, leading all cornerbacks not just last season, but it's the highest grade we've seen from any cornerback in this year's draft class in any year of their college careers. He also allowed a passer rating of just 36.5 and a 44.0 catch percentage, again ranking among the best in the class.
The former receiver-turned-cornerback is, as expected, still very raw at the position, but if he can reproduce his most recent play with the Packers, it won't take long before he's a franchise piece to Green Bay's secondary.
PFF Draft Board ranking: 61
Florida's Antonio Callaway is a premier wide receiver prospect when just his on-field production is considered. Of course, all players' backgrounds off the field must be taken into account, and Callaway's off-field endeavors, which included cleared sexual assault charges, cited marijuana possession and credit card fraud, ultimately led to his free fall into the fourth round. Now, if the Cleveland Browns can help keep Callaway's past behind him, he can contribute positively early in his NFL career.
Prior to being kicked off the Gators team before the 2017 season, Callaway averaged 2.17 yards per route run and 6.9 yards after the catch per reception, the latter of which ranking third among returning SEC wide receivers in 2016. He also earned 75.6-plus overall grades in 2015 and 2016.
PFF Draft Board ranking: 47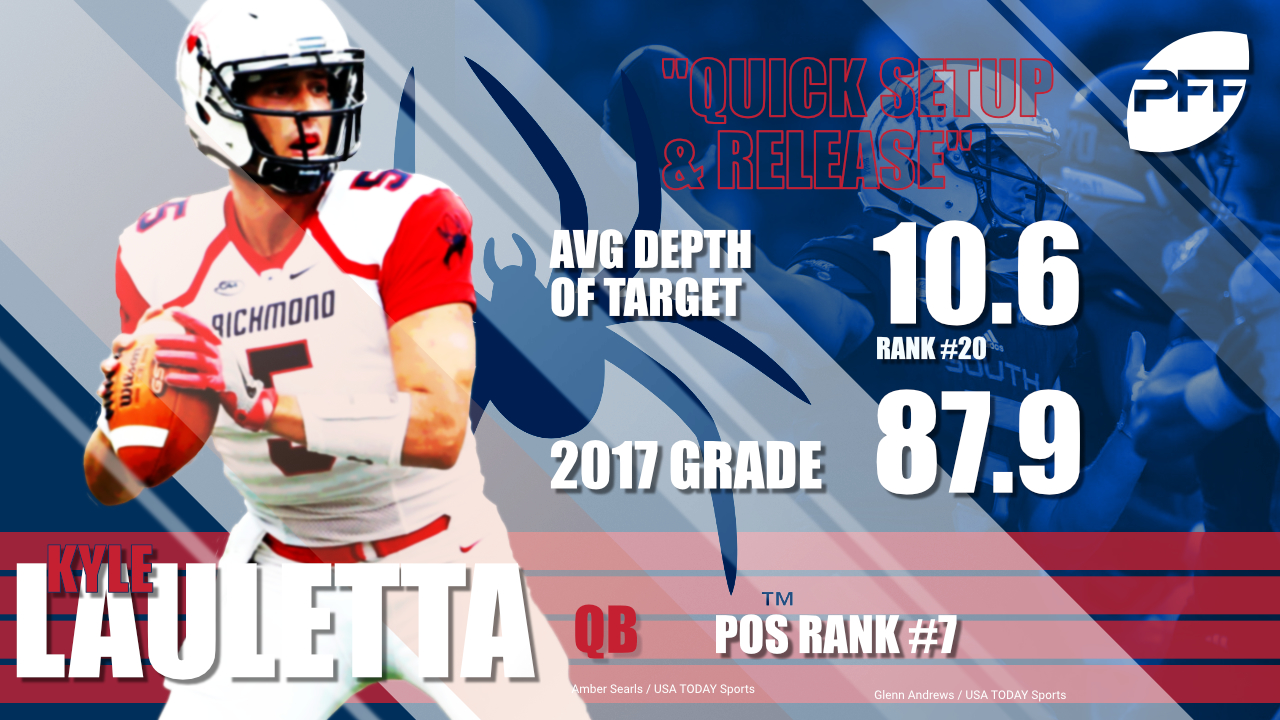 Quite possibly the heir-apparent to what has been quarterback Eli Manning's throne for the past 14 years, former Richmond QB Kyle Lauletta became a significant value addition when taken off the board early in Round 4.
Our seventh-ranked quarterback in the draft class, Lauletta operates as a quick decision-maker with an equally quick setup and release from under center. He compiled a strong 2017 season (87.9 overall grade) with an outstanding performance at the 2018 Reese's Senior Bowl, as he posted the top grade in 1-on-1 drills and graded well in both team drills and the game itself. His downfield accuracy will need work at the next level, but his already strong short and intermediate accuracy help establish his high floor at the next level.
Lauletta will benefit from a proverbial redshirt year (or two) behind Manning in East Rutherford, and, in turn, New York will have a better understanding of what life's like with Manning's cleats on the rack.
PFF Draft Board ranking: 3
Piloted by his undisclosed heart condition, former Michigan DI Maurice Hurst's slide into Day 3 awarded any of the 32 NFL teams the opportunity to come away with one of the biggest steals of the draft. The Oakland Raiders finally made the right call at pick No. 140.
Considered the best non-quarterback in this class, Hurst is a game-wrecker in both defensive phases, as his play as both a run-defender and pass-rusher is second to none among the other draft-eligible interior defenders. Leaning on explosion and great leverage, he led all draft-eligible defensive tackles and nose tackles in total pressures (49) and pass-rush productivity (12.1) in 2017. He also earned a 96.3 overall grade this past season, the highest mark recorded by an interior defender in the PFF era.
If his heart allows it, Hurst will win over the hearts of Raiders fans as an impact starter in defensive coordinator Paul Guenther's 4-3 scheme as the pass-rushing three-technique Oakland desperately needs.
PFF Draft Board ranking: 32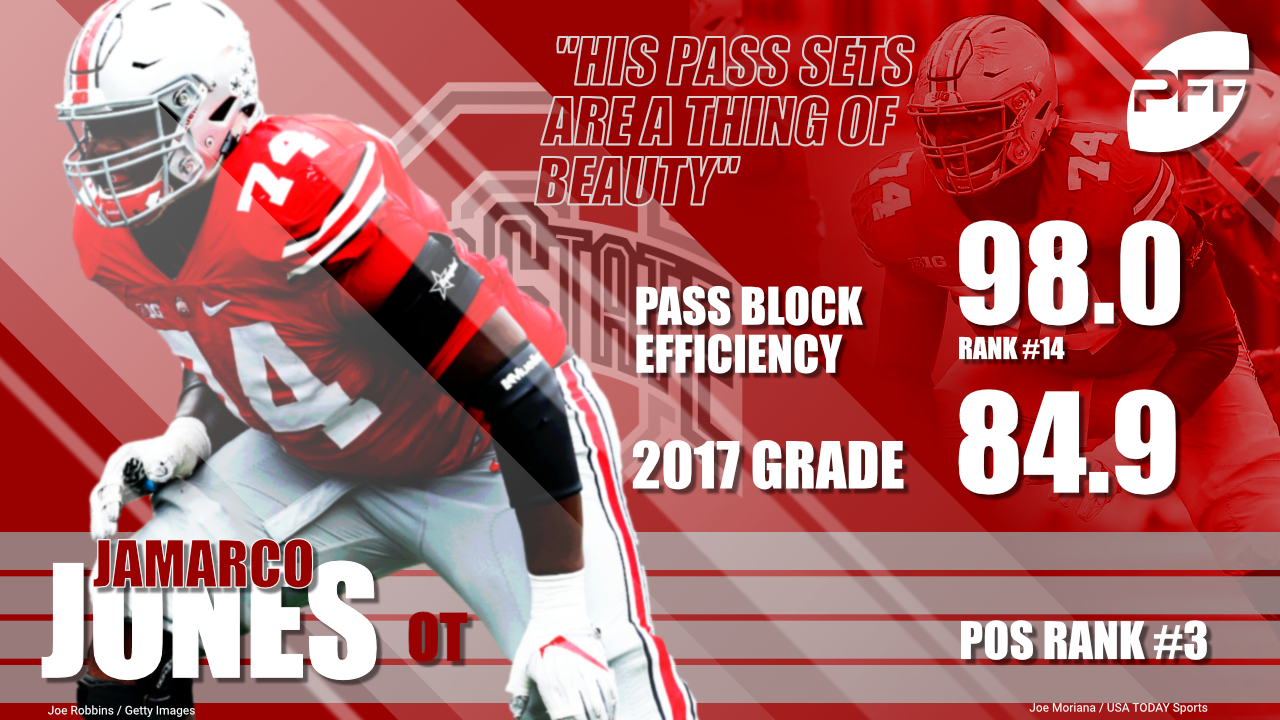 While he wasn't particularly dominant in any particular phase of the game, former Ohio State T Jamarco Jones performed at an above average level across the board, making him a high-floor prospect and quite the steal for the Seattle Seahawks in the fifth round.
Allowing just 11 total pressures across 431 pass-blocking snaps, Jones tied for 11th in the draft class in pass-blocking efficiency (98.0) in 2017. He also ranked 35th run-block success percentage (92.1), which should only improve if Seattle's coaches can correct his technique a bit and help him win the leverage battle at a more consistent rate.
It's no secret that the Seahawks' offensive line has received its fair share of lumps in recent years, but Jones, despite his draft status, can help put an end to a team in which ranked 30th in pass-blocking grades as a unit last year.
PFF Draft Board ranking: 55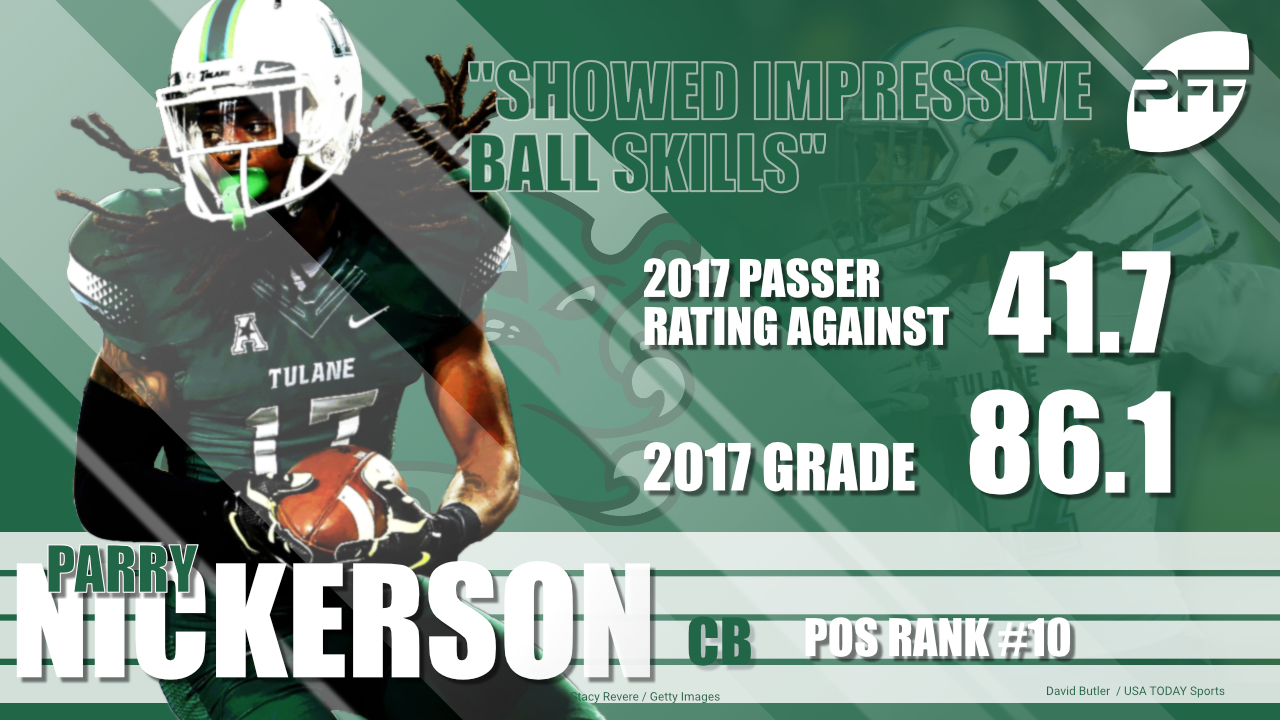 Though dubbed the Mayor of Uptown for his dominant play at Tulane, the 5-foot-10, 182 pound Parry Nickerson was more often referred to as "undersized" than his compelling nickname throughout the pre-draft process, likely captaining his slide in the draft. The New York Jets, of course, weren't deterred by Nickerson's stature.
Nickerson earned a career-high 86.1 overall grade in 2017, marking the third season in his four-year career where he earned an overall grade above 82.7. His aggressive, ball-hawking approach to the position led to 10 interceptions and 13 pass breakups over the past two seasons. He also allowed a passer rating of just 32.5 and 41.0 in 2016 and 2017, respectively.
In addition to starter-level potential in the slot early in his career, Nickerson gives the Jets a potential long-term solution at boundary cornerback if he can add weight to his frame. Behind Trumaine Johnson, New York lacks game-changers at the cornerback position, which should give Nickerson an easy path to playing time in 2018.
PFF Draft Board ranking: 66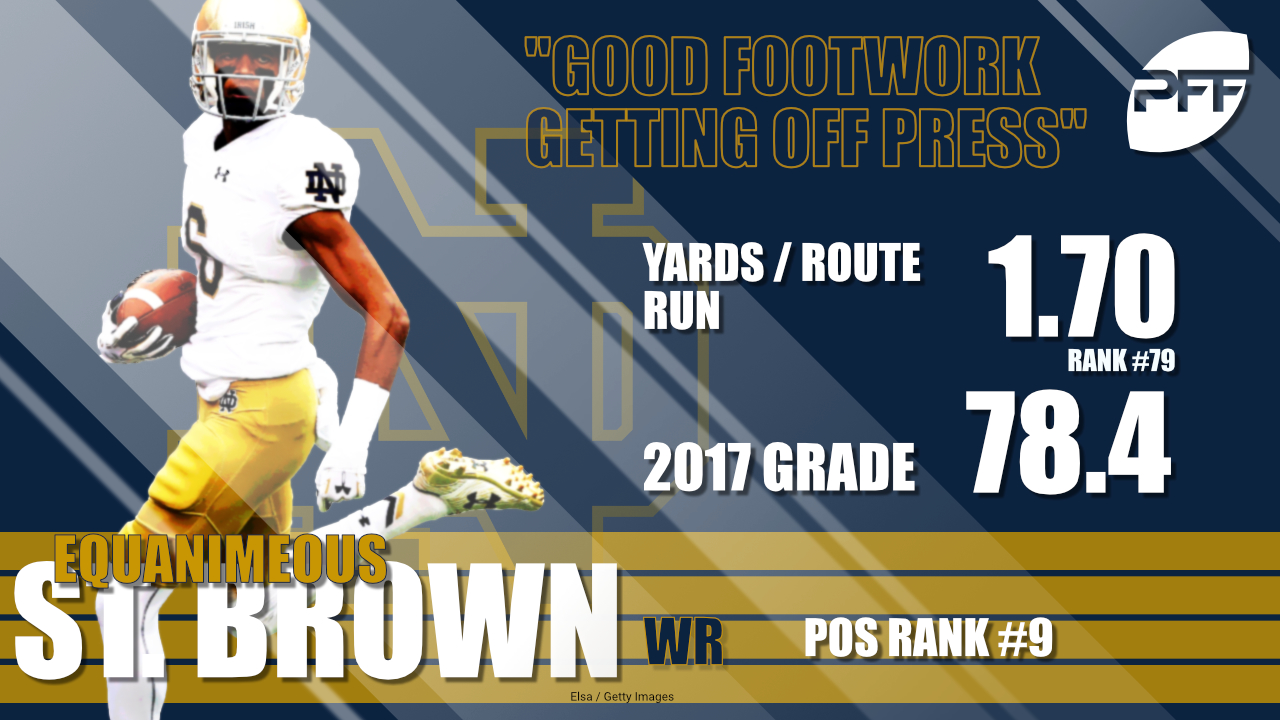 Releasing veteran Jordy Nelson earlier this offseason, the Green Bay Packers opened the door for another receiver to work his way into the mix at the top of the depth chart. Despite his fall into Round 6, former Notre Dame WR Equanimeous St. Brown can do just that.
At 6-foot-5, 214 pounds, St. Brown surprises opposing defenses with his speed and quickness, as he has the size of a possession receiver but the feet of a deep threat. He may need to develop his play-style to match his menacing frame to win more often in contested situations and create separation at the top of his route, but his potential is through the roof. He earned an 83.9 and 78.4 overall grade in 2016 and 2017, respectively.
PFF Draft Board ranking: 67
Drafting a potential starter in the seventh round, though rare, was found possible by the New Orleans Saints with their selection of former LSU center Will Clapp. Considered almost robotic with his consistent, high-level technique, Clapp earned 80.4-plus overall grades in each of the past three seasons, and he did so against SEC interior defensive linemen within a pro-style offense.
Because he lacks the "wow" factor that other finishers (i.e. Quenton Nelson, Will Hernandez) have in their arsenal, Clapp doesn't get the proper praise he deserves for playing at an above average level with great consistency. In 2017, he ranked 16th in pass-blocking efficiency (98.2) and second in run-block success percentage (93.4).
Saints veteran center Max Unger, who will play his ninth NFL season at 32 years old in 2018, isn't getting any younger, and if his career-low 50.0 overall grade last year is any indication, his play is in decline. Clapp has all of the tools needed to step in for Unger following his retirement if not uproot him as the starter in 2018.