Coming out of the University of Michigan, Jabrill Peppers did not have a clear-cut NFL position. It was clear, however, that Peppers had elite athleticism and play-making ability. That athleticism and knack for the big play shone in Denver, as Peppers notched the highest single-game grade of his career at 92.9. He is being used in more of a hybrid role in this defense than he was last season, and in that role, he has taken a big step forward.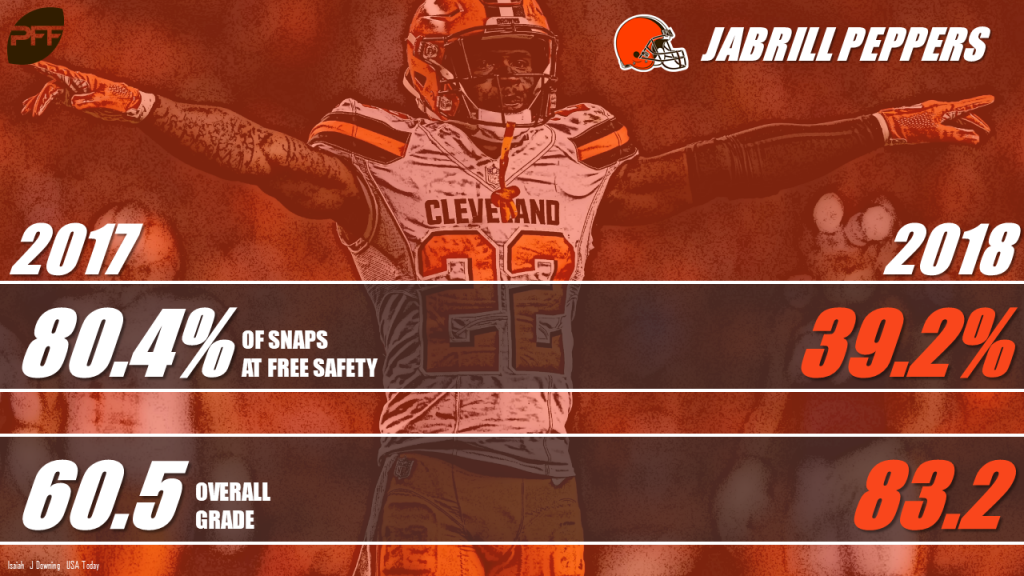 Shortly after last year came to an end, PFF analyst Billy Moy highlighted 10 players that could bounce back in their second season. Among them was Peppers, due largely to the fact that he played so much free safety last season with over 80 percent of his snaps coming there. If you look at his final year at Michigan, that is a position that he played just 22 of 712 defensive snaps at. Last season, the Cleveland Browns were keeping Peppers far from the line of scrimmage rather than using him how he was most comfortable – as a swiss-army knife that can affect the game from multiple levels.
Contrasting his usage last season with this season is night and day. Through the first 14 games of 2018, Peppers has played 261 snaps at free safety, 164 snaps in the box, 116 snaps as an edge defender, 83 snaps at slot corner and 41 snaps out wide at cornerback. His free safety usage has dropped over 40 percent, and with that, his overall grade has jumped from 60.5 (70th overall among qualifying safeties) to 83.2, which sits inside the top-10 at the position.
His performance against the Denver Broncos illustrated his ability to make plays when lined up all over the field.
On Saturday, Peppers lined up at the line of scrimmage as an edge defender on 10 defensive snaps, something he did only 29 times total in 2017. With the additional snaps close to the line of scrimmage came some opportunities to get after the quarterback as a pass rusher, and that is an area that Peppers made an impact. The game-clinching sack late in the game stands out for obvious reasons, but Peppers was a consistent presence in the backfield all game. On his nine pass-rushing snaps, he generated four total pressures, which nearly matches the total of five that he had all last season.
On this play in the third quarter, it was from the box that Peppers ended up making the play. He's lined up three yards from the line of scrimmage over the tight end, recognizes the slide route coming across the formation and closes quickly to make the tackle for loss.
And naturally, with all the talk about Peppers playing out of position at free safety, his best play of the game came when lined up deep. On this interception of Keenum at the end of the first half, Peppers did an excellent job of making a break on the deep pass and using his speed to cover a whole lot of ground and get to the football.
While the sort of athleticism needed to make that play was never a question for Peppers, his coverage instincts were. The ability to quickly decipher that throw and break on the ball early is indicative of the step forward that Peppers has taken in Year 2 of his NFL career.
The Browns have freed him from the free safety purgatory that he had occupied last season, and he has returned performances worthy of the first round pick they used to select him. With his emergence this season, the Browns now have a versatile, young defensive weapon to slot alongside other promising defensive pieces such as Myles Garrett, Denzel Ward, and Joe Schobert. Peppers has become one of many young players to be excited about in Cleveland.