It's the dog days of the preseason, and while we have Week 3 (and the extended play of some starters) to look forward to, we're still weeks away from (real) NFL football. Thus, it's time to continue to talk about a popular prop in the NFL betting market. Last season, a relatively unknown player in Patrick Mahomes helped players cash as a long shot (or, in some places, as part of the "field") in his historic 2018 season. 
[Editor's Note: Bet smarter with PFF Greenline, an online dashboard with predictions for the spread, totals and moneyline for NFL and NCAA games. Subscribe to ELITE today to gain access!]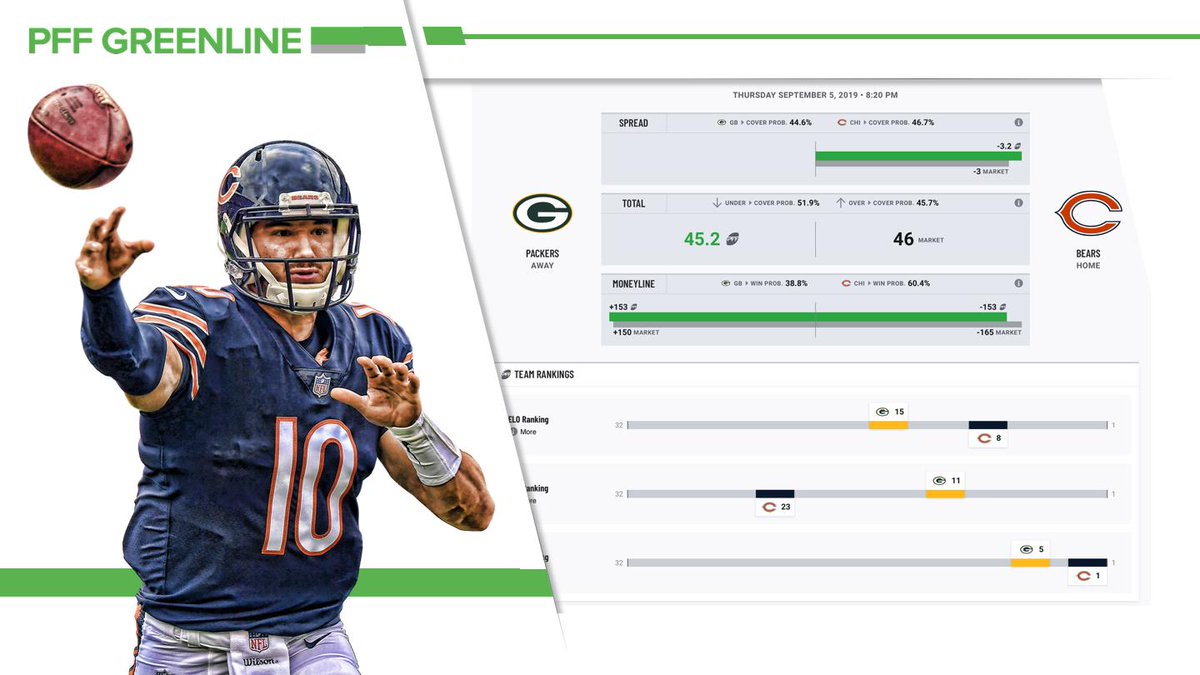 When handicapping who the NFL MVP will be, there are a few things to consider. Firstly, the MVP generally will play for one of, if not the, best teams in the league. The last player to win the MVP playing for a team that was not one of the league's best was Adrian Peterson in 2012, as he carried a Christian Ponder-led Vikings team to a 10-6 record and a quick playoff exit.
Peterson is a good exception that proves the point; the NFL MVP is almost always a quarterback, so limiting one's attention to that position is also a solid process. When studying quarterbacks, we will use PFF Wins Above Replacement, our metric for how many wins a player generated for his team above a replacement-level player during the course of a season. Mahomes was the most valuable player in this metric in 2018 (just edging out Drew Brees, who graded better throw for throw but threw less frequently), while Tom Brady was in 2017 (when he won the award) and 2016 (when Matt Ryan won it). The most valuable quarterbacks (on average) the last three years have been, with their MVP price from OddsShark:
Patrick Mahomes (just one season as a starter) +500
Tom Brady +1600
Andrew Luck (just two seasons as a starter) +600
Matt Ryan +3000
Drew Brees +1200
Russell Wilson +2500
Aaron Rodgers (including injury-stricken 2017 season) +1000
Philip Rivers +2000
A few other quarterbacks high on the odds list include:
Baker Mayfield +1100
Carson Wentz +1200
Deshaun Watson +2000
Ben Roethlisberger +3000
After filtering just to quarterbacks, another way to whittle down the list is to consider teams with a nontrivial chance to win the Super Bowl. As you can read in our division previews, we have these computed for each NFL team, with the most-likely teams being the Chiefs (15%), Patriots (14%) and the Saints (12%), followed by the Rams (9%), Eagles (6%), Steelers (5%), Chargers (4%), Colts (4%) and the Seahawks (4%).
The prices for Mahomes, Rodgers, Mayfield, Wentz and Luck (especially given his current injury status) are prohibitive, and while Brady has continuously defied the age curve, the loss of Gronk and possibly a tougher schedule than usual in the AFC East make betting on him a bit much. Seattle did well last season on some third-down variance and in the masking of defensive deficiencies, a trend that will likely regress in 2019, so Wilson (yet to win an MVP award) is a "not-likely-enough" as well. This leaves us with a few names, that I'll examine here:
Our fantasy projections have Ryan leading the NFL in passing yards, leveraging a more-efficient offense under Dirk Koetter and emergence from players like Calvin Ridley and Devonta Freeman. While their defense should improve in 2019 from their injury-riddled status from last year, it probably will not be the shut-down unit that will put the Falcons in a position to sit on a lead in numerous games, leading to more passes and more of an opportunity for the 2016 NFL MVP to shine.
Subscribe to PFF Edge to continue reading
Already have a subscription? Sign In