NFL football is back! And we're back with our third year of writing about picks in the NFL. After a rough start to last year, we're 93-81-10 (53.5%) on printed picks, including 65-54-6 against the spread (54.6%). While we've started the offseason with some win total selections, the games are where the fun is. 
These picks are inspired by our PFF Greenline product, which provides metrics and probabilities for each game in the NFL and NCAA.
While the Bears-Packers opener isn't written up here, you can still come and hate on our takes at PFF's YouTube channel.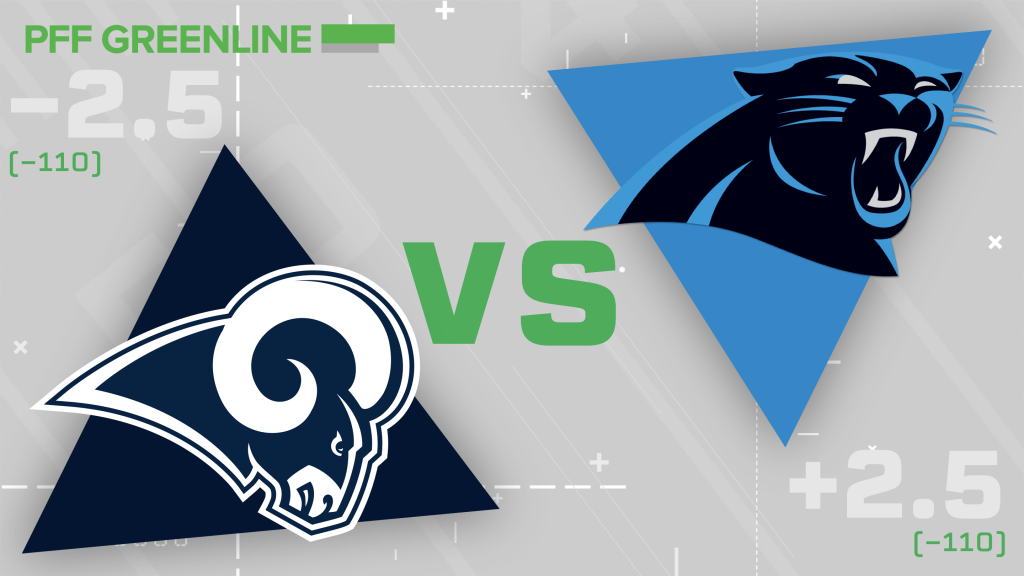 Pick: The Rams cover
Point (George Chahrouri): A lot is made of the post-Super Bowl loss hangover — but we're talking about Los Angeles, where you don't get hungover. Instead, you use your parents' credit card to pay for someone to come to your apartment and give you a kombucha IV that will guarantee you suffer no ill effects. Unlike most LA Millenials, Sean McVay, Jared Goff and Aaron Donald have plenty of dollars with which to wipe away the sins of the Super Bowl defeat, and there is no better way to do that than by opening up the season with a convincing road win. 
Aside from the obvious desire to prove the doubters wrong, McVay and Goff will have another important weapon at their disposal that they didn't have last February, Cooper Kupp. Goff's 145.9 passer rating when targeting Kupp last season was by far the best of any Rams receiver, as was the expected points added per target. In fact, both those figures ranked second in the entire NFL behind the Russell Wilson to Tyler Lockett connection. With Kupp on the field, the Rams averaged 9.2 yards per pass play which would have been first in the NFL (better than the Kansas City Chiefs), and sans Kupp they averaged 5.9 yards per pass play which would have ranked 25th (worse than the Oakland Raiders). The Panthers have struggled pretty mightily in coverage and allowed the 10th-worst passer rating to wide receivers last season.
The Rams' defense that held the Patriots to 13 points in the Super Bowl will get a Cam Newton that probably isn't going to leverage his running ability given the injuries he's sustained, and when asked to be a pure passer, Newton is not nearly as lethal. Cam made accurate throws to receivers with at least a step of separation at a bottom-five rate last season and was relegated to throwing shorter passes than he ever has in his career (often confused as being a successful move because his completion rate improved).
The Rams were extremely strong last season but still have plenty of room to improve, and that includes the fourth-down decision making of McVay (see NFC Championship game) which would only press the advantage his offense has in almost all matchups. With the futility of the Super Bowl on the minds of many, the Rams storm through Carolina and erase that memory.
Counterpoint (Eric Eager): It's always difficult to back a team traveling from the west coast to the east coast to play at 1 PM EST, especially one that has to lay points. This number opened at around three, so there is some appetite for the dog here. There are certainly some valid reasons why people would be high on the Panthers following a 1-7 fall down the stretch, as the acquisitions of Gerald McCoy, Brian Burns and Bruce Irvin should help a defense that allowed six yards per play in 2018 (fifth-worst in the NFL). That said, we know that pass-rush alone will not make the seventh-worst pass defense in terms of yards per play better if they don't address the secondary (and they really haven't). Reports are the Cam Newton is healthy after a preseason scare, and his ability to distribute the ball into the hands of the league's most valuable running back in Christian McCaffrey and a stable of young receivers (as well as an old one in Greg Olsen) will likely determine if this bet hits or not.
Subscribe to PFF Edge to continue reading
Already have a subscription? Sign In