While the NFL's contenders still push all of their efforts into 2018 and a Super Bowl appearance in February, the league's one- and two-win teams (among some others) are already starting to look at free agency in March.
As such, we've highlighted some of the best players on the offensive side of the ball slated to have their contracts expire at the end of the 2018 season.
[Editor's Note: This is one of a two-part series where we'll take an early look at some of the top projected 2019 free agents. Our list of top defensive free agents will be released on Friday.]

Quarterback
Teddy Bridgewater, New Orleans Saints
Bridgewater headlines a rather weak 2019 free agent quarterback class, but he holds plenty of intrigue himself after a return from a gruesome knee injury in 2016. Prior to that knee injury, Bridgewater had recorded overall grades of 75.6 in 2014 and 70.4 in 2015, both of which ranked in the top half of the league. In his only significant game action since the injury – this preseason – Bridgewater delivered an overall grade of 80.9, which ranked sixth of 64 quarterbacks with at least 40 passing attempts. Of course, the preseason does not exactly compare to regular season action, but Bridgewater looked sharp, especially under pressure where he recorded a passer rating of 136.0. He appears to have put the knee injury behind him and could very well still be a quality starter in the NFL.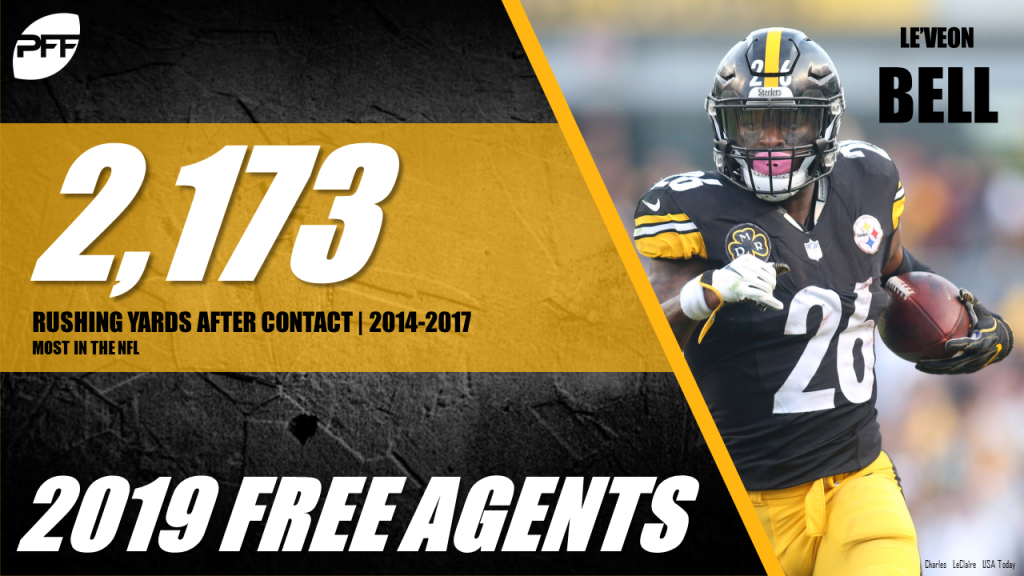 Running Back
Le'Veon Bell, Pittsburgh Steelers
The Le'Veon Bell saga came to an end yesterday, at least as far as the 2018 season is concerned, when he did not report to the Steelers prior to the deadline. That means that his time in Pittsburgh is likely over and will likely hit the open market prior to 2019. Bell has been an absolute workhorse and elite talent at the running back position. From 2014 to 2017, no running back recorded more yards after contact (2,713), forced more missed tackles rushing (169) or converted more first downs rushing (244) than Bell. More importantly, he has added value in the passing game with a receiving grade of 86.2 over that span, which ranks in the top-10 at the position. Bell will be coming off a year-long absence and his worst overall grade in 2017 since his rookie season, but his production puts him clear at the top of the free agent running back class.
Honorable Mentions: Mark Ingram II, Tevin Coleman, Jay Ajayi, Latavius Murray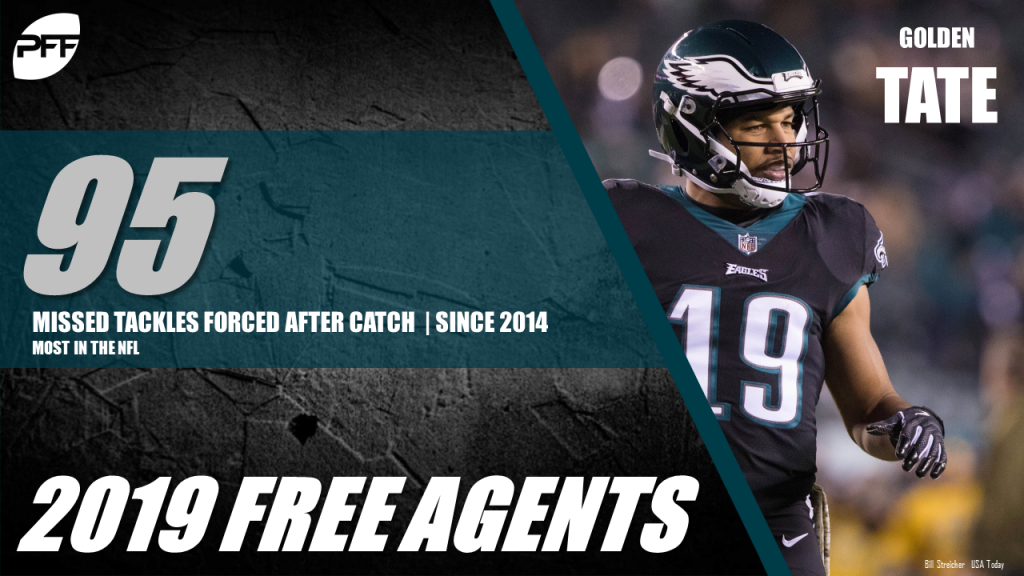 Wide Receiver
Golden Tate, Philadelphia Eagles
It's likely that the Eagles will attempt to retain Tate after the season, but if they don't, then there will surely be a market for the shifty wideout. Tate will be 31 next year, but he has shown himself to still be effective in recent seasons. He is the sort of the player that any quarterback would love to throw to because he is capable of turning a short route into a big-time play down the field. Since his trade to the Detroit Lions in 2014, no wide receiver has amassed more yards after the catch than Tate's total of 2,507 yards, nor has any wide receiver avoided more tackles than Tate's 95. That after-the-catch ability is what makes Tate one of the premier wide receiver options in the 2019 free agency.
Larry Fitzgerald, Arizona Cardinals
Fitzgerald would climb to the top of the list of free agent wide receivers available if he ends up becoming available in 2019, but it's hard to imagine he'll be interested in hitting the market at all. If retirement isn't in store for Fitz, then it seems likely that he will return to Arizona where he has spent the entirety of his career.
Honorable Mentions: Devin Funchess, John Brown, Quincy Enunwa, Randall Cobb
Tight End
Tyler Eifert, Cincinnati Bengals
It's hard to watch injuries derail the promising career of Eifert; the man just can't catch a break and string together multiple healthy seasons. Despite that, he will be the top free agent option on the market at tight end this offseason because he has been a top-of-the-line talent when on the field. In his last somewhat full season back in 2015, Eifert's 87.5 overall grade ranked fifth among tight ends. He followed that up with an 80.7 overall grade in a partial 2016 season. Eifert has been particularly effective in the red zone with the highest receiving grade of all tight ends with 25 or more targets in the red zone since 2015. Even with all the time he has missed in the past four seasons, Eifert still has racked up 16 red-zone touchdown receptions in the regular season, which trails only Jordan Reed. If he can just remain healthy, Eifert can have a big impact on any passing attack.
Honorable Mentions: Jared Cook, Jesse James, Luke Willson
Tackle
Daryl Williams, Carolina Panthers
Williams is another player that is sidelined for the remainder of the 2018 season due to injury. It's a tough break for the fourth-year tackle, as he was coming off a breakout 2017 season in which his 78.0 overall grade ranked behind only Ryan Ramczyk and Lane Johnson at the right tackle position. He showed effectiveness as a run blocker and as a pass blocker with top-10 marks in both among right tackles. Coming off of his rookie contract, Williams makes an intriguing tackle option in the 2019 free agency class. If his improvement in 2017 is anything to go by, whichever team ends up signing him could end up with one of the top tackles in the league.
Honorable Mentions: Trent Brown, Bobby Massie, Ja'Waun James
Guard
Rodger Saffold, Los Angeles Rams
The upcoming group of free agent guards is deep with multiple quality starters such as Levitre, Foster and Spain, but perhaps the best of the group is Saffold. He has graded above 64.0 in every season of his career besides a 2015 season in which he only played five games, and Saffold has been very good recently with the second-highest grade among left guards both this season and last season. He's part of a Rams offensive line that is the best run-blocking unit in the NFL, as well as the fourth-best pass-blocking group in the league based on PFF team grades. Whether Saffold returns to Los Angeles in 2019 or takes his talents elsewhere, he will bring a proven, veteran force at the guard position.
Honorable Mentions: Andy Levitre, Ramon Foster, Quinton Spain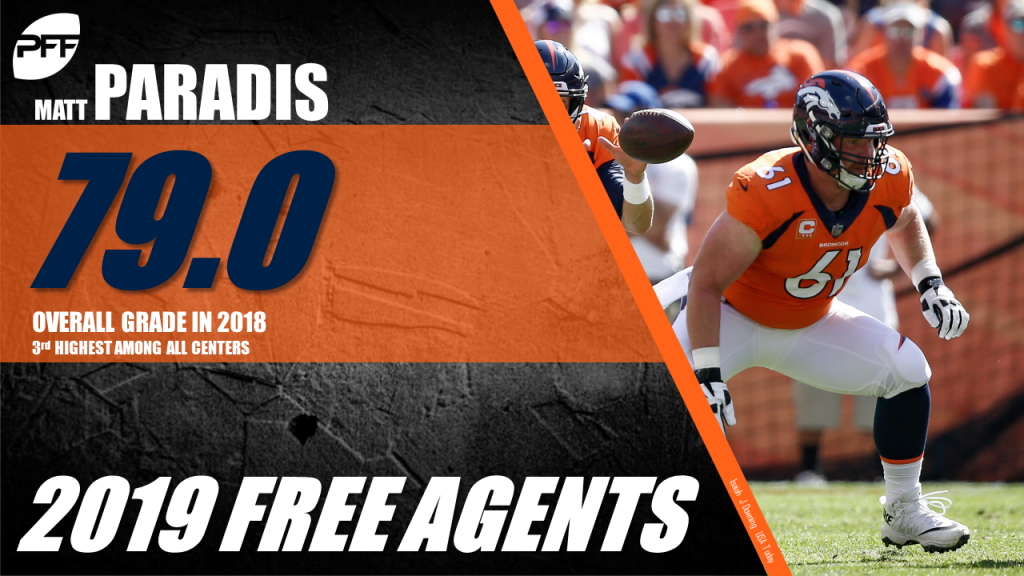 Center
Matt Paradis, Denver Broncos
As opposed to the guard position, there is only one truly strong option at the center position – Matt Paradis. He was a sixth-round selection by the Broncos in the 2014 draft. Since taking over as the starter in 2015, he has quietly developed into one of the best centers in the NFL. Who are the highest-graded centers since 2015? Alex Mack, Travis Frederick, Jason Kelce, and then Paradis. That is some solid company to be keeping, and it's the reason that Paradis should be a priority to sign for the Broncos. Just looking at 2018, Paradis is one of only two centers, along with Kelce, to have pass-blocking and run-blocking grades above 77.0. Unfortunately, he did suffer a broken leg in Week 9 which resulted in an Injured Reserve designation. If Paradis isn't re-signed, then he will turn into a hot commodity on the free agent market.  
Honorable Mentions: Ryan Kalil, Travis Swanson