This time five years ago, the Seattle Seahawks had just brought their first Lombardi Trophy to the Northwest after smothering Peyton Manning and the record-setting Denver Broncos offense in Super Bowl XLVIII. The vaunted defense was historically dominant and had young talent anchoring each level, from Michael Bennett along the defensive line to Kam Chancellor roaming around the secondary. The defense earned the highest overall grade (91.8), tackling grade (92.7), pass-rush grade (83.0), and coverage grade (95.3) in the NFL, all while ranking fifth in team run-defense grade (88.1).
Since the heartbreaking loss to the New England Patriots in Super Bowl XLIX, seemingly every offseason has been accompanied by a prominent defensive player leaving the team. It started with Byron Maxwell in 2015, and it culminated with the departure of Earl Thomas III just months ago. Entering 2019, only two Championship-appearing defenders remain – linebacker K.J. Wright re-signed with the team this offseason, while defensive leader Bobby Wagner will hit free agency next offseason if not signed prior to then.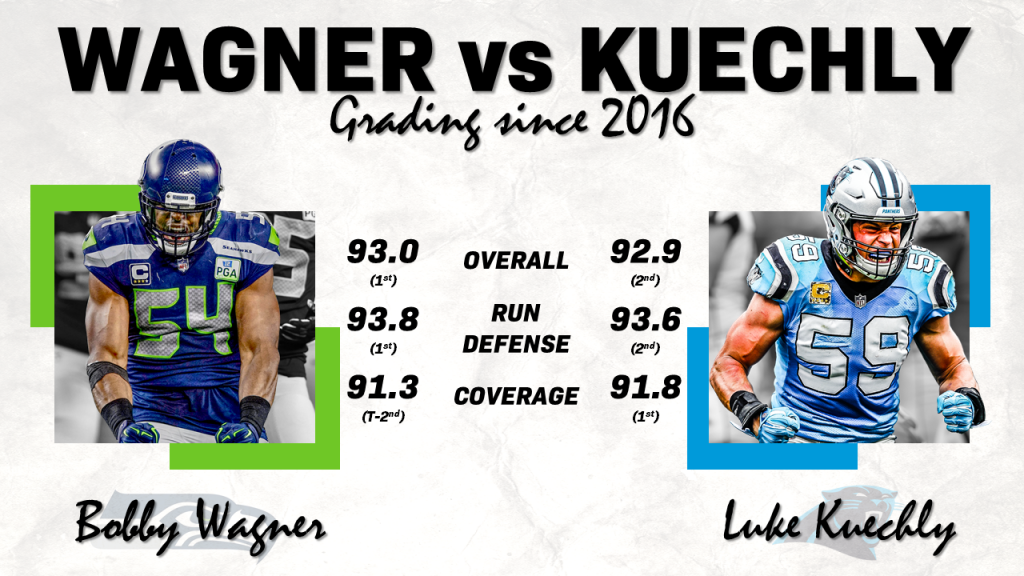 Wagner was selected in the second round of the Seahawks' illustrious 2012 draft class; a class that helped solidify the team on both sides of the ball; a class that also included the selection of quarterback Russell Wilson in the third round. Wagner and Wilson both made an immediate impact in their rookie years, but while Wilson became the face of the franchise, Wagner quietly earned the second-highest overall grade (88.4) by a rookie linebacker since 2006, and he ended the 2012 season ranked third among all players at the position.
The former Utah State product quickly established himself as a sideline-to-sideline missile in run defense while making his mark as one of the surest tacklers in the NFL, but to start, he didn't quite find his footing in coverage or as a pass rusher. After a very promising rookie year, Wagner had a bit of a tough three-year stretch from 2013-2015, which started with a sophomore slump in which he earned a career-low 66.9 overall grade. That was mostly due to an uncharacteristically low 60.7 run-defense grade, nearly 19.0 points worse than his next-lowest season.
During that three-year stretch, Wagner earned an overall grade of 75.8, a respectable mark that was good enough for 23rd among qualifying linebackers in that span. Although, that was mostly because of his strong play in the run game, not because of improvement to his weaknesses. However, as Wagner entered his fifth season, it was as if he flipped a switch and was able to take his performance to another level.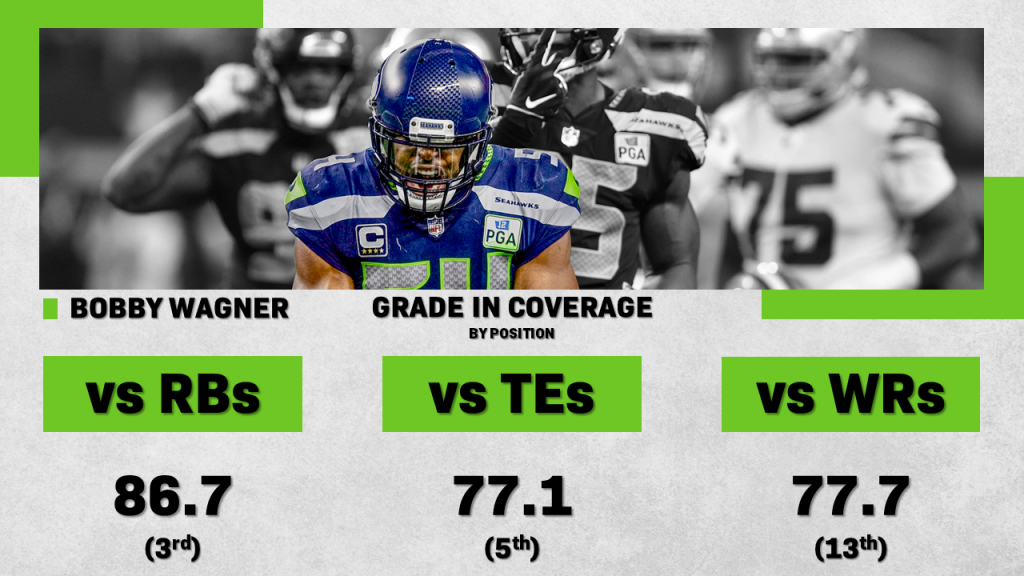 The 2016 season signaled the start of Wagner's ascendence to the upper echelon of NFL linebackers. From 2016 to 2018, the former Aggie not only improved on his strengths like run defense, but he was also able to eliminate his weaknesses in the passing game. In 2017, Wagner became the first defender of the PFF era to earn an elite, 90.0-plus grade in each of the five facets of the game.
It was in that span that Wagner went from promising young defender to arguably the top linebacker in football. His three-year grades from 2016-18 eclipsed those of Luke Kuechly in every part of his game except for coverage, where Wagner fell just short of Kuechly's 91.8 grade with a 91.3 grade of his own.
While becoming arguably the league's best all-around linebacker, Wagner's strongest trait has been his tackling throughout it all. In Week 16 of the 2018 season, Wagner had his streak of 116 consecutive attempted tackles without a miss come to an end, which meant Wagner was stuck with a tie for the second-longest such streak since 2006 with Takeo Spikes, only 24 attempts behind the record – which Wagner also owns. Over the past two seasons, he has missed only five tackles on an unfathomable 277 attempts. In comparison, Kuechly missed nine tackles on 140 attempts in 2018 alone.
Wagner's rise to becoming the player he is today can be summed up by his Week 13 performance against the San Francisco 49ers. There was arguably a no better example of a defender commanding a defense while having a hand in every facet of a game.
Last season, the Seahawks defense graded outside of the top six for the first time since 2010, so Wagner will need to continue his well-rounded performance on the field as the team transitions new, younger faces into the fold all around him.
But if any player can carry a defense back to dominance, Wagner is one of the safest bets in the league.