The Green Bay Packers have cycled through a bevy of running backs for quite a few years now, searching for the running back that could lead their backfield and take some of the load off Aaron Rodgers. Surprisingly, the Packers already have that running back, but he's buried down the depth chart.
Aaron Jones missed his first two games this season due to a suspension and upon his return, he did all that he could to take over the backfield. Among running backs with at least 30 carries, Jones' 77.1 overall grade ranks ninth, his 80.3 rushing-grade ranks sixth and his 5.9 yards per attempt ranks fifth. The Packers are searching for a running back who can be a difference-maker in their offense, and Jones is that running back.

In his first game back from suspension, Jones took his six carries and turned them into 42 yards along with forcing two missed tackles. In the following week against Buffalo, Jones played a season-high 38 percent of the team's snaps. The sophomore running back toted the rock 11 times, rushing for 65 yards and forcing an absurd six missed tackles in the process. Two of his 11 runs went for longer than 10 yards, and he also caught his lone target for 17 yards. He looked like the swift, elusive, game-changing playmaker that the team had been searching for, but Green Bay's brass was seemingly unconvinced. 
In the following game against Detroit, Jones played 11 percent less of the team's snaps and saw three fewer touches, as well. In fact, his snap percentage has decreased every week since that solid performance against the Bills. On the season, Jones averages just 21.5 snaps per game and an inexcusable nine touches per game.
On top of Jones' impressive grades and yards per attempt numbers this season, he also has managed to get first downs on 12 of his 32 rushing attempts. Not only that, but he also has seven carries for more than 10 yards. To put that in context, his teammate Jamaal Williams has rushed the ball 59 times and has just five runs of over 10 yards. Jones also has forced a mind-boggling 11 missed tackles on his 32 attempts for an elusive rating of 89.8, the sixth-best mark among qualifying running backs. He also has a breakaway percentage of 43.1 (11th) and has four runs of 15 or more yards. By comparison, Todd Gurley has just eight runs of 15 or more yards on a whopping 144 attempts.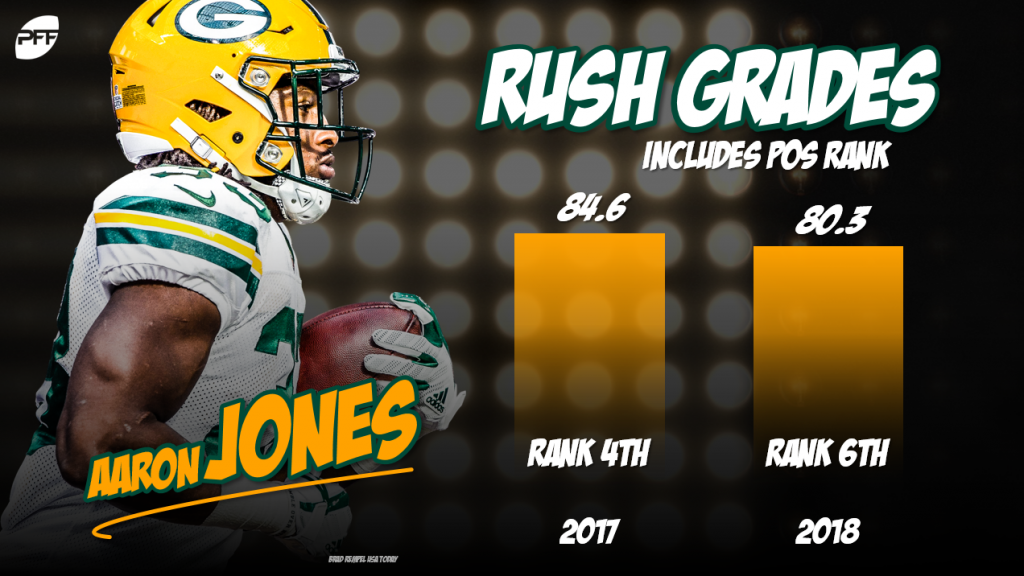 While Jones continues to impress and wow with each touch he gets, Williams has done the exact opposite with a heightened workload. His 65.9 grade and 65.2 rushing-grade both rank 35th among running backs with at least 30 carries. He's recorded just 3.8 yards per attempt (39th) and 2.49 yards after contact per attempt (43rd). What's most shocking is that on his 59 rushing attempts, Williams has forced just two missed tackles. Not surprisingly, Williams' elusive rating is just 11.2, 55th out of 56 qualifying running backs, and he has yet to record a rush of greater than 15 yards all season.
Coaches like to rely on committees by citing things like the importance of pass protection and many would probably cite that as a reason that Williams continues to see snaps and touches over Jones. However, Williams has recorded a pass-block grade of 79.4 on the season, while Jones has registered an 82.5 pass-block grade.
Jones has flashed brilliance when he has been called upon to run the football this season. He has a dynamic running style that really pops, especially when compared to Williams' style. Jones has the ability to make people miss at a ludicrous rate and can pick up long gains — something Williams just hasn't shown the penchant to do this season.