We continue our series on the best and worst contracts at each position, this time with the most overpaid veteran tight ends. For each player named, we give the years remaining on his contract, the average cap hit he has against the team for the remaining years of his deal, and the season in which the team can cut him and have more cap savings than dead money.
[Editor's note: All cap numbers are from Over the Cap.]
1. Dwayne Allen, Indianapolis Colts
Years remaining: Four
Average remaining cap hit (per year): $7.3 million
Year he can realistically be cut: 2018
Among the more perplexing contracts this offseason was the one Dwayne Allen received when he re-signed with the Colts. Last year, his 0.56 yards per route run was the lowest for tight ends with at least 185 routes run. His run-blocking grade of 33.1 was the third-lowest among qualifying tight ends.
2015 was a down year for Allen, and at his best, we've seen decent play from him. In fact, in his rookie season, he earned the highest run-blocking grade for tight ends. Allen has never topped 600 receiving yards or 50 catches in a season, marks hit by 12 other current NFL TEs. Even if Allen returns to playing like the best we've seen from him, he would be slightly overpaid. There is reason for optimism with Andrew Luck back and Coby Fleener no longer grabbing a share of Allen's snaps, but even with those factors working in his favor, it's hard to expect someone to play better than they've ever played during their second contract.
2. Kyle Rudolph, Minnesota Vikings
Years remaining: Four
Average remaining cap hit (per year): $7.2 million
Year he can realistically be cut: 2017
Kyle Rudolph is similar to Allen in that his best performance came at the start of his career, and he hasn't played as well since—thought not to the same extremes as the Colts TE. He was a top-16 tight end in run-blocking each of his first two years in the league, but had a PFF grade of 45.7 in run-blocking last year. Over the course of his career, he's been a slightly-better-than-average receiver, but has never topped 550 receiving yards. He's generally been good when the ball is in his hands, but he consistently hasn't been thrown to enough. Last season, he was targeted on 15.8 percent of his passing routes last, the second-lowest rate for tight ends with at least 400 routes run.
The contract extension he signed in 2014 came under the impression that he would continue to build off his first few years, but his play hasn't been on the rise. If Rudolph doesn't become a bigger part of the Vikings' offense over the next year or two, it wouldn't be surprising if he is released because he simply hasn't been worth the money Minnesota is paying him.
3. Jordan Cameron, Miami Dolphins
Years remaining: One
Average remaining cap hit (per year): $8.0 million
After two solid years as a receiving tight end in Cleveland, the Dolphins signed Cameron to a two-year contract, and the first season of that deal was a flop. Last year, his 0.97 yards per route run mark was the lowest for tight ends with at least 300 routes run. In fact, in each of the last two games of the season, fellow Miami tight end Dion Sims played more snaps than Cameron. Even at his best in 2013, Cameron recorded the second-most receiving yards for tight ends, but part of that was simply volume of targets—his receiving grade was only 15th among his positional peers that season. It doesn't help his case that he's graded out as a below-average run-blocker each of the last four seasons.
After his poor performance, he took a pay cut (which saved him from getting released), but his cap hit is still the fourth-highest for tight ends in 2016. If we were just looking at worst contracts in 2016, Cameron would have topped the list, but since the Dolphins are free from his contract after the year, that dropped him to No. 3 on this list.
4. Julius Thomas, Jacksonville Jaguars
Years remaining: Four
Average remaining cap hit (per year): $8.9 million
Year he can realistically be cut: 2017
After Julius Thomas had a 12-touchdown season with the Broncos in 2014, the Jaguars grabbed him in free agency with a big five-year deal. His first year in Jacksonville wasn't even close to the front office's likely expectations, however. Thomas dropped six of 52 catchable passes thrown his way, which was the worst rate for tight ends who saw as many targets as Thomas. Interestingly, he never exceeded 25 receiving yards in an away game. To Thomas' credit, though, he has improved his run-blocking over recent years.
There is reason to believe Thomas can do better in his second year with Jacksonville if healthy—unlike the start of last year—and can develop more chemistry with quarterback Blake Bortles. Thomas at his best has also been better than the other tight ends higher on this list, so there is a higher likelihood of things working out. If things don't work out, however, Jacksonville structured the contract in a way that most of his guaranteed money was paid out last year and this year. This makes it a lot easier for Thomas to be cut in the coming seasons compared to the top TEs on this list.
5. Jason Witten, Dallas Cowboys
Years remaining: Two
Average remaining cap hit (per year): $9.1 million
Year he can realistically be cut: 2017
Throughout the PFF era, Jason Witten has been the tight end of the Dallas Cowboys, and has consistently graded as one of the better TEs in the NFL. Despite being an excellent tight end over his career, Witten has been on a steady decline, and his play took another step for the worse in 2015. His yards per route run has declined every season in the PFF era (since 2007), and for the first time in the last 10 years, his run-blocking grade was below league average.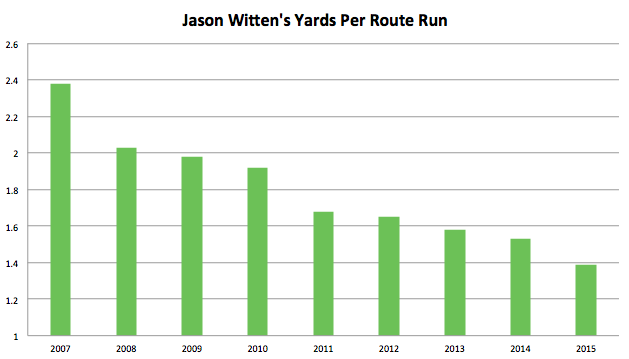 Witten ended the 2015 season with an overall grade of 70.6, 29th best for tight ends last year. He is still good enough to be a starter, but in each of the next two seasons, he's the TE with the third-highest cap hit. At 34, Witten is the third-oldest tight end in the league, so it's unlikely he will return to playing at a top-five level, which would make his play match his cap hits. It's hard to imagine Witten getting cut next year, making it likely that he will still be among the league's most overpaid tight ends in 2017.