Another week, another 32 Observations by Nathan Jahnke finding an interesting piece of information about all 32 teams after one week of football. If you would like to make some observations of your own, you can do so with PFF Elite, where you can find several signature statistics for every offensive and defensive position in football.
AFC EAST
Buffalo Bills: Rookie cornerback Tre'Davious White has a playmaker index of 26.9 percent, which means he's had an interception or pass breakup on 26.9 percent of times he's been thrown at. That is the second-best for cornerbacks this season, and second-best for a rookie cornerback through the first four weeks in the PFF era.
Miami Dolphins: When Jay Cutler has not had pressure on him, he's had an adjusted completion percentage of 83.8 which is the second-best for all quarterbacks so far this season.
New England Patriots: When cornerback Stephon Gilmore lines up in press coverage which he has done for 72 pass plays, he allows 0.14 yards per coverage snap. That is the best for cornerbacks with at least 40 coverage snaps lined up in press.
New York Jets: Linebacker Demario Davis has 21 stops this season after having 15 the last two weeks. The 21 stops is the most for any linebacker in 2017.
AFC NORTH
Baltimore Ravens: Running back Alex Collins has not been tackled on first contact on 48.0 percent of his carries this season. That is the best rate for any back with 15 or more carries this year.
Cincinnati Bengals: Quarterback Andy Dalton had two passes thrown away this week which brings his total for the season up to 11. That is tied for third-most for a quarterback after four weeks in the last 12 seasons. He has a throw away on 7.7 percent of his dropbacks, which is up from 5.3 percent last year which was his career high.
Cleveland Browns: Cornerback Jason McCourty has made seven stops in the pass game and hasn't missed a tackle. The seven stops is tied for third-most among cornerbacks, and he is the only one with more than five to not miss a tackle.
Pittsburgh Steelers: Linebacker Ryan Shazier is one of three linebackers with three combined interceptions and pass breakups. He's intercepted one pass while breaking up another two this season.
AFC SOUTH
Houston Texans: Running back Lamar Miller has caught 45 passes over the last two seasons, and has not dropped a pass in that time. No other running back has more than 25 catches in that time frame with no dropped passes.
Indianapolis Colts: The Colts have played rookies for a combined of 911 offensive and defensive snaps so far this season, which is second most in the NFL. They had over 150 more snaps from their rookies than the third most team.
Jacksonville Jaguars: Over the last two seasons combined, tight end Marcedes Lewis has made 24 catches and hasn't dropped a pass. That is the most catches for a tight end over that span for those who haven't dropped a pass.
Tennessee Titans: Since being drafted in 2016, Derrick Henry hasn't had a large role in the pass game with just 14 catches. However on those catches he's had 12 players miss tackles on him. That rate of 0.86 defenders missing tackles on him per carry is the best rate in that time.
AFC WEST
Denver Broncos: This past week linebacker Todd Davis missed a tackle, just the sixth one in his four-year career. Since joining Denver as an undrafted rookie in 2014, he has a tackling efficiency of 25.7 which is the best for any linebacker in that time frame.
Kansas City Chiefs: Wide receiver Tyreek Hill has only run 45 routes in the slot so far this season, and has only been targeted on nine of those routes. He's turned those nine routes into seven catches for 151 yards and two touchdowns. His 3.36 yards per route run in the slot is the best for wide receivers this season.
Los Angeles Chargers: Left tackle Russell Okung as allowed one sack and five hurries so far this season. His 96.9 pass blocking efficiency is the best rate for a Chargers offensive tackle four weeks into the season in the last 12 years.
Oakland Raiders: When wide receiver Michael Crabtree has been targeted, the Raiders quarterbacks have had a passer rating of 147.1. That is the third best rating for a wide receiver this year.
NFC EAST
Dallas Cowboys: Center Travis Frederick has gone 1617 straight pass blocks without allowing a sack. That is the longest streak for active centers. His last sack allowed was in Week 9 of the 2014 season.
New York Giants: Over the last two seasons combined, Weston Richburg has a pass blocking efficiency of 98.6, which is third best for centers behind just Rodney Hudson and Travis Frederick.
Philadelphia Eagles: This past week running back LeGarrette Blount ran the ball 16 times for 136 yards with 128 of those yards coming after contact. It was just the sixth time in the last 12 years a back was able to maintain an 8.0 yards after contact per carry average over 16 or more attempts.
Washington: Quarterback Kirk Cousins has an adjusted completion percentage of 95.5 percent on play action passes. He's completed 18-of-24 play action passes, and of his six incompletion two were intentionally thrown away and three were dropped passes. That 95.5 percent is tied for the best for a quarterback after four weeks in the last five seasons. The one he's tied with is Kirk Cousins from 2014.
NFC NORTH
Chicago Bears: Since the start of the 2016 season, Dion Sims has dropped one pass, and Zach Miller has dropped two. Their drop rates of 2.8 percent and 3.2 percent, respectively, are fourth- and fifth-best for tight ends with at least 25 catches.
Detroit Lions: Defensive end Anthony Zettel has four sacks, one hit and 15 hurries on the season from 83 pass-rushes. His pass-rushing productivity of 19.3 which is the second best for all edge defenders.
Green Bay Packers: Over the last two seasons when the Packers have been within five yards of scoring, Jordy Nelson has 10 touchdowns which is the most for all wide receivers. Second most is Davante Adams at seven.
Minnesota Vikings:  In three out of four games this season, left guard Nick Easton hasn't allowed a pressure. He's allowed a pressure on just 1.4 percent of pass blocks which is the best for left guards to start every game.
NFC SOUTH
Atlanta Falcons: Running back Devonta Freeman had a touchdown running it in from the 1-yard line. Since the start of the 2016 season, he has 14 rushing touchdowns when running from the 5-yard line or less. That is the second-most for all backs.
Carolina Panthers: The Panthers have used their rookies for a combined 290 offensive and defense snaps so far this season, which is the lowest amount for any team in the NFC this season.
New Orleans Saints: This past week the Saints put right tackle Zach Strief on injured reserve. Over the last two seasons combined, he's allowed a pressure on just 4.5 percent of his pass blocks. That is the best rate for right tackles with at least 600 pass blocks in that time.
Tampa Bay Buccaneers: Cornerback Brent Grimes was thrown at three times on deep passes this past week. He had two pass breakups on those passes and the third fell incomplete. Prior to this week, he hadn't been tested on deep passes this season. He is now tied with ten other cornerbacks for most pass breakups on deep passes this season.
NFC WEST
Arizona Cardinals: This past week, Chris Johnson had 27 yards after contact on his 13 carries. That pushed him to 5,443 career yards after contact which moves him up to fifth-most since the start of 2006.
Los Angeles Rams: When quarterback Jared Goff is not under pressure he has a passer rating of 128.0. That is the best in the league. The only quarterbacks in the league to have a better mark after four weeks in any season in the PFF era are Tom Brady, Peyton Manning, Aaron Rodgers, Matt Ryan, Russell Wilson and Philip Rivers.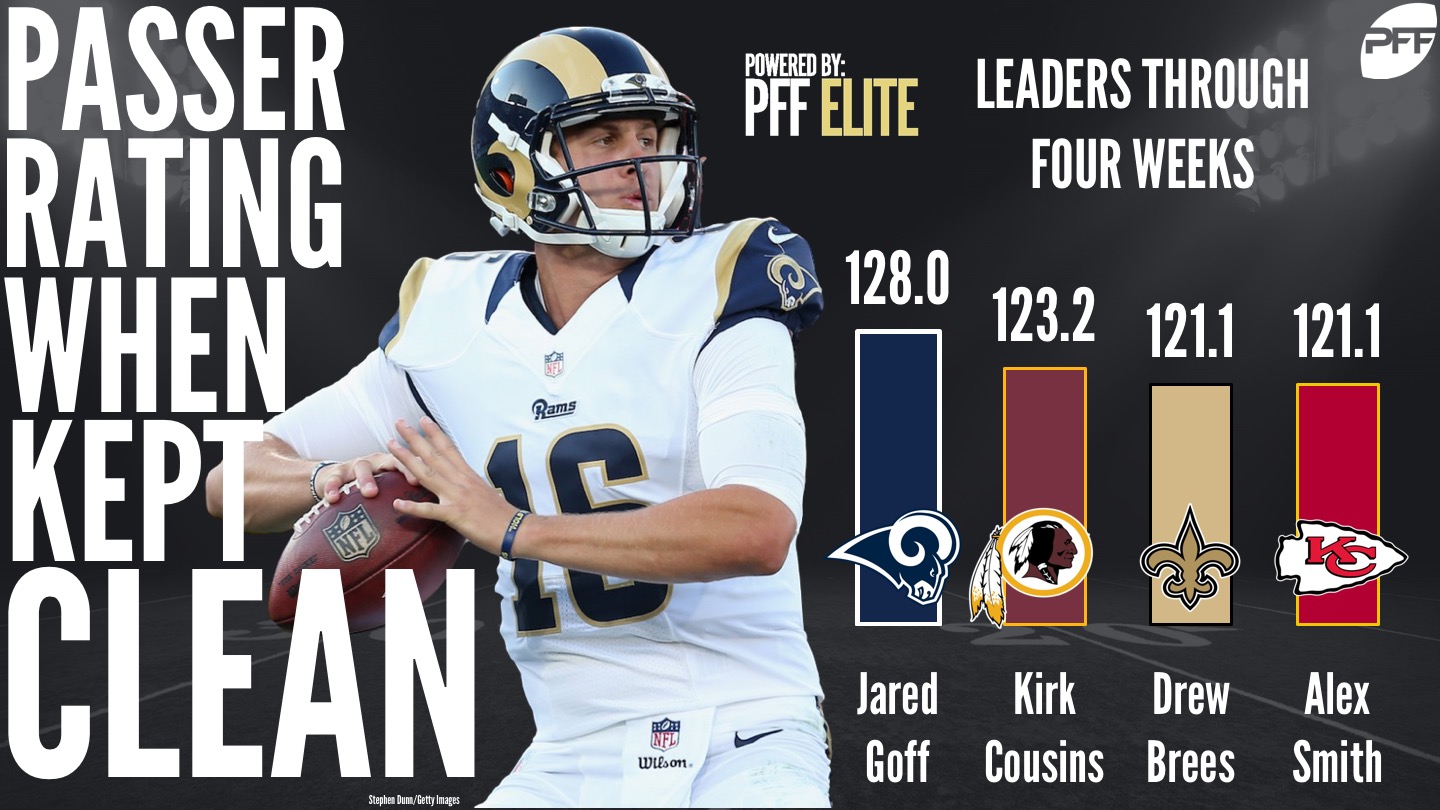 San Francisco 49ers: Quarterback Brian Hoyer has had 12 of his passes dropped, which is the most for any quarterback so far this season.
Seattle Seahawks: This past week was just the third time in Russell Wilson's career that he had five completions on deep passes. One of the two previous times was their Super Bowl loss.