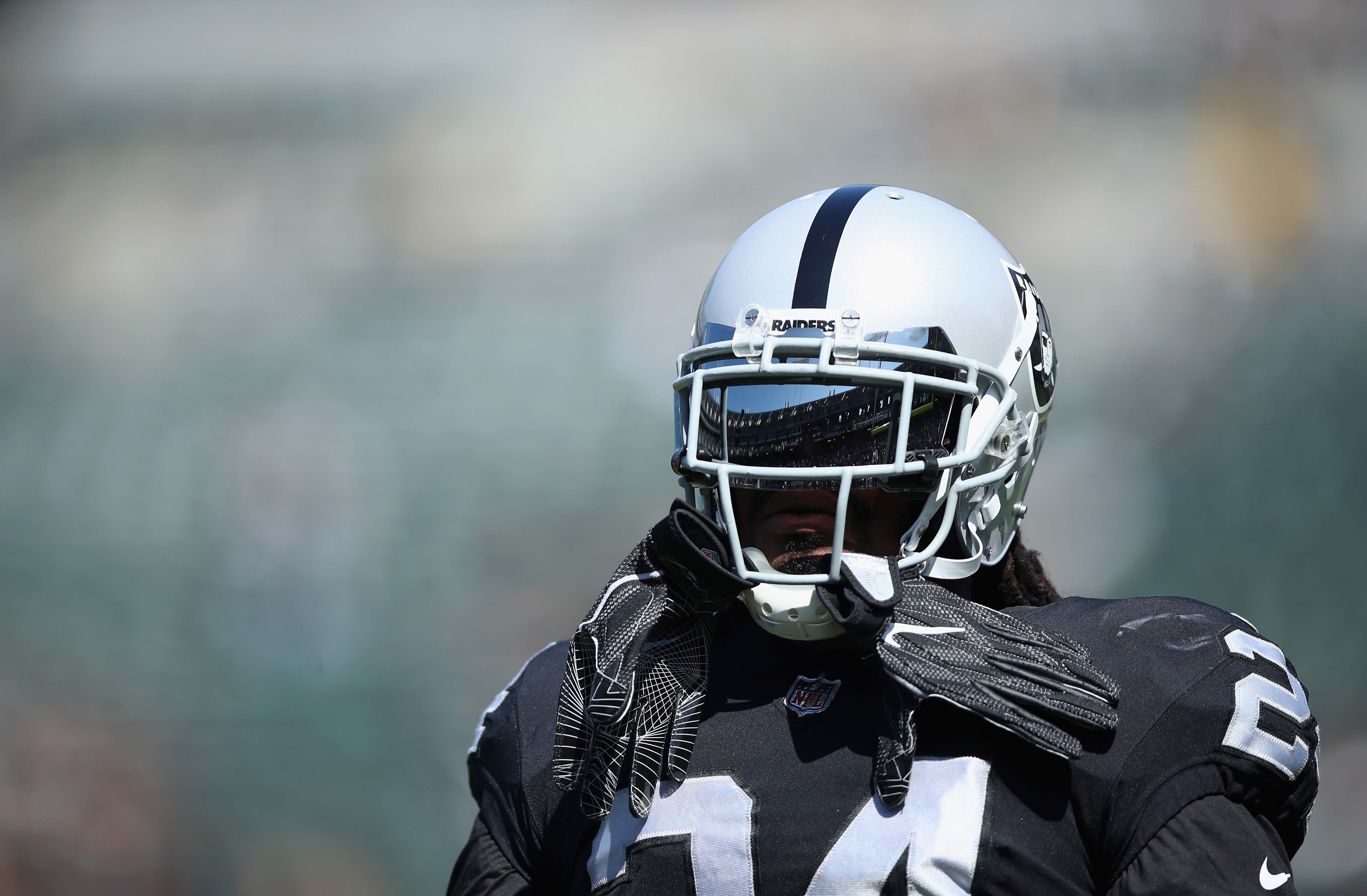 OAKLAND, CA - SEPTEMBER 17: Marshawn Lynch #24 of the Oakland Raiders warms up before their game against the New York Jets at Oakland-Alameda County Coliseum on September 17, 2017 in Oakland, California. (Photo by Ezra Shaw/Getty Images)
Another week, another 32 Observations by Nathan Jahnke finding an interesting piece of information about all 32 teams after two weeks of football. If you would like to make some observations of your own, you can do so with PFF Elite, where you can find several signature statistics for every offensive and defensive position in football.
AFC EAST
Buffalo Bills: Defensive tackle Marcell Dareus has gone 43 straight tackles and 20 straight assists in the run game without missing a tackle. That is the longest active streak for interior defenders.
Miami Dolphins: Wide receiver Jarvis Landry has been targeted on 45.5 percent of his routes, which is the top rate for receivers so far this season.
New England Patriots:  Quarterback Tom Brady is averaging 14.9 yards per pass attempt when he's under pressure; the best for a quarterback with 20-plus dropbacks after two weeks since 2006.
New York Jets: Quarterback Josh McCown has an adjusted completion percentage of 100 percent on play action passes. He's completed seven of nine play action passes, with the two incompletions being dropped passes.
AFC NORTH
Baltimore Ravens: When cornerback Brandon Carr has been thrown at, opposing quarterbacks have a passer rating of 7.7. That is the lowest rate for any cornerback in the league.
Cincinnati Bengals: Through two games, Carl Lawson has a pass-rushing productivity of 21.0, which is the best for any rookie edge-rusher through two games with at least 20 pass-rushes in the past 12 seasons.
Cleveland Browns: Left tackle Joe Thomas has a pass blocking efficiency of 98.4. That is the best for left tackles who have played every snap this season, and the second-best rate for him to start a season.
Pittsburgh Steelers: Left guard Ramon Foster is one of just two left guards to have over 500 pass blocks since the start of 2016 and not allow a sack.
AFC SOUTH
Houston Texans: Quarterback DeShaun Watson has 77 yards after contact, and has had four defenders miss tackles on his carries; both the most for any rookie quarterback through two weeks in the PFF era. The only quarterback who matched either number through three weeks was Robert Griffin III.
Indianapolis Colts: Defensive end Margus Hunt has gotten pressure on 20.6 percent of his pass-rushes. The only interior defenders getting pressure more often are Gerald McCoy, Geno Atkins and DeForest Buckner.
Jacksonville Jaguars: Wide receiver Allen Hurns has 2.38 yards per route run when lined up in the slot. Only one receiver has both more routes and a higher yards per route run in the slot so far this season.
Tennessee Titans: After allowing three sacks in his last two games of the 2016 season, Josh Kline is one of just three guards with 73 or more pass blocks, and a perfect 100 pass blocking efficiency so far this season.
AFC WEST
Denver Broncos: Through two games Garett Bolles has a pass blocking efficiency of 97.5. That is the best for a rookie left tackle after two weeks in the past five seasons.
Kansas City Chiefs: Halfback Kareem Hunt has had 10 defenders miss tackles on his carries, which is tied for the most among backs this year. The only other rookies to have double-digit tackles avoided after two weeks in the PFF era are Adrian Peterson, Marshawn Lynch and Alfred Morris.
Los Angeles Chargers: Defensive end Joey Bosa has 65 pressures in his career. That is six more than any other defender in their first 14 NFL games over the last 12 years.
Oakland Raiders: Halfback Marshawn Lynch has only been tackled on first contact on half of his carries. That is the best rate for backs in 2017, and tied for the best for backs after two weeks in the last five seasons.
NFC EAST
Dallas Cowboys: Left tackle Tyron Smith has gone 11 straight games without allowing a sack, the longest rate for a left tackle in the league.
New York Giants: Defensive tackle Dalvin Tomlinson has five run stops, the most for rookie defensive tackles. He has the fourth-most for an interior defender through two weeks in the past 12 years.
Philadelphia Eagles: The Eagles are one of just three teams with eight or more sacks and eight or more hits on the season. They are led by Brandon Graham with three sacks and five hurries on the season.
Washington: Cornerback Josh Norman has allowed a 36.4 percent catch rate, the second-lowest for cornerbacks who have been thrown at ten or more times.
NFC NORTH
Chicago Bears: Halfback Tarik Cohen has been targeted on 39.2 percent of his routes so far. That is the highest rate for any back through two weeks in the PFF era.
Detroit Lions: Right guard T.J. Lang is one of just two right guards to have over 300 pass blocks since the start of 2016, and hasn't allowed a sack.
Green Bay Packers: Only three wide receivers have run 200 or more routes since the start of the 2016 and have not dropped a pass. Two of them are Packers, Randall Cobb and Geronimo Allison.
Minnesota Vikings:  Wide receiver Stefon Diggs has 89 yards on deep passes, the most for any receiver in the NFL this year. By this time last year, there was already six receivers with more deep receiving yards including Diggs at 102.
NFC SOUTH
Atlanta Falcons: Only two teams have three or more pass breakups from their linebackers. The Falcons are one of those teams with De'Vondre Campbell at two and Deion Jones at one.
Carolina Panthers: Thomas Davis is one of just two linebackers with ten or more stops and no missed tackles this season. His 11 stops are second-most for linebackers.
New Orleans Saints: Over the last two seasons, cornerback Sterling Moore has been thrown at nine times on deep passes. He's allowed just two completions, and has a playmaker index of 44.4 percent on those passes. That playmaker index on deep passes is the best for cornerbacks over the last two seasons.
Tampa Bay Buccaneers: Defensive tackle Gerald McCoy has gotten pressure one in every three of his pass-rushes. That is the best rate for any interior defender with at least 20 rushes at this point of the season.
NFC WEST
Arizona Cardinals: Outside linebacker Chandler Jones has 10 pressures when lining up on the defenses right side, which is tied for the most for all edge-rushers when lined up on the right.
Los Angeles Rams: Tight end Gerald Everett has 6.09 yards per route run, which is the best for a rookie tight end in the PFF era, and the best for any tight end with at least five routes this year.
San Francisco 49ers: After allowing 35 pressures over the first 11 games of last season, right tackle Trent Brown has shown great improvement as a pass protector. Over the last five games of last season, he only allowed four pressures, and in the first two games of this season he has yet to allow a pressure.
Seattle Seahawks: Chris Carson has not been tackled on first contact on 46.2 percent  of his carries. That is the best rate for a rookie back after two weeks in the past five years.