Projecting Offensive and Defensive Rookie of the Year honors off of overwhelmingly positive headlines born in rookie minicamps isn't a sound process. However, some of the early praise is worthwhile, as are the early tidbits on unique usage or positional changes for the NFL's newest crop of offensive and defensive talent.
Here, we take a look at some of the budding headlines surrounding the 2019 NFL Draft class coming out of rookie minicamp.
[Editor's Note: All of PFF's advanced stats and grades on the 2019 NFL Draft class can be found in our 2019 NFL Draft Guide. Subscribe to PFF's EDGE or ELITE subscription to gain access!]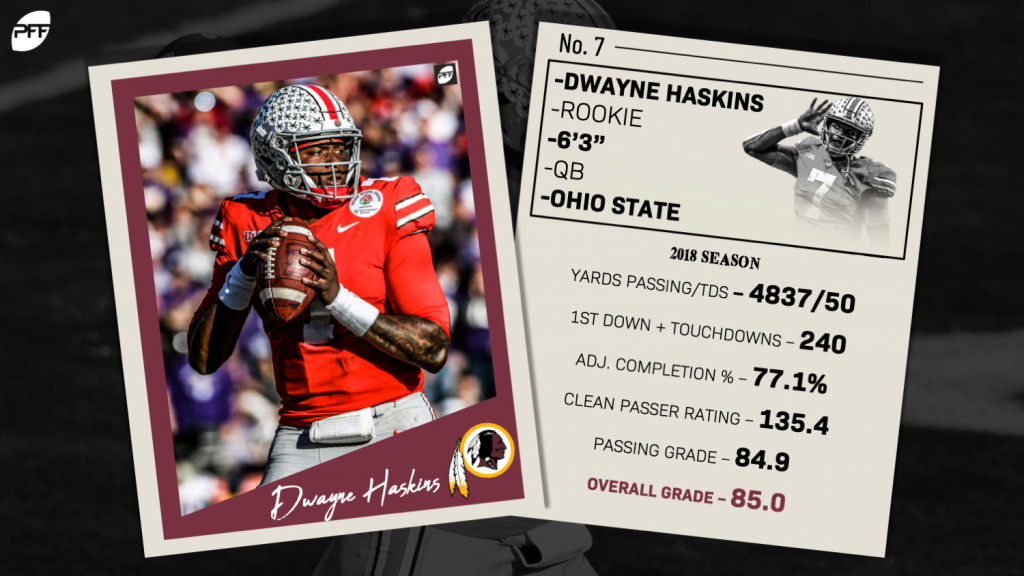 Ohio State connection drawing high praise from Redskins' faithful
The nation's capital welcomed two high-profile Buckeyes in late April, and Redskins' fans are ecstatic, to stay the least.
Per Michael Phillips of the Richmond Times-Dispatch, new Washington quarterback Dwayne Haskins impressed fans in attendance on Friday, so much so that a fan screamed, "you're the answer to our prayers" as Haskins signed autographs after practice.
As if answering prayers weren't enough, Haskins and fellow Ohio State alumnus Terry McLaurin, who the Redskins scooped up in the third round of the 2019 NFL Draft, made waves with their play on Twitter. Now rooming together in Washington, Haskins and McLaurin should see their strong connection at the collegiate level follow the duo to DC.
With Haskins at the helm, McLaurin's passer rating when targeted in 2018 (153.3) led all FBS wide receivers with 25 or more targets – and that's largely propped up by his absurd 11 touchdowns on just 35 receptions. Targeting McLaurin in the red zone in 2018, Haskins completed 8-of-11 passes for 88 yards, two first downs and five touchdowns. McLaurin also logged zero drops in the red zone this past season.
Bucs' Sean Bunting impressing early, a favorite for slot cornerback duties in 2019
New Buccaneers cornerback Sean Bunting, who made a name for himself with his play at outside cornerback with Central Michigan, may be the team's top slot cornerback in 2019.
Coach Bruce Arians praised Bunting for his positional versatility and played both him and fellow rookie Mike Edwards in the slot throughout rookie minicamp. Bucs' Carmen Vitali said Bunting "seems to be the most likely candidate of the rookies" to play in the slot for Tampa Bay's defense.
Bunting, however, doesn't have a ton of experience playing away from outside cornerback. In his career with the Chips, Bunting played 1,922 of his 2,421 career snaps at outside cornerback. He played another 229 in the box and just 36 at slot cornerback. It'll be quite the transition for the Bucs' second-round pick, but he has all of the tools and smarts to learn the position and thrive within it.
Ben Banogu transitioning to off-ball linebacker with Colts, specifically SAM and MIKE
Colts' second-round pick Ben Banogu played mostly edge defender throughout his entire collegiate career, but Indy's coaching staff believes the former TCU standout can pick up where he left off the ball at MIKE or SAM in the team's defense.
Colts GM Chris Ballard is keen on playing Banogu at SAM to start, per Jake Arthur of Colts.com, going as far as to compare him to NFL veteran Jamie Collins. Ballard still wants to take advantage of Banogu's proven pass-rushing ability but sees him more as a moving chess piece in the front seven than any one position.
In a March interview with PFF, Banogu said coaches raved about his ability to learn quickly and pick up different positions at the Senior Bowl. Though he played just 54 of his 2,449 defensive snaps at the collegiate level away from the line of scrimmage, Banogu is one of few edge defenders in the class with the measurables and mindset needed to move off-ball.
"Learning stuff wouldn't be something that takes time for me," Banogu said. "I think that I can learn on the fly and get better in a short amount of time."
Falcons' Kaleb McGary, Chris Lindstrom working on the right side of the offensive line
The Falcons' coaching staff is keeping their two first-round offensive linemen right where they left off at the collegiate level.
Per Will McFadden of AtlantaFalcons.com, former Boston College right guard Chris Lindstrom and Washington right tackle Kaleb McGary played alongside each other at their respective positions all through rookie minicamp. Lindstrom played 890 of his 892 offensive snaps in 2018 at right guard, and he played 2,713 of his 3,555 career offensive snaps at the position, as well. And every snap McGary took along Washington's offensive line at the collegiate level came at right tackle.
Projected to start in 2019, Lindstrom and McGary will benefit from maintaining their collegiate positions in the NFL as they work to meet, if not exceed first-round expectations.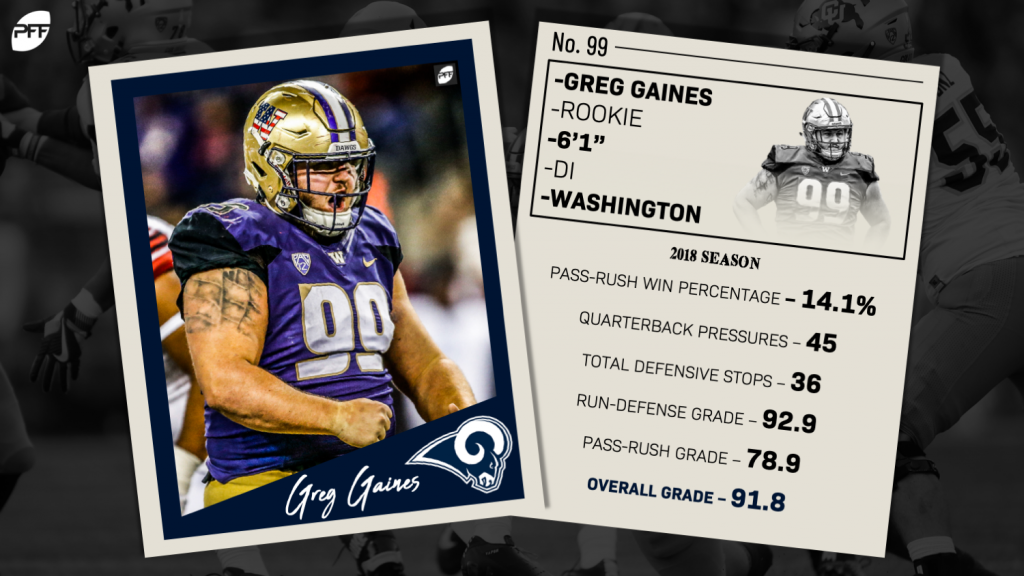 Greg Gaines pushing for nose tackle reps in Rams' 3-4 defense as a rookie
 Myles Sanders of TheRams.com sees a possibility for the team's No. 134 overall pick, former Washington defensive interior Greg Gaines, to take over the departed Ndamukong Suh at nose tackle for Los Angeles' defense. Gaines played 674 defensive snaps either head up or shaded on the center in his Huskies career and earned impressive grades in the process. He recorded an 87.5 run-defense grade, an 84.8 pass-rush grade and an 88.0 overall grade whilst playing nose tackle in his collegiate career.
Broncos' Justin Hollins taking reps at outside and inside linebacker
The 6-foot-5, 248-pound Justin Hollins, like Banogu, is making the switch from primary edge defender to off-ball linebacker in the NFL. Per Aric DiLalla of DenverBroncos.com, Hollins took snaps at inside linebacker in the Broncos' nickel defense and outside linebacker in base in rookie minicamp. Defensive coordinator Ed Donatell said Hollins is "off to a good start" as he learns the two positions, as well.
A bendy, athletic edge defender at Oregon, Hollins played 2,252 of his 2,561 defensive snaps along the Ducks' defense line. It'll be a transition for Hollins, for sure, but his natural ability and willingness to make the switch so early should only aid his development.
Julian Love playing multiple roles in the Giants' secondary
"I moved around quite a bit yesterday," former Notre Dame cornerback Julian Love said between practices at the Giants' rookie minicamp, per Michael Eisen of Giants.com. "Wherever they need me, I will play. Working on some nickel, a little safety and a little corner. Just trying to be able to do it all at this point."
Love played 1,769 of his 2,330 career defensive snaps with Notre Dame at outside cornerback, but he's more than capable of being a moving chess piece in New York. He logged more than 150 defensive snaps at safety and slot cornerback with the Fighting Irish and displayed great coverage ability all throughout. His three-year coverage grade (93.2) is one of the best we have ever seen in the PFF College era (2014-18).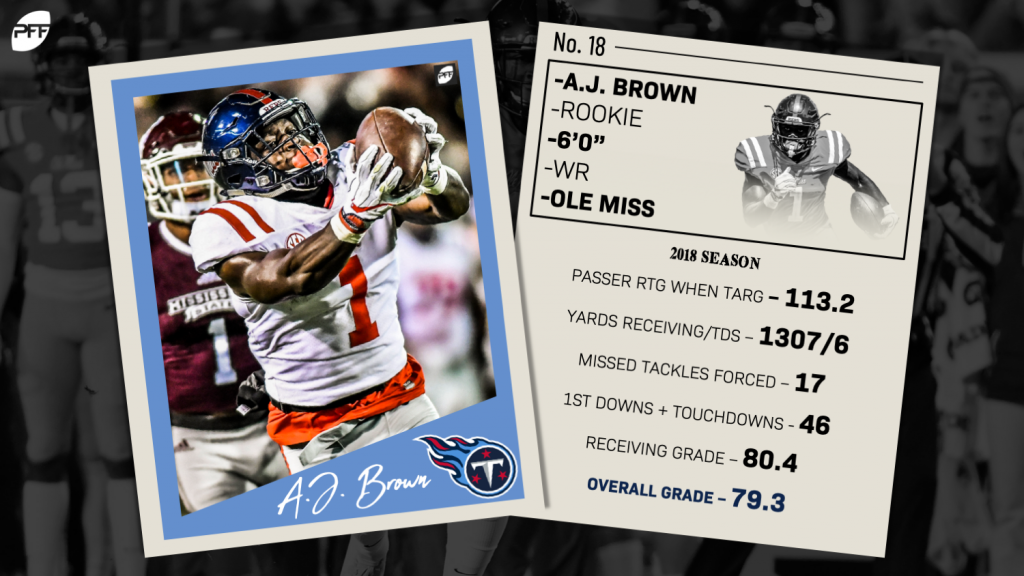 A.J. Brown has Titans' media in love
With Titans' media and fans alike feverish to see the team's second-round pick in action, A.J. Brown did not fail to disappoint. The former Ole Miss superstar pulled off an impressive one-handed grab along the sideline that added to building anticipation for his NFL debut in rookie minicamp.
The growing excitement for Brown isn't surprising given just how dominant he was with the Rebels across his collegiate career. The No. 20 overall player on PFF's final draft board, Brown forced 17 broken tackles, had 34 explosive plays and only dropped five passes on 90 catchable. He's a freak after the catch and as sure-handed as they come – the one-handed snag at rookie minicamp is simply par for the course.
Seahawks' rookie off-ball linebackers Ben Burr-Kirven, Cody Barton drawing early praise
 As we've seen with Banogu and Hollins moving from edge defender to off-ball linebacker, NFL teams are increasingly interested in adding athletic, versatile pieces at linebacker to improve their pass defenses. Both Ben Burr-Kirven and Cody Barton fit the bill and are already turning heads in rookie minicamp.
"(Burr-Kirven) and Cody were really impressive throughout the first day to have so much command of what we were doing," Seahawks coach Pete Carroll said after Friday's practice, per John Boyle of Seahawks.com. "The communications and their awareness and changing the fronts and doing the things they had to do. They were really good at it today."
Barton and Burr-Kirven earned 84.3 and 93.4 career coverage grades at the college level largely because of their rare combination of short-area quickness, athleticism and awareness/play recognition.
Josh Allen putting his hand in the ground for the Jags early in camp
New Jaguars edge defender Josh Allen is a versatile prospect with exceptional production rushing the passer and dropping back in coverage coming out of Kentucky. But even with Telvin Smith sitting out the 2019 season, Jacksonville's coaching staff is keen on keeping him with his hand in the ground rushing off the edge for now.
Allen spent Friday learning how to get back to putting his hand in the ground in a three-point stance, per Jaguars.com senior writer John Oehser, after playing from a two-point stance at edge defender for most of his college career. Keeping their first-round pick along the edge should pay dividends for the Jags' defense, as no edge defender earned a higher pass-rushing grade than Allen (92.7) a year ago.