Ben Banogu is self-aware. He knows his strengths and his weaknesses. He knows why he isn't in the conversation of best pass-rusher in the class, why his name doesn't follow that of Nick Bosa or Josh Allen. He knows he needs to improve and, more importantly, knows how to improve and is eager to do so at the next level.
Weighing in at 6-foot-3, 250 pounds as the 2019 NFL Scouting Combine, Banogu knows his size, length and athleticism – all uncoachable traits – are his marquee strengths. He broke the record for longest broad jump by a defensive lineman (134") and finished in the 80th percentile or higher the 40-yard dash, vertical jump, three-cone and short shuttle, per MockDraftable.com.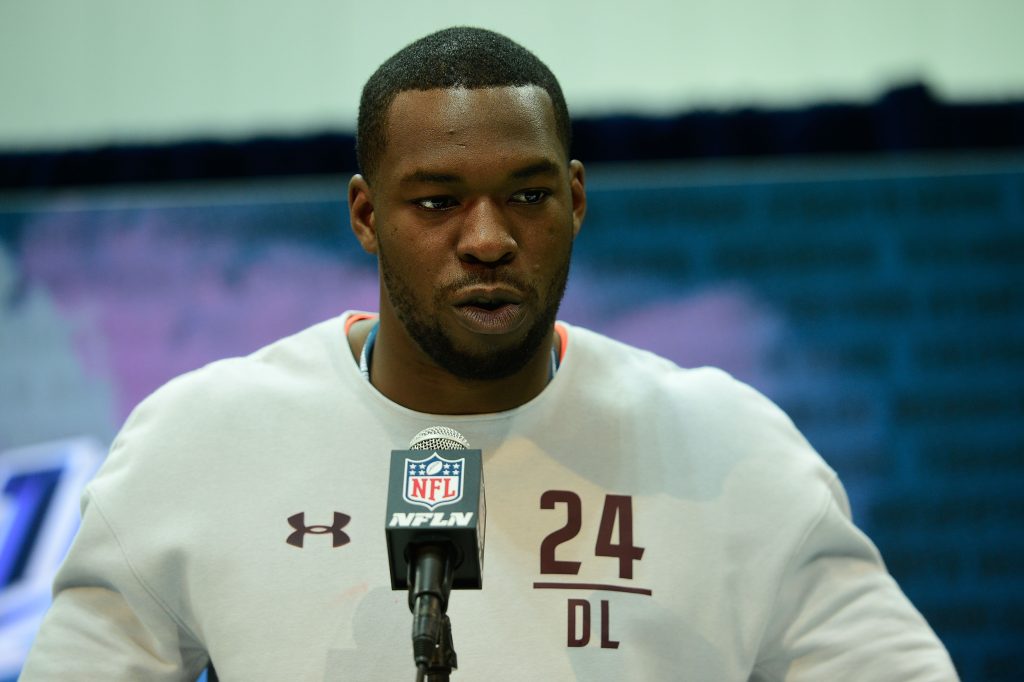 Banogu's freakish size and athleticism pair nicely with his intangibles, his ability to learn quickly, work hard and prioritize refinement in his technique.
"Learning stuff wouldn't be something that takes time for me," Banogu said in a March interview with Pro Football Focus. "I think that I can learn on the fly and get better in a short amount of time."
Banogu overloaded his offseason school schedule with more classes in order to have time to stay after practice and watch film with TCU's coaching staff. Coaches fell in love with how quickly he was able to pick up three-technique, five-technique and even off-ball linebacker at the 2019 Reese's Senior Bowl, going as far as saying they'd need one fall camp to get quality production from him at off-ball linebacker – a position he has little to no experience playing. He critiques his own game film weekly and watches NFL pass-rushers like Khalil Mack, Von Miller, Dee Ford, Frank Clark and Demarcus Lawrence to take moves from their game and apply them to his own.
The knock on Banogu isn't size, athleticism or his coachability; it's his unpolished technique. And while he's well aware of the critique, he's had very few opportunities to prioritize attacking his weakness and developing his technique.
"At TCU, we did more scheme at practice," Banogu said. "We didn't really work technique. So, I was kind of teaching myself different pass-rush moves in my spare time. It's like teaching yourself a new language… The biggest thing I'm looking forward to is having a pass-rushing specialist that can help me progress my moves and help me refine them to where they're well-polished.
"I have different varieties of moves that are in my repertoire, but they're not very good if they're not very polished."
Banogu's unpolished technique cost him at TCU, as he earned just 71.6 and 68.9 pass-rush grades in his final two years with the team (2017-18). He also had just two games in the two-year span where he earned a pass-rush grade above 80.0.
One year of varsity experience at the high school level, one year at the University of Louisiana Monroe and two years within a scheme-first TCU program didn't do Banogu any favors.
The "double swipe" pass-rush move Banogu hangs his hat on was self-taught. He said he pulled the move from Miller's game in his 18.5-sack season in 2012… Yes, he turned on 2012 tape to improve his pass-rush on his own.
Looking ahead, Banogu wants to trade 2012 game film for a pass-rush specialist, and NFL teams share his desire. In his meeting with the Chicago Bears, the coaches told him they wanted him to work with Mack and his pass-rush specialists to improve his technique if they indeed drafted him. Other teams told him they want guys like him that have the natural ability and can be taught the technique at the next level.
"Once that happens for me, then you'll kind of see everything coming together," Banogu said. "Then, I would talk about myself in the mix of the premier pass-rushers.
I'd go from a player that's productive, smart, never really messes up, very reliable to a guy that can change the game when he's out there every single snap. They'll start sliding protection my way or a chip, being a guy that demands eyes on him at all times."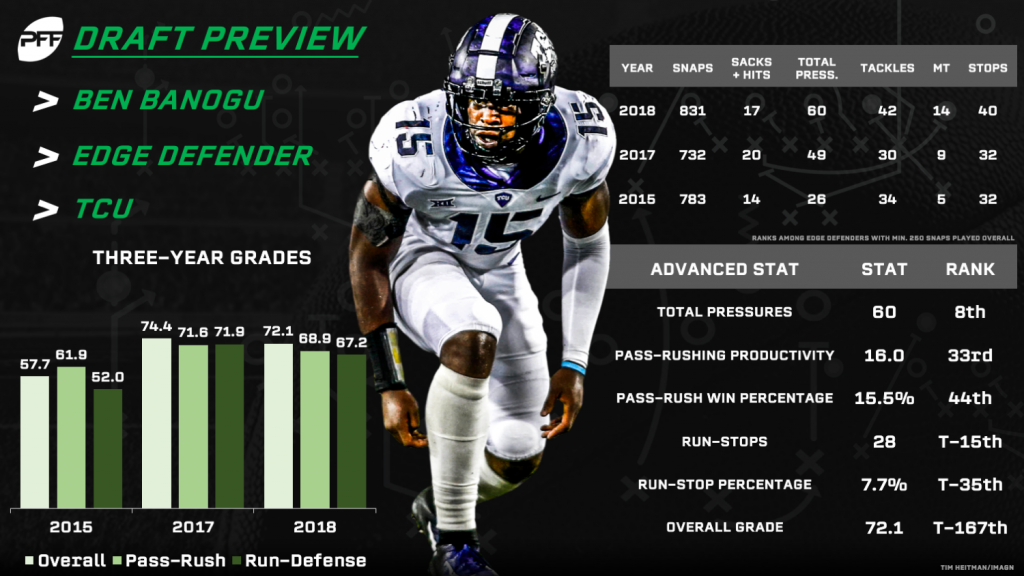 Banogu doesn't want to pretend he's a player he's not; he wants to be the player others pretend to be. He still was productive at TCU, recording the fourth-most pressures (109) and 13th-most defensive stops (72) in the previous two years. But he knows he can be better and is eager to get to that point.
"The biggest thing that I would preach to other people about myself is that my ceiling is higher than most of the people in this draft, if not the highest," Banogu said. "With all of the stuff that I lacked, I would say that I was still able to be as effective as most of the guys in this draft, if not better."
[Editor's Note: Learn more about Ben Banogu and the rest of the 2019 draft class with PFF's 2019 NFL Draft Guide. Sign up today with promo code "NFL2019" to receive 25% off any of our subscriptions.]