Two weeks into the season and a lot has been figured out, but more questions remain.  Top-five PFFELO teams like the Eagles, Patriots, Vikings and Steelers failed to win in week 2, while teams like Tampa Bay, Tennessee and Indianapolis won outright, with Cleveland and Detroit covering the spread.  Our ratings are compressed as a result, just in time for a week where most of the games are lined within a touchdown. Embrace chaos!
Like all ELO systems, PFFELO is an iterative system that updates each team's rating after each game based on two things: how well they played against their opponent and how well they were expected to play against their opponent. The PFFELO rating system measures the former using our unique offensive, defensive and special teams grades, while the latter is determined by the PFFELO ratings leading up to the game and where the game is played.
For example, a heavy favorite playing at home is expected to outplay the visitor, so a victory would result in only a small rise in their PFFELO rating and a similarly-small decrease in the defeated team's. However, if an upset were to happen, the visiting team would see their PFFELO rating rise substantially, and the home team's see a similarly-sized drop.
Check back to profootballfocus.com for weekly college spread picks using this model (as well as other information) and check out PFF Greenline for our NFL version of the product.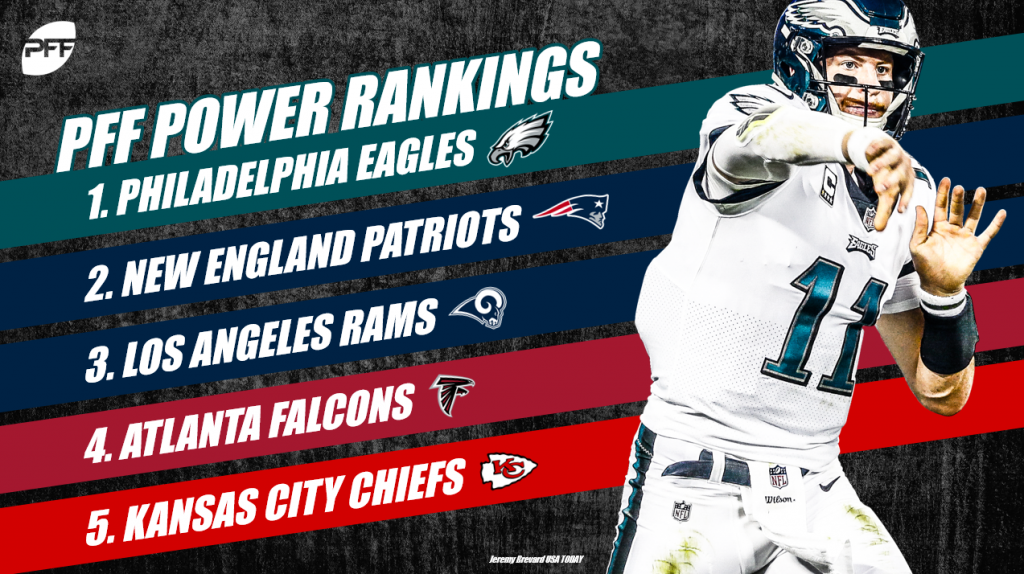 2018 Week 3 ELO Ranking: 1
Philadelphia has stumbled out of the gate but gets Carson Wentz back for Week 3. Nick Foles has not looked like the same quarterback that led them to a Super Bowl in 2017 and even more concerning is their struggles defending the pass, allowing 49 percent of early down attempts to be successful from an expected points added (EPA) standpoint. However, they have been successful getting after the quarterback with a pressure percentage of 40 percent on dropbacks. Our model believes Week 2 was a small blip on the radar for the Eagles in 2018.

2018 Week 3 ELO Ranking: 2
The Patriots disappointed in Jacksonville Sunday, dropping their chances of winning the Super Bowl from roughly 22 percent to about 15 percent.  They simply couldn't stop Blake Bortles, who had a 117.9 passer rating when clean against them, throwing in a 98.7 passer rating when pressured. They need to clean that up if they are going to continue to be the Super Bowl favorites.  

2018 Week 3 ELO Ranking: 3
It seems like they've been toying with teams through the first few weeks, but there's something special about this Rams team.  Brandin Cooks has been for LA what he was for New England last year – a deep threat taking the top off of the defense with 57 yards on deep passes and 246 total receiving yards through two weeks. 

2018 Week 3 ELO Ranking: 4
They figured out their red zone woes Sunday against Carolina, going four for four scoring touchdowns in the red zone.  With Carolina and New Orleans 1-1 as well, they are still the favorite to take the NFC South at 40.73 percent.

2018 Week 3 ELO Ranking: 5
The Chiefs are still the worst defensive team in our rating system, but at this point, it hasn't mattered on the scoreboard, as quarterback Patrick Mahomes has not thrown a turnover-worthy pass so far, and has a whopping 39.3/1.6 positively-graded-to-negatively-graded passes ratio.

2018 Week 3 ELO Ranking: 6
Sunday sure was impressive, with the defense generating 18 total pressures on Tom Brady and allowing zero touchdowns until well into the second half.  If they can continue to get efficiency out of Blake Bortles (117.9 passer rating when clean against the Pats), look out!

2018 Week 3 ELO Ranking: 7
The Saints have not looked like Super Bowl contenders thus far, losing outright to Tampa and needing some luck to come away as victors against the Browns last week.  After facing pressure on just 22.6 percent of his drops last year (best in the league), Drew Brees has been pressured 27.4 percent of the time this campaign, and it was noticeable against Cleveland.

2018 Week 3 ELO Ranking: 8
Their special teams (rated first in the NFL a season ago – but somehow decided to go with a new kicker and new punter) really let them down in Green Bay, and that overshadowed how good Kirk Cousins can be, as he was 21-25 for 259 and three touchdowns to Stefon Diggs and Adam Thielen alone.  

2018 Week 3 ELO Ranking: 9
With the Bengals and Ravens both ahead of them in the standings two weeks into the year, the Steelers need to get it going quick, or their reign on the AFC North might soon be over.  

2018 Week 3 ELO Ranking: 10
Sunday's tie at home against the Vikings is likely a bigger blow for the Packers' chances to win the NFC North than it was for the Vikings.  Right now they sit at under 20 percent to win the division in our model, a number that would have likely doubled had they come away with a home victory this past weekend.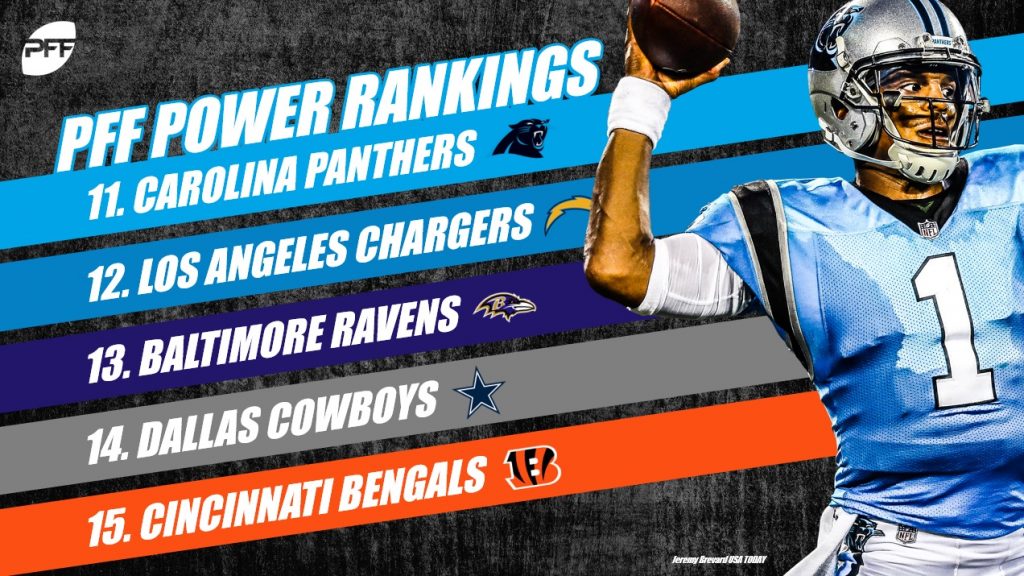 2018 Week 3 ELO Ranking: 11
Sunday's loss to the Falcons was a bigger blow than many people think. While the Panthers are still projected to be above eight wins by season's end, they are currently fourth in the division in our projections.  This is despite the fact that Cam Newton has looked good so far, ranking 11th in adjusted completion percentage (79.1) through two weeks. The league's ninth-toughest schedule the rest of the way is not helping their cause.

2018 Week 3 ELO Ranking: 12
Sunday's win in Buffalo wasn't exactly the most impressive showing, as the Bills almost came through the back door with a cover near the end.  Their offense ranks 22nd in our opponent-adjusted metrics so far, and will need to improve to keep up with the other LA team and avoid a 1-2 start with Kansas City currently a clear favorite to win the AFC West at 58.48 percent.

2018 Week 3 ELO Ranking: 13
Last Thursday's loss in Cincinnati was a high-leverage event – as the AFC North is shaping out to be more of a slugfest than we predicted earlier this offseason.  Their 29th-ranked offense couldn't keep up with Tom Brady and Andy Dalton en route to a 1-1 start instead of the 2-0 they could have used to put themselves as the clear favorites in the division.

2018 Week 3 ELO Ranking: 14
The Cowboys have had an encouraging start to the 2018 season. Their pass defense has been better than expected with Byron Jones grading well through two games. As a coverage unit, they have generated -.20 EPA per dropback and allowed a successful throw on 41 percent of early down attempts. Dak Prescott has been middling with an 80.4 accuracy percentage and a passer rating when kept clean of 107.1.  

2018 Week 3 ELO Ranking: 15
The hometown Cincinnati Bengals are 2-0, and actually the most-probable team to win the AFC North through two weeks.  They've built their defense in an analytically-sound way, with three starting cornerbacks that are first-round picks, linebackers that can cover and three very-disruptive defensive linemen.  Andy Dalton has limited his negatively-graded throws to fewer than 10 percent of his passes to this point.

2018 Week 3 ELO Ranking: 16
Whew.  Someone break up the Buccaneers.  Their passing game showed a lot of juice last year, with Jameis Winston generating the highest percentage of positively-graded throws among all quarterbacks – but this is a bit ridiculous.  The Bucs are generating two-thirds of an expected point every time Ryan Fitzpatrick drops back to throw so far this season, a trend that is sure to go down as the season progresses.

2018 Week 3 ELO Ranking: 17
While the Bears are a few plays from 0-2, Mitchell Trubisky has been far from good so far, generating -0.21 EPA on his dropbacks through two weeks.  If he can't improve, it won't matter that the Bears have one of the easier schedules in the NFL moving forward – they'll fall too far behind in a tough NFC.  

2018 Week 3 ELO Ranking: 18
The Dolphins are 2-0 on the strength of a relatively easy schedule.  Ryan Tannehill has only produced one big-time throw so far (versus four turnover-worthy plays) but has been accurate (10th in the league in accuracy percentage).  Their defense has also been shaky (30th in our rating system), so we're not completely bought in on the Dolphins so far.

2018 Week 3 ELO Ranking: 19
Case Keenum hasn't exactly set the world on fire to start 2018 and has thrown twice as many turnover-worthy passes as big-time throws. However, Phillip Lindsay has been a pleasant surprise and led this rushing offense to a 50 percent success rate on early downs (second in the NFL). Bradley Roby and Adam Jones have yet to show up in coverage to start 2018 and as a whole, this coverage unit has allowed a successful pass on 64 percent of early down attempts, second worst in the NFL.

2018 Week 3 ELO Ranking: 20
The 49ers survived a late rally from the Lions and escaped with a narrow victory heading into week three with a 1-1 record. After facing the onslaught of the Vikings defense in Week 1, Jimmy Garoppolo rebounded to post a passer rating of 122.4 when kept clean in Week 2. Through two games, he has been effective; 25 percent of his dropbacks have been positively graded with just under three percent receiving a turnover-worthy throw designation. They need their pass defense to emerge if they want to challenge the LA Rams in the NFC West.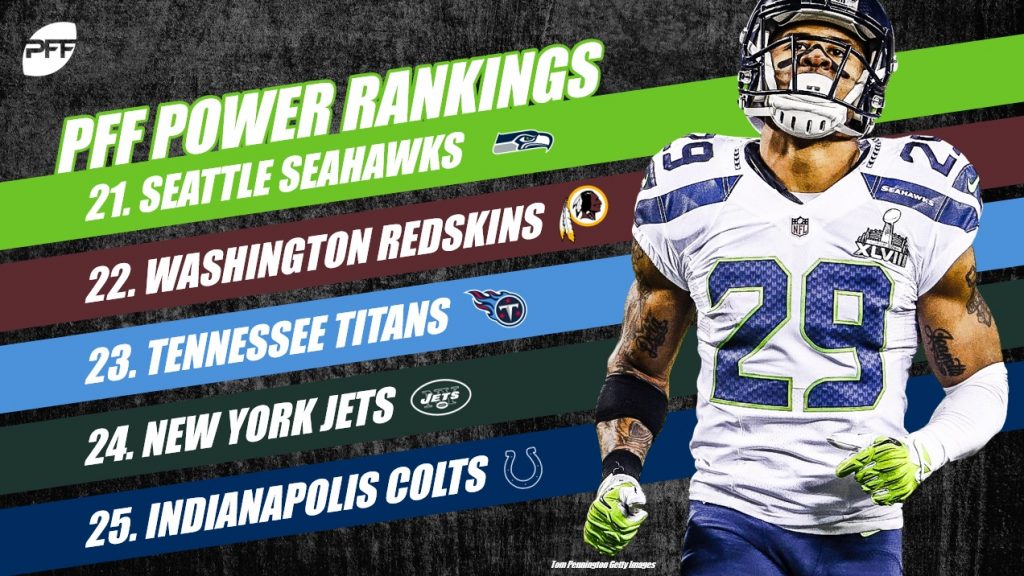 2018 Week 3 ELO Ranking: 21
The Seahawks fell to 0-2 on Monday night behind a clunker of a game from Russell Wilson, who has the third-highest percentage of turnover-worthy throws in the NFL through two weeks. This passing offense is struggling, and they have no semblance of a rushing attack with a mere 25 percent of early down rushes being successful. This defense is no longer capable of keeping them in games as they have the fourth-worst pressure percentage among all defenses, and have allowed a successful early down pass on 60 percent of attempts.

2018 Week 3 ELO Ranking: 22
Alex Smith and the Redskins offense failed to find the end zone on Sunday, settling for three field goals and falling to the Colts at home. With very little semblance of a rushing attack, the Redskins have resorted to targeting Chris Thompson 20 times through two games, which has led to the third-lowest average depth of throw in the NFL. Smith only has four passing attempts that have traveled 20 or more yards downfield – a far cry from the deep passing stats he amassed in the Chiefs offense last year.

2018 Week 3 ELO Ranking: 23
Backup Kevin Byard Blaine Gabbert outlasted the Texans and secured a victory on Sunday. This team continues to struggle offensively, relying on a few trick plays to generate offensive production and only 42 percent of their pass attempts have been successful on early downs. They are now entering a difficult stretch of their schedule and need Marcus Mariota to return and be productive.

2018 Week 3 ELO Ranking: 24
Sam Darnold came back down to earth in his second NFL game, and so far, he's thrown a turnover-worthy pass on over four percent of his dropbacks. Still, some other stats for the rookie are eye-popping with over 30 percent of his throws receiving a positive grade. The Jets pass defense needs to play better after allowing a successful pass on 58 percent of early down attempts. If their pass defense plays up to their talent level, Sam Darnold is capable of doing enough for this team to win a number of games in 2018.

2018 Week 3 ELO Ranking: 25
Andrew Luck does not look like the same quarterback to start 2018. He has posted an average depth of throw of 4.75 yards through two weeks, by far the lowest in the NFL. He has been accurate but will need to throw more than four attempts past 20 yards if this offense is going to be successful. The defense alone is not capable of winning football games, and so far, they have allowed a successful passing attempt on 59 percent of early downs.

2018 Week 3 ELO Ranking: 26
Derek Carr has started 2018 with a few bright spots, most notably posting an 85.5 accuracy percentage. Only 16 percent of his throws have been positively graded, which is the sixth-lowest in the NFL, but he is simply not being asked to do much for this offense. Hoping their defense can win them games is a futile effort as they are the fourth-worst passing defense from an EPA standpoint on early downs in the AFC.

2018 Week 3 ELO Ranking: 27
Matthew Stafford almost led Detroit to a come from behind win but fell short in their bid on the road. Stafford has been accurate to start 2018 but has thrown far too many turnover-worthy throws. Their defense is struggling, allowing a 109.0 passer rating against. They have blitzed on 40 percent of pass attempts, the fourth highest mark through two weeks.

2018 Week 3 ELO Ranking: 28
Deshaun Watson has struggled to throw deep to start 2018, posting a passer rating of 73.3 with two interceptions on throws 20+ yards downfield – and when he is not connecting on deep throws, he has a difficult time moving the ball. He has twice as many turnover-worthy throws as big-time throws. If Houston wants to turn their season around it has to start with Watson.

2018 Week 3 ELO Ranking: 29
The return of David Johnson hasn't exactly ignited this offense, as their rushing success rate hovers at 48 percent on early down attempts. Sam Bradford has also struggled, posting the third-worst passer rating in the NFL when kept clean at 78.7. The passing defense has been brutal as well, allowing an EPA of .47 on early down pass attempts and the highest percentage of successful passes against. It is tough to win games when you cannot throw effectively or cover at all.

2018 Week 3 ELO Ranking: 30
To start 2018, the New York Giants have an EPA rushing of -.08 and have been successful on just 33 percent of their early-down rushing attempts – not exactly eye-popping numbers. It is clear Saquon Barkley has not transcended Eli Manning's passing game either. Through two weeks the Giants have an EPA on early passing downs of -.38, and only 29 percent of attempts have been successful.

2018 Week 3 ELO Ranking: 31
The Browns continue to do Brown things as they search for their first victory. Journeyman Tyrod Taylor has left a lot to be desired, posting a passer rating of just 79.9 when he's been kept clean from pressure, and they have now jettisoned their most talented player to the best team in the AFC. That move will not help them improve in the short term as their success rate on early down passes checks in at just 43 percent.

2018 Week 3 ELO Ranking: 32
The Josh Allen era in Buffalo has officially begun. The early signs have been less than encouraging though, with a successful pass occurring on only 39 percent of attempts on early downs. So far, the rookie quarterback looks like a rookie and has posted an accuracy percentage of 62 percent, while he's thrown a turnover-worthy pass on five percent of dropbacks. Thankfully there is only one direction this team can go from here.