The Pittsburgh Steelers and running back Le'Veon Bell failed to reach a contract extension before the 4 p.m. EST deadline this past Monday, meaning Bell will play, for the second consecutive season, on the franchise tag. At roughly $14.5 million, Bell is set to earn almost twice as much as the next-highest-paid running back on a per-year basis.
Per Ian Rapaport, Bell was offered five years, $70 million by the Steelers, with $33 million guaranteed. The guaranteed money spanned the first two seasons, essentially buying the Steelers Bell's services at franchise-tag prices for two years instead of one, while securing the back for another three thereafter. Since that initial report, there has been talk that the only truly guaranteed piece of the offer was a $10 million signing bonus and that the $33 million was a rolling guarantee. This would essentially mean that the rest of the money would become guaranteed after a certain date which is really to say it's only sort of guaranteed. However you view the guarantee structure, it seems that the offer boiled down to tagging Bell each of the next two seasons with the ability to let him go after.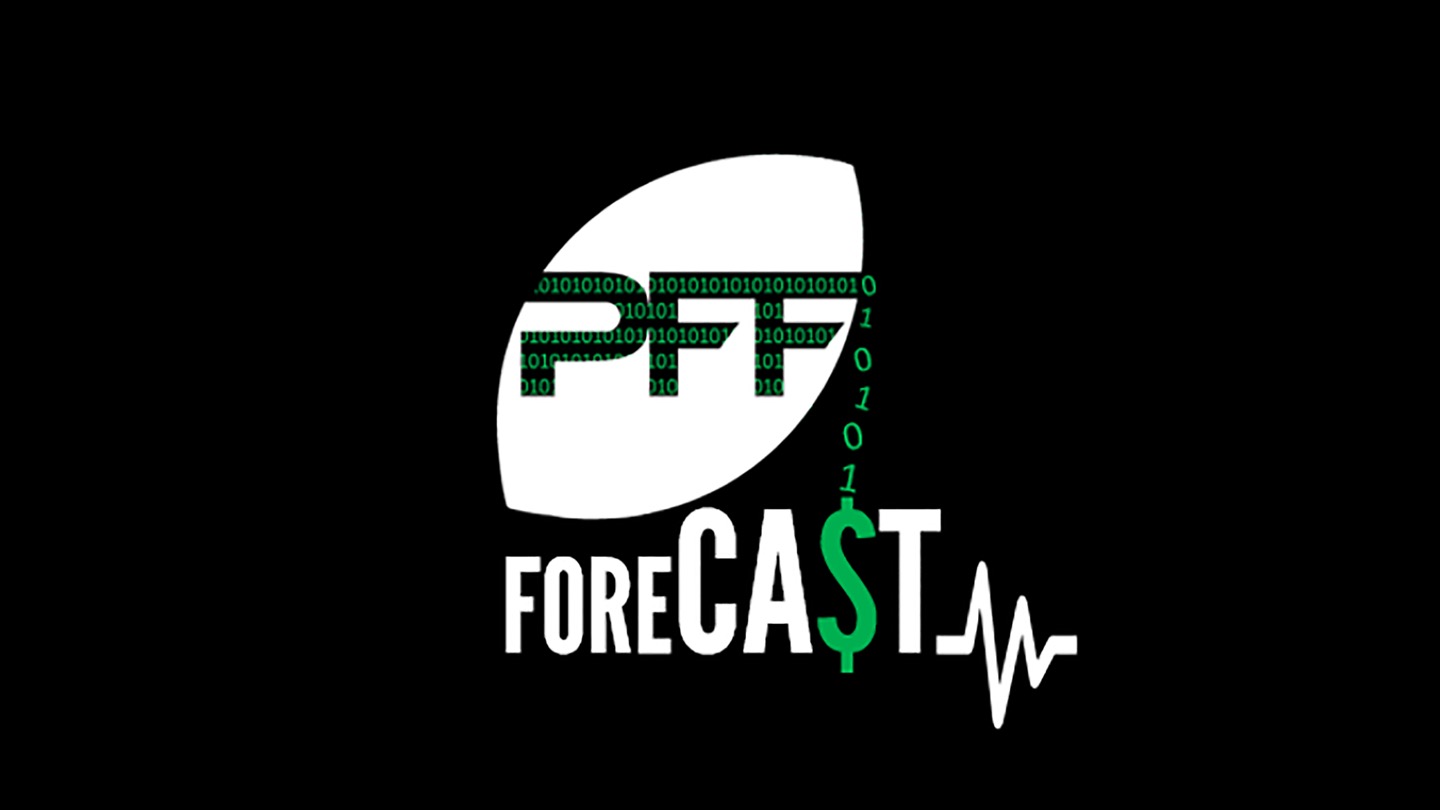 As discussed on today's PFF Forecast, Bell has been (as running backs go) very valuable in his tenure in Pittsburgh, generating roughly five wins above replacement player since 2013. That said, runs by running backs are a negative Expected Points Added proposition on average, which is to say a team decreases their chances of scoring after a designed running back run on average. That has held true for the Steelers with Bell as over the last four seasons they averaged negative EPA per Le'Veon Bell run, a trend that has decreased each season. There are obviously times where running provides value from a win probability added standpoint, and there is the simple fact if you are going to run the ball you'd like to do it well – but we have found that the run-blocking performance of the offensive line (using PFF grades) is more predictive of yards per carry or EPA per run than the performance of the running back. This is consistent with what we saw when Bell was out in 2015 – with DeAngelo Williams generating over 900 yards on the ground at 4.5 a carry.
The main narrative around Bell, however, is that he provides more than just running the ball, that he is an "elite offensive weapon." If that is to be the case, then that notion is certainly referring to the value he brings to the passing game.
To test this idea, we looked at how the Steelers performed with and without Bell on the field.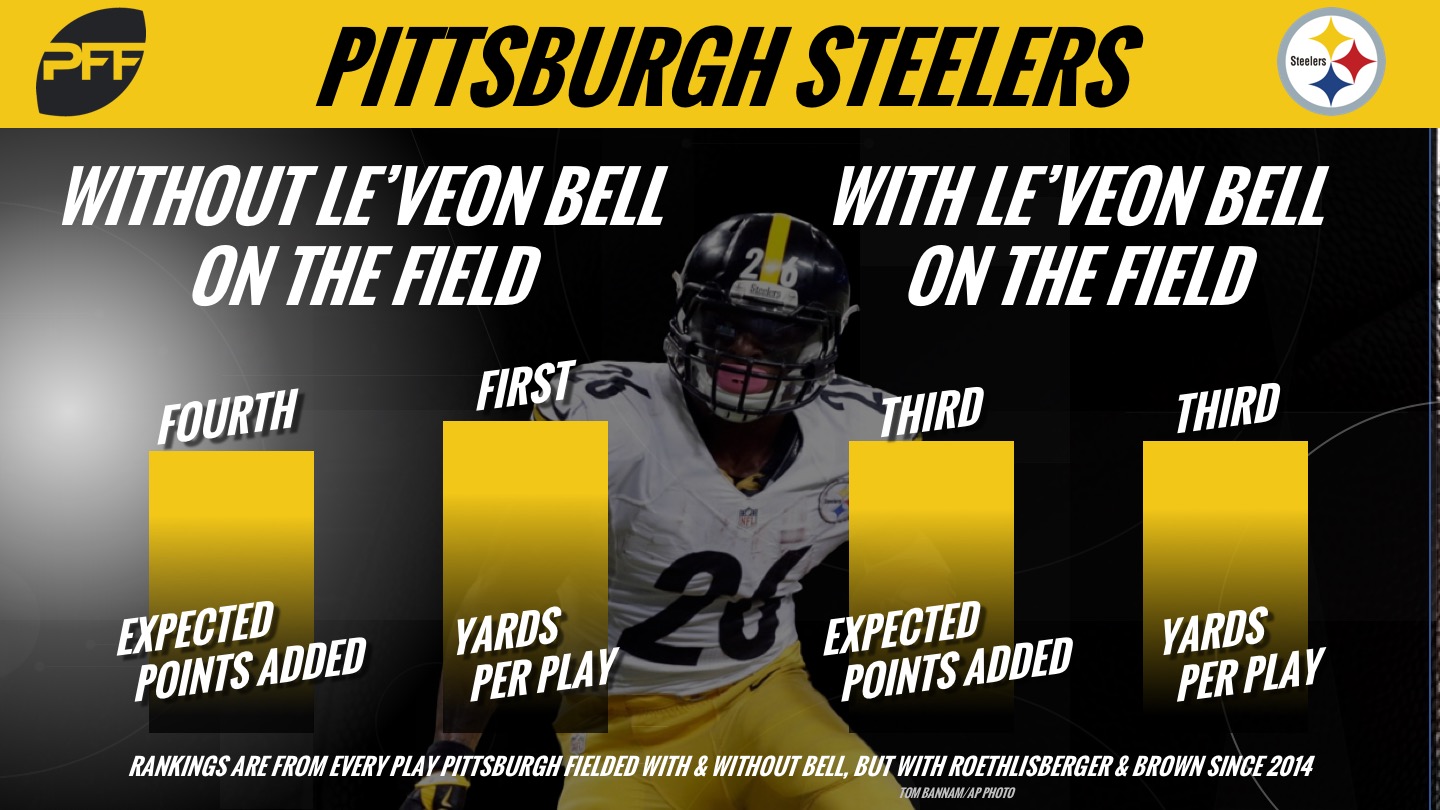 Without Bell on the field, and with Ben Roethlisberger and Antonio Brown, the Steelers ranked fourth in EPA per pass pay and first in yards per play. With Bell joining those three on the field, they rank third in EPA per play and third in yards per play (the average distance to gain is slightly higher without him on the field). If we throw in run plays as well, the Steelers go from first in EPA per play to third without Bell joining his other superstar teammates. There is a definite bump with Bell on the field, but it's not what makes this offense truly elite as evidenced by the much higher Wins Above Replacement numbers for both Roethlisberger and Brown (Brown is about 9.0 WAR above Bell since 2013, while Roethlisberger is about 18.0).     
Bell has certainly been a main target for Big Ben in the passing game but just how much value is there to targeting running backs? Since 2014, targeting a running back is nearly a third as valuable as targeting a wide receiver or a tight end. Even when the running back is targeted from the slot they generate less than half the value of a slot target to a receiver or tight end.
Bell has bucked that trend to a certain extent, since 2014 he ranks fifth in EPA per target among running backs (minimum 100 targets), though he ranked 23rd out of 39 running backs with 35 or more targets last season. On average since 2014, Bell is targeted just 0.42 yards past the line of scrimmage which makes it hard to generate a ton of value, by comparison David Johnson has a 4.6 average depth of target (aDOT) over that time period and the Saints' Alvin Kamara generated a 2.4 aDOT last season. While Bell has generated plenty of value from the slot over his career the sample size is small, just 45 targets. Among running backs and receivers with at least 30 slot targets since 2014, Bell ranks 70th of 139 in EPA per slot target and 134th in yards per target. The player who leads those categories, Bell's teammate Juju Smith-Schuster, will make less than a million dollars in the second year of his rookie deal.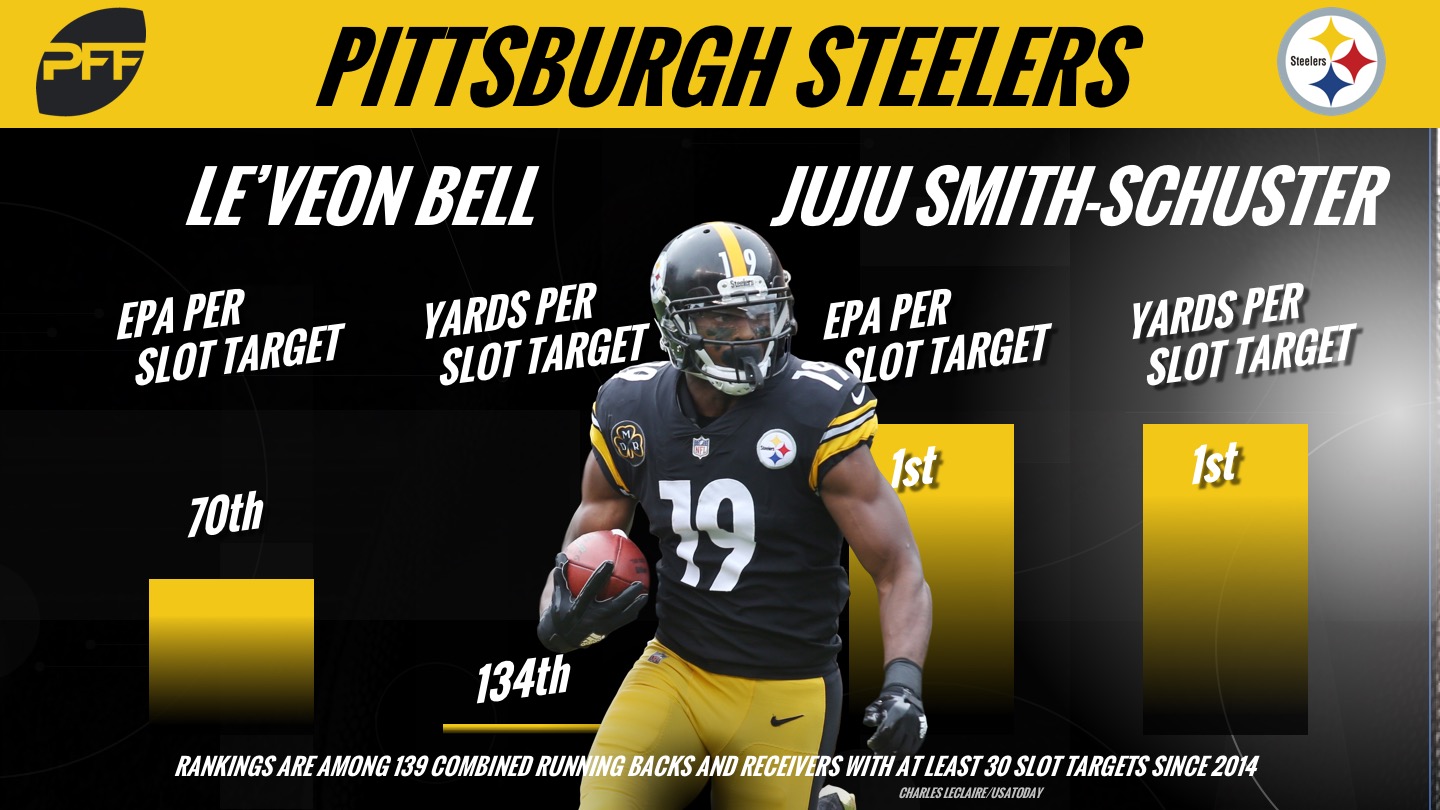 Bell is hurt by the simple fact that what he does most frequently – carry the ball from seven yards behind the line of scrimmage – is both his least-valuable asset and also the most damaging to his physical ability.
While making the switch to a full-time slot receiver is unlikely, it is worth noting that Jarvis Landry cashed in on a new deal this offseason despite averaging 7.53 yards per target since 2014, Bell has averaged 7.13 despite an average depth of target that falls a full 6.1 yards short of Landry. Bell can make the argument that he does more than Landry, the problem for Le'Veon is that the "more" is the added burden of carrying the ball which is likely what makes him a less valuable long-term asset.