After an over/under missed by a point in Los Angeles, and New England and Kansas City failed to cover their number as favorites, we had a 1-3 week last week. We're onto week 15, and while the most-compelling game happened last night, there are still some games that have intrigue moving forward.
Our models rely heavily on our PFFELO rating system for the NFL, along with game information like where the game is played, how far a team has to travel, etc. We also fold in opponent-adjusted PFF grades into our machine learning algorithm to factor in roster changes and possible asymmetric mismatches that can occur through the course of a game.
With the Kansas City (-6.5) loss, we're 19-17-1 on our "Lock of the Week" picks since the start of 2017 (52.8%), with three win totals pending. The analyses below will involve a point-counterpoint between the two of us for both picks, using perspectives that only the PFF grades and data can provide. Follow us on Twitter at @PFF_Eric and @PFF_George, and for some podcast commentary on some of these picks, and the process that goes into them, give the PFF Forecast a listen. We will have a special Monday morning podcast each week with look ahead lines for the upcoming week.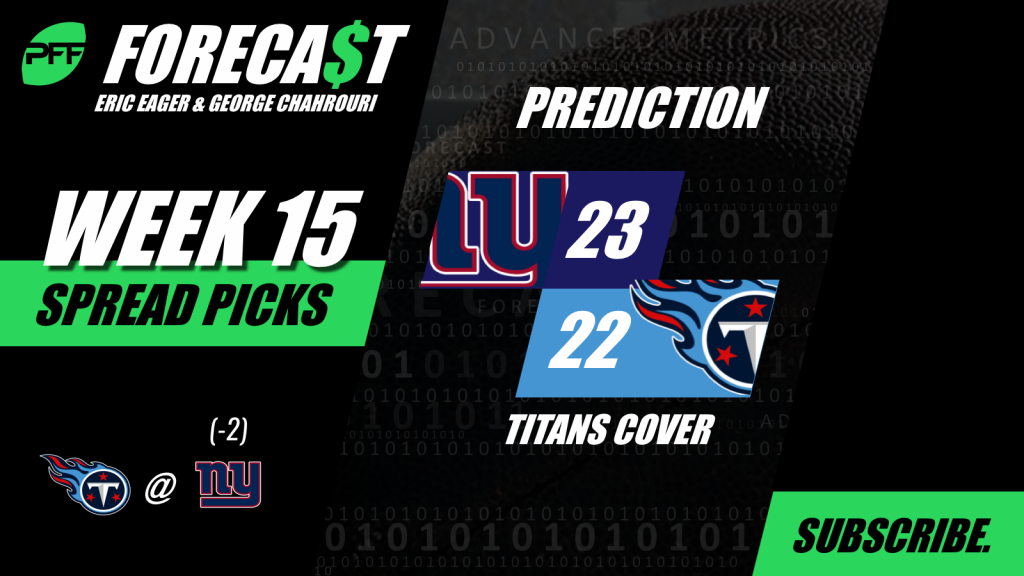 Prediction: New York 23-22 (the Titans cover)
Point (Eric Eager): Tennessee is coming off of an extended rest, having beaten the Cody Kessler-led Jacksonville Jaguars last Thursday by a score of 30-9. The Giants are only slightly better at the quarterback position than Jacksonville, with Eli Manning generating big-time throws at a lower rate than he is turnover-worthy plays. Odell Beckham Jr. needed to get a second opinion on his quad this week and has yet to practice fully as of Thursday. While the Giants were able to win big without him a week ago, it was against Mark Sanchez and the Washingtons, eliciting what we think is a market overreaction, given that Landon Collins heading to IR was also covered up by the sheer ineptitude of Jay Gruden's bunch.
On the Titans' side, Marcus Mariota has been shaky at times, and Corey Davis has been inconsistent at best as his number-one receiver, but in what is likely to be a lower scoring game, the value that the Iron Chef can provide with his legs (7.4 yards per carry to the left and 7.4 yards per carry on scrambles) will be a sneaky advantage against a Giants linebacking corps that includes the big-playmaker-but-big-liability Alec Ogletree et al. Motivation will also be a big input for the Titans, as they work to keep their playoff chances (about 30%) alive, while the Giants might be thinking about angling for the best position for their upcoming first-round pick (or trade chip).
Counterpoint (George Chahrouri): The only worthwhile use of the phrase Titan Up was the Black Keys song which used a slightly different spelling but perhaps more accurately depicts what happens to Marcus Mariota when he's given a clean pocket. The king of the clean pocket interception should have plenty of opportunity in the cold rain of New Jersey, where the Giants' vaunted defense allows opposing quarterbacks an average of 2.52 seconds of clean pocket time (second-longest). Iron Chef Marioto has 19 interceptions from a clean pocket over the past two seasons; come hungry, leave happy.
Meanwhile, the Titans' defense isn't putting a whole lot of heat on the quarterback, generating pressure at the 23rd-best rate in the league. Young Eli and his 106.5 passer rating from a clean pocket should be firing rockets to Saquon Barkley at or behind the line of scrimmage to the tune of a game you definitely want to miss.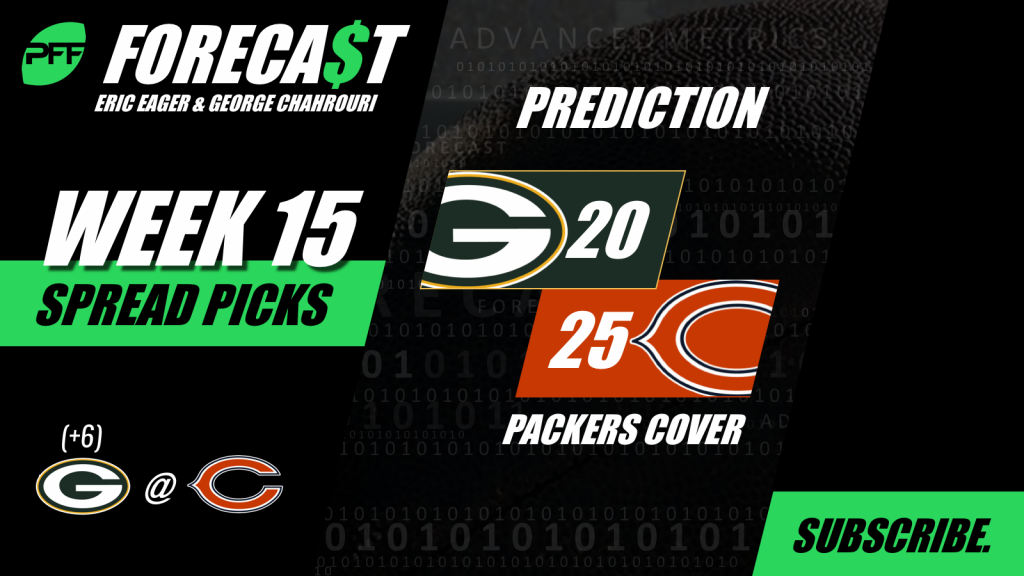 Prediction: Chicago 25-20 (the Packers cover)
Point (GC): I'm told a picture is worth a thousand words. I once tried putting a picture of Michael Jordan dunking from the free-throw line on the full-page of a high-school essay and counted it as 1,000 words. This had a subpar ending. Another 1000 word picture with a subpar ending:  Mitch Trubisky's throws from the Sunday night slugfest against the Rams. In the weeks in which he's played, Mitch has the third-most turnover-worthy throws and the 20th-most big-time throws. In other words, more bad than good from the Trubisque.
Aaron Rodgers beat this team with one-leg after spotting them 17 first-half points. This has not been his best season, he's throwing the ball away at the highest rate we've ever seen at PFF (since 2006), but he's a six-point underdog to the Bears with a quarterback that ranks in 32nd in PFF grade per snap. Defense is unstable for a reason and without slot wizard Bryce Callahan, who is now out for the season, the Bears may be vulnerable to the quarterback with the best passer rating when targeting the slot since 2012 (110.5). The Bears offense is the football version of Rodgers agent in the State Farm commercials; Rodgers with the coverage you need. 
Counterpoint (EE):
It was only a few short weeks ago that we were on Green Bay as road underdogs against a division foe with a weaker quarterback, and, while a Davante Adams catch could have gotten us to the window, it was still an effort by the Pack that left this guy a little bit less than inspired. While Mitch(ell) Trubisky has been nothing short of Bortles Northwest since we picked against them (unsuccessfully) in consecutive weeks last month, he is being supplemented by the most efficient dual-threat running back in Tarik Cohen (1.34 WAR, best at the position) and a defense that has been the league's best in many categories, especially early-down EPA and success rates allowed, where they are first against both the pass and the run with respect to the former.
Just because they beat the Falcons (even in our most optimistic view of the Dirty Birds), it doesn't mean that they're fully resurrected from the dead, so we'll need to see Aaron Rodgers take some shots downfield against a Bears unit that knocked him from their Week 1 game. If he puts together a game that is two times the second half he played against the new Monsters of the Midway, then all bets are off. But, I'm pessimistic.