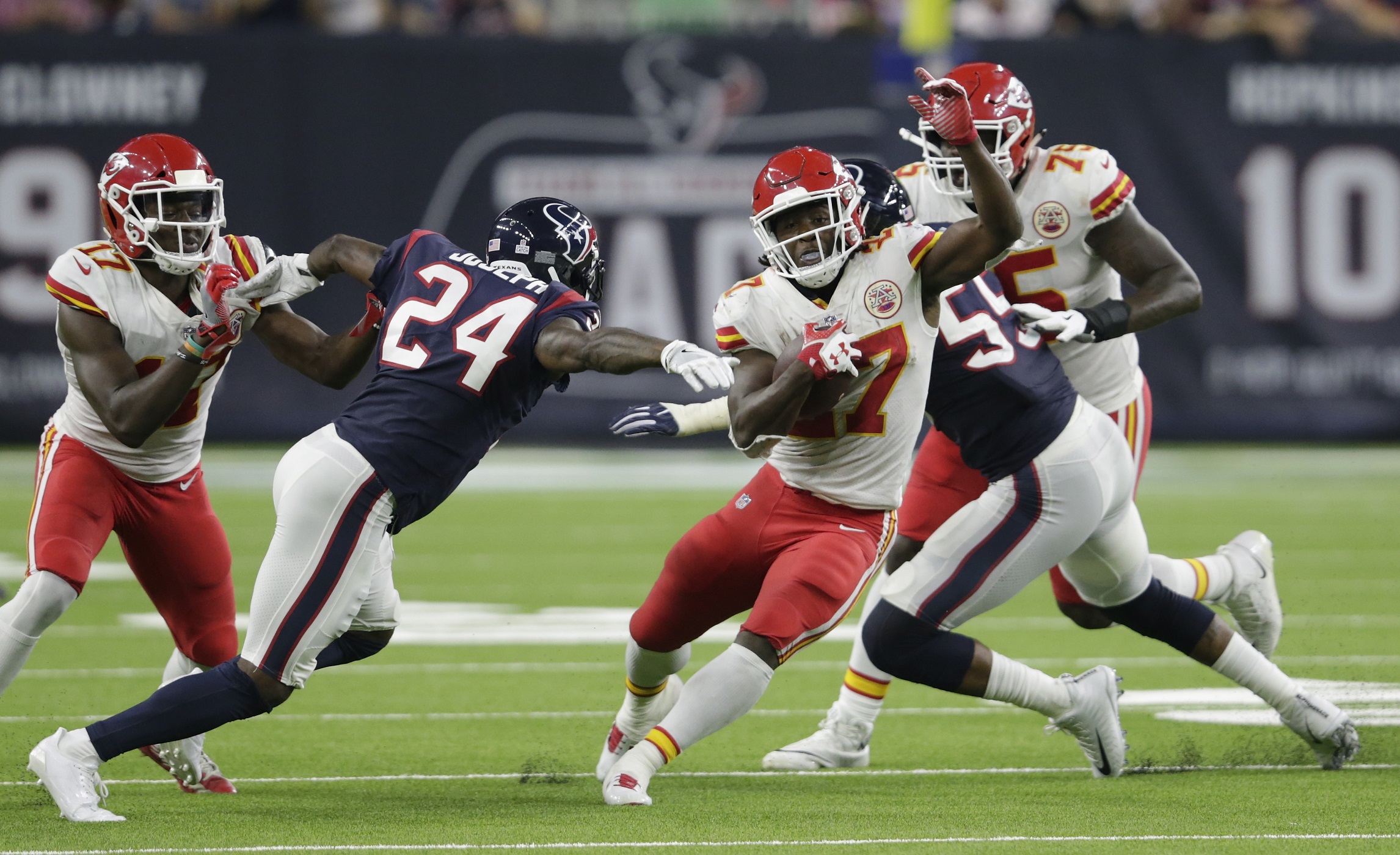 HOUSTON, TX - OCTOBER 08: Kareem Hunt #27 of the Kansas City Chiefs runs the ball defended by Johnathan Joseph #24 of the Houston Texans in the third quarter at NRG Stadium on October 8, 2017 in Houston, Texas. (Photo by Tim Warner/Getty Images)
All season long, PFF will be ranking the best performing NFL rookies as they race for Rookie of the Year. Below is our weekly rookie rankings after the Week 6 games.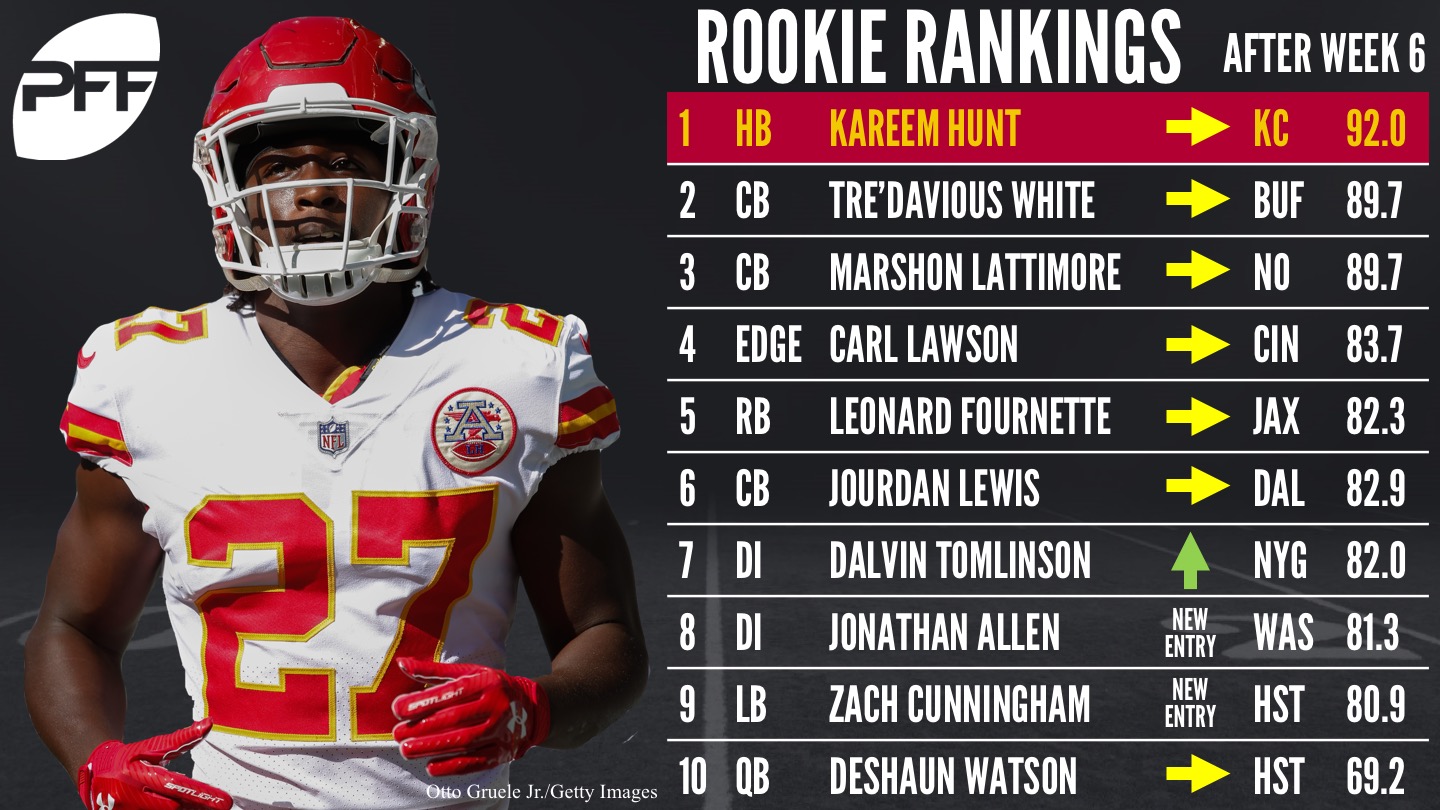 PFF Grade: 92.0
PFF Elite Stat: Hunt ranks second among all running backs with a 117.2 elusive rating.
Hunt had his lowest-graded game as a professional this past week against the Pittsburgh Steelers, but one down week isn't nearly enough to knock him off his spot in the front of this race. Hunt is still the only running back in the league to have an elite overall grade for the season at 92.0 and he's the only back to rank within the top-5 in both run grade and receiving grade.
PFF Grade: 89.7
PFF Elite Stat: White is one of six cornerbacks who've seen at least 20 targets into their coverage this season, he leads that group by allowing a reception just once per every 12.9 coverage snaps.
White maintains his second-place position on this list as the Bills come out of their Week 6 bye. White has been exceptional so far this season at getting his hands on the ball to disrupt passes, his eight pass breakups rank second among cornerbacks and his 27.3 percent playmaker index (pass breakups + interceptions divided by targets into coverage) leads the NFL.
PFF Grade: 89.7
PFF Elite Stat: Lattimore ranks 18th among cornerbacks having allowed just a 57.8 passer rating into his coverage through the first six weeks.
Even though he didn't move up a spot on this list, Lattimore made the narrow gap that separated him and White practically non-existent. Lattimore is currently tied with White with the fourth-highest overall grade among cornerbacks, with White getting the nod due to his higher snap count. Lattimore has finished three out of four games this season with a grade of at least 83.0.
PFF Grade: 83.7
PFF Elite Stat: Lawson ranks second among all edge defenders with a 16.3 pass-rush productivity mark.
Lawson is the second player on this list to maintain his spot while his team was on bye this past weekend. At 85.7, Lawson owns the ninth-best pass-rushing grade among edge defenders and he's finished every game thus far with at least three pressures.
PFF Grade: 82.3
PFF Elite Stat: Fournette has had five runs of at least 15 yards this season, the eighth-most among running backs.
Fournette ranks 13th among running backs in terms of overall grade and he joins Kareem Hunt as the only other back to have both a run grade and receiving grade over 78.0. The fourth-overall pick out of LSU currently ranks 12th among running backs with a 55.0 elusive rating and he's third among his peers with 25 forced missed tackles.
PFF Grade: 82.9
PFF Elite Stat: Lewis allows a reception on every 11.0 snaps in coverage – the third-highest amount among rookie corners with at least 135 snaps in coverage, behind Lattimore & White.
In Week 5, Lewis may have been victimized by the Packers on the final play in what in all likelihood will go down as Aaron Rodgers final full game of 2017, his play in 2017 has still been very impressive. Lewis has shown his instincts to get his hands on the ball as he has broken up four passes and notched another interception on just 20 targets this season. We'll see if he can shake that Week 5 Rodgers-to-Jordy-Nelson TD off after the bye this past week.
PFF Grade: 82.0
PFF Elite Stat: Tomlinson's nine run stops lead all rookie interior defenders.
Tomlinson wasn't tasked with much in terms of run stopping in the Giants victory over Denver in Week 6, but he was a still a force on his 30 snaps and has registered a rookie-leading nine stops in run defense this season (a stop constitutes a 'win' for the defense). He has graded positively in all but one game so far this season.
PFF Grade: 81.3
PFF Elite Stat: Allen leads the NFL's DTs with at least 30 pass-rush snaps with a 13.1 pass-rush productivity mark.
Charging up the rookie rankings is Allen, after a third strong performance in as many games, against San Francisco in Week 6. Against the 49ers, Allen registered another four QB pressures giving him 13 total for the season, most among rookie interior defenders. Most impressively, he's reached 13 pressures on just 80 snaps, less than No. 2 and No. 3 on the list of most pressures out of a rookie DT (Adam Butler, 9 pressures, 93 pass-rush snaps; Jeremiah Ledbetter, 6 pressures, 89 pass-rush snaps). In all, his pass-rush productivity mark of 13.1 is first among all the league's DTs with at least 30 pass-rush snaps.
PFF Grade: 80.9
PFF Elite Stat: Cunningham's eight stops in run defense are fourth-most in the NFL among inside linebackers without a missed tackle against the run.
Cunningham has been a force in growing snap counts for the Texans defense decimated by injuries. He logged a career-high 58 snaps in Week 6 against Cleveland, and on the season has logged 267 snaps and has combined for 27 tackles (19 solo, 8 assist) and has only missed two tackles total this season. His eight stops against the run are tied for 30th among all NFL inside linebackers and third among rookie ILBs.
PFF Grade: 69.2
Elite Stat: Watson has an 81.6 passer rating on throws coming under pressure, which ranks eighth among quarterbacks.
Watson made his debut within the top-10 last week after a strong two week performance against the Titans in Week 4 and the Chiefs on Sunday night of Week 5. Watson still has plenty to improve upon as a passer if he wants to elevate his positioning within this race: His 58.9 passing grade ranks 31st out of 32 qualified quarterbacks currently (besting only fellow rookie, DeShone Kizer) and his 66.1 adjusted completion percentage ranks 31st as well. He's made up for it so far though with some outstanding rushing – his 85.3 run grade is third among all quarterbacks. If Watson can improve on his performance under pressure, he could move up on these charts, for sure. Watson currently fields a ninth with his 76.8 passer rating under pressure, thanks in part to six touchdowns – however he has thrown the second-most interceptions (four) under duress.
Honorable Mentions:
John Johnson III, S, Los Angeles Rams – 82.6 grade
Joe Mixon, RB, Cincinnati Bengals – 80.3 grade
Xavier Woods, CB, Dallas Cowboys – 79.6 grade
Larry Ogunjobi, DI, Cleveland Browns – 78.7 grade
Deatrich Wise, Edge, New England Patriots – 77.6 grade
Nazair Jones, DI, Seattle Seahawks – 77.4 grade
Charles Harris, Edge, Miami Dolphins – 77.3 grade
Kendell Beckwith, LB, Tampa Bay Buccaneers – 77.2 grade
Malik Hooker, S, Indianapolis Colts – 76.9 grade
Montae Nicholson, S, Washington Redskins – 76.8 grade
Garett Bolles, T, Denver Broncos – 75.6 grade